The best bricklaying trowel-London and Philadelphia pattern
For a seasoned professional, you already know your trowel type and what suits you best
For a newbie or apprentice, it's compulsory to select a trowel worthy of building the finest of masonry construction.
And as a bricklayer, you want an excellent solid trowel that is strong, durable, well balanced and reliable.
As a tradesperson that lays bricks a day in day out, it's good to know there is a top quality selection available because trowels don't last forever. There are many different types, so look at some of the best trowels available and rated.
Get in the know with what people are using on-site today.
Finding a trowel that suits you can be tricky as many bricklayers swap and change over time.
Here we have prepared a list of the best bricklayer's trowels, so you can find what suits your needs.
Philadelphia Trowels VS London Trowel
Most apprentices and newbies don't know which bricklaying trowel to choose, and they don't know the different trowel types.
Today, there are many trowels, but the Philidelphia pattern and the London pattern are most commonly used in the western world.
Have you ever wondered why the differences are and what the different blade shapes?
The Philadelphia trowel has more space with a flat heel that allows more cement to be put on the blade.
Mainly people consider them the ideal ones.
It has a broader heel than the London pattern, but it can be heavier. You could say you can get a fuller trowel so you can lay a more extensive spread.
It has a narrow heel which forces the cement to be loaded further forward on the trowel.
Here We look at What is The Best Bricklayers Trowel
Contents
Philadelphia Pattern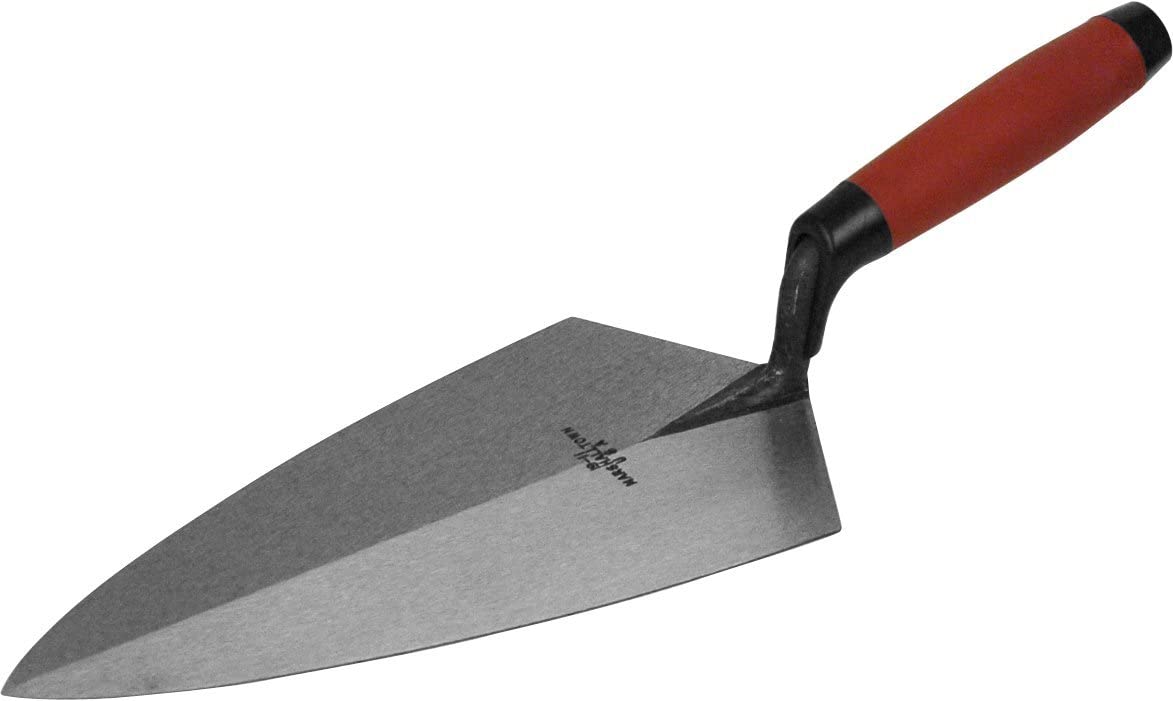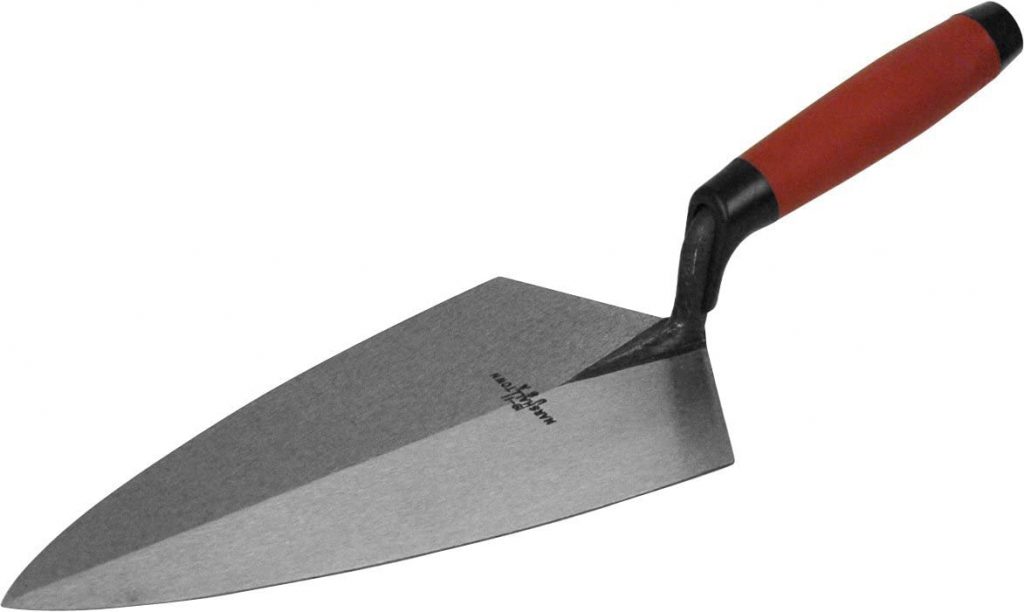 Among all of the known brands Marshalltown maintain its excellent reputation for its quality and durability.
11-inch blades are most popular and that is the mid-size range as they also do 10″ 12″ and 13″
The Philadelphia pattern has a wide range of handles, wood, leather and plastic and the commonly used today DuraSoft handle.
Blades are wholly ground from heel to toe, offering a well balanced solid trowel.
Therefore making it one of our top recommendations.
could it be the best bricklaying trowel?
One thing is true with this model you see it a lot on the building site.
It is rated by trade
Pros.
Excellent quality, forged carbon steel.
Soft grip handle for better work.
Wide range of handle types and styles
Cons.
It has competition from other brands.
Look at Marshalltown Bricklaying and Masonry << Here
Another tool we must recommend to professionals at a reasonable price as it comes in plastic, wood and leather handles.
W Rose are available in various patterns and sizes
W Rose also offer different steel types limber flex or Standard flex.
And also different angles from the handle Low Lift or Standard Lift.
Some people say that this trowel is made from the more superior forged carbon steel that provides excellent strength and durability for a prolonged duration.
Pros.
Carbon steel blades.
Available in various sizes.
Buying guide:
You can buy W Rose Brick Trowel 12 from Amazon.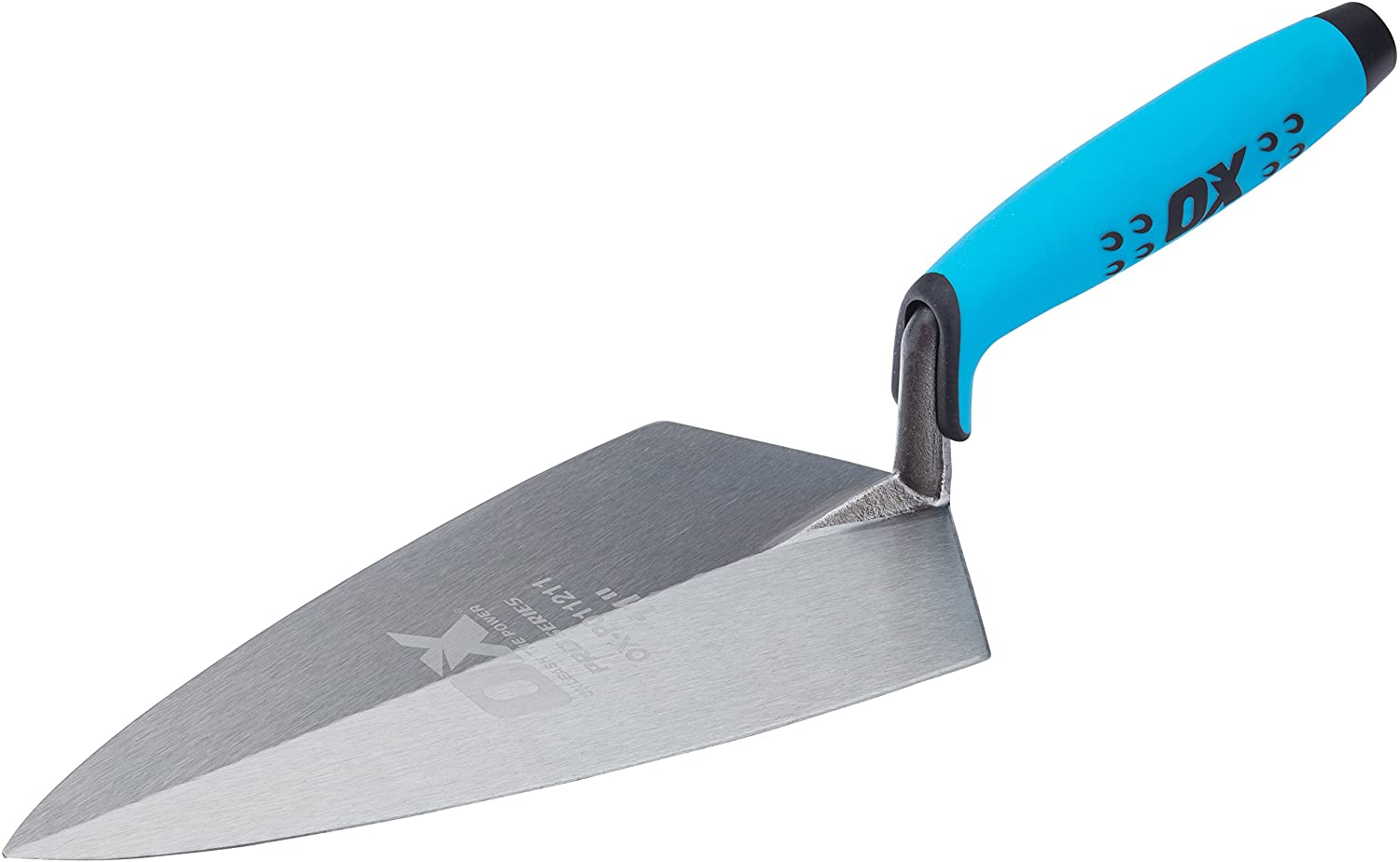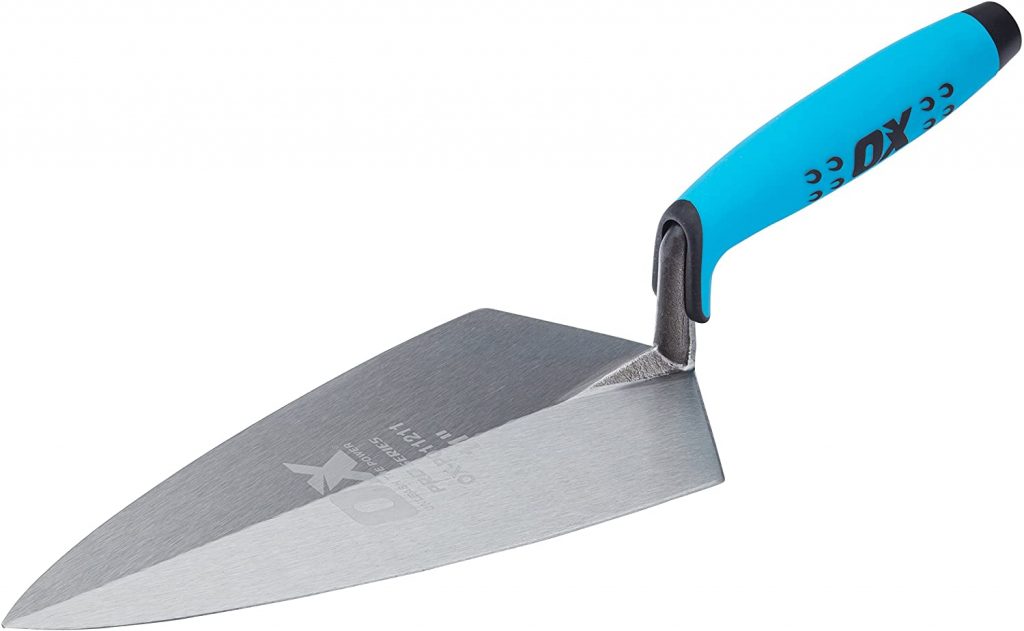 If you research a bit about OX Pro, you will realize that this Philadelphia pattern is new to the market and it is one of the newest trowels available out of the group.
It's a good solid trowel and at its price range, it is a worthy competitor.
It is seen a lot more on-site today.
it comes in a multitude of sizes and patterns and it is a nice solid forged blade.
its blades give excellent strength with a unique dura grip handle unlike no other on the market.
It's available at a reasonable price and it is what you would expect from an up and coming quality tool brand.
Pros.
Solid Forged Carbon Steel.
Come with durable handle.
Cons.
Available in 11 or 12 inches size only.
Buying guide:
You can Buy the OX Philidelphia Pattern on Amazon
You can look at the OX Pro Brick Trowel 11 Inch London Pattern here > OX Bricklaying and Masonry Tools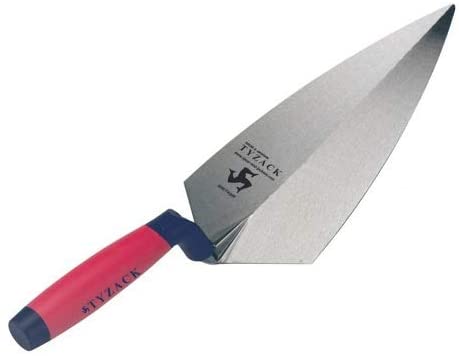 Spear and Jackson trowel is perfectly designed for all masonry work as its steel is solid with the square heel towards the back for extra performance.
You will like its plastic endcap, which is excellent for tapping down bricks and blocks.
There is a wide range of handles available and its Canadian leather is quite comfortable for long days on the construction site.
By buying this, you will get a good quality trowel for a smaller budget.
Pros.
Comfortable wooden handle.
Forged blades for better performance.
Buying guide:
You can buy Spear & Jackson Tyzack Philadelphia Brick Trowel from Amazon.
London Pattern Trowel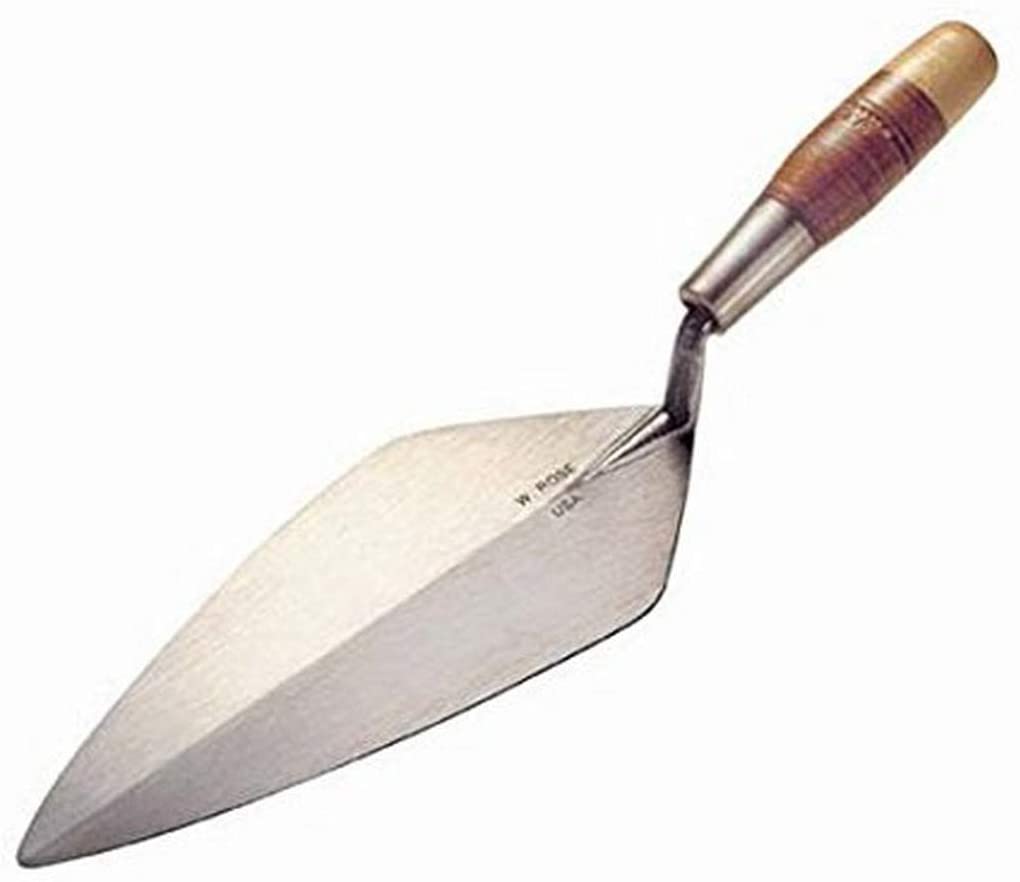 This one is another top-quality item available with limber blades and standard shank.
Furthermore, its 11-inches blade with 4-3/4-inch heel width is responsible for its effectiveness.
Kraft tool London typed trowel is exceptionally functional for comfort as its leather handle is soft to use.
It is a nice solid trowel that is ideal for brickwork given it is narrow and easy to spread in 1 motion.
Pros.
Soft Leather handle.
Light in weight.
High flexibility.
Cons.
maybe not the best if your laying 140mm blocks as it can't hold as much mortar.
Buying guide:
You can buy a Kraft Tool trowel from Amazon.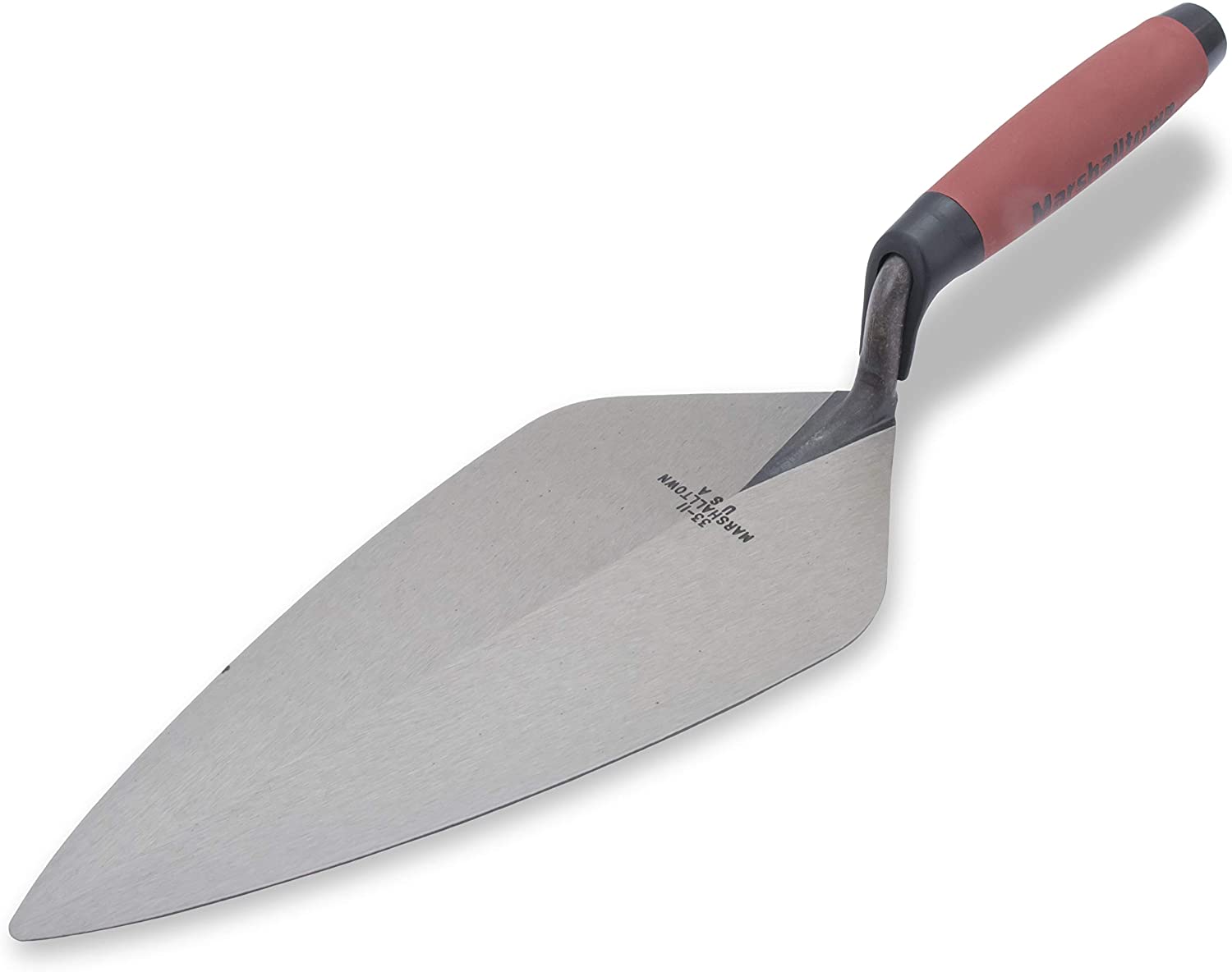 The most unique rather excellent Marshalltown standard London brick trowel.
the Marshalltown narrow London blade pattern with the longer heel and narrow shape pushes mortar to the front so it is ideal if you spread nose down
Look closely at this item, and this is what you want as entirely forged, ground from heel to toe blade that is ideal for brickwork and 100mm block
It is available in a multitude of sizes and handles the DuraSoft handle offers a perfect grip and comfort for your hands.
Pros.
Entirely grounded blades.
Comfortable grip.
Cons.
Blade size is smaller than others patterns including the wide London pattern
Buying guide:
You can Buy the Marshalltown narrow London pattern trowel on Amazon
You can look at Here > Marshalltown Bricklaying and Masonry Tools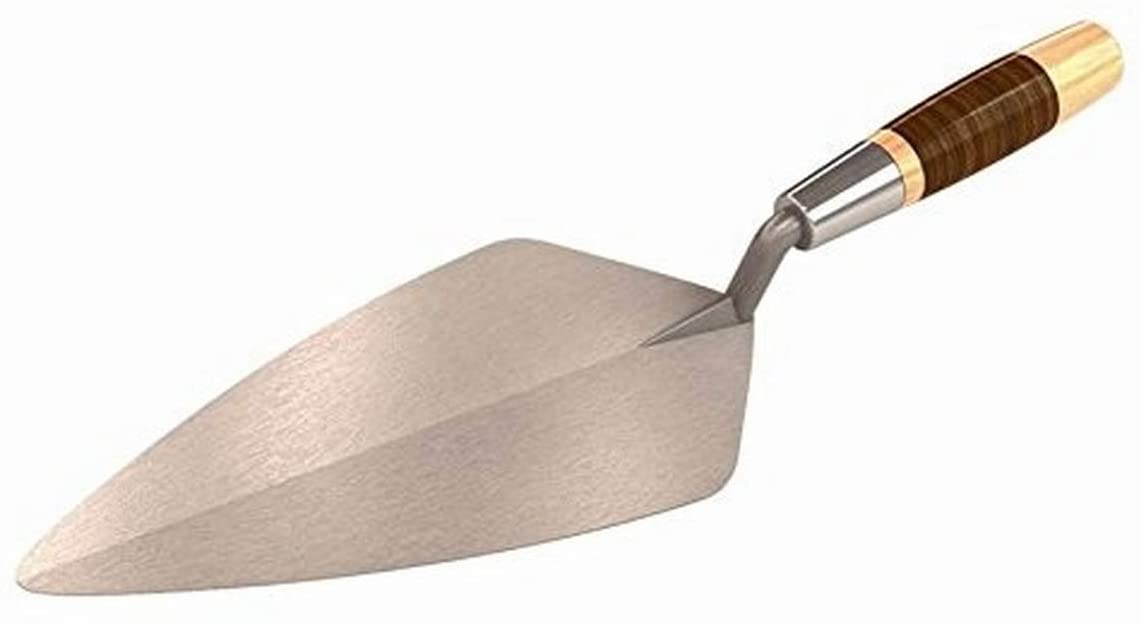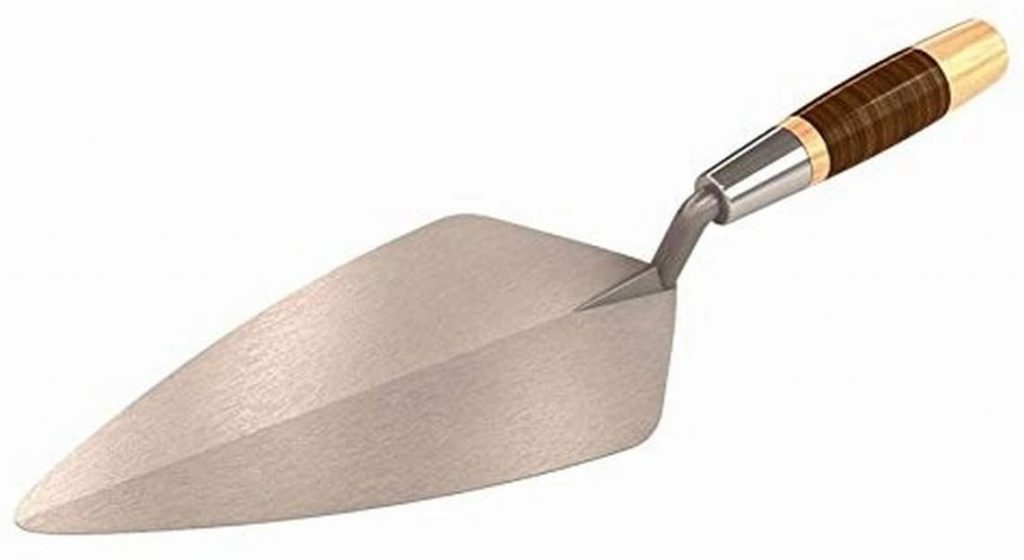 Looking for are trowel to use perhaps that is a little bit different and not a tool you see and recognise today
From a reputable tool brand, the Bon tools the London Masonry trowel provides a trowel for fast working speed.
Ideal for Application of General Masonry and Brick Work.
Bon trowel consists of forged steel built for durability and strength.
its leather handle provides extra comfort, and it has a nice feel and a good grip.
Pros.
Leather handle for comfort.
Firm grip while working.
Consist of durable steel.
Buying guide:
You can buy Bon narrow London trowel-Inch from Amazon.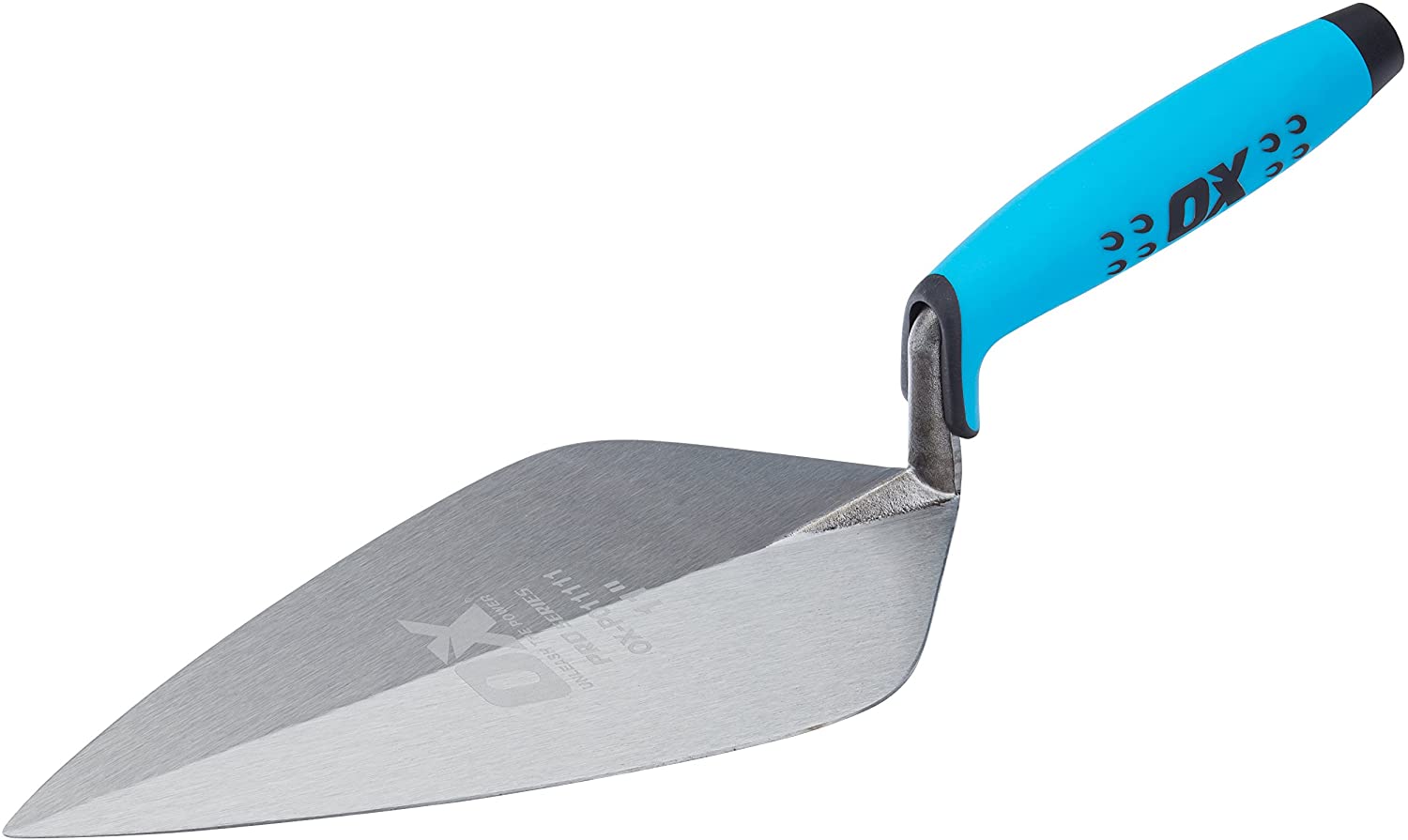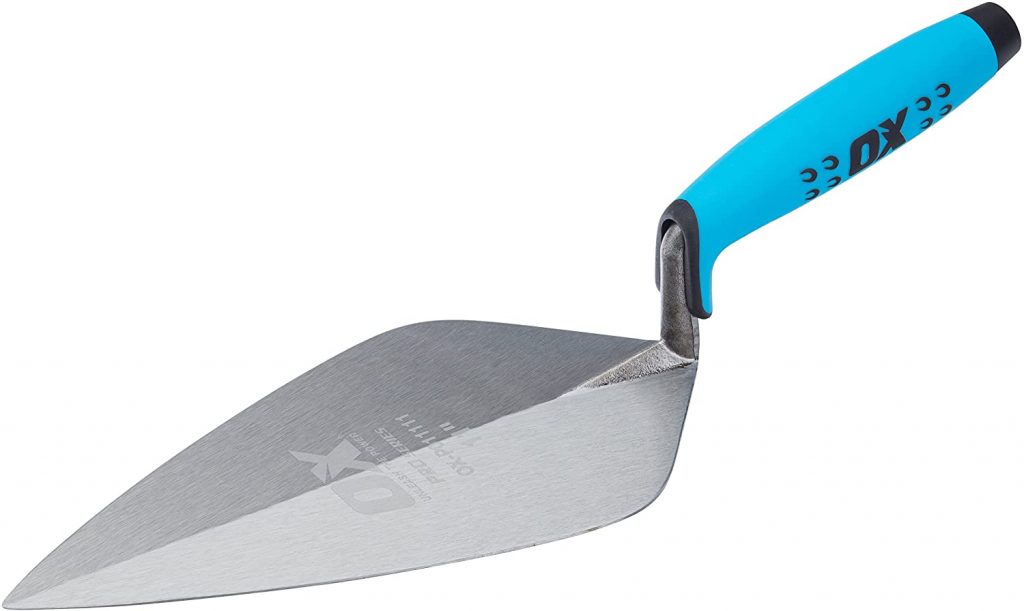 OX pro london pattern trowel is a good solid trowel its solid forged steel blade enhances the functional ability.
Similarly, its Precision blade provide flexibility and with durra grip handle that's unique.
Furthermore, its handle offers extreme comfort with finger protection ability.
This 11 inches London pattern is a good choice,
It is cheaper than the other trowels here but it can hold its own for that price.
Pros.
Durra grip
Comfortable handle
Flexibility
Buying guide:
You can buy the OX pro-London pattern trowel on Amazon
You can look at the OX Pro Brick Trowel 11 Inch London Pattern here > OX Bricklaying and Masonry Tools
Things to Consider When Trying to Find a Good Bricklaying Trowel
Things to consider while buying a good Bricklayers trowel
The fairest way to buy a good trowel is to do your research and ask bricklayers and masons what they prefer. We have looked at some of the best trowels available.
Comfort: The comfort of a trowel depends upon the length and type of the handle. There are a variety of handle types, so choose one that suits you best.
Flexibility: A flexible trowel will minimize strains on the wrist and provide a better feeling to spread the mortar or cut the bricks.
Durability: Usually, the quality of steel and the forming process impacts a lot on a trowels durability. You can test it by hitting over something hard the more extended trowel rings, the better its steel.
Balance: brickies prefer the trowel having a balancing point on the blade. Hence it won't be heavy from the front. A well-balanced trowel is vital to help you have more control and feel when working.
Final verdict
Choosing a trowel is all about preference. Try a few trowels out and see what works for you, but once you use a trowel for long enough, it will feel like the trowel for you.
Look for a reputable manufacturer and also do your research.
Happy laying.
Thanks for reading our article on the Best Bricklaying Trowel, and I hope you have the information you are looking for.