Top Laser levels for Bricklaying
Following the invention of laser technology, it has been utilized in multiple areas. Narrowing down to the application of lasers in the masonry industry, several manufacturers and suppliers of laser levels are broken down.
Laser levels are applied in the construction sector to level and align horizontal, vertical, square angle, point-transferring, and grading-slope tasks. Lasers are overtaking spirit levels due to their extreme accuracy, amazing efficiency, faster performance, and ease of use.
Types of Laser Levels
Rotary laser level
These are the standard laser levels. They are commonly used at the start of a construction project for levelling the foundations and planning brickwork. They project a 360-degree laser beam; therefore, you can see the plane you are working on.
Dot/plumb laser levels
These are the, often, cheapest type of laser, beginner level. They produce and project a dot laser across to the targeted surface. These are easy to use and offer a high accuracy level.
Line laser level
These are the commonly used laser levels. They can be used while hanging cabinets, picture frames, and other indoor tasks.
Laser Level Receiver
Some levels come with laser receivers. If yours does not have it, you can buy it separately. These are, for instance: Spectra HL 700 Laserometer, and Spectra Precision HR220 Laser Receiver, among others.
How to Choose a Laser Level
There are many types of laser levels, and each with its purpose. Before you make up your mind, research your target purchase and if it goes in line with your target task.
Table of contents
Levelling Accuracy: ±2.2 mm at 30 m
Diameter of working area for set receiver: 500m
Tripod connection: 5/8″
Operating life: Rechargeable – 45 hours, Alkaline – 90 hours
Increases productivity with fast setups, fewer mechanical parts, and automatic self-levelling
Maintains performance even in rainy, dusty and other harsh job site and weather conditions – IP66 environmental rating
Durable design reduces downtime due to drops and tripod tip-overs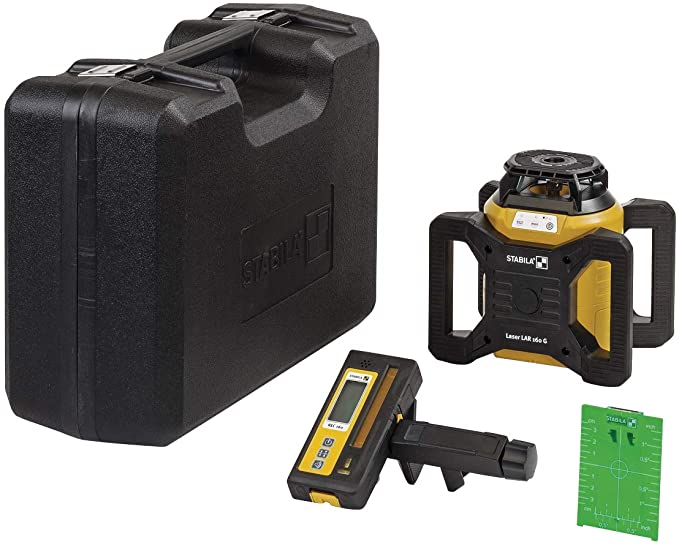 Another high-quality product from Stabila, 19240 LAR 160 G, is an automatic laser that works with an envious level of accuracy. It is comfortable to use due to its shock absorbent soft grip. Built to resist damage from dust and water, it will last for a long time.
Specifications:
Leveling accuracy +/- : 0.10 mm
Diameter of working area for set receiver: 600m
Tripod connection: 5/8″
Operating life: 20 hr
Features:
STABILA GREEN BEAM technology for improved visibility of the rotating laser beam – green laser beams are four times more visible than red beams to the human eye.
Fully automatic, motor-driven rotation laser – high levelling accuracy of ± 0.1 mm/m, fast self-levelling function within 20 seconds.
Four laser functions for versatile use – vertical and horizontal rotation, right angle (90°), and plumb-line vertical operation.
Protection class IP 65 – waterproof and dustproof.
Shock-absorbent STABILA soft grip casing gives protection against impacts – the durable housing cover also secures the laser optics.
Easy to use via three control buttons – on/off, manual mode, tilt mode.
Battery drawer – easy replacement, even directly on the tripod.
Large working area with REC 160 RG set receiver – up to 600 m in diameter.
Target plate with magnetic holder and cross-hair.
Two 5/8″ threads integrated into the housing.
Stable carrying case.
Target plate with magnetic holder and cross-hair.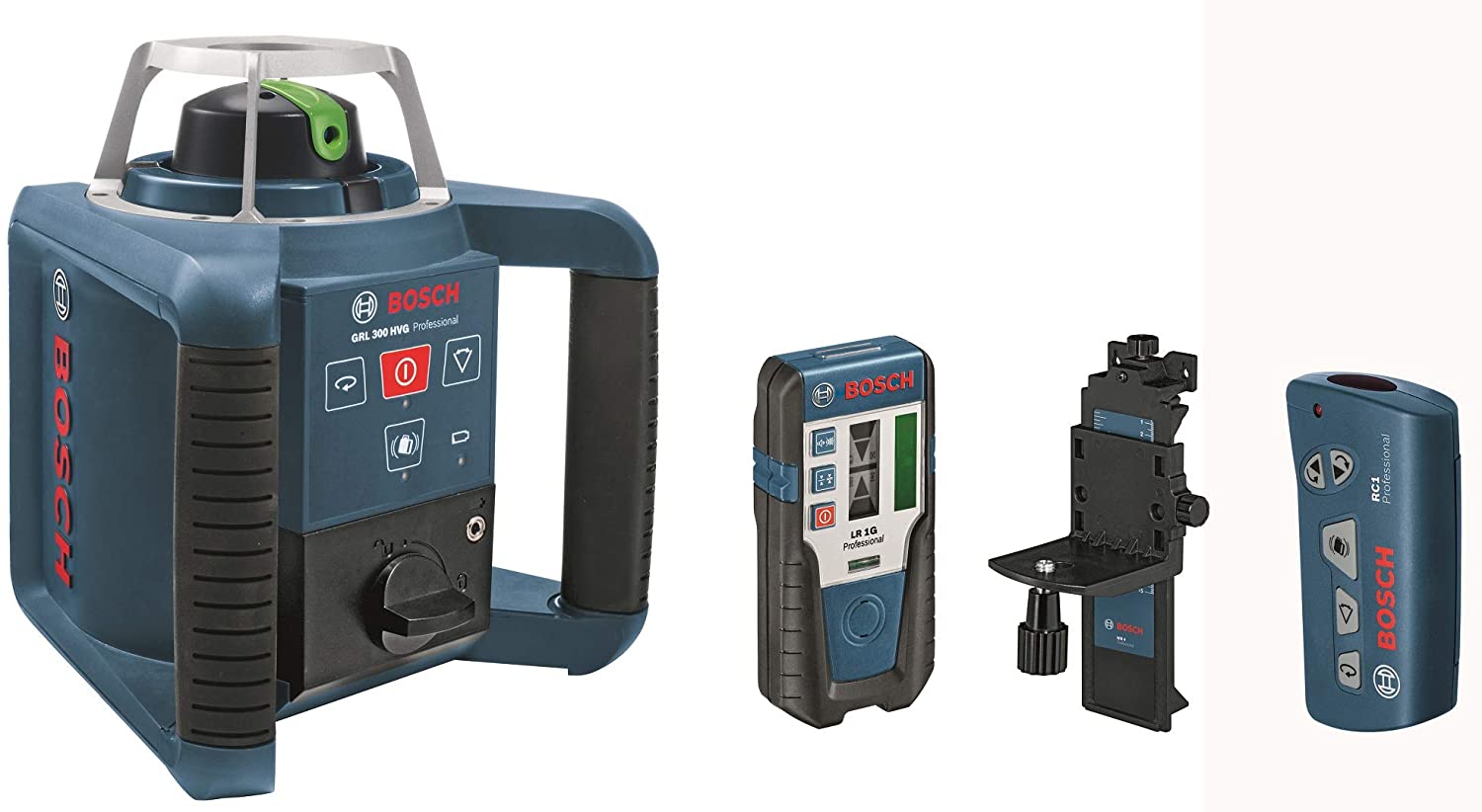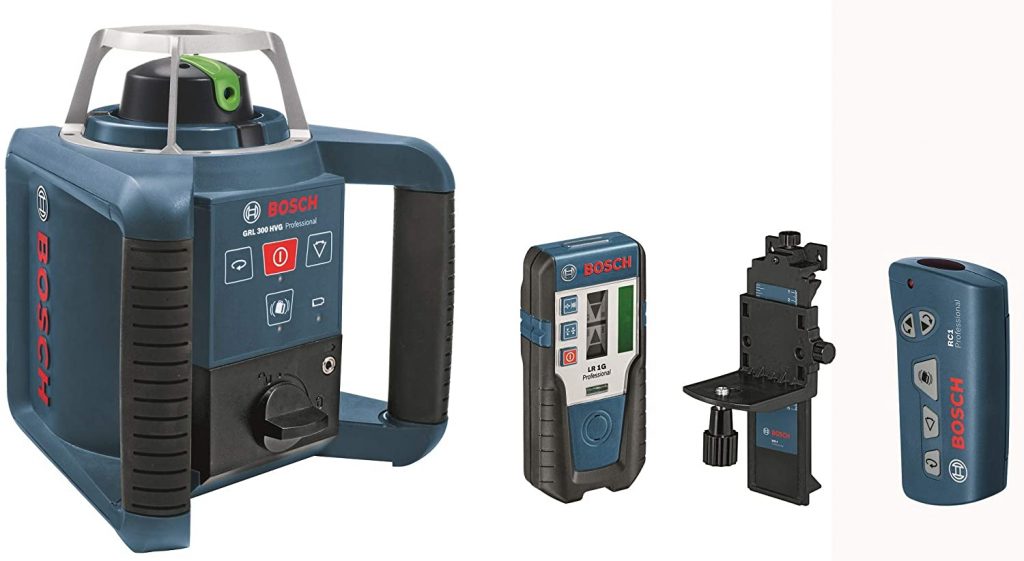 Bosche GRL 300 HVG is another top quality level perfect for the job site. It is fully waterproof and robust and can operate in the most demanding conditions thanks to the IP54 water and dust protection.
The bosch url 300 HV comes with a receiver and has a working range of up to 100 metres, making it great for levelling masonry.
Specifications:
Levelling accuracy ± 3.0 mm at 30m
Diameter of working area for set receiver: 100m
Tripod connection 5/8″
Operating life: 20 hr
Weight approx 1.8kg
Features
Withstands harsh conditions of any outdoor construction site thanks to the IP54 water and dust protection.
green laser technology for better visibility, the GRL 300 HVG rotation laser delivers up to 4x better visibility than the red laser beam,
Consistently accurate results with ± 3 mm at 30 m levelling accuracy and an ADS shock warning system. The tool also features automatic self-levelling of up to 8 Percent (± 5°).
Excellent for outdoor levelling and foundations, applications in building construction, civil engineering and landscaping.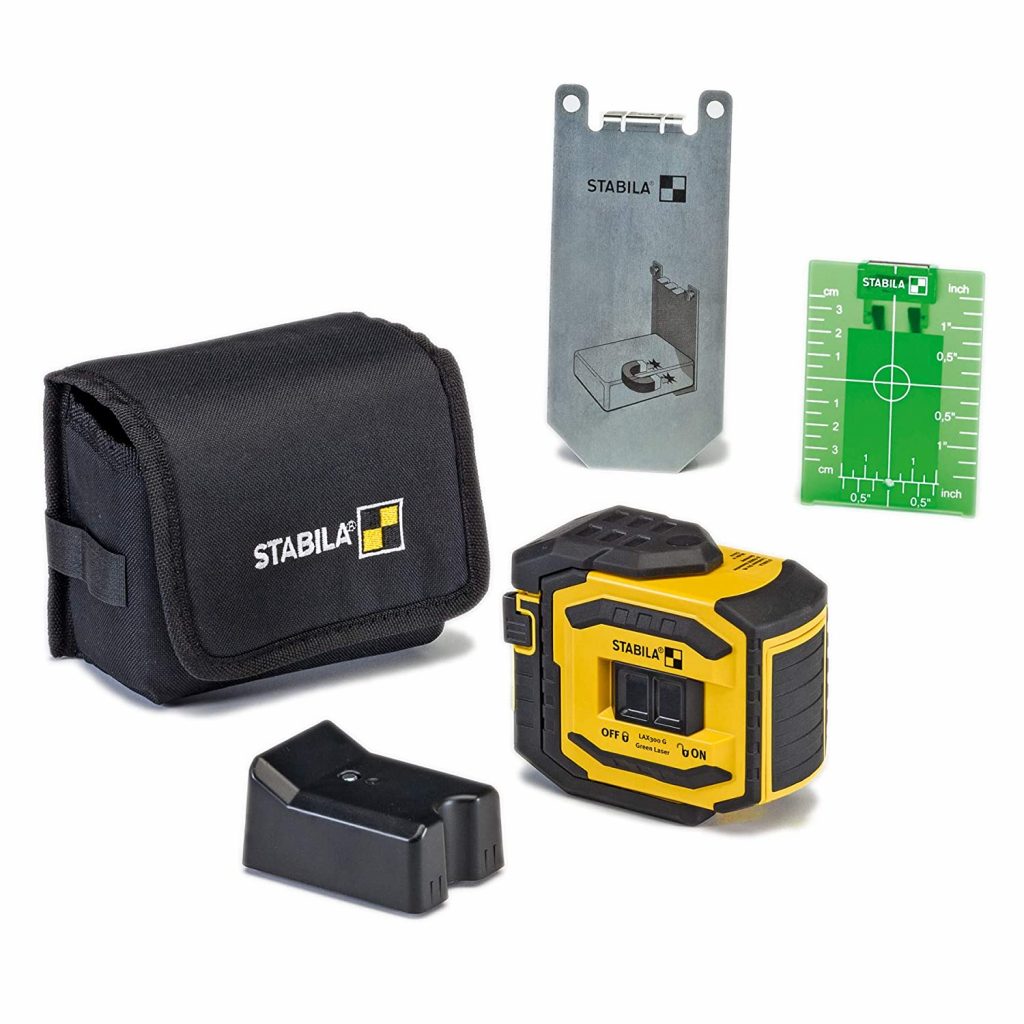 Description
The LAX 300 G is the ideal partner for interior construction professionals who need accurate laser lines with optimum visibility. The innovative STABILA GREENBEAM technology provides razor-sharp, extremely bright, long laser lines to make your work even more efficient and productive. You can perform plumb-line and levelling work on the floor, wall and ceiling at the same time – making the laser a true all-rounder with numerous areas of application.
Self-Leveling / Plumb Dots / Plumb & Level Lines
Thin, sharp lines visible up to 60′ / Vertical beam is visible behind laser
Adjustable base lifts laser over wooden plates and metal track
Integrated V-groove rare earth magnet mount / Pendulum lock for added protection during transport and storage
"Foot/base" dissects the beam on bottom and top plates for use in standing tall walls.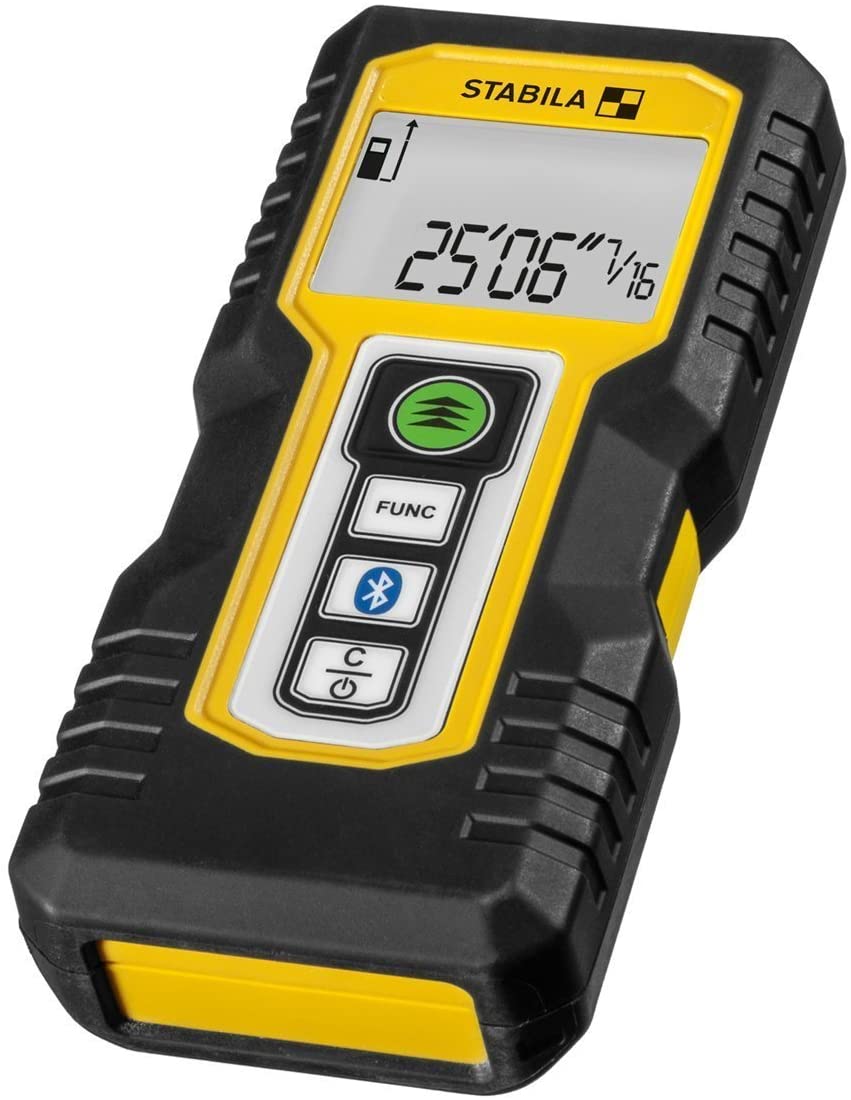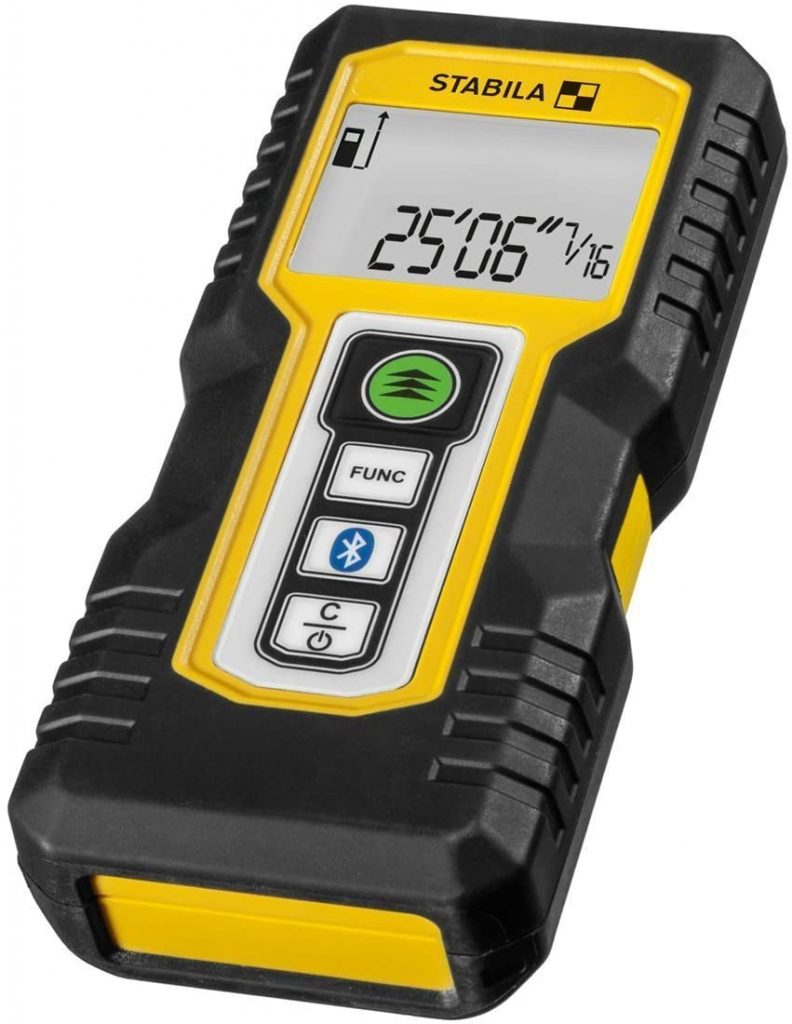 Product description
The Stabila 06250 LD250BT Laser Distance Measuring Tool with Bluetooth is a compact laser measurer that wirelessly transfers measurement data from laser to tablet or smartphone. This device provides quick measureing results needed on the building site and is able to make rapid measurements with easy to operate functions. Additional features include large figures and illuminated display provide good readability, impact-resistant housing and shock-absorbing STABILA soft grip casing. It is designed for measurements up to 50 meters and runs on 2 AAA Alkaline batteries (included).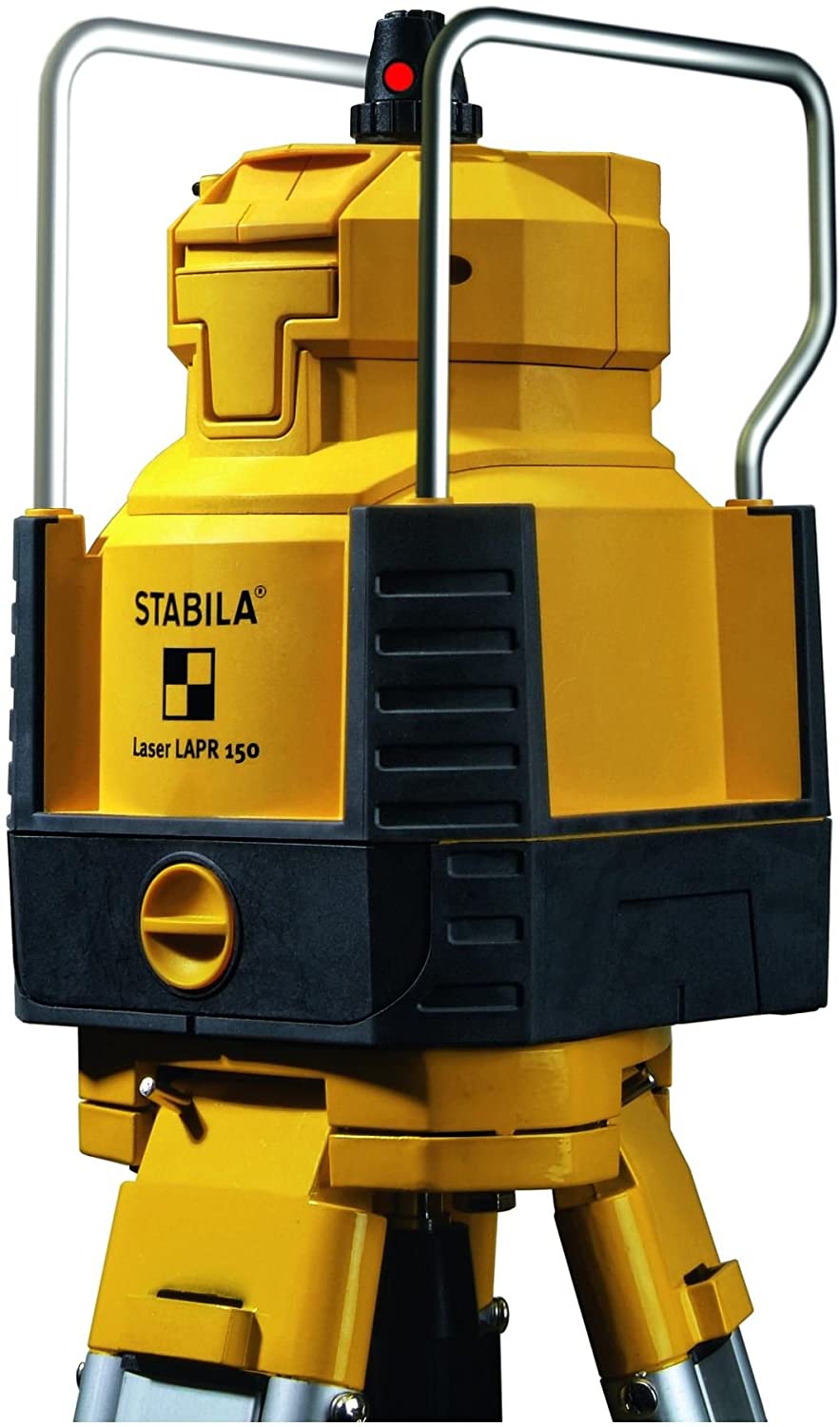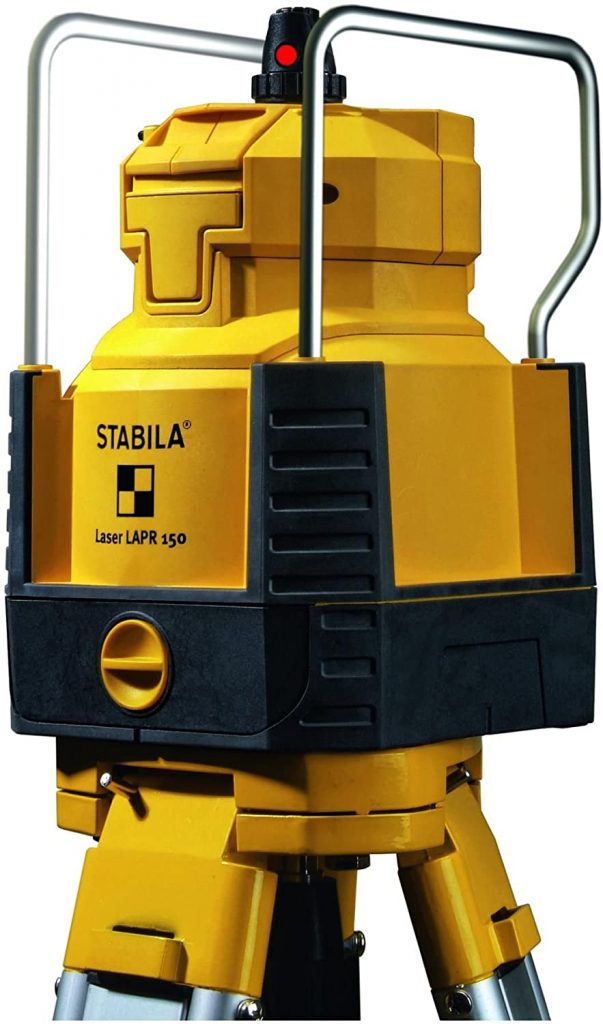 LAPR150 self-levelling rotational laser is another ideal device for bricklayers. This product is known for its speed and durability, capable of resisting damage from external elements. Not only that, it has 80 operation hours, which is impressive.
Specifications:
Accuracy: Horizontal: ±0.2mm, Vertical: ± 0.3mm.
Self-levelling: ± 5°.
Working Range: 240m with the receiver.
Laser Wavelength: 633-670Nm.
Laser Type: RED.
Input Power: 2 x 1.5 Volt D Cell Batteries (Included).
Features:
The Stabila LAPR150 Self Leveling Rotational laser is easy to use, versatile, and quick.
It's ideal for bricklayers and concrete construction workers.
Features the essential laser functions combined in one unit: rotation vertically and horizontally, plumbs line, three-stage scan, and 90° angle.
No waiting time, with rapid self-levelling due to pendulum-technology suitable with any construction site.
It levels pretty faster than a motor-powered rotation laser.
It is protected in all positions thanks to its sturdy metal bows, shock-absorbing soft-grip casing, and pendulum protected by forced locking for safe transportation.
Easy to change from horizontal to vertical, the complete prism unit is swivelled precisely by 90° in the guide channel.
IP54 is protected against splash and dust damage.
The battery drawer design makes it easy to replace dead batteries, even if mounted on a tripod.
It is powered by two 1.5 Volt D Cell batteries included, offering around 80 hours of operation.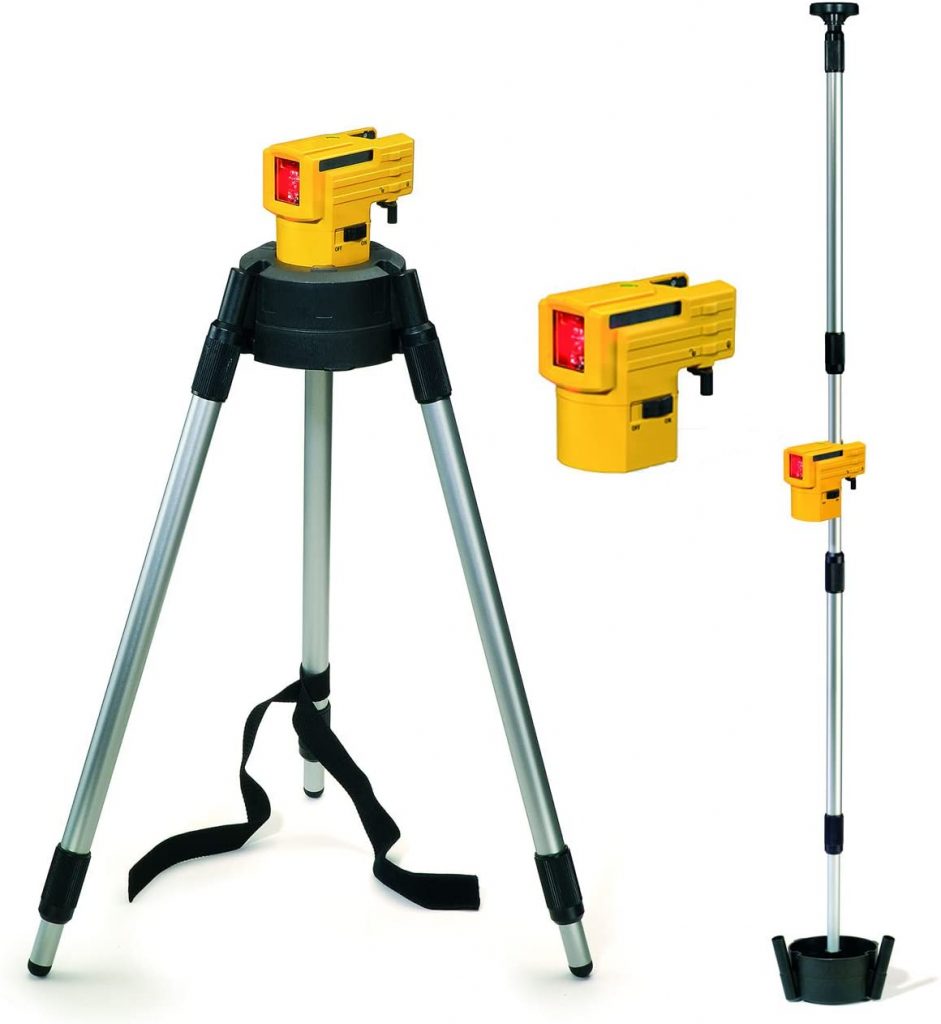 Another cheaper option from Stabila, LAX50 self-levelling laser is a versatile and durable device, perfect for use on construction sites.
Specifications:
Manufacturer: Stabila
Dimensions of Product: 17 x 17 x 61 cm
Colour: Multi-color
Batteries: 3 AA batteries required (included)
Power Source: Battery-powered
Battery Cell Type: Alkaline
Included Components: LAX 50 Self-leveling Laser 16789
Average Battery Life: 30 Hours
Weight: 2 kg
Features:
Self-levelling cross line laser with exceptionally bright, delicate, green laser lines – with ideal visibility at distances of about 30 m thanks to STABILA GREEN BEAM technology.
The latest generation of energy-saving laser diodes with an operating time of about 7 hours.
Highly versatile to working quickly and directly on long laser lines – 1 horizontal line, one vertical line.
Rotating multi-purpose platform for adjustable positioning of the laser on the floor and tripods (1/4″ and 5/8″ threads). Robust rare-earth magnet system for securely attaching the platform to metal objects such as U-profiles. Hanging hole for wall attachments.
Quick self-levelling function thanks to pendulum technology designed for the construction site.
Integrated clamping device on the laser for pipe attachments (maximum diameter: 30 mm).
It protects dust deposits inside and against spray.
Belt pouch for safe storage and easy transport.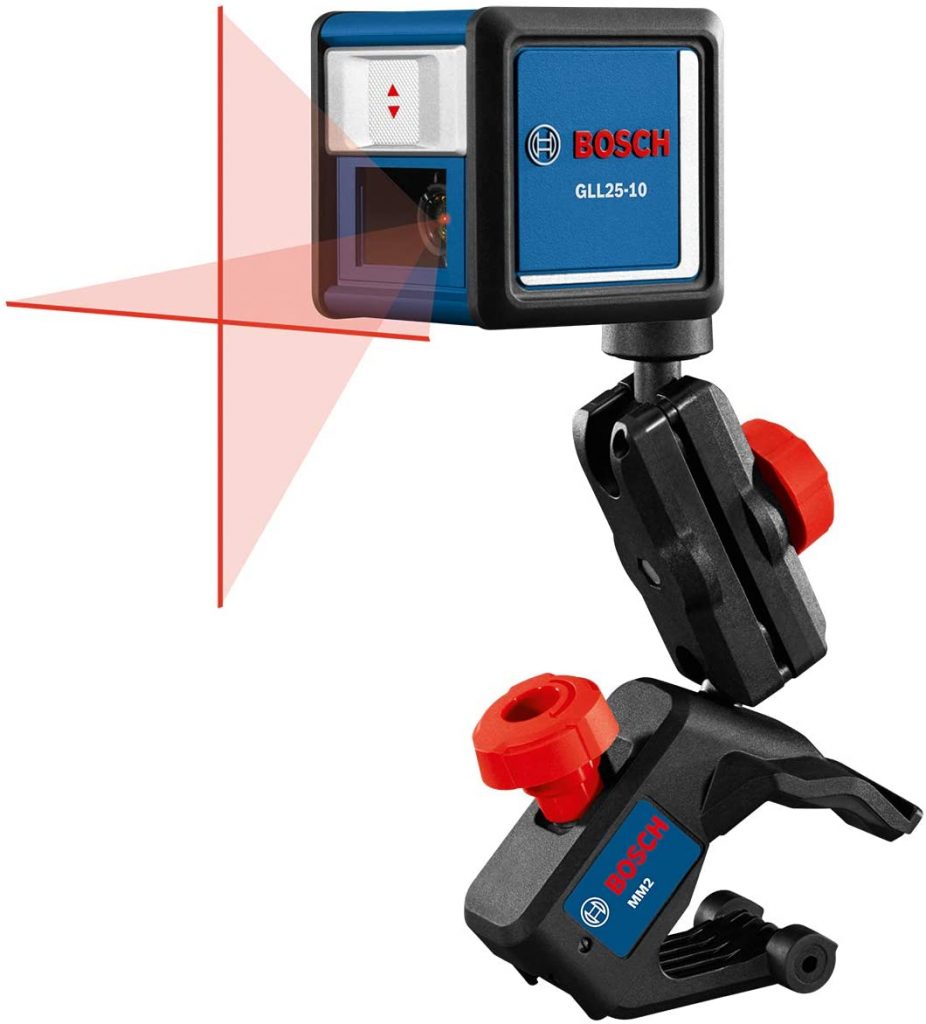 This is a good quality laser level, with a 4.8 out of 5-star level rating for money value. It has 4.6-star ease of use, 4.6-star accuracy, and 4.4-star brightness.
One verified buyer who rated the device 5-star had a lot of praise for it. Just like many other verified buyers, they praised the laser level for its amazing properties. .
It makes a good laser level for bricklaying and setting out due to its portability and that you can attach it to the masonry or sit it on the course of brick or blockwork.
its easy to use the receiver to pick up the level signal. and then you can adapt the construction to suit.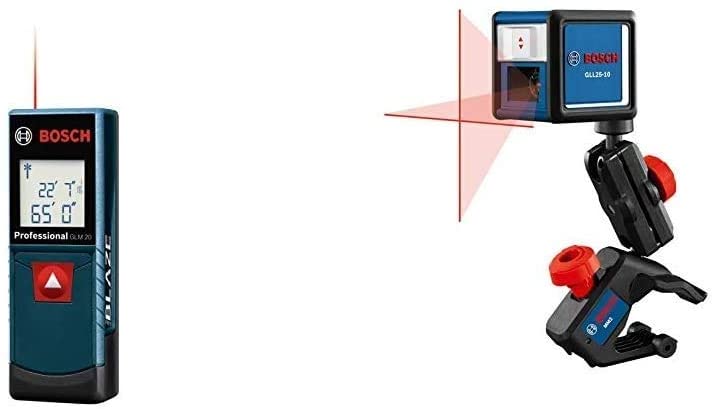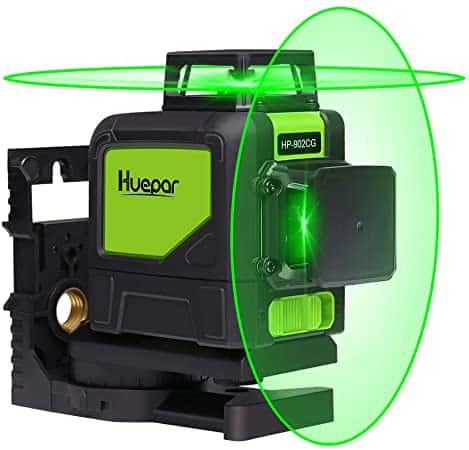 This laser level is switchable to horizontal and vertical posture. Its beam laser is green and has a magnetic pivoting base included. It comes with a laser receiver.
The gadget has a 4.5-star rating, 4.6-star ease of use, 4.6-star accuracy, and 4.4-star brightness rating. Most verified buyers who rated the device 4-5-star had praise for its ease of use and efficiency.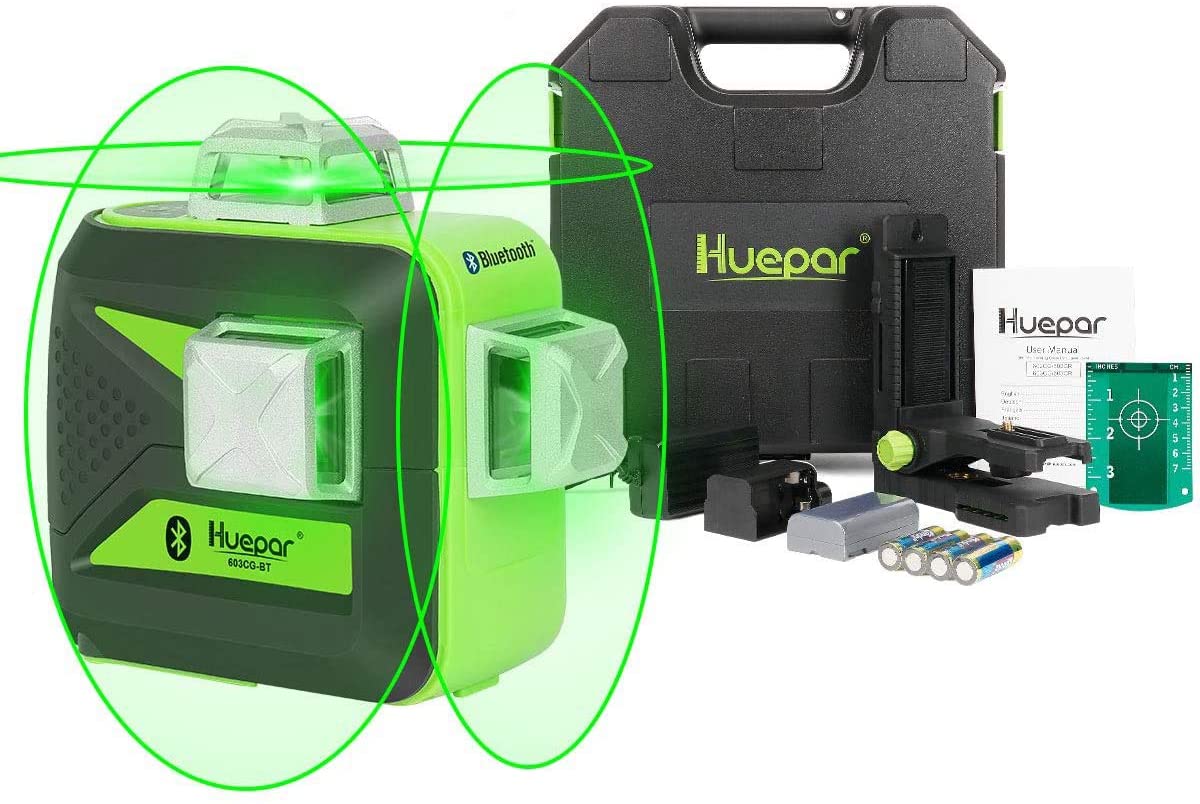 Fully Layout with 3 x 360° Line Lasers】: One 360° horizontal and two 360° vertical planes enable users to cover the floor, wall, ceiling all around the room. The three laser lines can be selected individually depends on job site applications. With our smart pendulum system, this laser level tool self-levels and indicates out-of-level condition while pendulum unlocked. Once the pendulum locked, it switches to manual mode to lock lines for use at any angle.
【Dual Power Supply & Type-C Charging Port】: Huepar B03CG Laser Level employed a large capacity of 3.7V / 5200mAh lithium battery and provides up to 8 hours of running time. The lithium battery comes with a Type-C charging port that can be charged separately. When taking out the battery, the laser tool can be used at the job site by plugging in. 4 battery indicators on the keypad allow users to know the current battery volume and charging protection helps prevent overcharging.
【Brighter Green Laser & Pulse Mode】: This cross line laser adopts the bright Osram's green laser unit, which is resistant to temperature changes and has higher stability. At the same power, the green laser is twice brighter than the red laser, with a working range up to 25m (300LUX) of accuracy within ±3mm at 10m. The pulse mode can be activated by pressing the Pulse Mode Button, allowing to extend the laser range up to 60m with Huepar Line Laser Detector.
Benefits of Using Laser Levels in Bricklaying
Easier task– All you need to do is set up the laser level and proceed to do what you were doing. you can check for level and measure down or measure up when setting out or making brickwork and masonry level.
High accuracy levels– lasers offer high accuracy as they are professionally configured. Once you have set it up, you can complete your task without necessarily moving it, causing errors.
Faster task completion– If you opt to use a laser level, you would have a relatively easier time as it produces a high accuracy performance and is easy to use.
Laser levels come in handy in construction projects and other indoor tasks. However, there are laser level disadvantages. For instance, they are expensive and can be complex for non-professionals.