Best Tiling laser level
Having the right tools is the key to accuracy and productivity. Whether it is a blue-collar or white-collar job or your just tiling the bathroom, the right tools are the things that make the actual difference. Laying tiles, be it on the floor, wall, or ceiling, is such a job where you need a good laser level. When it is about fixing tiles or Leveling floors or align and plumb your walls, or when you need the accuracy to complete a perfect tiling job.
Whether you are a construction pro or novice, The Tiling laser level is an essential tool for accurate tiling. Using the right laser level for tiling will deliver faster speeds and excellent accuracy.
Picking the right Tiling Laser Lever is not an easy task. Don't worry! ratedbytrade.com has the intent to guide you towards picking the best tiling laser level for the job. Today in this article, we will unveil a selection of the best Tiling Laser Levels 2021.
Scroll down to grab the best Laser Level to lay down each tile to perfection.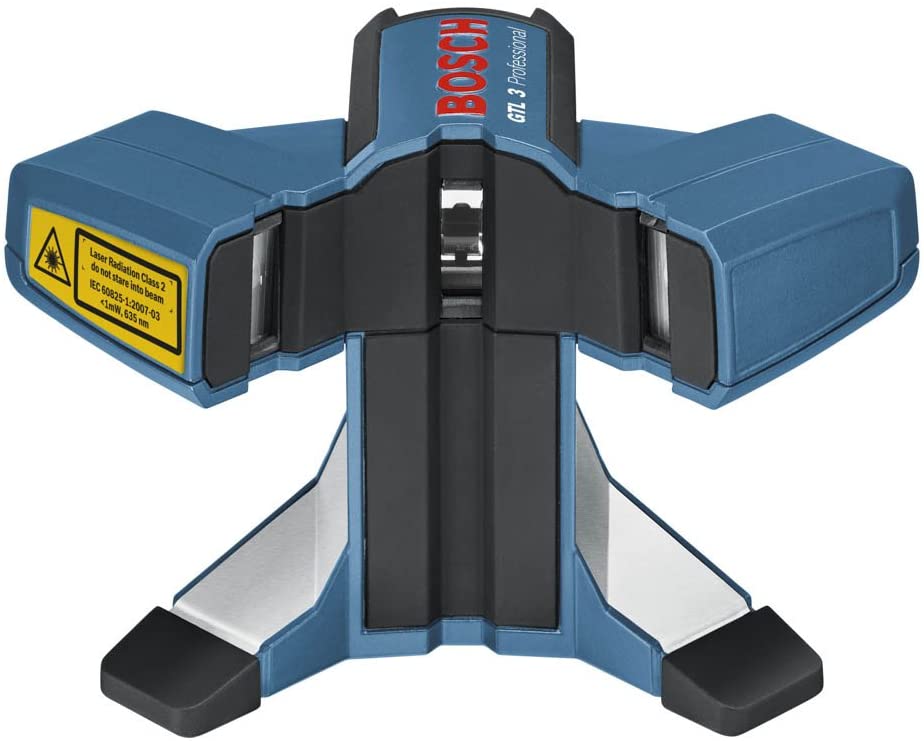 Be more productive and deliver accurate work with Bosch Professional Tile and Square Layout Laser GTL3. It is built with a square layout that increases its productivity. It is capable of producing 90-degree lines for squaring. These lines appear in front of the laser base making easy centring and precise adjustments. Moreover, these lines are switchable between 90-degree to 45-degree to attain the correct positioning of square tiles.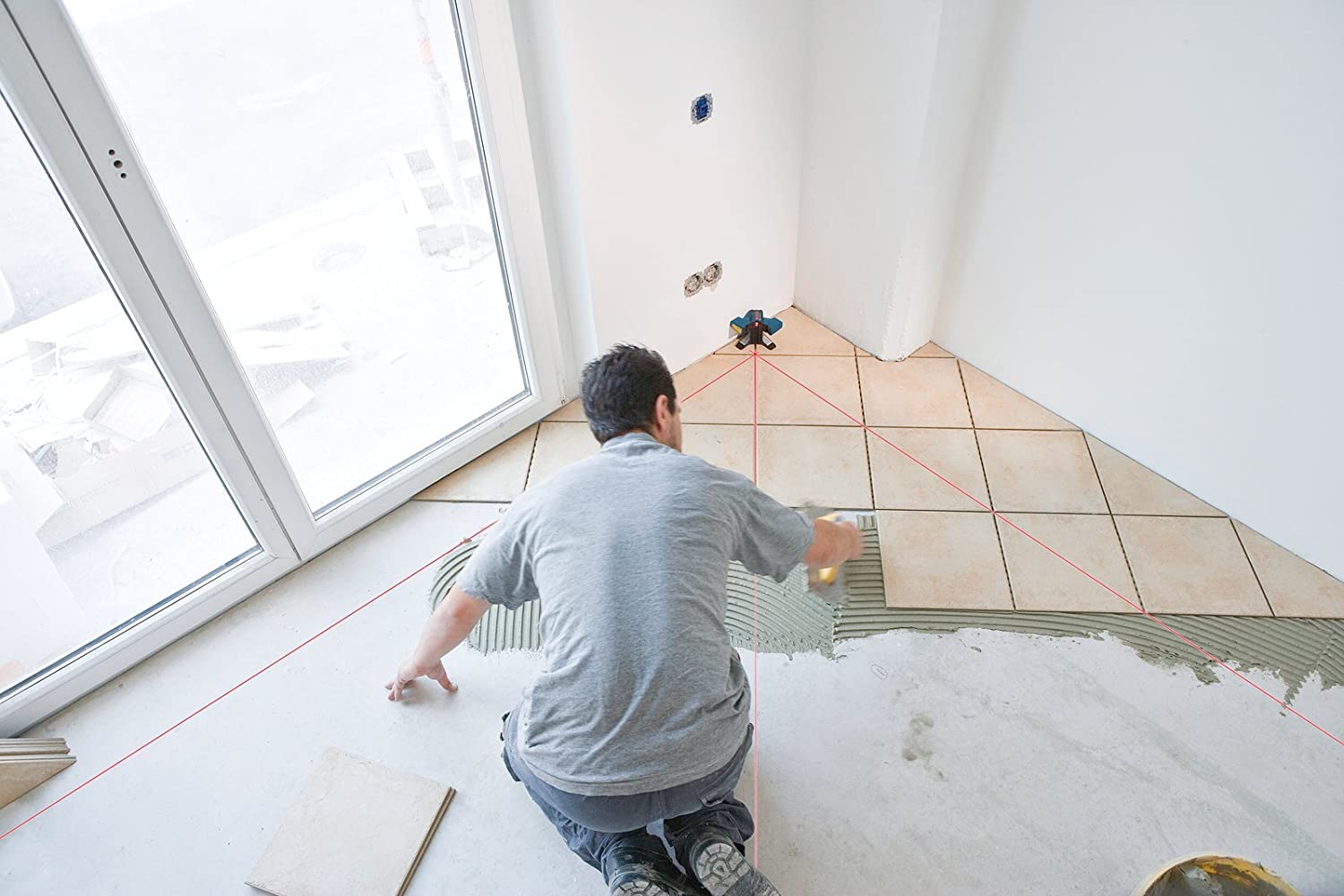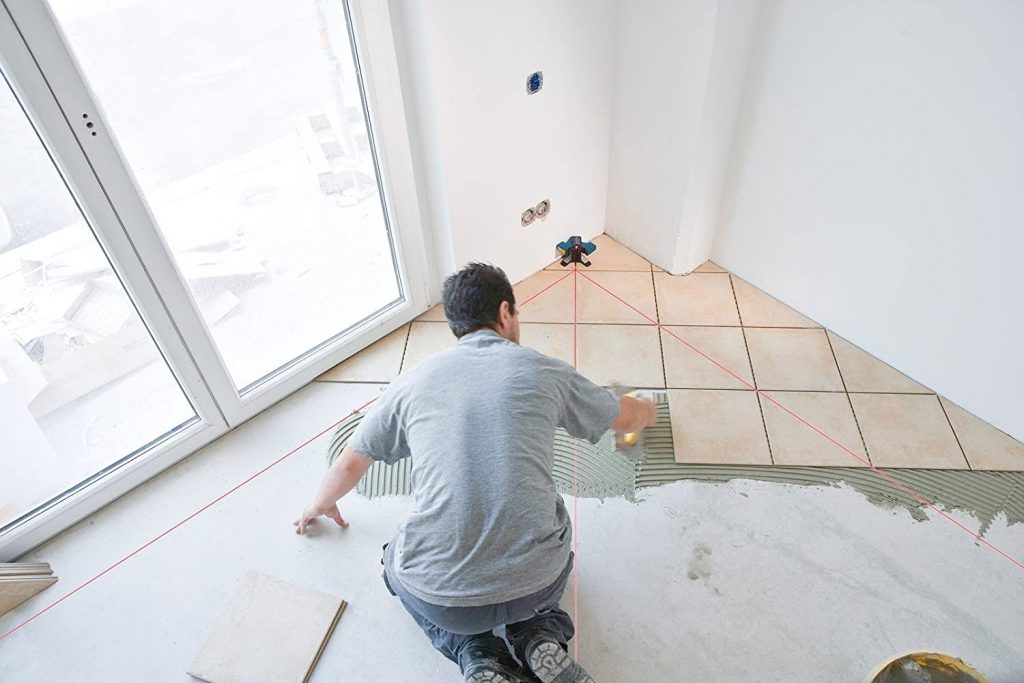 The Bosch GTL3 is featured with magnets on the bottom to provide secure and variable attachment on positioning plates and other magnet-friendly surfaces. This tile laser level has the badge of an IP54 rating and is built to withstand harsh job conditions.
Features Summary
Accurately projects 90° lines for squaring tile
Produces highly bright and visible lines on any surface
0° and 90° lines plus switchable to 45° line helps verify proper positioning of square tiles
Durable to withstand tough Jobsite
Features strong magnets on the bottom
Professional tiling laser Level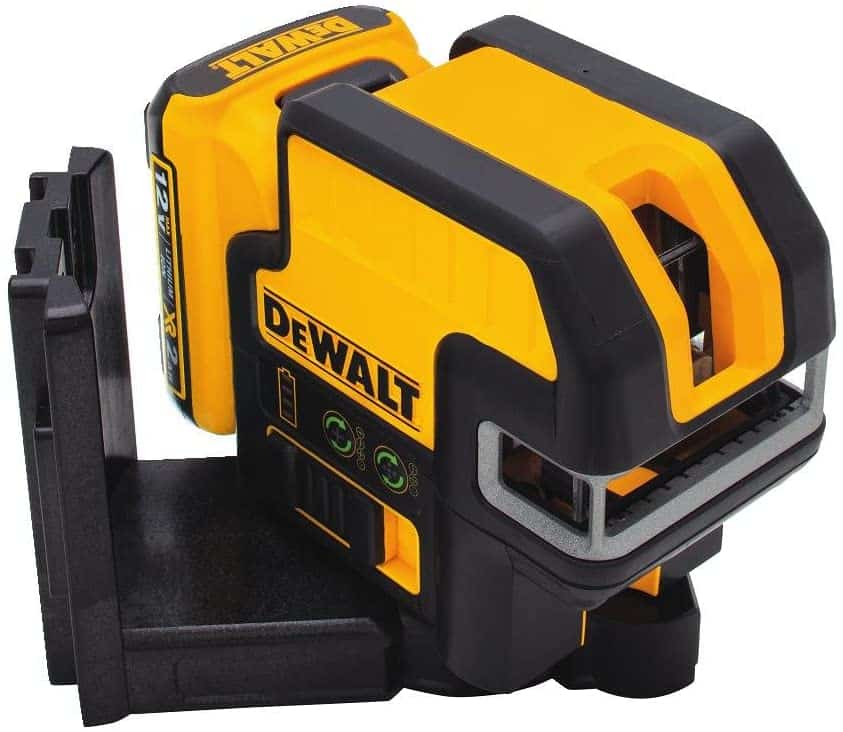 The second quality laser level is the DW0825LG 12V MAX Line Tiling laser level from DEWALT.
DeWalt is an American Industrial Tool manufacturing company. It has a good reputation for manufacturing high-standard manufacturing tools. DW0825LG 12V MAX is a masterpiece Laser Level from Dewalt and widely used by professionals.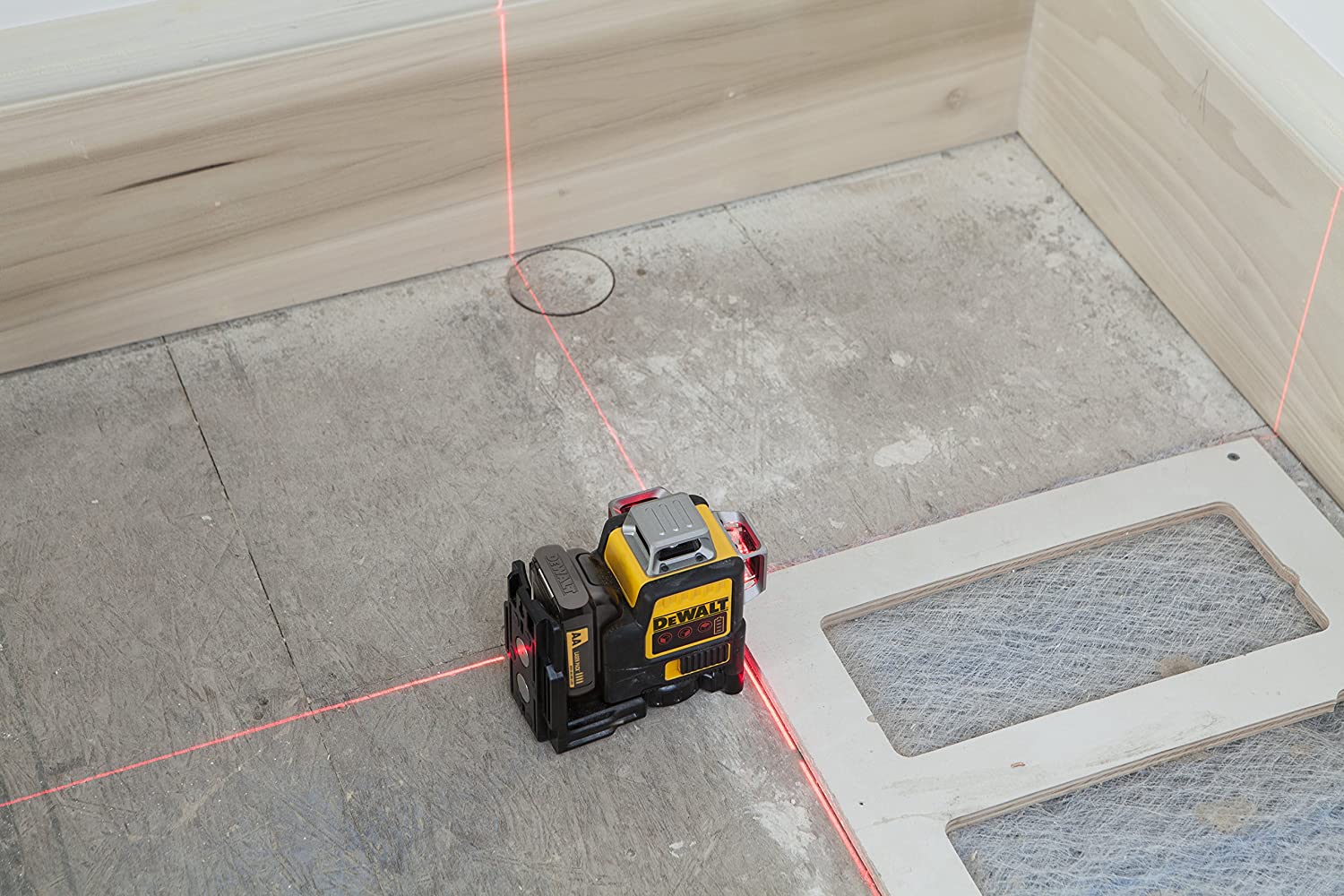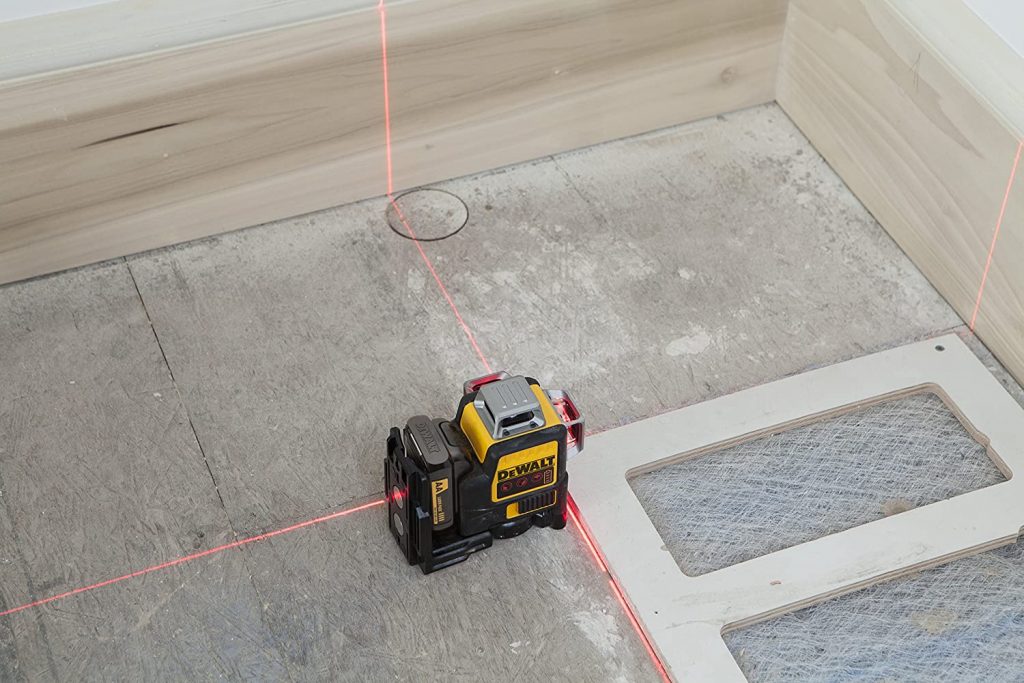 This Tiling Laser Level offers great versatility on the Jobsite. The Dewalt laser level provides accurate and precise readings for numerous levelling jobs. Comes with 12 volts lithium-Ion rechargeable battery, a full-time pulse mode, and an over-moulded housing. IP65 debris/water resistance makes it a durable levelling companion.
Features Summary
DEWALT DW0825LG has an Integrated Bracket
Green Beam Technology offers better visibility
Comes with Locking Pendulum
It has IP 65 Rating
Full-Time Pulse Mode – Detector
Cross-line Laser + 5 spot Laser Projector
Package includes Extended bracket+ Enhancement plate+ Target card + Blow Mold Case + 12 V rechargeable Battery & Charger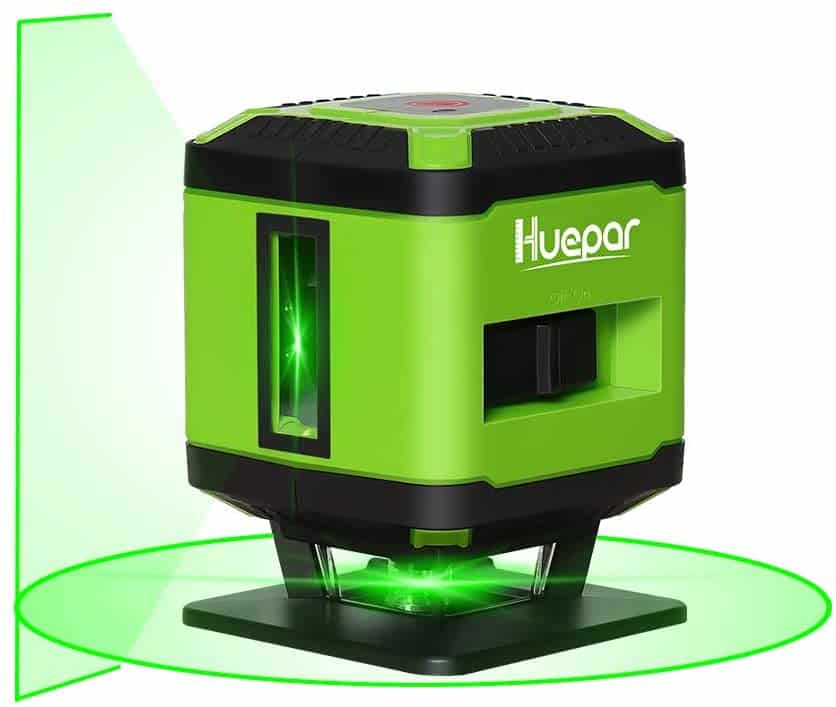 Huepar FL360G has the shortest (1/3 feet) distance from the sea level. This shortest distance ensures that you will have the first dedicated tile-laying accurate laser level on the market. The best indoor floor tile alignment self-levelling laser level projects switchable green laser beams vertically and horizontally. It is featured with a rotatable laser head through 360 degrees for continuous level taking.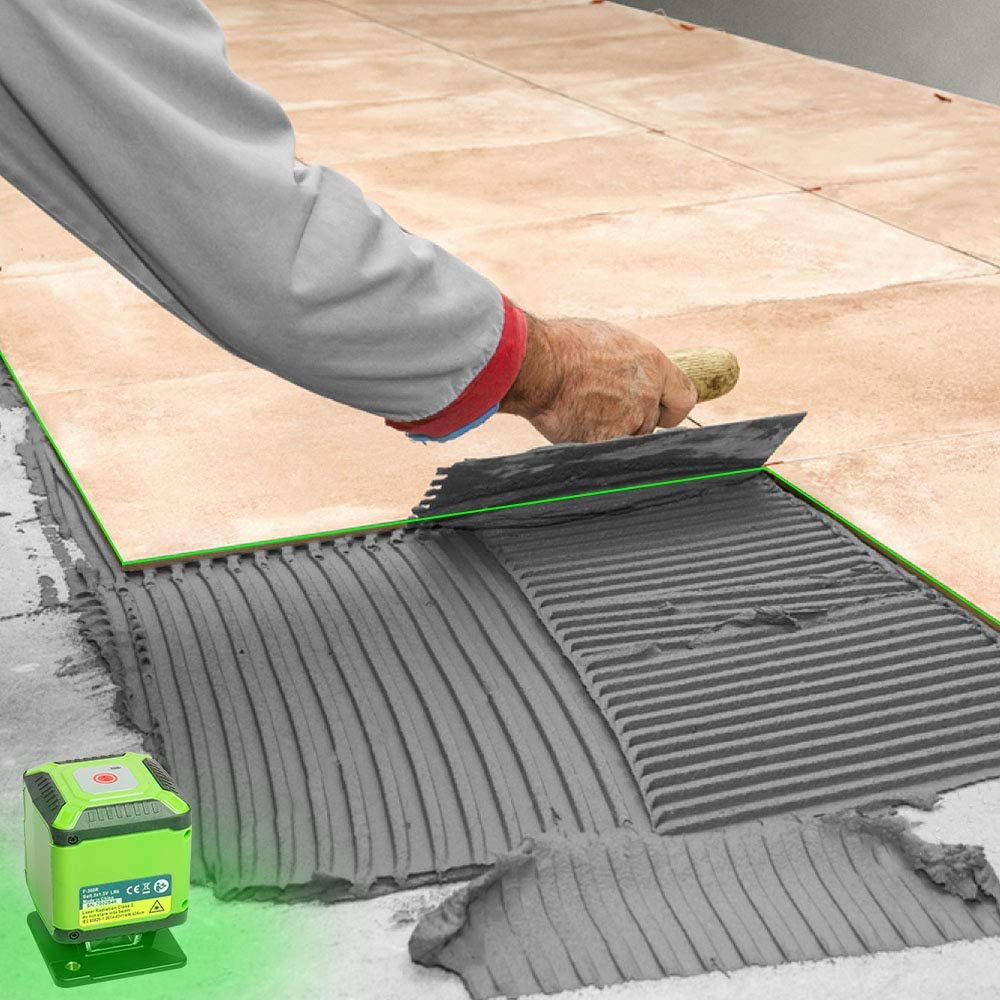 Huepar FL360G is known for its high levelling accuracy of ±1/3 inches at 33 feet, with two visible laser lines. It is a laser level for the whole team as Several team members can use a single Huepar FL360G Laser Level at the same time to lay tiles in different directions in a room.
Features Summary
ONLY 1/3 feet distance from the sea level
Patented product by the Huepar
Project 360-degree horizontal laser line that makes it easy, fast and robust
Single Laser level for several people to work at the same time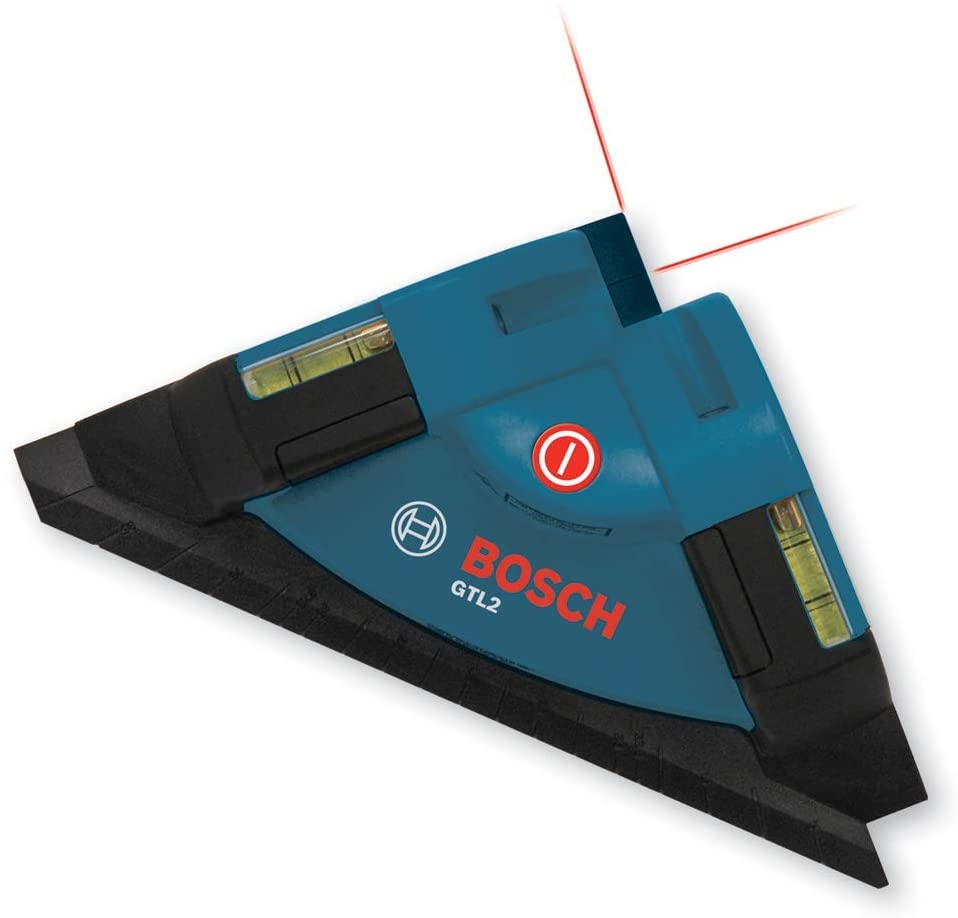 Here is another Laser Level from the Bosch. It is two times cheaper than the Bosch Professional GTL3. If you are looking for a low-budget yet great Laser Level Bosch GTL2 is for you. Make your work easy and accurately with GTL2 that carries Bosch Laser technology. It output high accuracy, which is within one inch per 100 feet.
Bosch GTL2 has a visible range of 30 feet and projects horizontal and vertical lines on a surface, which is perfect to square, align, and attain 90-degree angles. It is easy to use, compact in size, best budget, and ideal tiling laser level for DIYers.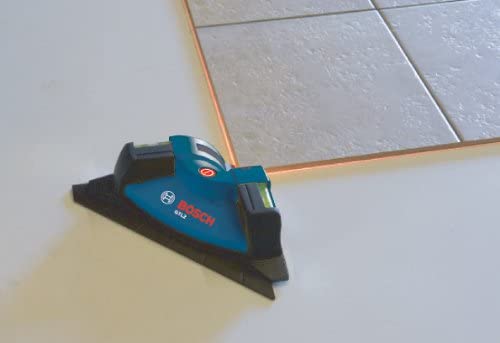 Features Summary
projects horizontal and vertical chalk lines on any surface up to 30-ft
produces right, sharp, highly visible laser lines
Calculates and turns angles in 5° increments
User Friendly, Simple one-button operation
Compact and Lightweight
Best budget, Under $ 50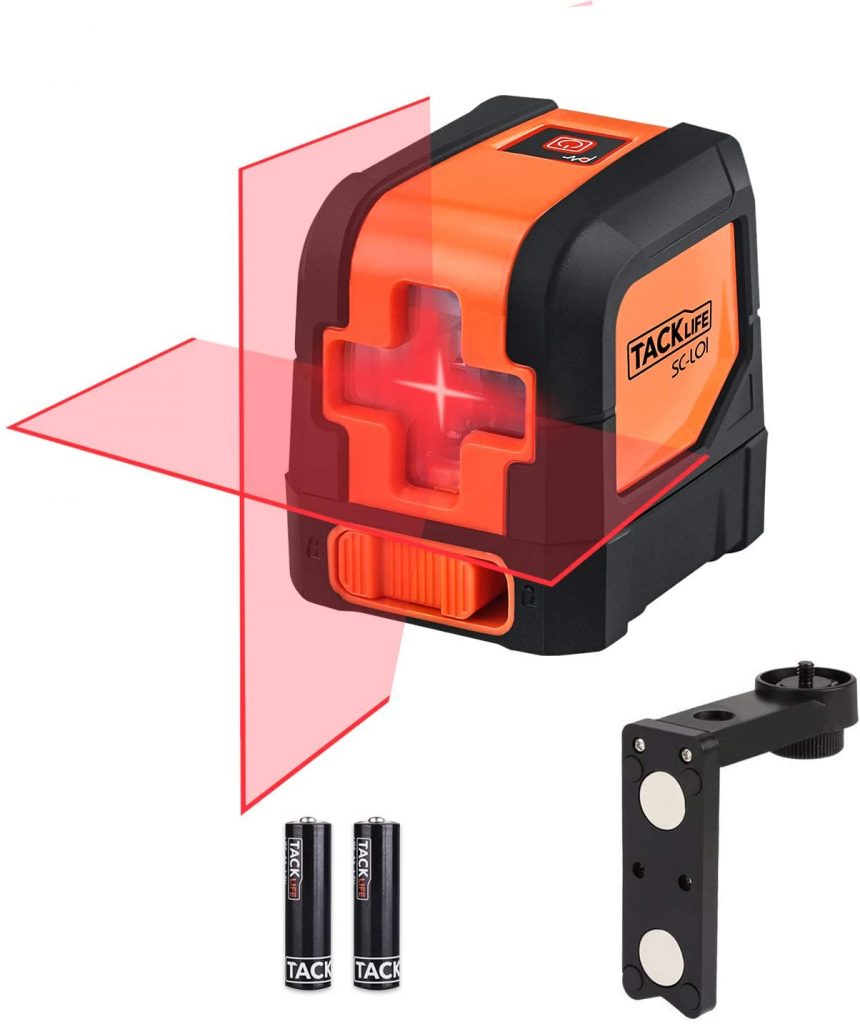 Last but not most, the Laser level of this list is Tacklife SC-L01-50 Feet Laser Leve, perfect for wall tiling. It uses an innovative pendulum levelling system that activates the beam and auto-levels when placed within 4 degrees. When it goes out of range, the laser beam alerts you through a flash.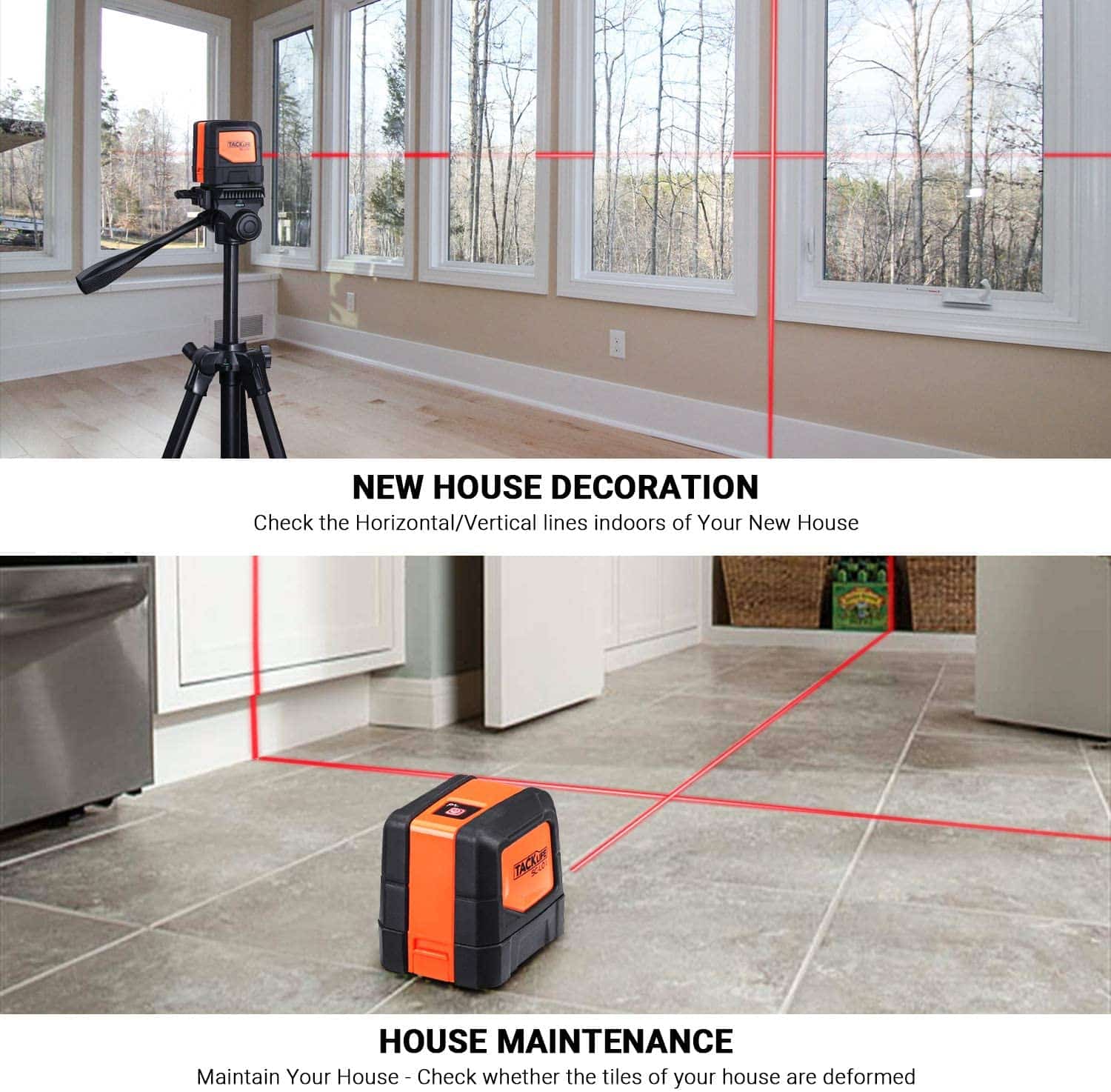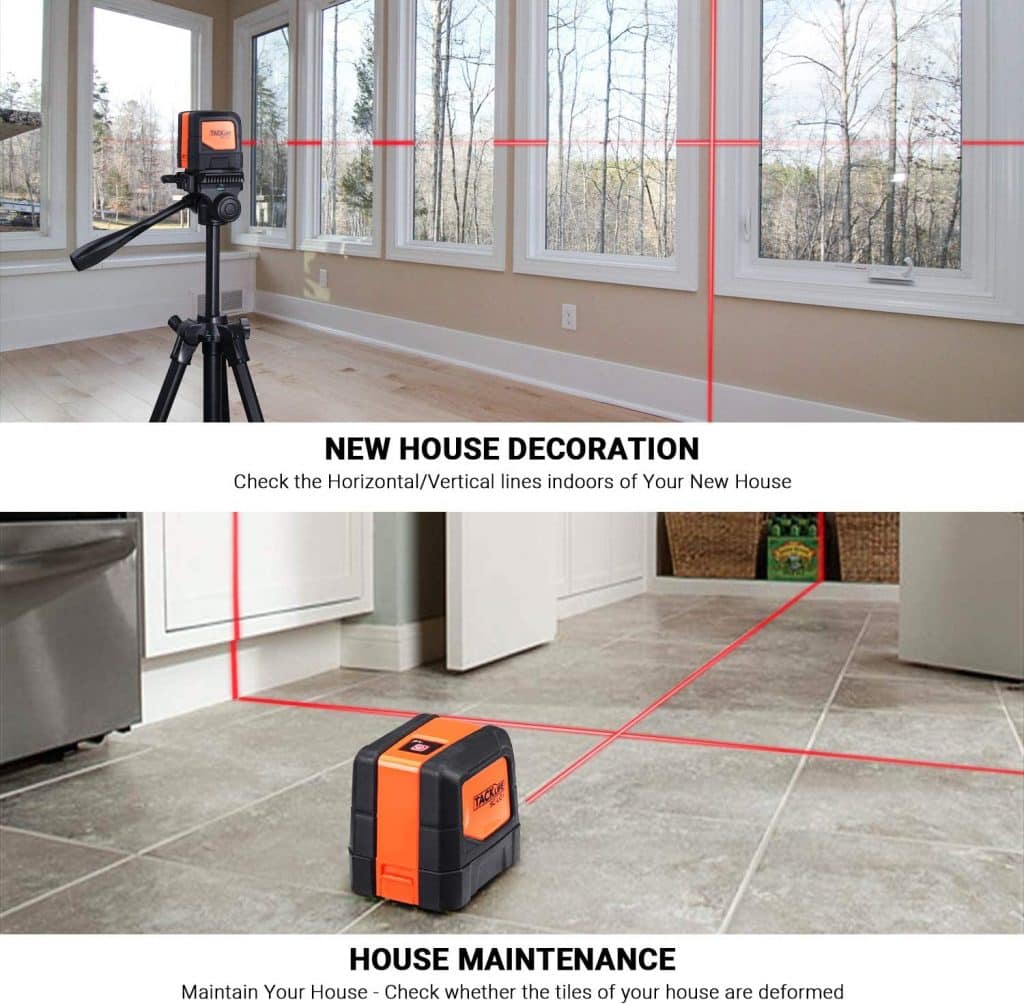 If you want a budget tiling laser level to line your tiles and have the Sierra Nevada ale waiting at the end of the laser this is for you!
Tacklife SC-L01-50 is a tripod mountable device using the attached magnetic brackets to help you achieve a 360-degree laser level with the freedom to project lines at any level.
Features Summary
Produces Red, Bright laser beams
Best for Indoor Use
It contains an intelligent pendulum levelling system
Tripod, wall Mountable device
Handy easy to use
Package includes;1* Magnetic Base + AA Batteries + 1*Soft Carrying Bag and English User's Manual
Conclusion
This article has the attention to help the people attached to construction industries with the best Laser Levels available on the market. These Five best Laser Levels are best with their features and fit in the pocket. Starting from the first that is "Bosch Professional GTL3" is best to use professionally. The second "DEWALT DW0825LG" produces green beams and offers high accuracy. The third on the list is "Bosch GTL2", the best budget tiling laser level, perfect tile lasers for DIYers. The Four one is "Huepar FL360G", which has the shortest distance from sea level and is known for its accuracy of ±1/3 inches at 33 feet.
The last one is Tacklife SC-L01-50 Feet Laser Level is a good budget buy For Wall Tiling. This list covers all the classes of Laser Levels for different needs and experience levels.
Tile Calculator
Please allow an extra for any cutting and wastage, including any tiles that break. The industry standard includes an additional 5 to 10% allowance for 'wastage. When cutting certain angles and shapes, it is common to break more tiles, so you have to consider this, there's nothing worse than running out of materials before finishing the job.
Tile size
Floor or wall size
Or
Results
{{data.totaltiles.total}} Tiles
{{data.totaltiles.height}} Tiles
{{data.totaltiles.width}} Tiles
{{data.totaltiles.persqm}} Tiles