What is the Best Brick Cleaner for Cleaning Bricks?
Clean bricks look well! They are made to last long but do need proper cleaning and maintenance and especially when bad workmanship is achieved.
whether you are looking for a way to clean old brickwork or clean newly laid bricks or maybe even after repointing has been done, this article will help you learn some of the best brick cleaning solutions on the market.
How To Clean Bricks
First, it is vital to have the right brick cleaning solution. Know that not all bricks are the same, so a cleaner's efficiency might vary from one brand to another. Determine the kind of brick you have and then find out an appropriate cleaning solution for the job.
Remember, brick cleaners can be harmful to yourself and to the environment! Always protect adjacent non-brick surfaces using plastic or sheeting to avoid damages from the cleaning solvents.
Wear the Correct PPE!
The next step is water saturation! Next, spray the brickwork thoroughly via a garden hose or pressure washer. This helps remove dirt and grime off the surface.
Once you are done saturating the bricks, it is time to apply the cleaning solution. First, apply a generous amount of the desired cleaner to the wet area and then scrub or wash down with a stiff brush.
Rinse away the cleaning solution as best as you can to avoid deterioration and brick damage. Use an adequate amount of water to eliminate every ounce of the residue of the brick cleaning solution.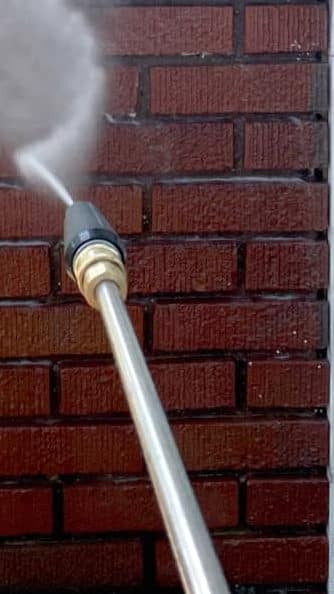 Cleaning Bricks With Acid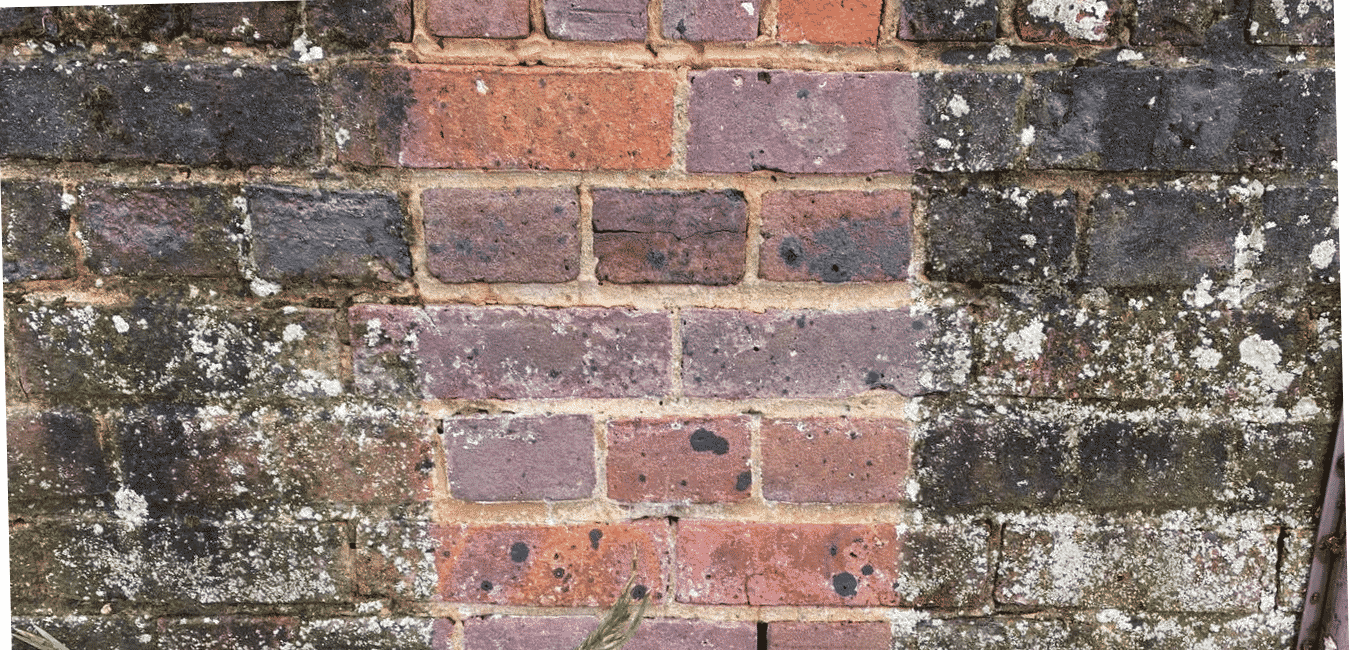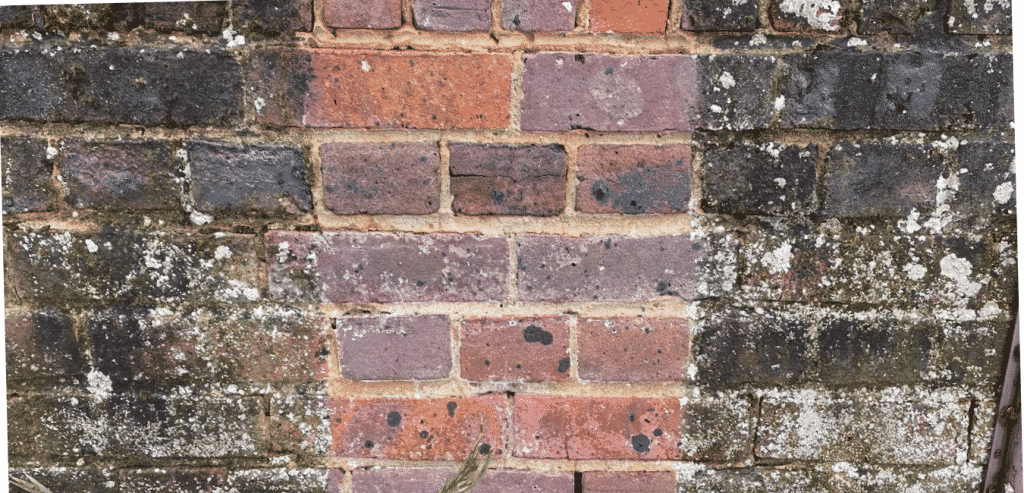 Acids are considered one of the most concentrated brick cleaning solutions. Nonetheless, one must use them with utmost care and safety to prevent bricks and other surfaces damage.
Acids can clean brickwork remove mortar stubborn grime, deposits, rust, and other tenacious marks caused by environmental factors.
Many products available in the market today have hydrochloric acid as the main constituent,
To make acid formula fill a large bucket with water and add one part of acid solvent. Next, dip a bristled brush into the fusion and apply it on the bricks very carefully making sure you are wearing the correct PPE. Now scrub and leave the solution on for a few minutes before rinsing it off with a pressure washer or hose.
Best Brick Cleaning Solutions
Now that you know the steps involved in cleaning bricks and acid for a similar purpose, it is time to pick the best cleaning solution for the money. This section will walk you through the highest-rated and best-selling products to keep your exterior and interior walls looking their best throughout the year.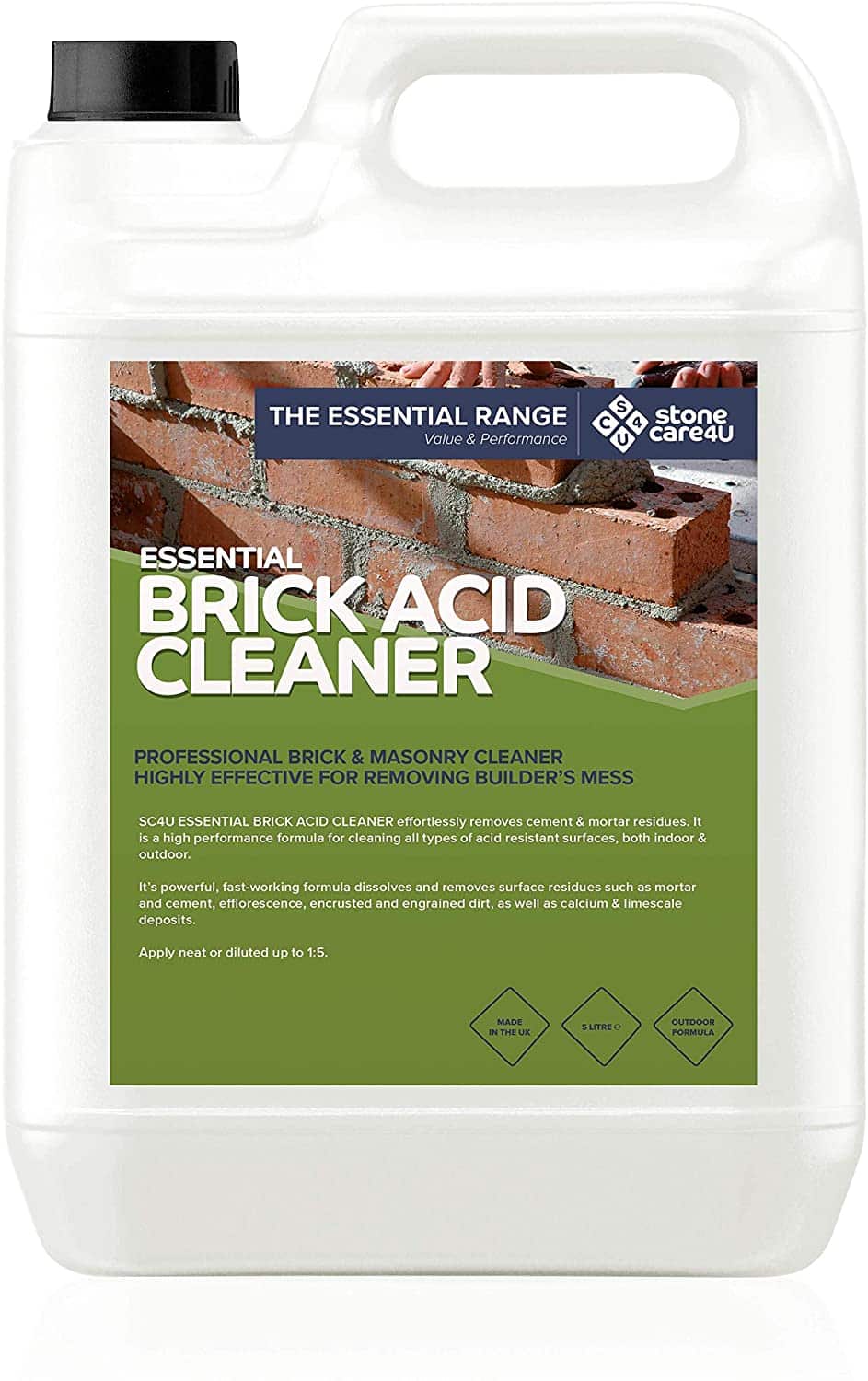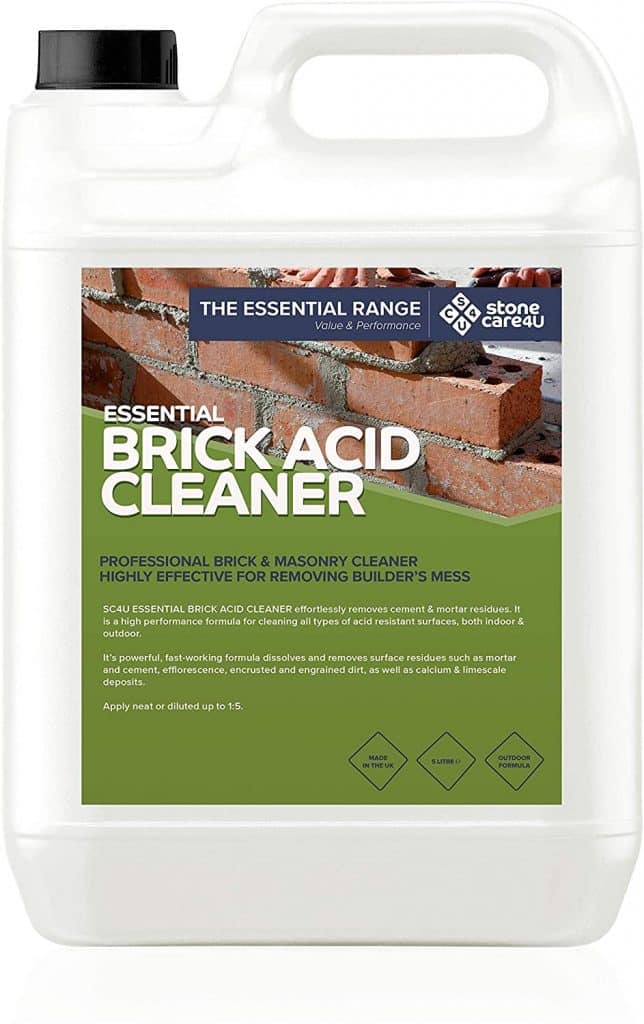 Looking for a way to transform your brickwork and achieve outstanding results in an instant? Look no further than Stonecare4u Essential Brick Acid Cleaner for all of your brick cleaning needs. Another great option if your preference is to opt for a cleaner that is extra safe and easy to use.
This brick acid cleaner is specially formulated to remove cement and mortar remains. Thanks to its high performance and ability to clean all kinds of indoor/outdoor acid-resistant surfaces, many experts and certified cleaners recommend this professional-grade formula. Moreover, the Stonecare4u Essential Brick Acid Cleaner seamlessly eradicates crusted, deep-seated, and efflorescence dirt particles alongside limestone/calcium deposits.
This targeted, besieged, and versatile functioning is best used during post-construction processes, considering it is applied over suitable surfaces like brick, porcelain, concrete, and clay. The average coverage range here is between 10m2 to 40m2, depending upon the stubbornness of the deposits, spillages, and damage.
Pros
Versatile performance
Quick results
Powerful and seamless functioning
It gives good value for money
Restore the original appearance of brickwork
Cons
It can easily stain the surrounding area
Stonecare4u – Essential Brick Acid Cleaner – 5 Litre – High-Performance Formula Effortlessly Removes Cement & Mortar Residue from Walls & Brickwork…
Stonecare4us Essential Brick Acid Cleaner removes mortar & cement residues with ease, thanks to its 𝗛𝗶𝗴𝗵 𝗣𝗲𝗿𝗳𝗼𝗿𝗺𝗮𝗻𝗰𝗲 formula designed for cleaning all types of acid resistant surfaces internally and externally

Works by using the powerful, 𝗙𝗮𝘀𝘁-𝗪𝗼𝗿𝗸𝗶𝗻𝗴 formula which works to dissolve and remove surface residues, efflorescene, engrained dirt and light calcium for a targeted performance

Suitable for a 𝗥𝗮𝗻𝗴𝗲 𝗼𝗳 𝗛𝗮𝗿𝗱 𝗦𝘂𝗿𝗳𝗮𝗰𝗲𝘀 providing they are acid-resistant, including but not limited to concrete, quarry tiles, porcelain, ceramic tiles, brick, clay, terracotta and many other types of natural stone

Average coverage can range between 10m² to 40m². This heavily depends upon the kind and stubbornness of the deposits. Must be rinsed away after about 10 minutes. Always wipe up spillages and rinse thoroughly with cold water. 𝗣𝗹𝗲𝗮𝘀𝗲 𝗦𝗲𝗲 𝗕𝗲𝗹𝗼𝘄 for full application details 🔻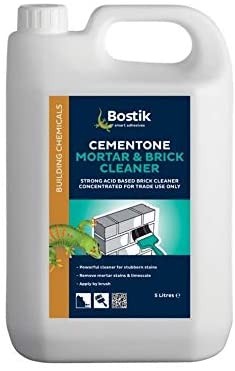 This year, give your property a complete makeover! Use Cementone Mortar & Brick Cleaner to sharpen up your brickwork and remove the stains and stubborn blotches.
When it comes to cleaning soot off bricks, buying cheap and low-quality products is not intelligent. You might end up needing more solutions or fixing further damage due to poor product results. This mortar cleaner and brick cleaning solution is a well-formulated item which ultimately means you save more money and effort on cleaning while obtaining superior results.
The concentered solution helps clean your brickwork and masonry projects without compromising on the materials/mortar integrated to secure the pieces together. Despite being acid-based and highly concentrated, the solution does not dissolve bricks or compromise on their quality.
Pros
Potent acid-based cleaner
Effective and fast results
Make your bricks as good as new
Offers better curb appeal to the cleaned exterior/interior
Easy to apply
Cementone Mortar & Brick Cleaner (Concentrated) 5L
Bostik Cemontone Brick & Patio Cleaner is specially formulated to deal with those very hard to remove stains from around external areas. It will remove algae, limescale and general dirt and grime with its fast acting action. It is suitable for outside areas and should be applied to the affected area and then scrubbed with a stiff brush Acid based Ideal for cleaning bricks, paving and patios Cleans away algae, dirt and grime from most building surfaces Coverage of 4m² per litre approx when used undiluted Apply with a brush Read full instructions and precautions in use on pack before commencing work
The FILA Deterdek Pro is ideal for people looking for an all-in-one detergent and descaler for brick cleaning. It contains a high amount of high-quality commercial surfactants to remove out dust, rust stains, mortar residue, and lime deposits from all types of surfaces. Best used for eliminating saline efflorescence from bricks and other similar exteriors like acid-resistant natural stone and tiles.
Since it is an all-encompassing brick cleaning product, it works well against sedimentation and discolouration. In addition, it is more mild yet effective than hydrochloric acid and does not give out any harmful fumes, which is a standard case with professional acidic descalers. The FILA Deterdek Pro 1L Acid Descaler Detergent is also friendly towards other surfaces, so a decent candidate for frequent brick cleaning needs.
Pros
Cleans deposits and stains simultaneously
It does not affect grouting
Suitable for post-application deposits and site dirt
Supports preventive brickwork maintenance
Money and effort saving
FILA Deterdek Pro 1L Acid Descaler Detergent, Removes Cement Residues after installation and the dirt left at the end of construction – Effective against Rust Stains
It removes scaling after laying flooring or tiles and building site dirt. Detedek it is a multipurpose and multifunctional product: depending on the dilution, it cleans and descales, removes rust stains and can be used on a variety of acid-resistant materials. Deterdek is the professional's choice when it comes to surface maintenance, and is recommended by over 200 surface manufacturing companies. It is especially effective in cleaning cement grouts with additives.

It removes limescale from floors, walls (showers), bathroom fixtures and salt efflorescence from terracotta

It deeply cleans outdoor flooring; descales and cleans at the same time because it is rich in surfactants

Deterdek is effective against rust stains

Ideal for terracotta, clinker, porcelain stoneware, glazed ceramic, acid-resistant st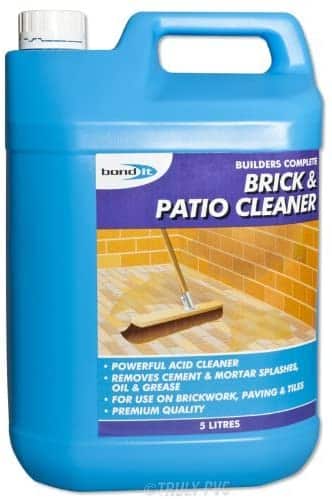 Make your brickwork and patio look as good as new with this easy-to-use cleaner! Another effective and quality brick cleaning acid on the list was formulated to eliminate unsightly stains caused by multiple daily occurrences. With acid in its formulation, the product removes mortar and cement splashes, grease, grime, oil, and other challenging stains from your brickwork. However, you can also use the solution against concrete floors, patios, pavements, garages, and warehouses.
The solution is highly concentrated, so it needs to be diluted at first. Also, it is important to keep in mind that the results will not be instantaneous. You might have to wait a few hours to notice any kind of difference in the surface. Just follow the manufacturer's instructions and be sure to get the promised results in real-time. Within a couple of times, your brickwork and other surfaces will be totally clean. The heavy stains between the brick spaces will vanish and be swept away with high-pressure clean water spray.
Pros
Water-based cleanup
Very easy to use
Incredible shelf life
Cost-effective and affordable
Prolongs the brickwork building life
Bond-It Brick & Patio Acid based Cleaner 5 Litre
Bond-It Brick & Patio Acid based Cleaner - 5 Litre, A Powerful acid based cleaner that will remove cement and mortar splashes, grime, oil, grease and other stains on brickwork, patios, garages, paving, concrete floors and warehou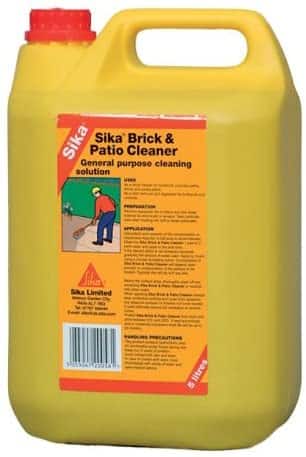 A super-strength cleaner best known for eliminating cement/mortar splashes from brickwork and patios. Other utilities include removing light oil stains, grease, and grime off paving tiles, bricks, and concrete. As per the manufacturer's claim, it is a general-purpose, acid-based cleaning solution best for removing stubborn stains and bricks and degreasing it to make the exterior look gleaming and clean.
Remember to dilute the solution to one part to two parts water before applying to the designated area. Reduce the amount of added water to achieve instant results or clean obstinate marks. Apply the cleaner using a brush with circular scrubbing action before washing it away using a pressure pump or garden hose. Know that consumption relies on the intensity of contamination and brick's porosity to be treated. The standard value is around 4m2per Litre.
Pros
Easy to use
Suitable for toughest tasks
Very economical
Acid-based for instant working
Suits homeowner requirements
SIKA Brick & Patio Cleaner 5Lt
Sika Brick & Patio Cleaner is a general purpose, acid based cleaning solution for use on brickwork, concrete and paving. Typical uses include cleaning brickwork, concrete paths, drives and paved patios. Ideal for removing stains and degreasing brickwork and concrete. Sika Brick & Patio Cleaner should be diluted 1 part to 2 parts water, however, if the desired effect is not achieved then the amount of water added can be reduced. The cleaner is brush applied using a circular scrubbing action before washing off any remaining Sika Brick & Patio Cleaner or residue with clean water. Consumption will depend upon the porosity or contamination of the surface to be treated, typically this will be 4m2 per litre Easy to use - Apply by brush

Acid based - Suitable for use on the toughest tasks

Economical - Concentrated formula can be diluted to suit requireme
Cleaning brushes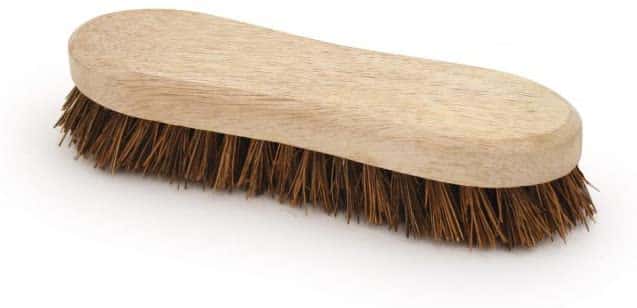 The wooden handle scrubbing brush is ideal for scrubbing brickwork and masonry, the natural bassine bristles clean away mortar and leave the face of the brickwork clean and residue-free.
Bassine filled bristles
Cruved design to fit neatly in hand
Hard wearing and weather resistant
Size: 190mm
Ethically sourced materials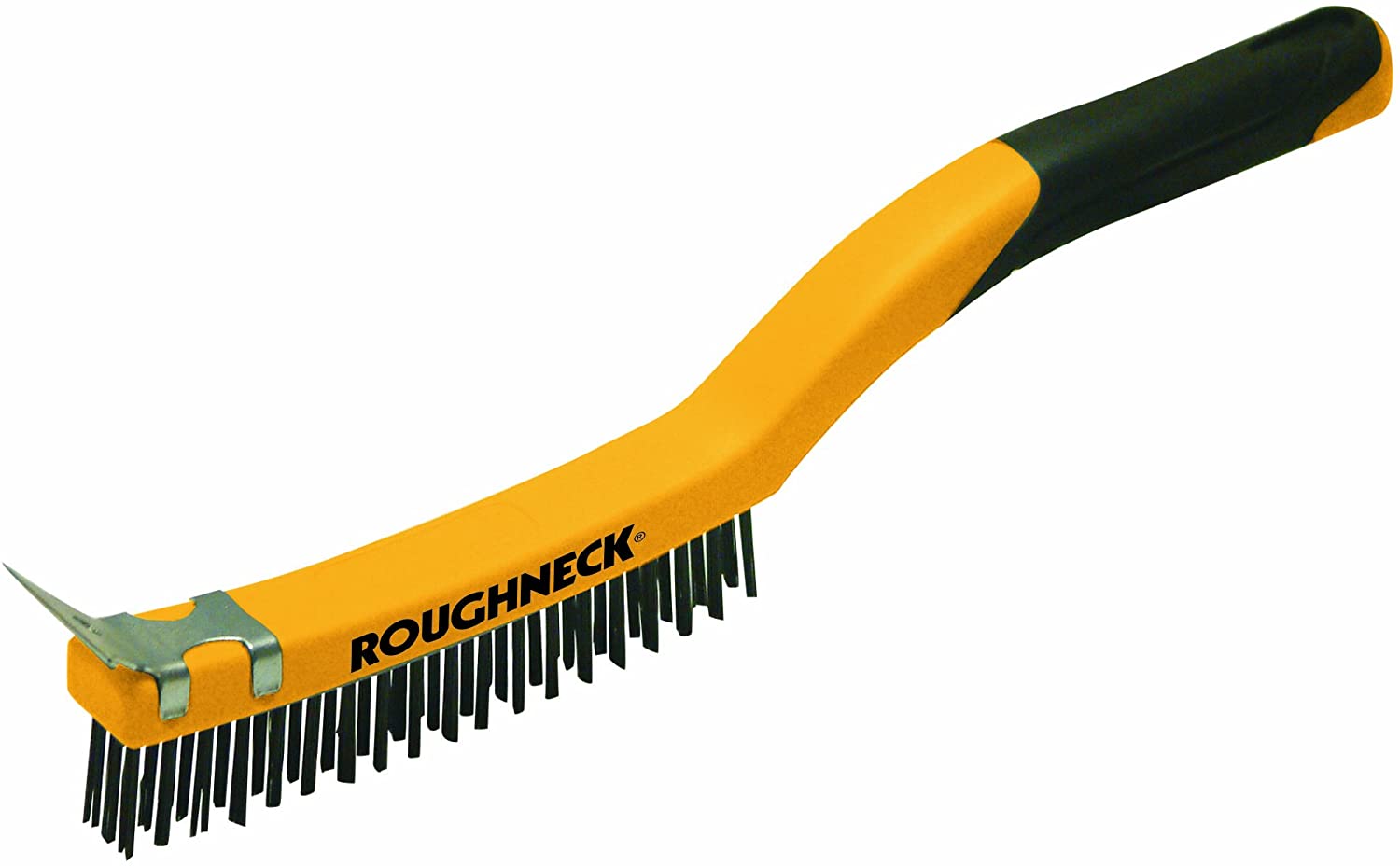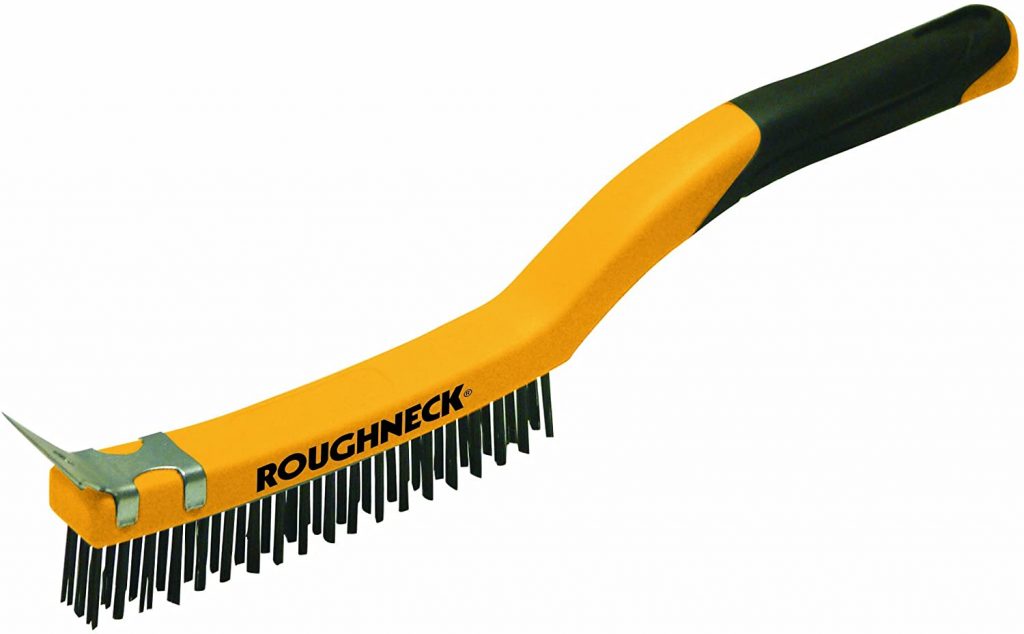 The stainless steel wire brush is for cleaning bricks, patio, decking, and fencing to make your house look seamlessly brand new and flawless. There is no need to dilute anything or pressure wash, scrub the brickwork and enjoy instant cleaning results that last up to many days to come.
Compared to the other similar products by the brand, this wire brush is a 3-row product with 14 inches in length and 19 sets of stainless steel bristles. It also includes an integrated hardened steel scraper and a TPR soft-grip handle for maximum user convenience. All hail to its uniqueness, the product gives good value for money and saves you a lot of trouble and back-breaking exertions over time.
Pros
High-quality and durable
Very effective
Handle shape gives reasonable control over the brush
Budget-friendly
Easy to use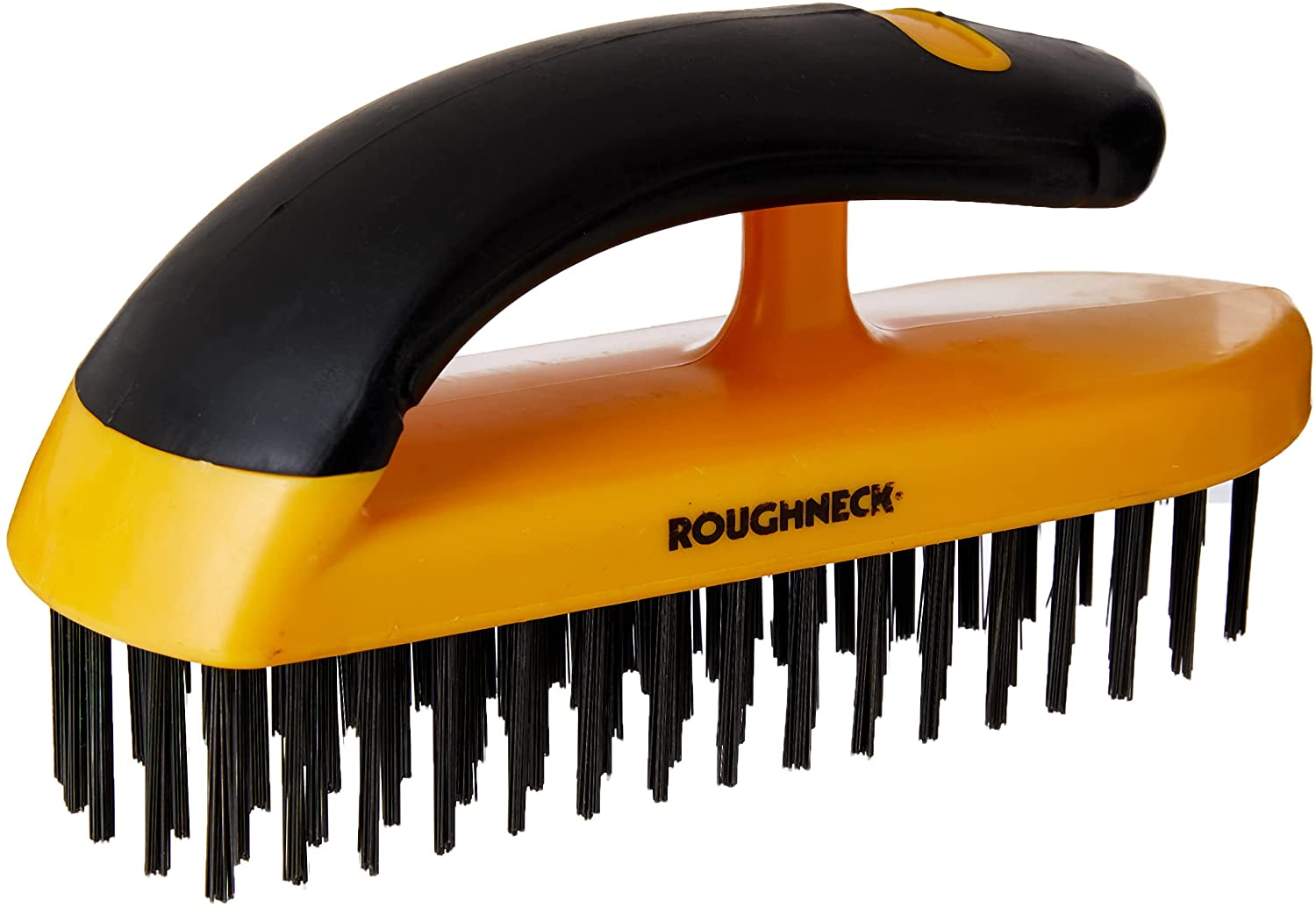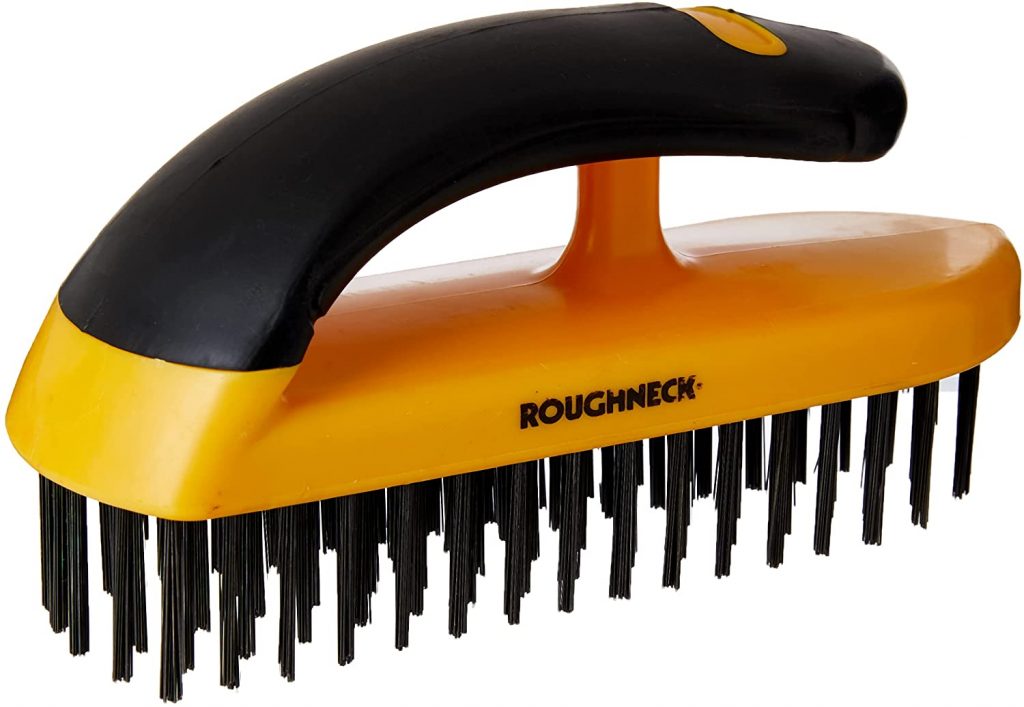 The walls of your home are starting to look dull, mouldy, and deteriorated? Please give it a thorough clean with a high-quality brick cleaning block wire brush.
While making your purchase, two things should be on your mind; the cleaner must get the job done and should be safe for the environment and kids around the house. The Roughneck ROU52050 52050 Block Wire Brush is devoid of chemicals or harmful abrasives, so an environment-friendly, top-of-the-list brick cleaner that will have your exteriors and interiors looking new in no time.
This brick cleaning product is a 5-row block wire brush incorporating 6.5 inches brush and 18 sets of anodized carbon steel bristles with a TPR soft-grip handle. The most significant benefit of this item for us is its palm-style design with a tapered end. This feature helps work into corners and remove stubborn stains off the brickwork. Use it for cleaning patios, paint, dump patches, and rust from brick walls, metalwork, and woodwork.
Pros
Soft grip for comfort
Anodized carbon steel bristles
Composite handle
Tapered end and palm-type design
Best for domestic and professional use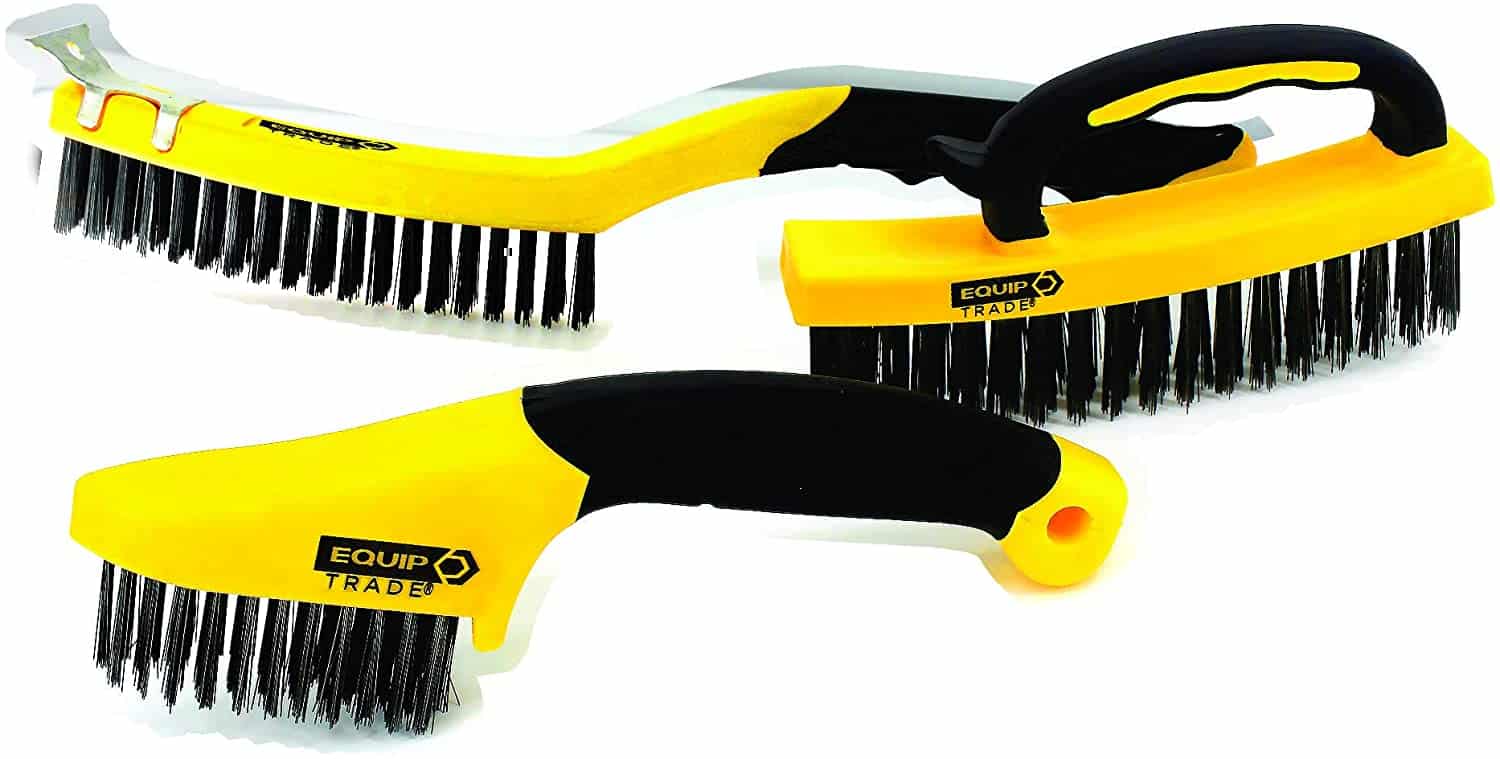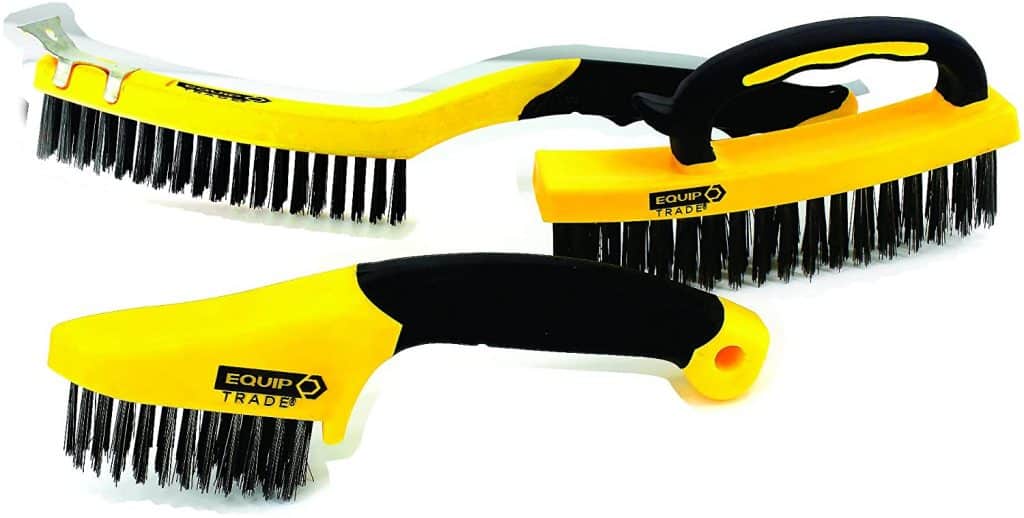 This premium pack of carbon-coated steel wire brushes is one of its brick cleaners in the market. The heavy-duty wire brush helps clean all the dirty surfaces while serving as a brick cleaner, paint scraper, rust, and stain remover. Use it as a primary tool to effortlessly scrub out grout, dirt, and moss from your brick wall and fences.
The package includes a pack of three brushes to complete your all-encompassing cleaning tool kit and later help remove stubborn grime and dirt. Its long handle comes in handy to clean from challenging angles, whereas the four-row metal steel bristles take out accumulated dirt from tight, hard-to-reach areas of the brickwork.
The EQUIP TRADE Large Heavy Duty Wire Brush Set is designed and manufactured to last long. The plastic body with an easy-grip rubber handle is sure to grab the attention of potential buyers. In addition, this feature provides extra support during cleaning, all while keeping your hands well-protected against injuries.
Pros
Lightweight
Easy to hold
Multifunctional
Best for abrasive cleaning
Carbon treated steel brushes
Frequently Asked Questions
What To Spray On Brickwork Before Applying A Brick Cleaning Solution?
Before applying a brick cleaning solution, it is advised to use a low-pressure spray to saturate the bricks with water. Doing so helps keep the solution from soaking into the bricks. Then, stand away from the surface and work your way upward with the spray.
Is It Important To Pressure Wash The Bricks?
Yes. Pressure washing ensures no dust, grout, or cleaner residue stays behind after cleaning. However, it is recommended that you only use low pressure when washing the exterior brickwork of your house. Go for 500-1000psi pressure to avoid any further damage or mutilation to the treated surface.
Can I Clean Brickwork With An Acid-Based Cleaner?
Acid-based cleaners should only be used for cleaning stubborn, hard-to-take-out stains and mortar from the brickwork. Diluted formulations can be used to treat all kinds of stains and issues during the life of the bricks with utmost care to avoid harming nearby surfaces or yourself.
Final Thoughts
There you go. These are some of the best brick cleaners for the year. Know that dirty and filthy bricks are never appealing to the eyes. Use this article as your guide to the best available products in the market for restoration and renewal of most exterior and interior brick damage and poor workmanship.