The Best Spirit Level for Bricklayers and Masons.
The Bricklayers spirit level is one of the best-used tools which bricklayers need.
It makes the job level and plumb and is a vital tool for any bricklayer and mason.
The spirit level is an essential piece of the toolkit that comes in different sizes.
It has mostly a horizontal vial and a vertical vial.
How to use a spirit level?
It is primarily to keep in check on the perfect alignment level and plumb when building.
The presence of a bubble in the bricklayer's spirit level will indicate either the surface or the two objects are aligned perfectly, considering the position of the bubble in the centre shows the objects to be on the level.
If the bubble is towards the left, then it means the left side's level is a little high compared to the right side.
The bubble positioned towards the right indicates the right level to be higher than the left one.
Spirit levels come made up of different types of material like plastic, aluminium, and even wood.
Bricklayers. Masons, carpenters, framers, electricians, plumbers, joiners and woodworkers all need spirit levels.
Types of Spirit level for Bricklayers and Masons
There are different levels of the spirit level and many styles for tradespeople and contractors to choose.
Some functional spirit level features are beyond style and material, such as magnetism, vial type, and durability suited for each trade.
Some spirit levels are magnetic, ideal for construction with metal studs, or a plumber or electrician working around pipes and conduit.
Magnet strength versus a spirit level's mass is a test for quality assurance.
Spirit levels are now made more durable with vial covers to protect the vial and end-caps from withstanding the shock of being dropped.
Some bricklayers and masons spirit levels have a plastic strike shield that protects the spirit level when levelling masonry.
Also, spirit levels have handgrips, which are primarily for comfort.
Title
Image
Price
Prime
Buy

Top

Stabila 196-2-120 Level 3 Vial 120cm/48in 15236

Prime

Buy Now
STANLEY 0-43-648 FATMAX Pro Box Beam Level, 1200mm/48"

Prime

Eligible

Buy Now
OX Tools OX-P024412 Pro Level 1200mm, Blue

Prime

Buy Now
80 AS Spirit Level 2 Vial 19169 120cm

Prime

Eligible

Buy Now
Hultafors HV80 80cm Aluminum Craftsman Level

Prime

Eligible

Buy Now
Stabila R-Type Level 120CM 48IN 18374 Spirit, Yellow/Black

Prime

Buy Now
Product prices and availability are accurate as of the date/time indicated and are subject to change. Any price and availability information displayed on [relevant Amazon Site(s), as applicable] at the time of purchase will apply to the purchase of this product.
Prices pulled from the Amazon Product Advertising API on:
The Stabila spirit levels maintain a reputation for having the best and most precise size and accurate measuring tools.


Length: 48″ 120cm
Construction Type: Box Level
Material: Reinforced Aluminum
Number of Vials: 3
Vial type: Acrylic Block
Handgrips: 2
Hanging holes: 1 & 2
The levels have three vials used for measurement purposes, two of which are vertical for finding plumb, whereas one is horizontal for determining the level for accuracy.
These aluminium spirit levels have a rigid and durable frame reinforced with a ribbed design for exceptional durability.
The 16-inch level has one handgrip, and the level, which is 48 inches in length, has two hand grips for holding that let the user use it in comfort and with minimal strain.
The heavy-duty levels feature rubber end caps to prevent damage from being dropped or from impacts.
Stabila 196-2-120 Level 3 Vial 120cm/48in 15236
Features 1 horizontal and 2 vertical Vials

Accurate to 0.5mm/m in the normal position and 0.75mm/m in overhead position.

Removable end-caps for flush fitting.

Large handholds in frame for positive handling even when wearing gloves.

Vials are guaranteed to remain accurate for 10 years.

Rated by Bricklayers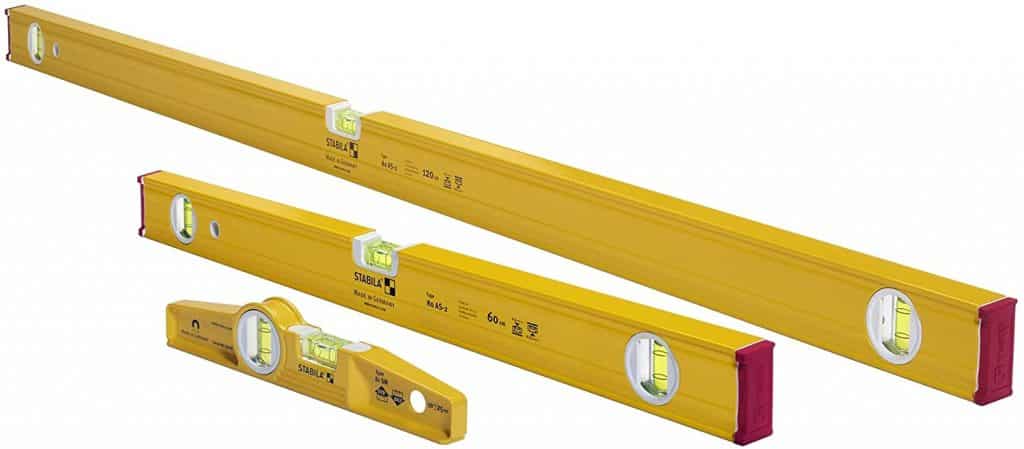 vials in 80 AS align perfectly with the measuring surface when used correctly during the work process.
Permanently connected, also guaranteeing the very best in providing the accuracy over the output. The spirit level delivers high-level performance with precise and accurate results.
Aluminium rectangular profile with reinforcing ribs – for high stability and a firm grip over this while using it for related tasks.
The vials aligned vertically in the spirit level allow quick and accurate readings in the required stage.
The integrated stoppers prevent the spirit level from slipping across the surface while taking measurements of the level of accuracy using it.
Stabila spirit level with high-quality vials for easy reading ability, consist of transparent, acrylic glass with inner UV resistant vials liquid.
Stabila spirit level installation technology comes forward with a warranty of accuracy. Its measuring accuracy in standard position is ± 0.5 mm/m and ± 0.75 mm/m in the opposite direction.
It consists of two vertical vials while only one horizontal vial for measuring level across a specific surface.
It is highly coated with restricted material to prevent the surface from any damage.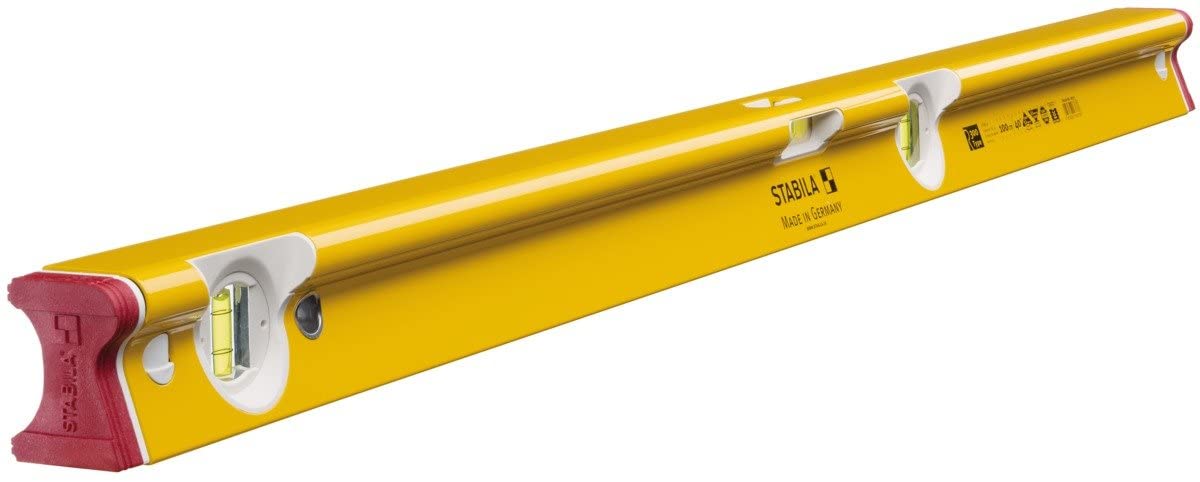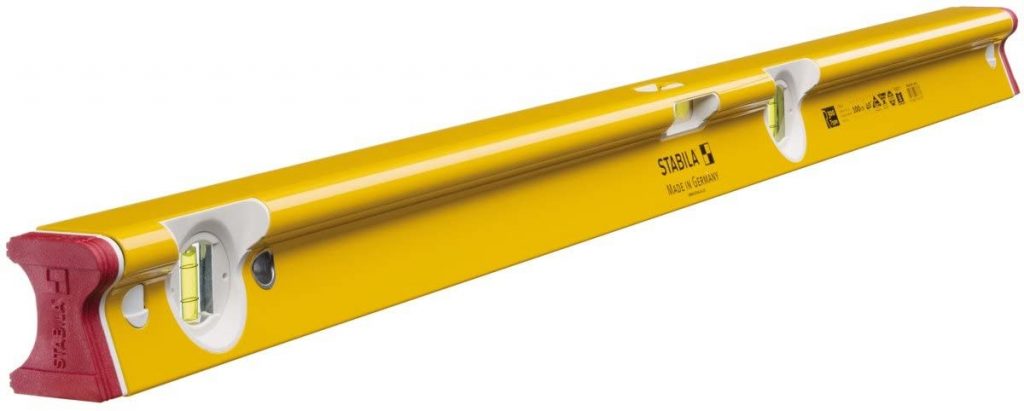 The Stabila Type R 300 spirit level has a measuring accuracy of 0.029° (0.5mm/m).
The R shape of this spirit level style provides some space for an easy grip, which is tested and by the building professionals, which runs along the whole length.
An extra-wide 4cm base gives a whole new level of stability, making it ideal for environments where normal levels would topple over in use, such as when correcting individual bricks during bricklaying.
It is also beneficial for carpentry, including framing and interior fit-out work due to the level's extra stability. For instance, kitchen and worktop fitters often leave their level on the surface while working below.
This strongest ever Stabila extruded level delivered unprecedented levels of strength and toughness thanks to the ingenious R-Shape extrusion.
The spirit level has a unique anti-twist strength along the entire length. Compared to the Stabila Type 96, the R 300 is 10% stronger in the normal measuring position and 120% stronger from side to side.
Three marking edges on the level make is very useful when measuring or even cutting materials. Removable shock-absorbing end caps with Stabila's patented anti-slip stoppers allow determination right into corners.
There are two vertical vials and one horizontal vial on the level.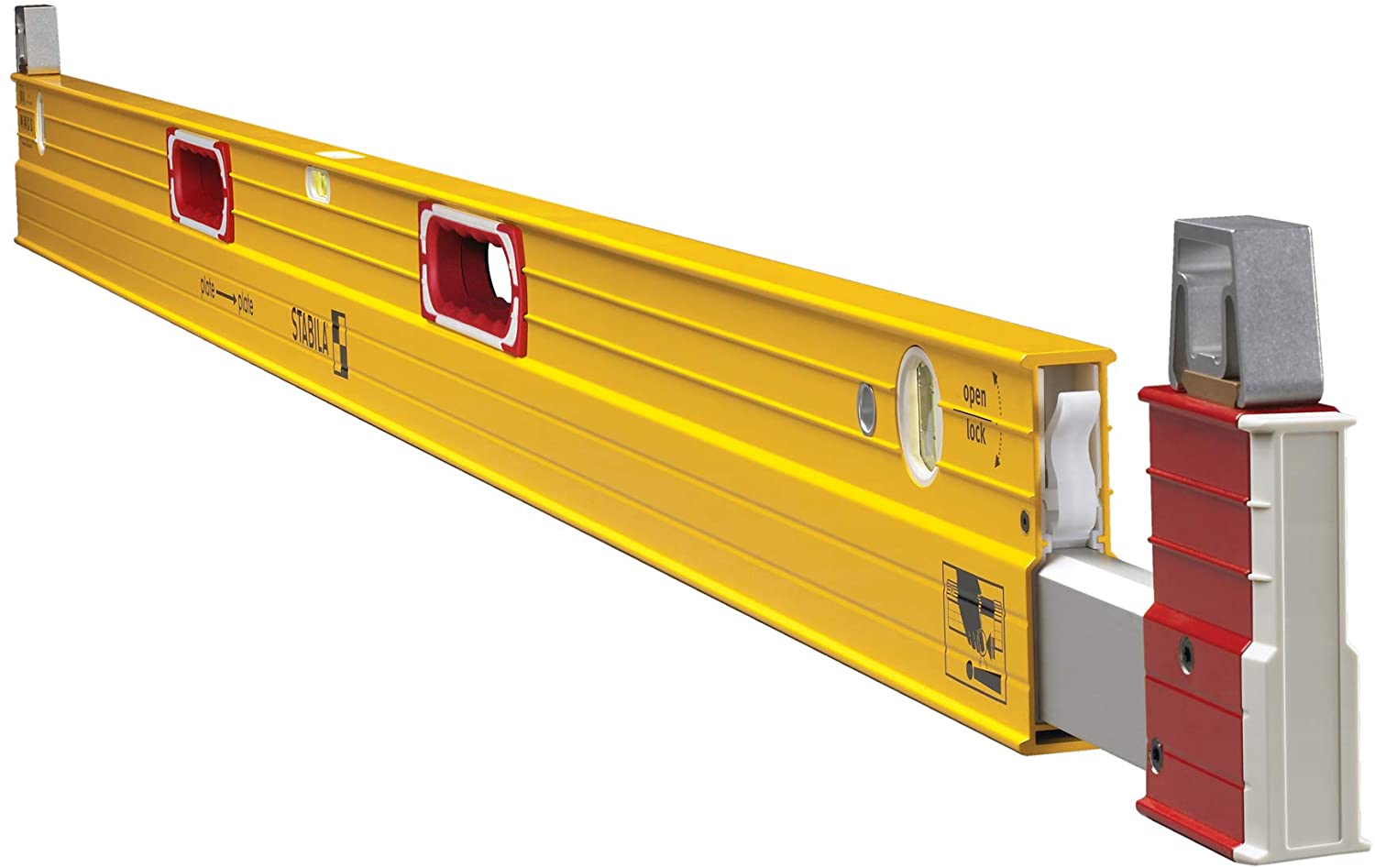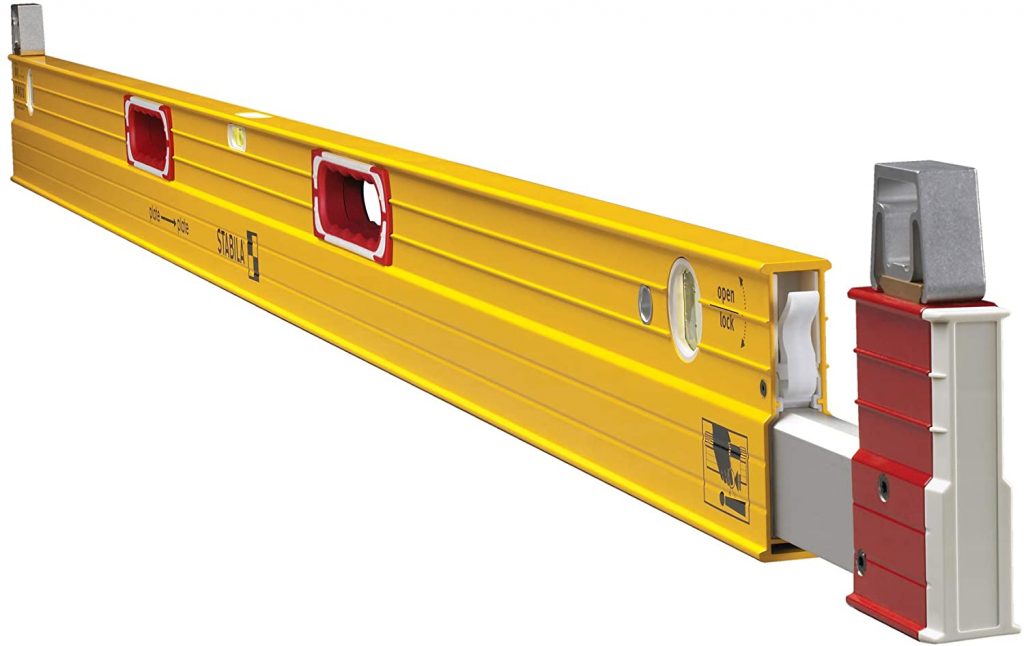 The Stabila 35610 Extendable (6 to 10 foot) Plate to Plate Level and used for broad range surfaces for better accuracy.
Trade proven
Manufactured in Germany.
Vial accuracy is guaranteed for life in case it overcomes bending or leakage while using it.
Tough box beam construction
It can extend around 6 to 10 feet in length for better use.
Hand holes for easy handling and placement on a surface
Stanley Spirit levels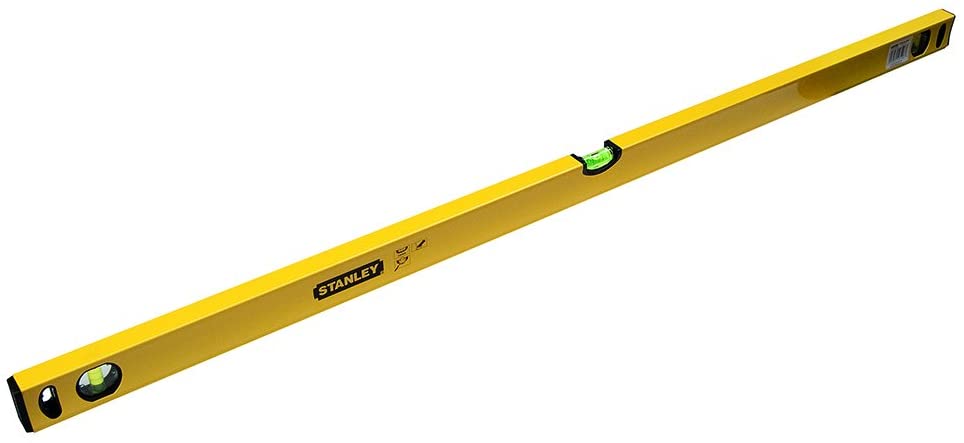 It offers bi-material hand grips
20 per cent vial magnification for visibility for the better use of it on different surfaces while brick layering.
Dual-machined levelling surfaces for maximum accuracy to achieve better output.
Rock-solid box-beam construction to prevent any damage while using it.
Rubber end caps for protection against the current flow in any case and durability.
It will measure within +/- 0.5 mm/m on all working surfaces with all eight orientations.


Two different hand grips screwed into the frame.
The vials of Stanley's level is magnified by 20 percent for improved all-around visibility.
Dual machined levelling surfaces for maximum accuracy.
The accuracy of this type of spirit level is +/-0.5 mm/m in all different angles.
The rubber end caps on the spirit level protects the device for durability and prevents scrapes.
Length: 48″ 120cm
Construction Type: Box Level
Material: Aluminum
Number of Vials: 3
Vial type: Acrylic Block
Handgrips: 2
Hanging holes: 2
Review: The Stanley FatMax is one of the most bought spirit levels for bricklaying.
It does fulfil the basic requirements very well.
A challenging spirit level with easy to read and magnified vials.
It features solid-block vials to provide an accuracy of 0.5mm/m in eight orientations.
The three vials are magnified for improved all-around visibility with shock-absorbing end caps.


This spirit level was engineered with top-level accuracy of 0.029° in normal and upside-down positions, ensuring your measurements are always precise. A good spirit level for bricklayers and masons as it is lightweight, accurate and durable.
Highly transparent and durable crush-proof vials with focus function for easy reading.
Horizontal vial with a +30% magnification lens and luminescent reflector for accurate readings.
The accuracy of 0. 029° (0. 5 mm/m) in normal and upside-down positions serves this type of level.
Low viscosity coloured oil mixture in vial gives the bubble optimal freedom of movement.
Anti-static vial liquid ensures the bubbles not affected by static electricity.
Shock absorbing end protectors with anti-slip function
Also available in 16″, 24″, 48″, and 78″ lengths


The Ox's Pro Series spirit levels are available in a variety of different sizes for different purposes.
Each of the various size spirit level benefits from the following:
lifetime warranty on the vial is provided by OX tools.
The vial is one of the essential elements of any spirit level.
It can also be a part of one of the most fragile elements.
Air-cushioned PVC shock absorbers are present at the OX spirit level.
The OX Bricklaying Tools Pro Series levels are designed to withstand knocks and bumps on the site.


Dual-view vials – The OX Pro Series levels by OX tools benefit from allowing the user to view the vertically aligned vial. It serves two purposes; it allows for more precise levelling and is easy to read from all angles.
Vials come calibrated to an accuracy of 0.5mm per meter.
Weight: 1 Kg
Unique level with integrated ruler feature
The Ox box level is starting to be seen more on construction sites used by bricklayers and masons due to its precision and toughness.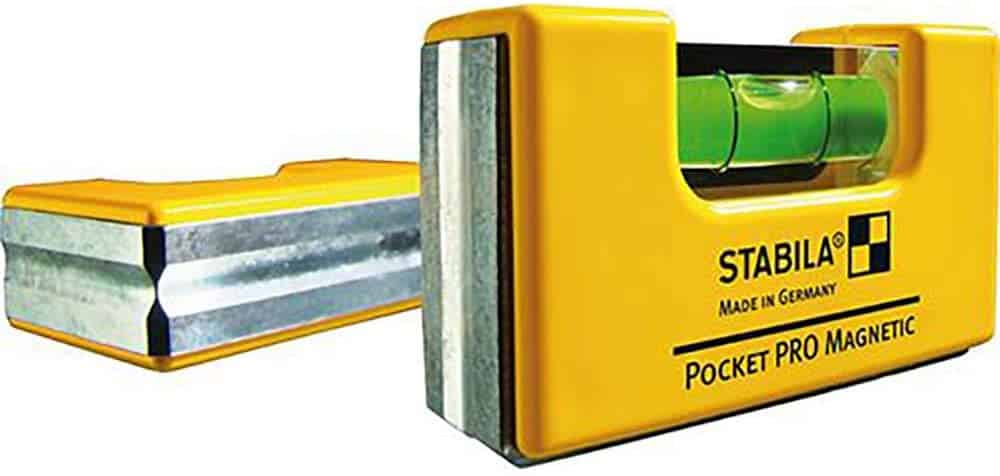 The Stabila Magnetic spirit levels a professional quality spirit level that fits in the pocket, with strong earth magnets forming a 90° angle.
This makes aligning and levelling on all steel structures, incredibly round surfaces, an easy task. The accuracy of the spirit level is guaranteed through the use of a stable precision vial. Ideal for all those tasks that need to be done in tight and inaccessible locations. Made up of precisely ground aluminium. This level can measure pipe surfaces with its v-groove base.
Stabila Pocket Pro Magnetic spirit level has a robust case with an aluminium core.
This professional brick layering spirit level allows the user to take measurements on flat and round surfaces. Both the lateral and base measuring surfaces have an extra-strong earth magnet.
Accessories
You can look at Here at > OX Bricklaying and Masonry Tools.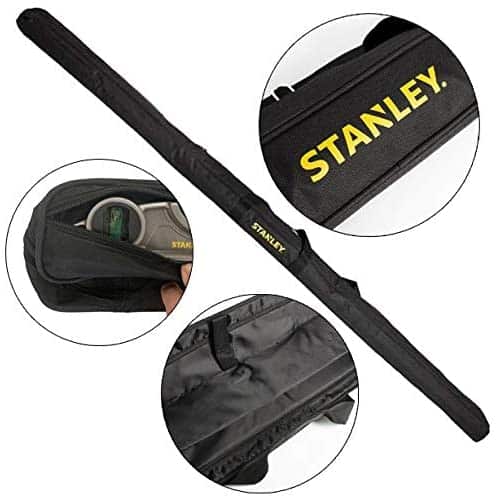 Can hold up to 4 Levels
Padded to protect your levels
Adjustable shoulder strap
Carry Handle
What is the Best Spirit level for Bricklayers?
What is the Best Spirit Level, and Why?
All the levels here are top-quality spirit levels, but In our view, The Stabila Heavy Duty 196 is considered the best spirit level for bricklaying because of its high usability tolerance against random knocks on construction sites.
Its high precision in measurement in all positions adds to the toughness, and from a reputable company like Stabila, the levels have been tried and tested for decades.
It can be more significant than the box section levels, but it is built to last. It may be more expensive, but we believe it is worth every penny.
Stabila is a reputable German brand that has been producing the acrylic glass vial spirit level since 1952. Stabila is found in over 80 countries and in many are the market leader.
Among bricklayers, today, stabila is a famous brand for spirit levels and is highly popular among bricklayers.
You will see and find a Stabila spirit level on the construction site very often, and it is very much rated by trade.
Conclusion:
The best quality will prove its worth of any spirit level.
Bricklayers, masons, and tradesmen know that not everything runs smoothly on the construction site.
They have to rely on their tools and hope they will not let them down when they need to use them.
That is why choosing a good quality spirit level is necessary and finding the best spirit level for your needs while noting the spirit level's quality.
The spirit levels come constructed with a fixed moulded vial with great accuracy.
A suitable spirit level measures surface accurately even under demanding conditions, with no readjustment necessary.
Every tradesperson finds the right spirit level depending on their requirements and needs, light or tough, short or long, investing in a good spirit level is always a good investment.