German Bricklaying Tools
Bricklaying is a difficult job, but you can make it a bit easier by using proper, good-quality tools. Here, we have created a list from which you can compare the best German bricklaying tools with other European tools.
Top German Bricklaying Tools
As the Germans have always made good quality tools for bricklaying, we have put together a section of top-quality german bricklaying tools used on the construction site today.
In addition to that, we thought we had to include some similar tools made in Europe.


Stabila 96-2-k is an exact masonry level that can withstand regular wear and tear up to the point of facing hits with a trowel due to the plastic shield. It is easy to use and great for knocking the bricks down from the top due to the level guard. The Stabila 96-2-k An excellent solid level that is designed for the mason.
Specifications:
Manufacturer: Stabila Germany
Weight: 871 g
Dimensions: 11.99 x 5 x 81 cm
Length: 80cm (32 in)
Features:
High-quality masonry level with plastic shield to protect the surface against hits with a trowel.
The second vertical vial is closer to the centre of the level for better readability in lower positions.
It's easy to clean because of chamfered edges and new vial plastic parts.
It has an extra-strong profile with ribs and strengthens the lower and upper sides for daily use on the construction site.
High-precision vials are firmly moulded in place to make sure complete accuracy.
Excellent Bricklayer and masons spirit level Made in Germany
Other features include Anti-slip stoppers for convenient marking of walls and removable end caps for difficult-to-reach corners.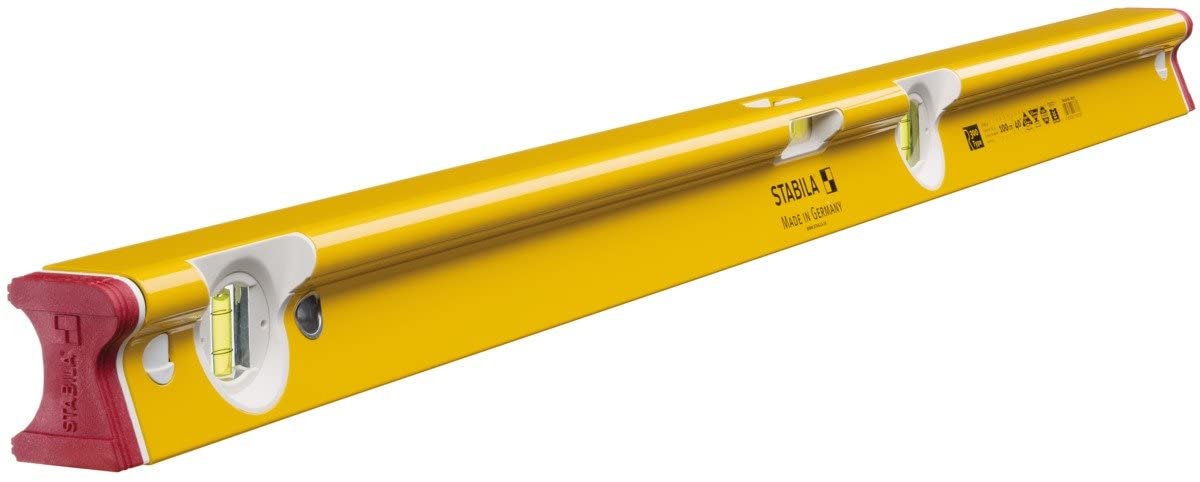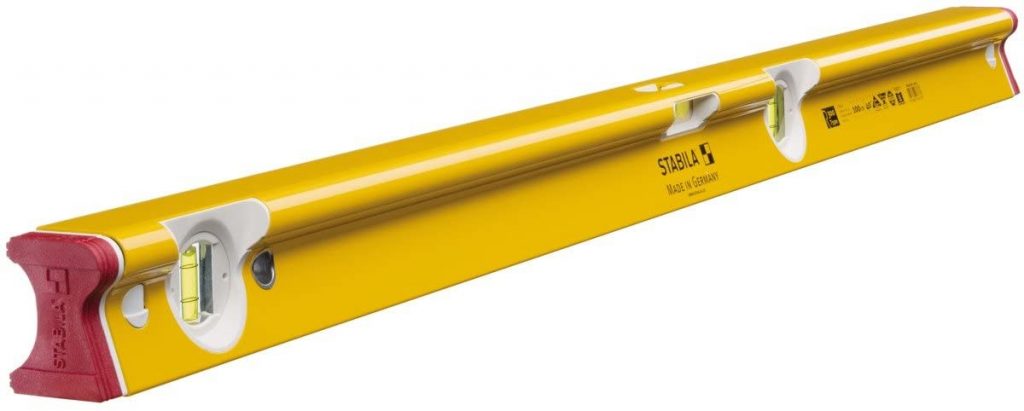 The Stabila R Type is a revolutionary latest design that sets new standards for spirit levels. After listening closely to an architect worldwide, Stabilas's R&D team set out to incorporate the features that customers wanted most.
The result is the Stabila Type R 300 has a measuring accuracy of 0.029° (0.5mm/m) in both overhead and regular positions and is convenient for all trades. The unique, user-friendly, and ergonomic R shape design gives an easy grip, tried, designed, and tested by building professionals, which runs along the entire length of the level. Its extra-wide 4cm base provides a whole new level of stability, making it perfect for environments where normal levels would keel over in use, like when correcting individual bricks during bricklaying. It's also useful for carpentry, including framing and interior fit-out work due to the level's extra stability. For example, workshop fitters and the kitchen frequently leave their level on the surface while working. This most substantial Stabila extruded level delivered unprecedented levels of brawn and toughness thanks to the ingenious R-Shape extrusion. This creates an industry-leading anti-twist power along the total length.
In contrast to the Stabila Type 96, the R 300 is 120% stronger from side to side and 10% stronger in the normal measuring position.
Three marking edges on the level make is very helpful when marking or even cutting materials. Removable shock-absorbing end caps with Stabila's patented anti-slip stoppers permit determination right into corners. There are one horizontal vial and two vertical vials on the level.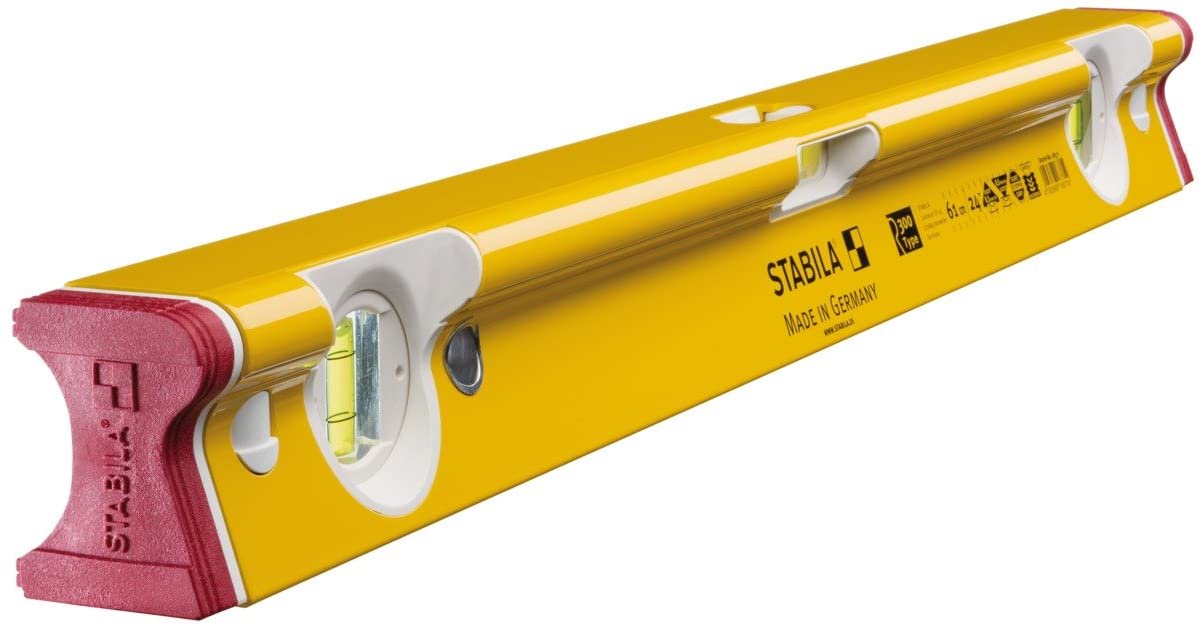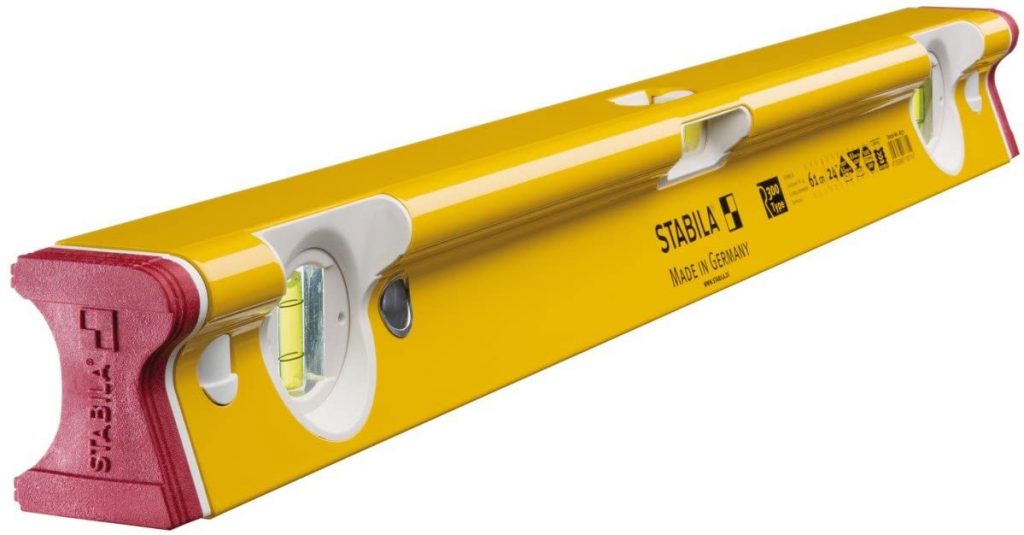 Specifications:
Manufacturer: Stabila Germany
Dimensions: 61 x 4.3 x 6 cm
Length: 60cm
Weight: 700 g
Colour: Yellow, Black
Included Components: R-Type Spirit Level 3 Vial 61cm (24in)
Features:
Anti-Twist, Extruded R-Shape Construction
Strongest Ever Stabila Level With Ergonomic R Shape
Extra Wide 4cm Base For Improved Stability
Twin Vertical Vials & Single Horizontal Vial
Suitable For Overhead Measurements
Anti-Twist, Extruded R-Shape Construction
Twin Vertical Vials & Single Horizontal Vial
Strongest Ever Stabila Level With Ergonomic R Shape
Extra Wide 4cm Base For Improved Stability
Suitable For Overhead Measurements


A top quality premium level perfect for bricklayers and tradesmen and vastly used on the constructionist today, a lightweight spirit level with built-in handholds in the frame can be grabbed firmly even with gloves on.
Specifications:
Size: 122 cm
Material: Metal
One spirit level is included
No batteries required
Weight: 1.2 kg
Features:
Features 1 horizontal and two vertical Vials
Removable end-caps for flush fitting.
Accurate to 0.5mm/m in the normal position and 0.75mm/m in the overhead position.
Vials are guaranteed to remain accurate for ten years.
Large handholds in the frame for positive handling even when wearing gloves.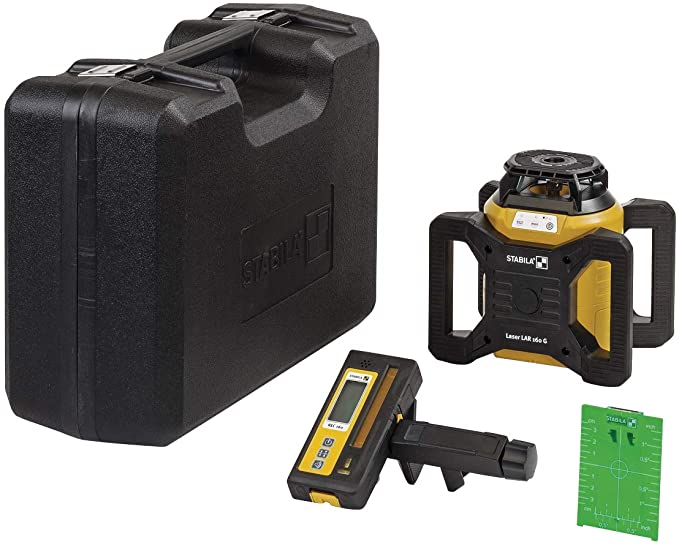 Another high-quality product from Stabila, 19240 LAR 160 G, is an automatic laser that works with an envious level of accuracy. It is comfortable to use due to its shock absorbent soft grip. Built to resist damage from dust and water, it will last for a long time.
Specifications:
Leveling accuracy +/- : 0.10 mm
Diameter of working area for set receiver: 600m
Tripod connection: 5/8″
Operating life: 20 hr
Features:
STABILA GREEN BEAM technology for improved visibility of the rotating laser beam – green laser beams are four times more visible than red beams to the human eye.
Fully automatic, motor-driven rotation laser – high levelling accuracy of ± 0.1 mm/m, fast self-levelling function within 20 seconds.
Four laser functions for versatile use – vertical and horizontal rotation, right angle (90°), and plumb-line vertical operation.
Protection class IP 65 – waterproof and dustproof.
Shock-absorbent STABILA soft grip casing gives protection against impacts – the durable housing cover also secures the laser optics.
Easy to use via three control buttons – on/off, manual mode, tilt mode.
Battery drawer – easy replacement, even directly on the tripod.
Large working area with REC 160 RG set receiver – up to 600 m in diameter.
Target plate with magnetic holder and cross-hair.
Two 5/8″ threads integrated into the housing.
Stable carrying case.
Great Bricklayers laser level Made in Germany
Target plate with magnetic holder and cross-hair.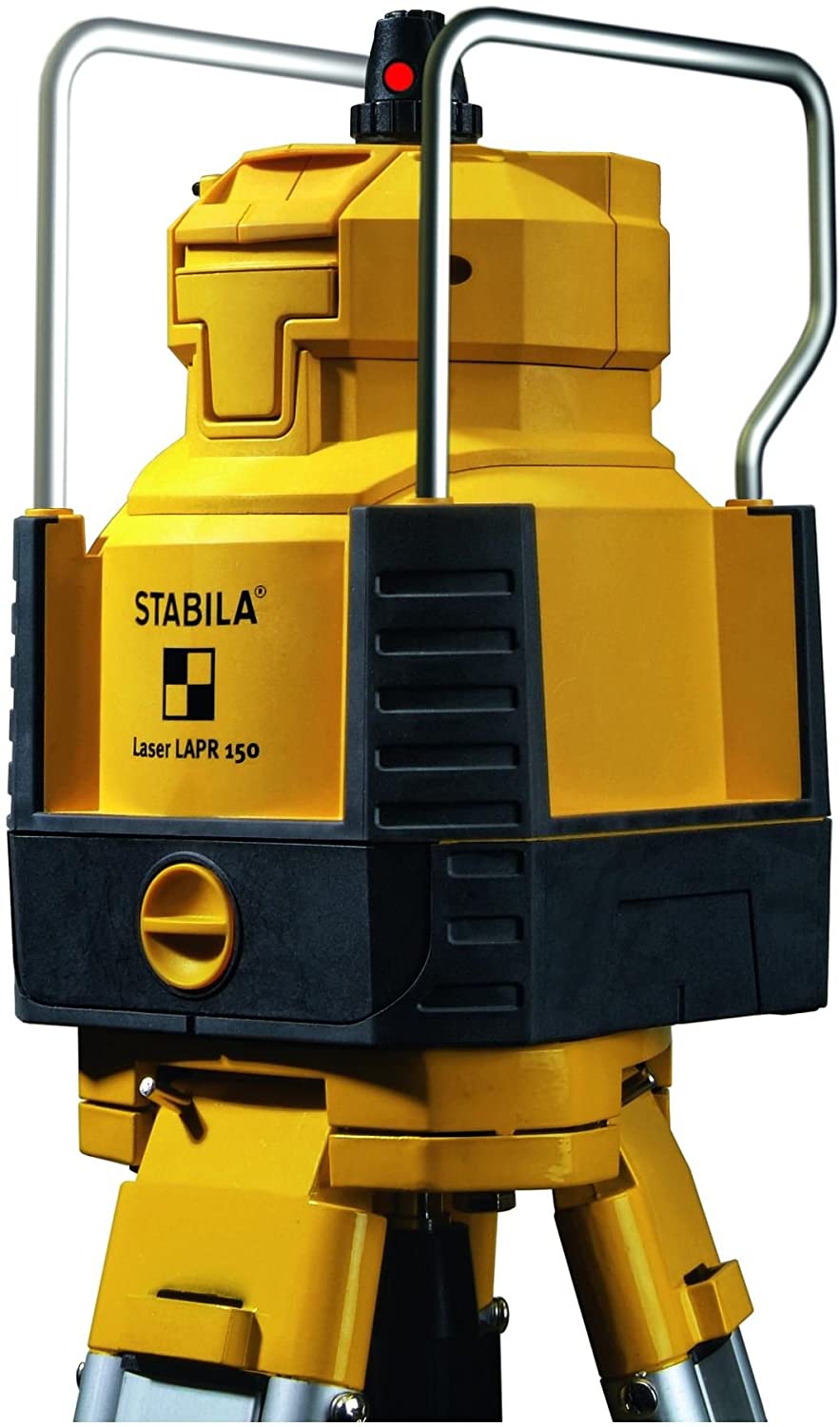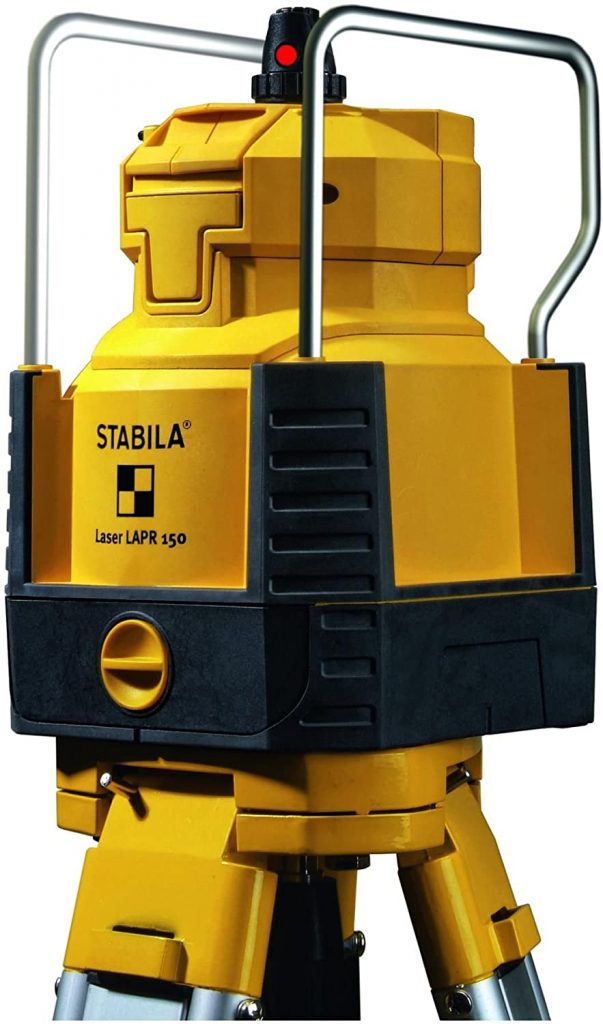 LAPR150 self-levelling rotational laser is another ideal device for bricklayers. This product is known for its speed and durability, capable of resisting damage from external elements. Not only that, it has 80 operation hours, which is impressive.
Specifications:
Accuracy: Horizontal: ±0.2mm, Vertical: ± 0.3mm.
Self-levelling: ± 5°.
Working Range: 240m with the receiver.
Laser Wavelength: 633-670Nm.
Laser Type: RED.
Input Power: 2 x 1.5 Volt D Cell Batteries (Included).
Features:
The Stabila LAPR150 Self Leveling Rotational laser is easy to use, versatile, and quick.
It's ideal for bricklayers and concrete construction workers.
Features the essential laser functions combined in one unit: rotation vertically and horizontally, plumbs line, three-stage scan, and 90° angle.
No waiting time, with rapid self-levelling due to pendulum technology suitable with any construction site.
It levels pretty faster than a motor-powered rotation laser.
It is protected in all positions thanks to its sturdy metal bows, shock-absorbing soft-grip casing, and pendulum protected by forced locking for safe transportation.
Easy to change from horizontal to vertical, the complete prism unit is swivelled precisely by 90° in the guide channel.
IP54 is protected against splash and dust damage.
The battery drawer design makes it easy to replace dead batteries, even if mounted on a tripod.
It is powered by two 1.5 Volt D Cell batteries included, offering around 80 hours of operation.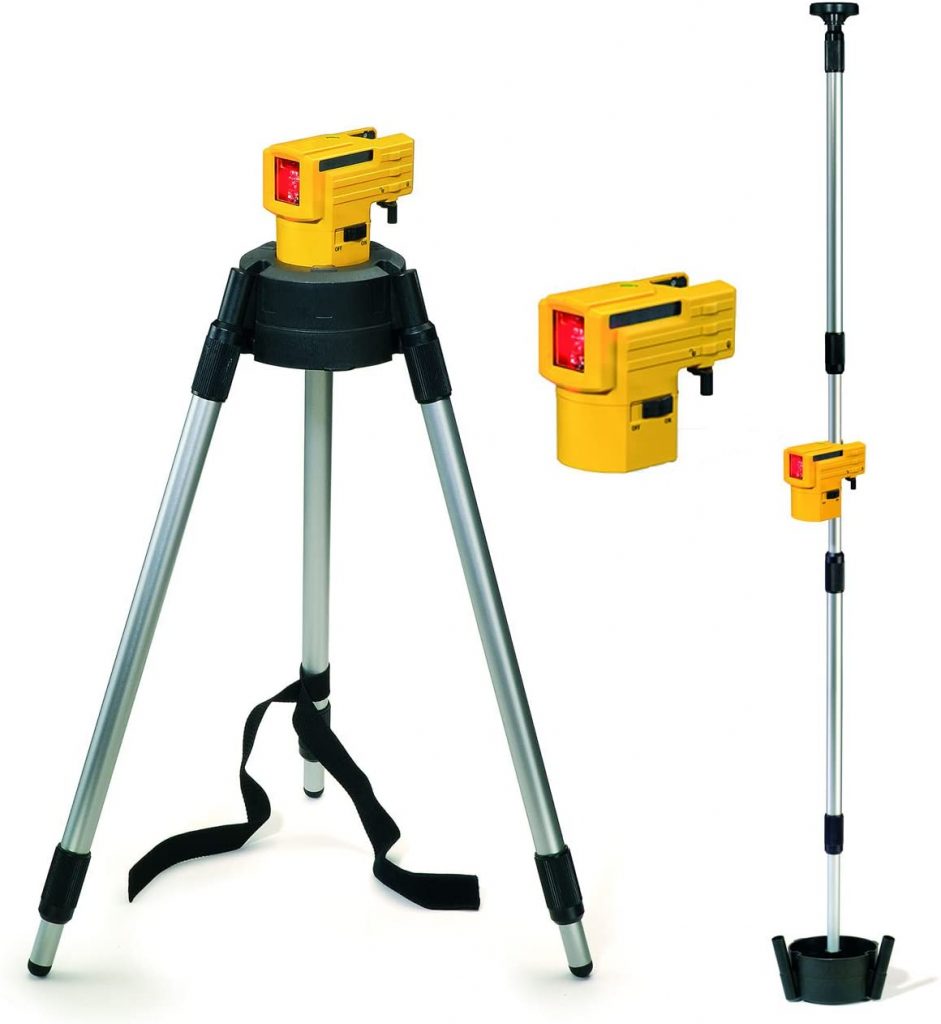 Another laser level from Stabila, LAX50 self-levelling laser is a versatile and durable device, perfect for use on construction sites. A cheaper option from a company that makes excellent German bricklaying tools.
Specifications:
Manufacturer: Stabila Germany
Dimensions of Product: 17 x 17 x 61 cm
Colour: Multi-color
Batteries: 3 AA batteries required (included)
Power Source: Battery-powered
Battery Cell Type: Alkaline
Included Components: LAX 50 Self-leveling Laser 16789
Average Battery Life: 30 Hours
Weight: 2 kg
Features:
Self-levelling cross line laser with exceptionally bright, delicate, green laser lines – with ideal visibility at distances of about 30 m thanks to STABILA GREEN BEAM technology.
The latest generation of energy-saving laser diodes with an operating time of about 7 hours.
Highly versatile to working quickly and directly on long laser lines – 1 horizontal line, one vertical line.
Rotating multi-purpose platform for adjustable positioning of the laser on the floor and tripods (1/4″ and 5/8″ threads). Robust rare-earth magnet system for securely attaching the platform to metal objects such as U-profiles. Hanging hole for wall attachments.
Quick self-levelling function thanks to pendulum technology designed for the construction site.
Integrated clamping device on the laser for pipe attachments (maximum diameter: 30 mm).
The cheaper option for a bricklayers laser level made in Germany
It protects dust deposits inside and against spray.
Belt pouch for safe storage and easy transport.


This spirit level, manufactured by Hultafors, is a high-quality tool with low weight and durable built. The protection against harsh temperature and impact-absorbing end guard ensures it will last for a long time.
Specifications:
Manufacturer Hultafors Sweden
Display: Analogue
Tool type: spirit level
Power: hand actuated
Type: levels and lines
Length: 48" / 120cm
No. of Vials: 3
Weight: 1.08kg
Features:
An extra robust aluminium level with highly transparent and durable unbreakable block vials.
The horizontal luminous vial magnifies at +30%—impact-absorbing secure end guards.
Sensitivity of 10 mm/m and a tolerance in normal position of ± 0.5 mm/m (inverted ± 0.5 mm/m).
The vial fluid is a low viscosity, coloured oil mixture that gives the bubble the best possible movement conditions and is resistant to UV light and temperature fluctuations.
The PV Professional spirit level is an extra robust aluminium profile that measures 59 x 26mm and weighs around 880g/m.
It has unbreakable block vials with highly high transparency and durability, with the horizontal magnifying vial at +30 % with a luminous reflector.
Impact-absorbing end guard and temperature-proof level attachments.
Great as a Bricklayers spirit level
The vial radius is 200mm, which gives a sensitivity of 10mm/m and a tolerance in normal position ± 0.5mm/m, inverted ± 0.5mm/m.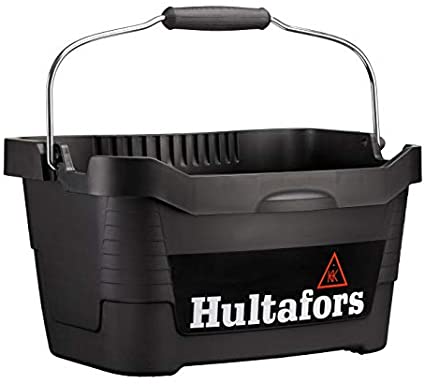 Made from PP-plastic, the Hultafors tool bucket is capable of carrying a whopping 100 kg. It is very comfortable moving with a measuring scale on its insides. This tool bucket is a must-have for construction workers.
Specifications:
Length: 304mm
Weight: 0.93kg
Width: 433mm
Load Capacity: 100kg
Height: 239mm
Volume: 15 Liters
Features:
Robust handle for comfortable carrying. The handle can be put in a standing position when put down.
Holes for attaching a shoulder strap.
It has a measuring scale on the inside.
Can take a burden of 100 kilograms.
It is made of durable PP-plastic.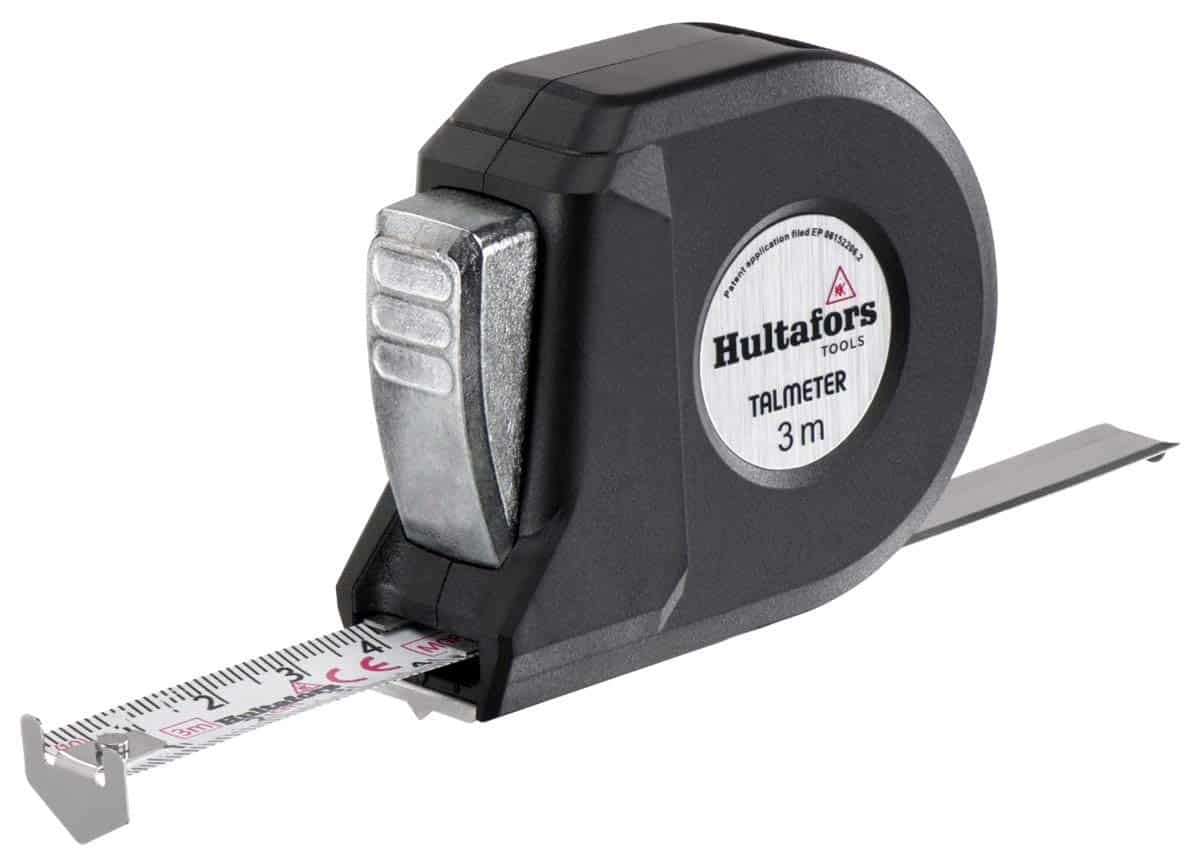 The 3-meter long measuring tape comes with additional functionalities like compass calliper function and scales on both sides. It is grip-friendly and can be extended or retracted easily without a fuss.
Specifications:
Manufacturer Hultafors Sweden
Product dimension: 1.57 x 3.54 x 66.93 inches
Tape length: 3m
Tape Width: 16mm
ABS plastic case
Features:
The Talmeter 3M is a white, hard-wearing steel tape.
The width of the tape is 16mm, scale in millimetres, with ABS plastic casing.
Combined measuring, marking edges quickly, quick marking, measurement of internal and external lengths
, and measuring it using etching function.
The tape also measures diameters using the scale on the reverse of the tape, and it has a compass function which is pretty useful when drawing round shapes.
Tape is made of impact-resistant steel with ABS plastic case housing
The Talmeter has a calliper function that is handy to mark out round shapes
The scale is permanently locked in a normal position
The length of tape is 3 meters
The extender is easy to retract and extend using the grip-friendly sliding carriage.
Diameter measurement with the scale on the reverse side of the tape.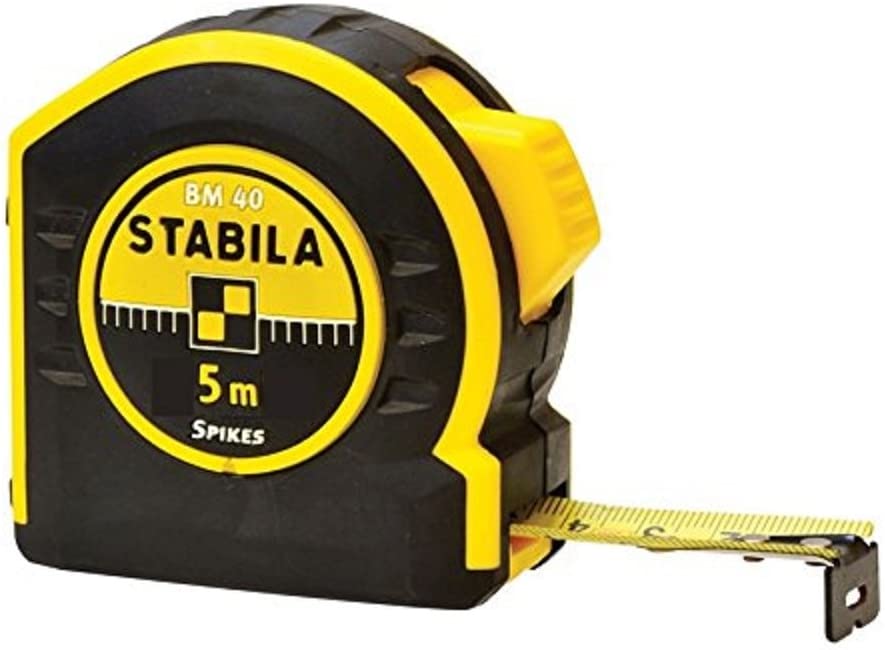 Specification
Manufacturer Stabila Germany
Product dimension: 1.57 x 3.54 x 66.93 inches
Tape length: 5m
Tape Width: 19mm
ABS plastic case
Features
Multi-purpose hook construction: Stabila spike hook prevents the end of the tape from slipping. A built-in nail hook makes it easier to measure long lengths and three-dimensional shapes.
The tape measure has a robust retraction system with a dynamic return. Material-protecting shock-absorption – the unique design means the tape measure recoils gently. The spike hook locks the tape measure into position.
Effective 'hand brake' in the 3 m and 5 m models. 'Seesaw brake' in the 8 m and 10 m models.
Proven accuracy. CE- and metrology certification, as well as EC type-examination certificate.
Product number 17740, 5 m, tape width 19 mm.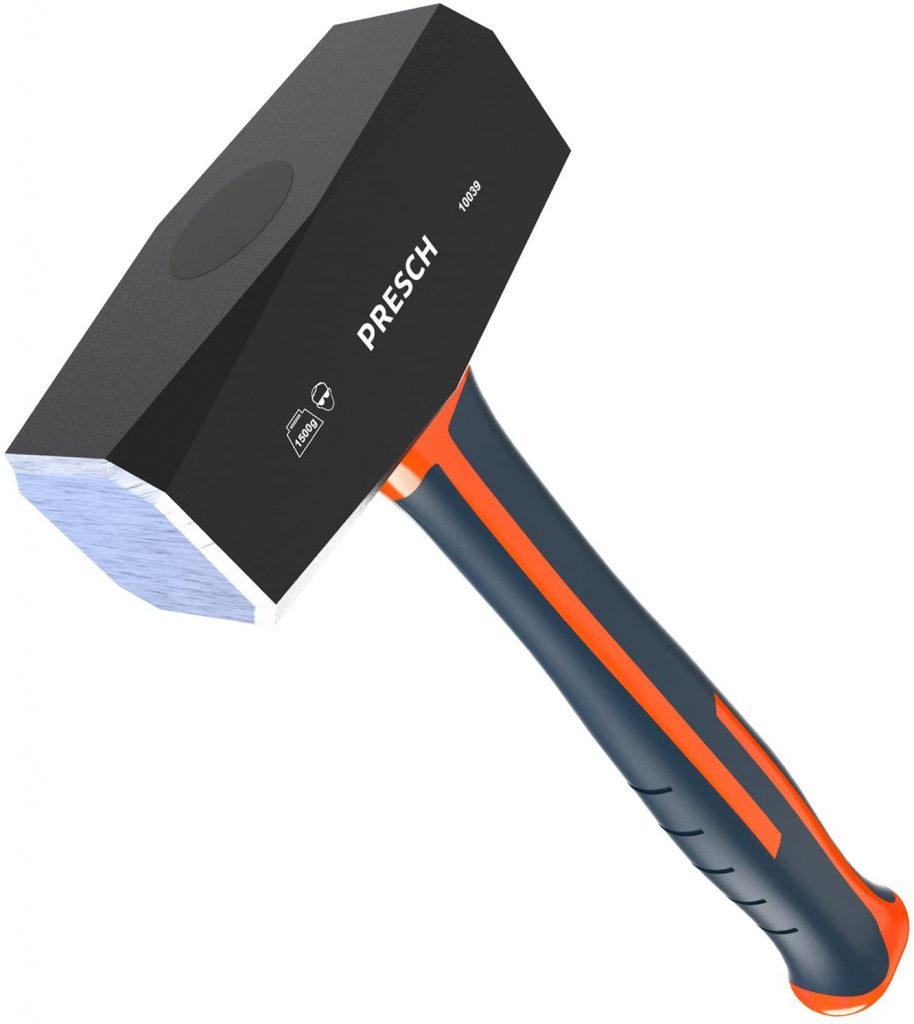 The hammer with a 1.5kg head is used whenever an enormous impact is needed. Whether for renovation work in the house or at work as a roofer or stonemason and bricklayer. Everything that does not fit, is made to fit. with this well built heavy lump hammer.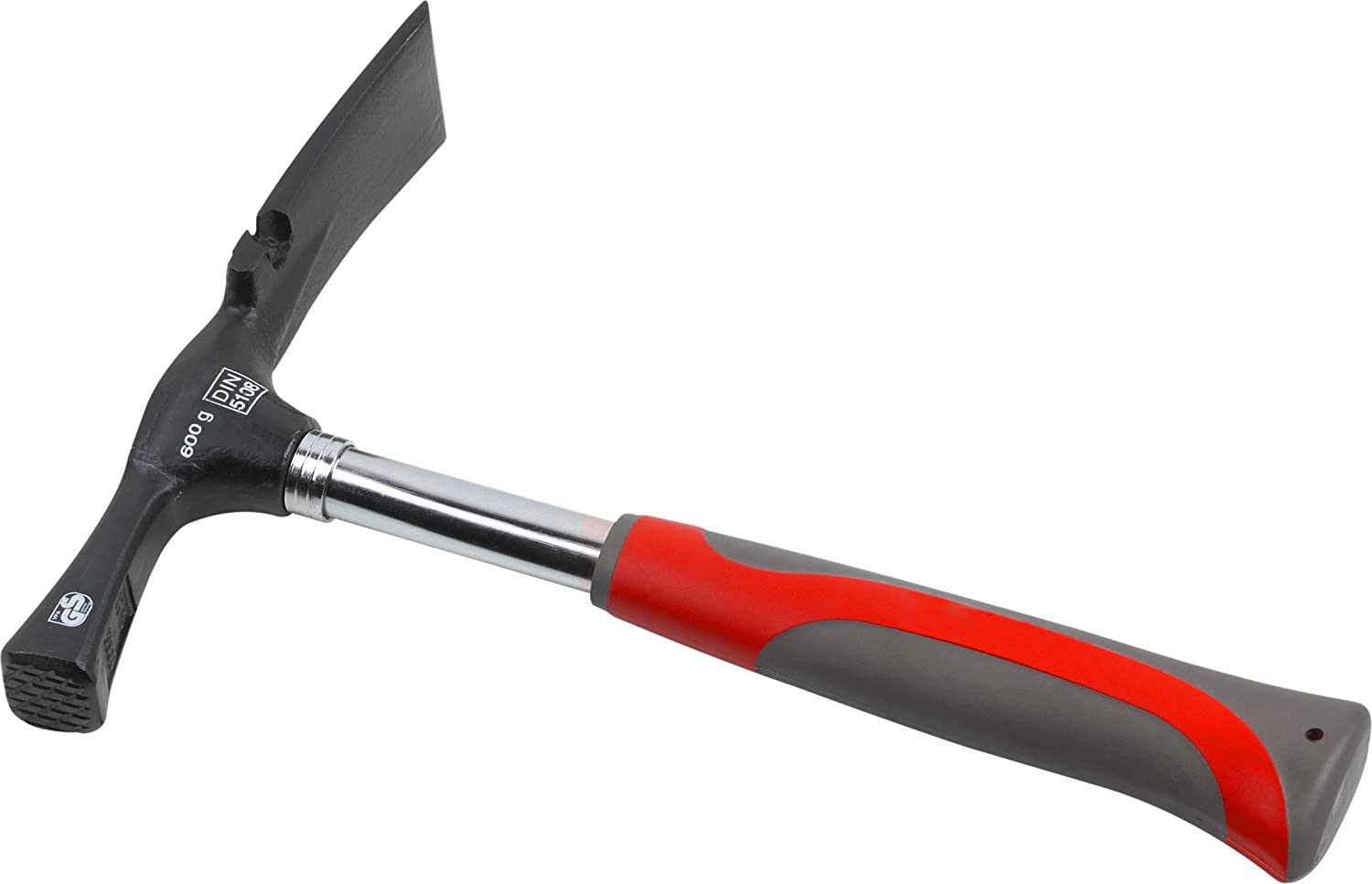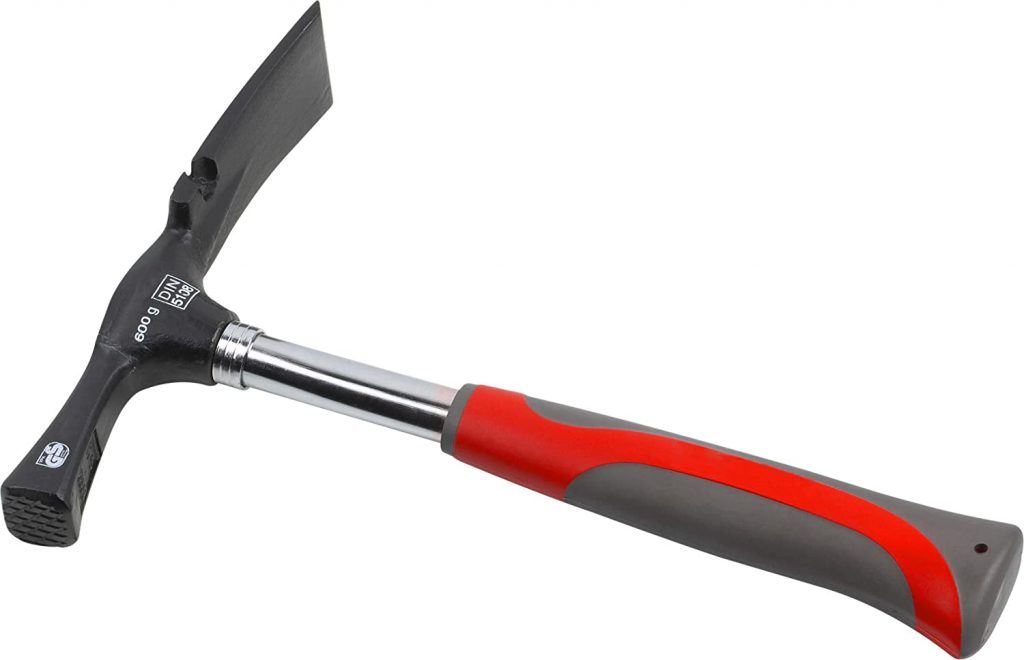 Specifications:
Made by Meister Germany
Steel pipe handle and rubber grip
Polished working surfaces and broken edges
rough face
2-component handle
Features
Rough textured striking face
Handle with a secure head stop for a secure grip
Side notch for pulling nails
German bricklaying tools
Berlin-style wider striking point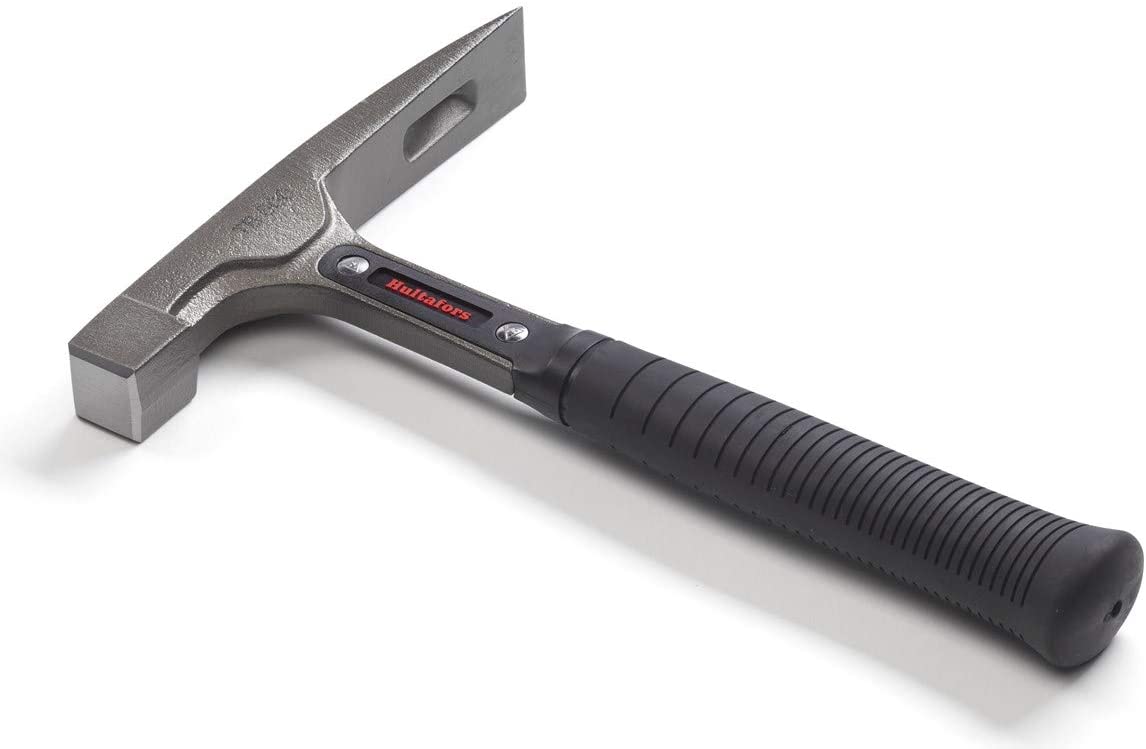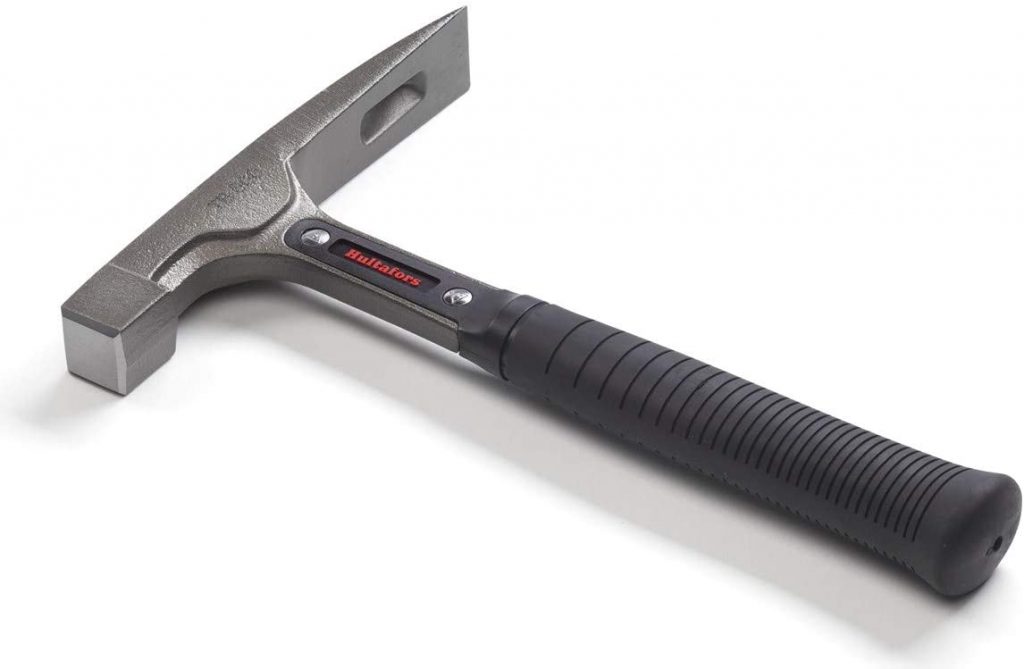 Perfect for splitting bricks, the handle of the TB 600 hammer comes with a secure, durable grip. A notch is also built on the other side to pull out nails.
Specifications:
Manufacturer Hultafors Sweden
Grip Material: Rubber
Handle Length (in): 13.39
Handle Material: Steel/ Composite
Handel Design: Ergonomically design
One year warranty
Features:
Right angle and shape of chisel for the safe splitting of bricks.
Vibration damping urethane plug.
Steel shaft with I-beam for increased durability.
Tempered square striking face.
Handle with a distinct end stop to ensure a secure grip.
Notch for nail pulling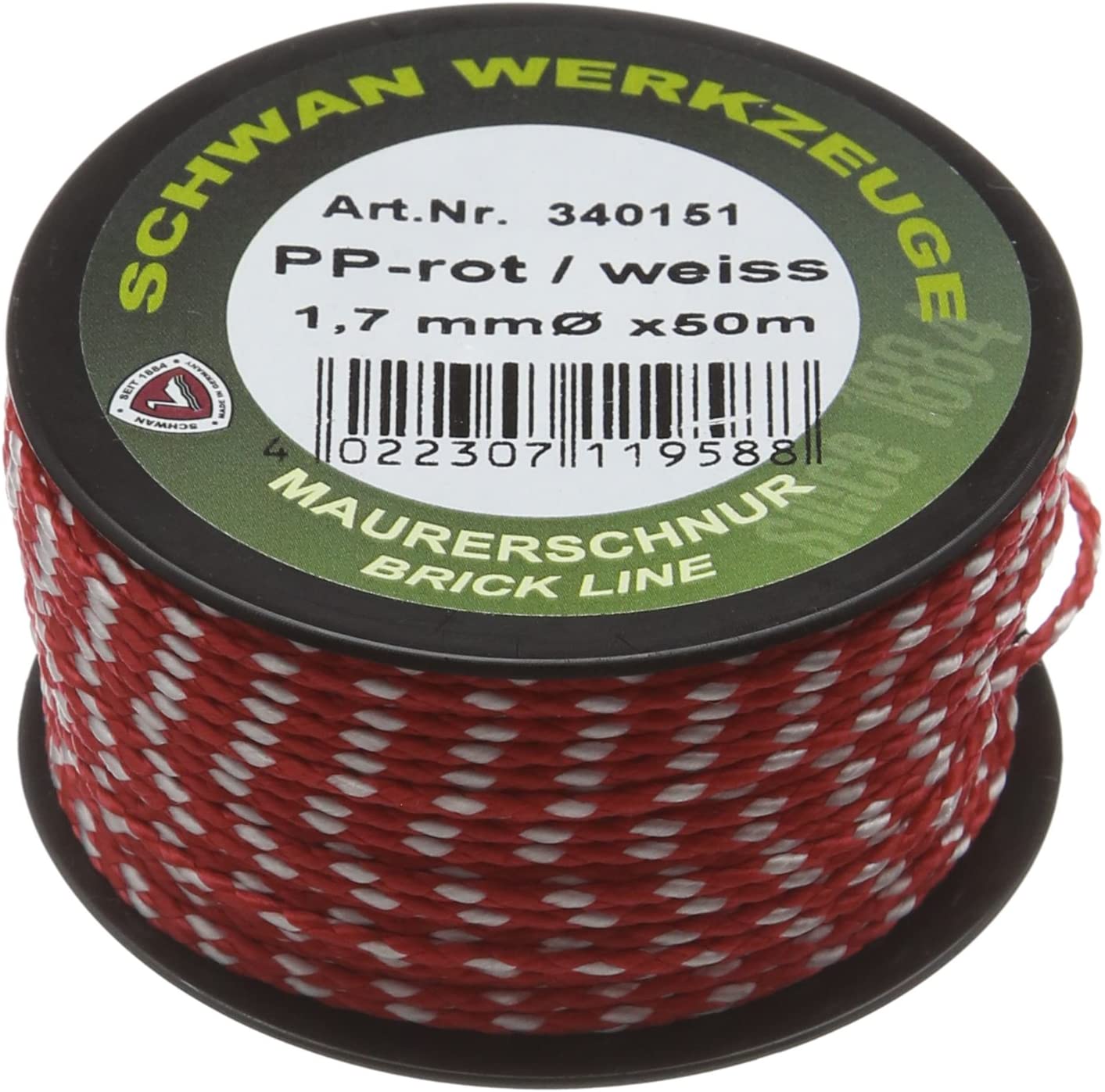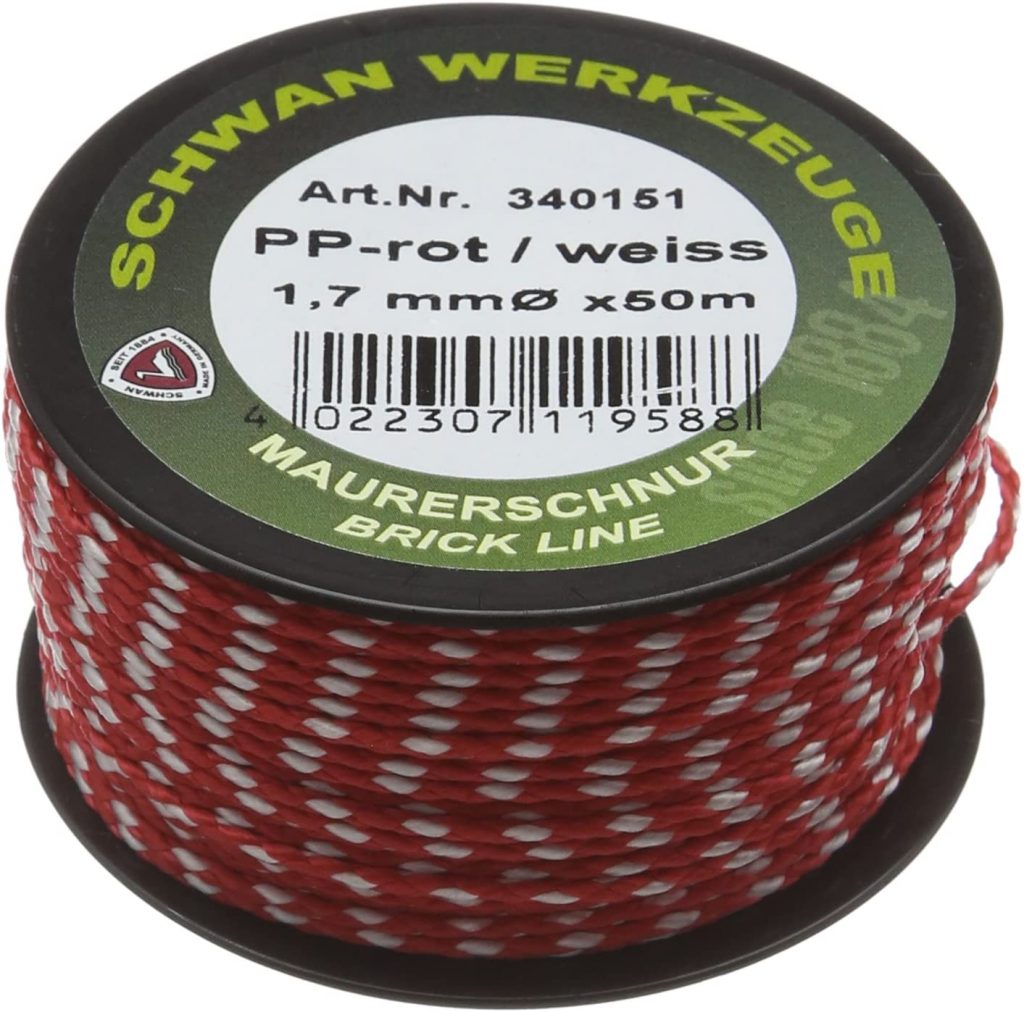 This is a high-quality builder line made by professionals in Germany. The Schwan tools have always provided the best quality German Bricklaying tools over 125 years, and this product is no different.
Specifications:
Manufacturer Schwan Germany
Dimension: 7.4 x 7 x 4.2 cm
Material: Polypropylene
Features:
Used for building and construction profile levelling.
The line is braided, which will give extra strength.
The two-colour high visible line is made of polypropylene. ]
Good Bricklayers line
The line is flexible, which facilitates tensioning.
It is made in Germany for professional users.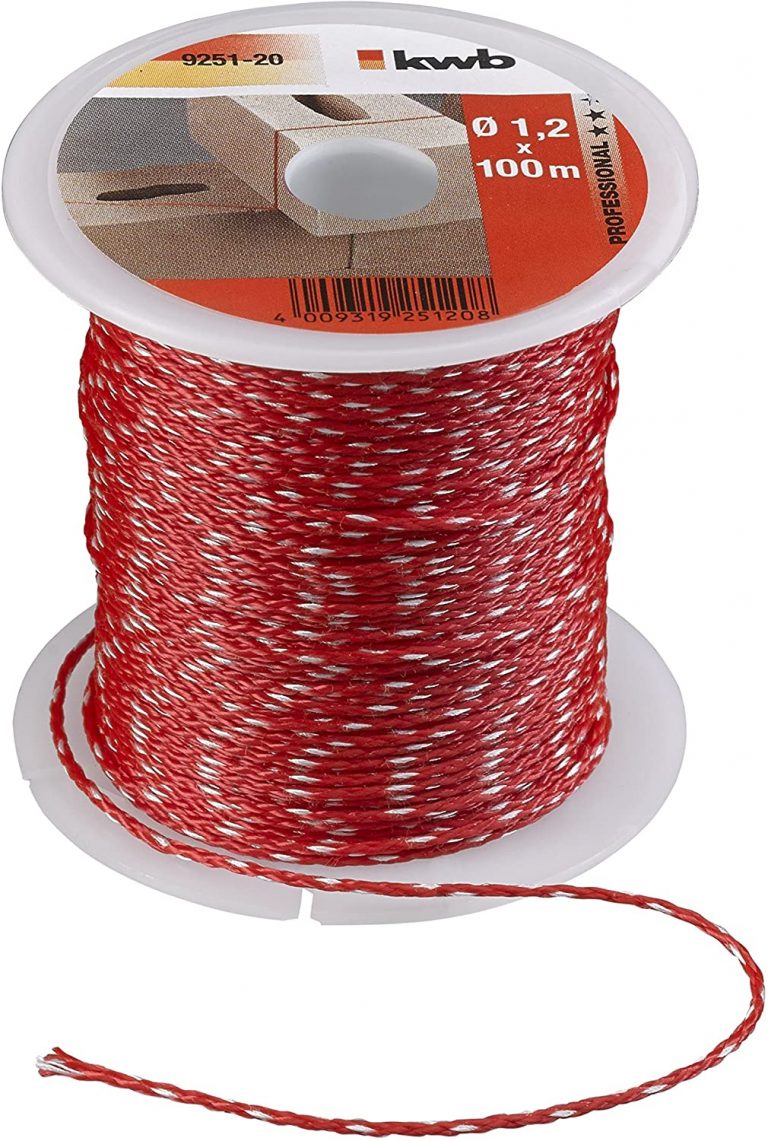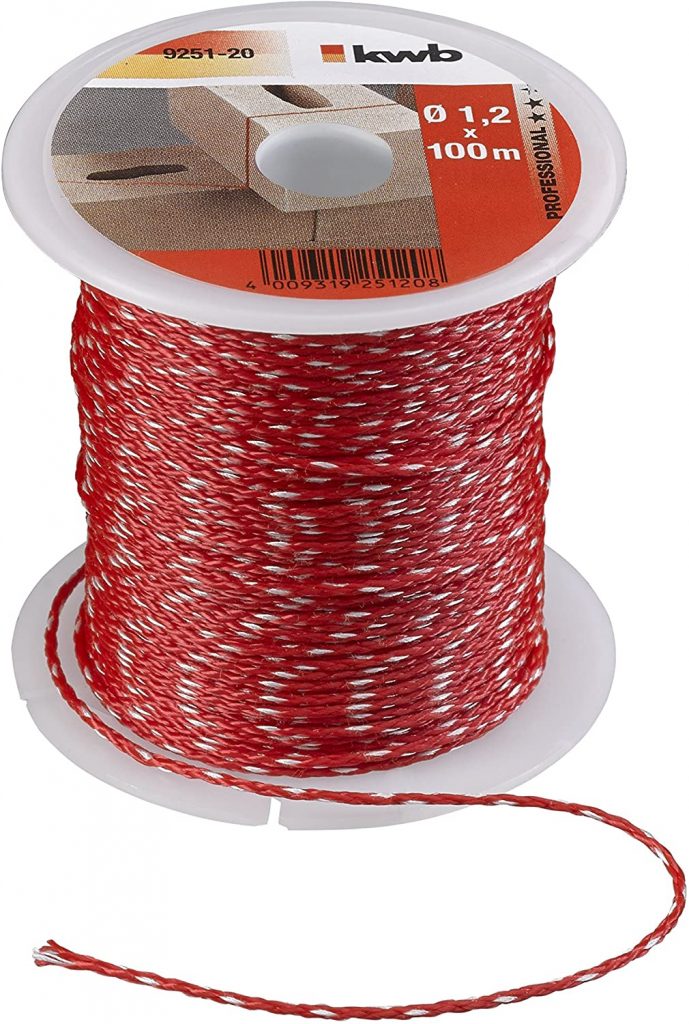 Specification
Manufacturer KWB Germany
Dimensions 6.8 x 6.8 x 6.9 cm; 98 Grams 100m x 1,2mm
Material nylon
Features
ing cord with dimensions 100 m x 1.2 mm in the colour red. Bricklayer's line made of nylon, braided.
Ideal as a plumb line or plaster cord for levelling in wall construction, terrace construction, or tile cord when laying tiles.
Loadable up to 22 daN and durable with a weight of approx. 4.75 kg
Tear-resistant, stretchable and elastic – the increased tensile strength and stretchability makes working with the thin multipurpose rope easier.
Good bricklayers line Made in Germany
Whether for a garden, terrace or other construction projects – kwb supplies suitable tools and accessories for professionals and do-it-yourselfers for every purpose. Made in Germany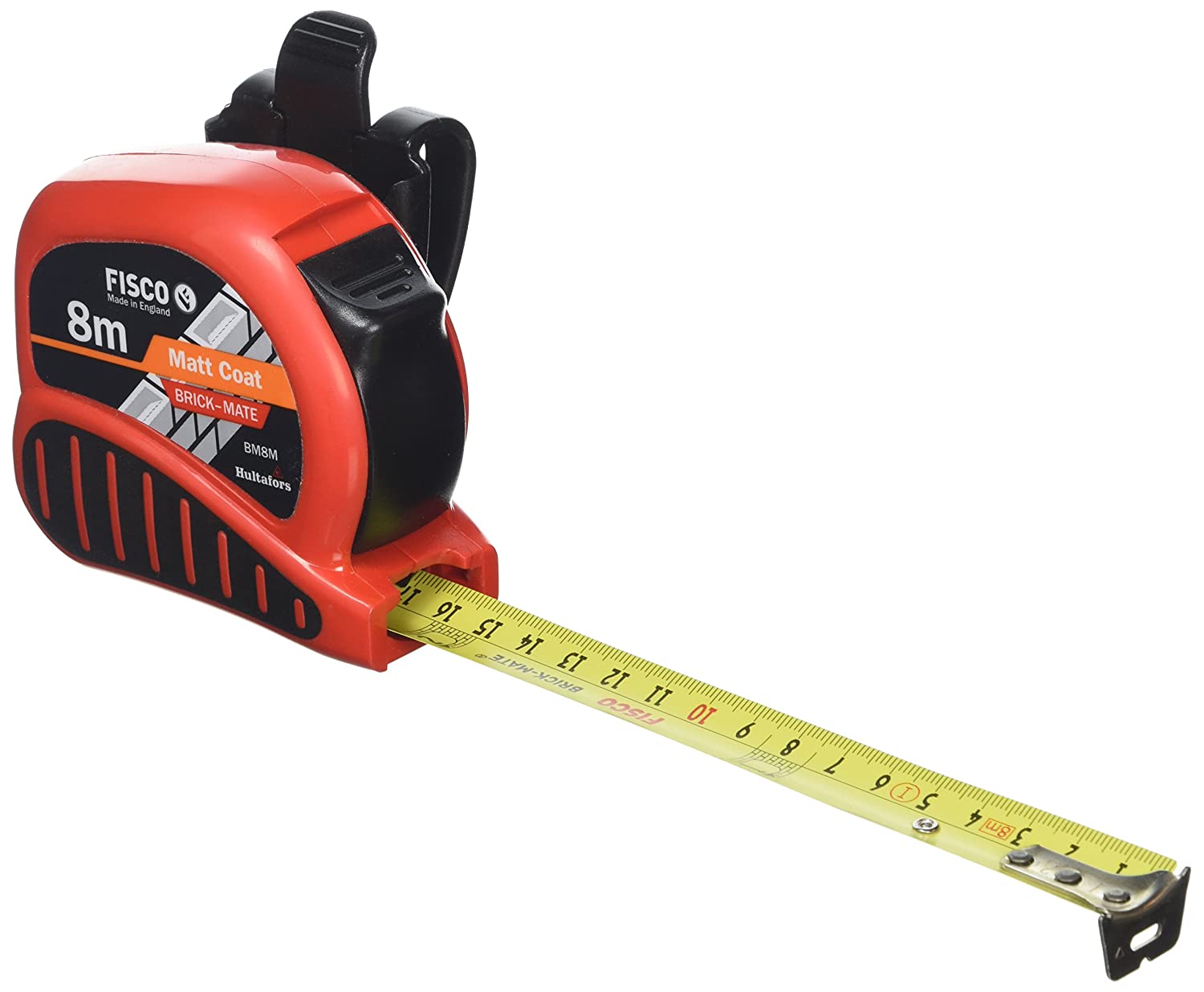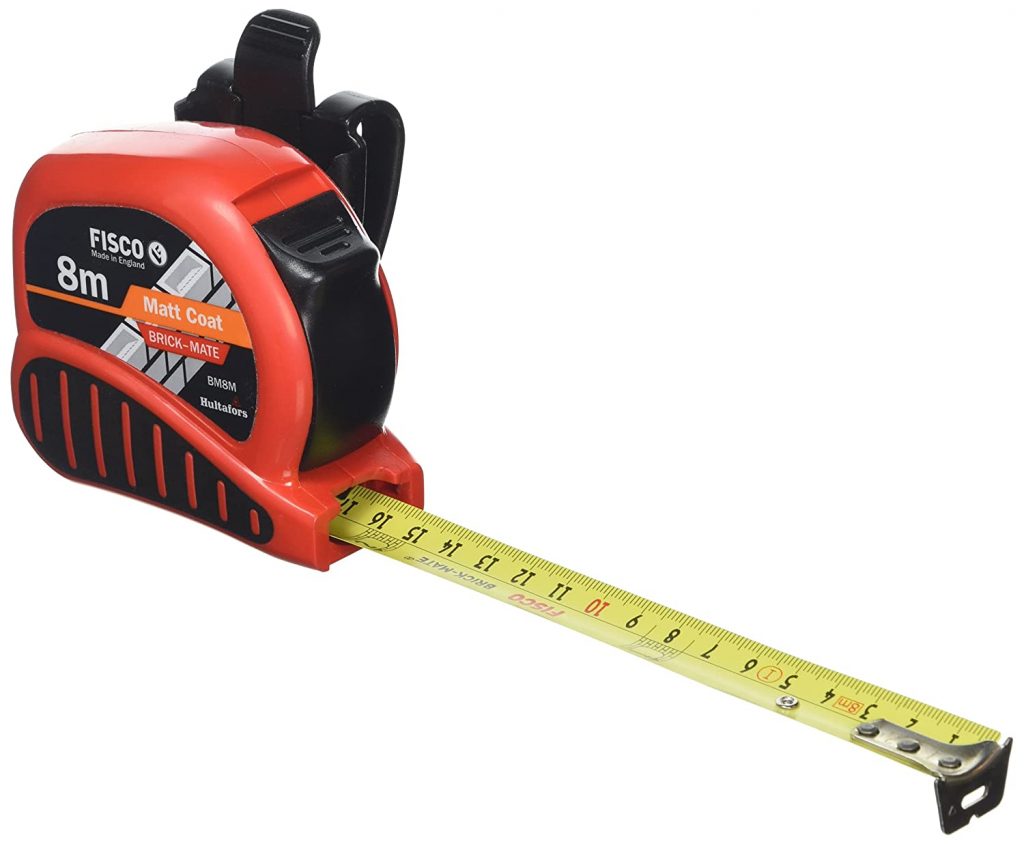 FSCNMC08 Bickmate tape comes with an impressive self-adjusting and self-zeroing end hook.
Specifications:
Size: 8m
Weight: 450 grams
3 Rivets
Blade material: Steel
Blade diameter: 25 mm
Length: 8m
Conventional self-adjusting hook
Features:
Four scales
Steel blade
For setting out dry bonds
Tough ABS case
Self-zeroing end hook
Stihl TS410 Disk Cutter Saw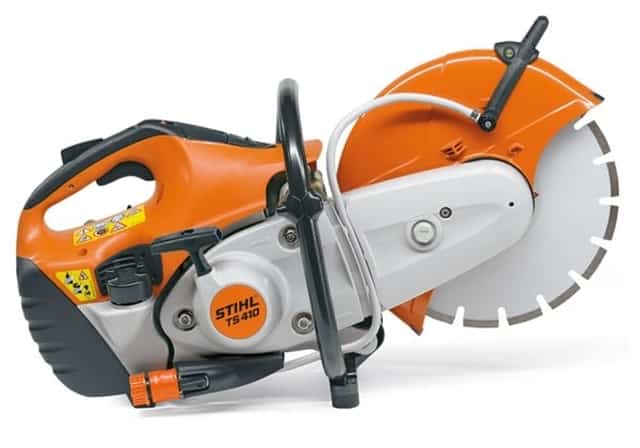 The Stihl TS410 Petrol is a high-efficiency cut-off saw and disc cutter. The product is built to provide optimal grip, reduce fuel waste, and outstanding balance while cutting things.
Specifications:
Manufacturer Stihl Germany
Displacement: 66.7cm
Sound pressure level: 98.0dB(A)
Sound power level: 109.0dB(A)
Power Output: 3.2kW/4.4bhp
Diameter of abrasive wheel: 300mm
Maximum cutting depth: 100mm
Weight: 9.4kg
Vibration levels right/left: 3.9/3.9m/s
Features:
High-performance engine with stratified charge system.
Bayonet filler cap for tool-free opening
Compact design and optimized balance for excellent cutting and guide characteristics.
STIHL long-life air filtration systems with pre-separation get longer filter life perceptibly compared with conventional filter systems.
2-stroke engine with stratified charge, which reduces the amount of fuel lost during the charge cycle.
The modern, ergonomic design permits each user to work with an optimal grip position.