Best Plastering stilts for the professional plasterer
Professional plasterers need specialist tools and equipment to perform the trade efficiently, here we look at some professional plastering stilts and how to use them.
What are Plastering Stilts
If you are new to using plastering stilts, we will help you know everything about it. Stilts are like extensions of the legs of plasterers and aid in getting to the hard to reach areas.

The plastering stilts are great to save time and effort on climbing up and down ladders and moving them from place to place.
Plasterers stilts make it easy moving and reaching across the area while plastering.
The Stilts are also handy to get hard-to-reach areas without causing muscle strain and fatigue.
How to use plastering Stilts
Getting on the stilts does not require any particular skill. It is a simple process that involves the following simple steps.
Get a bench to sit
It is good practice to have a bench that is useful to get in and out of your stilts.
Set heel cup
The second step is adjusting the heel cup; set the heel cup in the correct position for the size of your foot.
calf brace setting
Setup the calf brace; the ideal place for this is just above the thickest part of the calf.
Tighten screws
Once the calf brace is in the right place, tighten the screw to lock the position
Thread strap around feet and ankle
Thread the strap around your foot and through the binder and do the same with the ankle strap.
Best Plastering Stilts
If you are looking for the best plastering stilts for your next plastering job, here is a selection of stilts used and reviewed by the trade.


Marshalltown Skywalker Plastering Stilts 15-23″ are known for easy operation, comfort, and exceptional quality. These stilts are easy to use, which makes them perfect for people who are new to using them. In addition, they feature a fully adjustable ankle spring for a more natural walking motion which is best to stand more upright, reducing stress on the back.
Marshalltown Skywalker Plastering Stilts comes with sleek single bar style legs, which offer lighter weight and permit more effortless movement and more efficient use of the stilts.
Star Features:
Made of high strength aluminium
3-position adjustable heel cup to fit most shoe sizes
The flip and switch system allows for quick height adjustment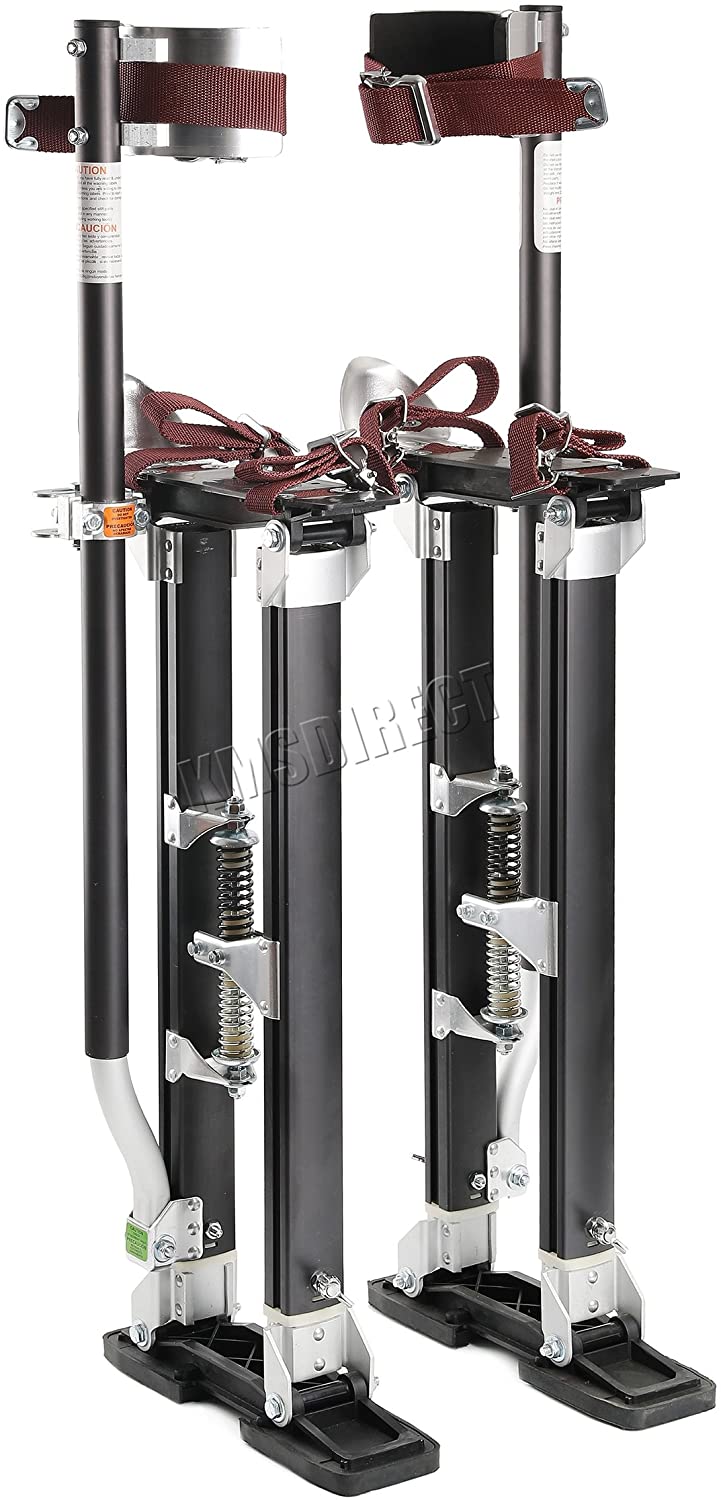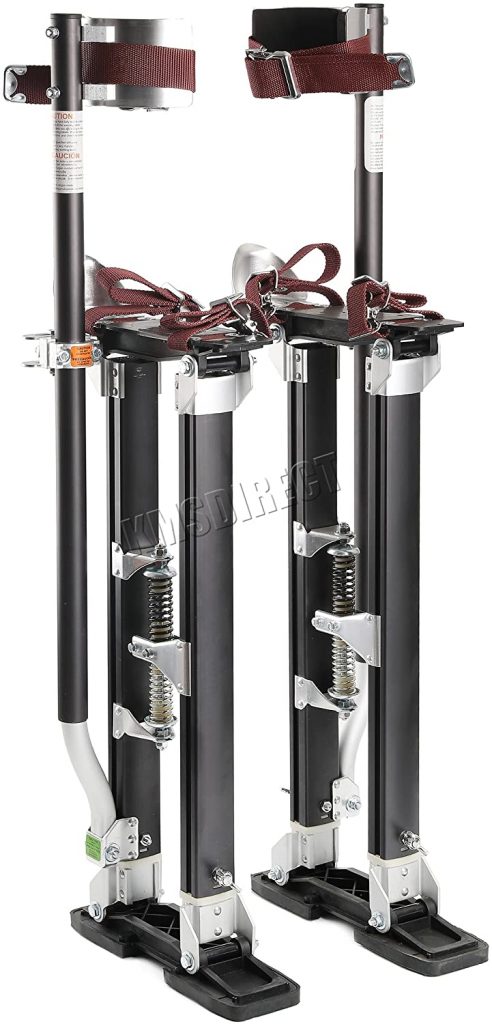 The first on the list is Switzer Stilts. With these stilts, stop climbing up and down your step ladder. These are made of high-quality anodized aluminium that makes them light and strong. It carries a dual-action spring to allow easy and comfortable movement. For extra safety, the feet come hinged, and the legs come sprung with the same dual-action spring.
The Switzer Best Quality Stilts have a large surface footing area, making it a more stable and sturdy walking machine. These are adjustable stilts between 18 "-30".
Star Features:
Made of high-quality anodized aluminium
Lightweight and sturdy
It comes with a large surface footing area
Adjustable to a variety of length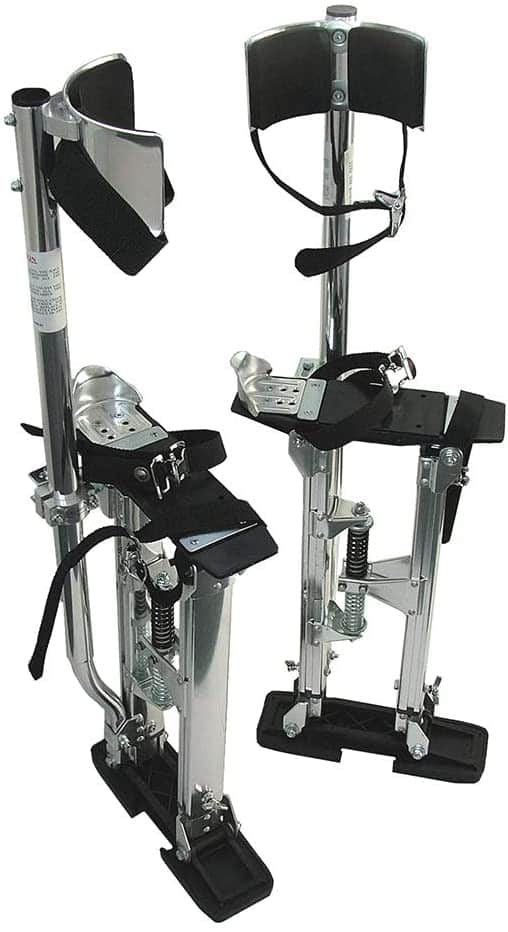 Reaching to ceiling requires many tools and effort, but with Faithfull FAISTILTS Lightweight Aluminium Decorators Stilts, you can do this with fun. These stilts are best for the plastering and decorating trade, especially in the drywall and suspended ceiling industries. They are best known for eliminating ladders and steps in many building and decorating tasks.
The Faithfull FAISTILTS Lightweight Aluminium Decorators Stilts are lightweight aluminium that can carry up to 114kg (250lbs) of load. These stilts are adjustable in length between 18 to 30 inches and come with a sturdy carry bag and complete instructions.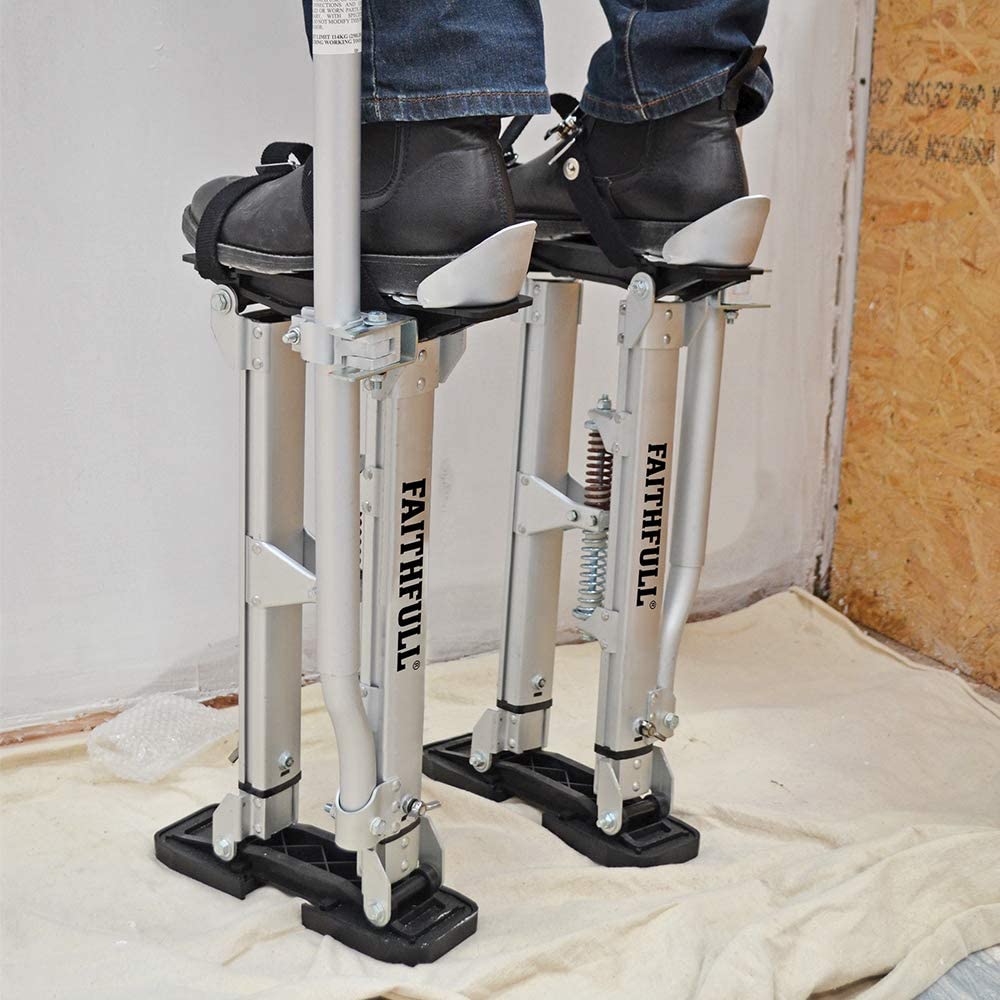 Star Features:
Manufactured from lightweight aluminium
Adjustable in six two-inch increments from 18 to 30 inches.
Faithfull 5 Year Manufacturers Guarantee


Here are the premium drywall stilts by GypTool. These stilts are designed for professional plasterers and are best for drywall taping, painting, wiring, and much more. The set of Drywall Stilts is manufactured from high-grade aluminium, lightweight pair to use all day, and sturdy enough to last for years. In addition, it comes with an adjustable dual-spring flex system for excellent mobility.
These adjustable stilts can move from 48″ to 64″ using a wing-nut design; moreover, the length is adjustable with hand.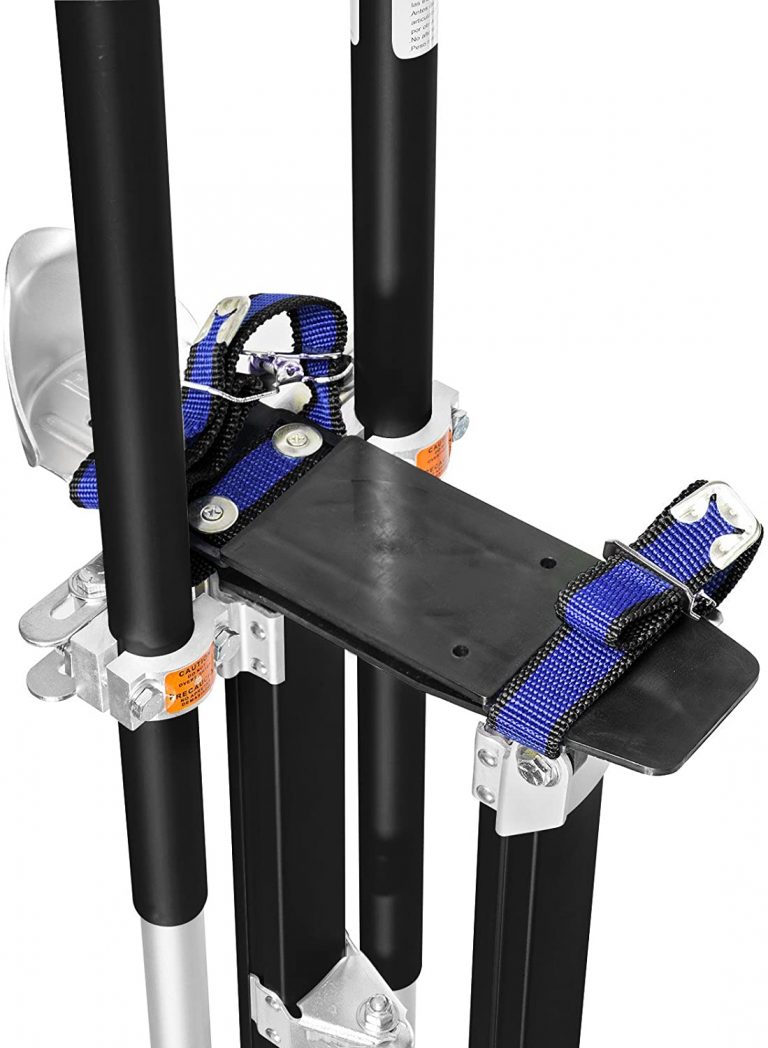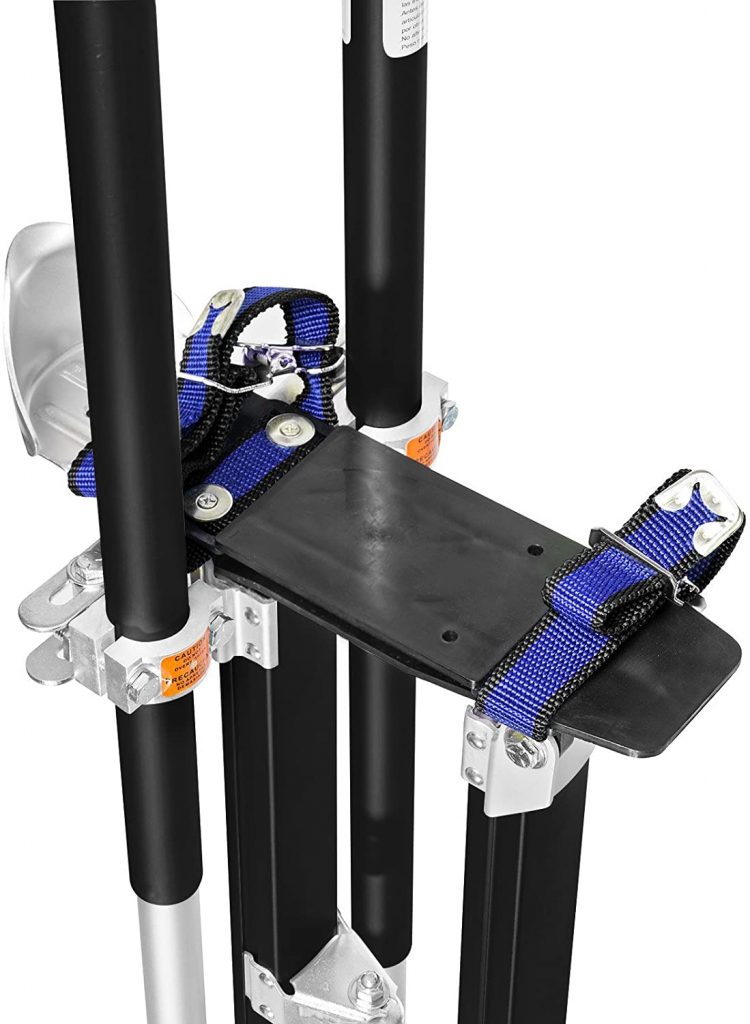 Star Features:
Built from high-grade, lightweight aluminium
Fully adjustable braces accommodate any user
Hand operated adjustment mechanism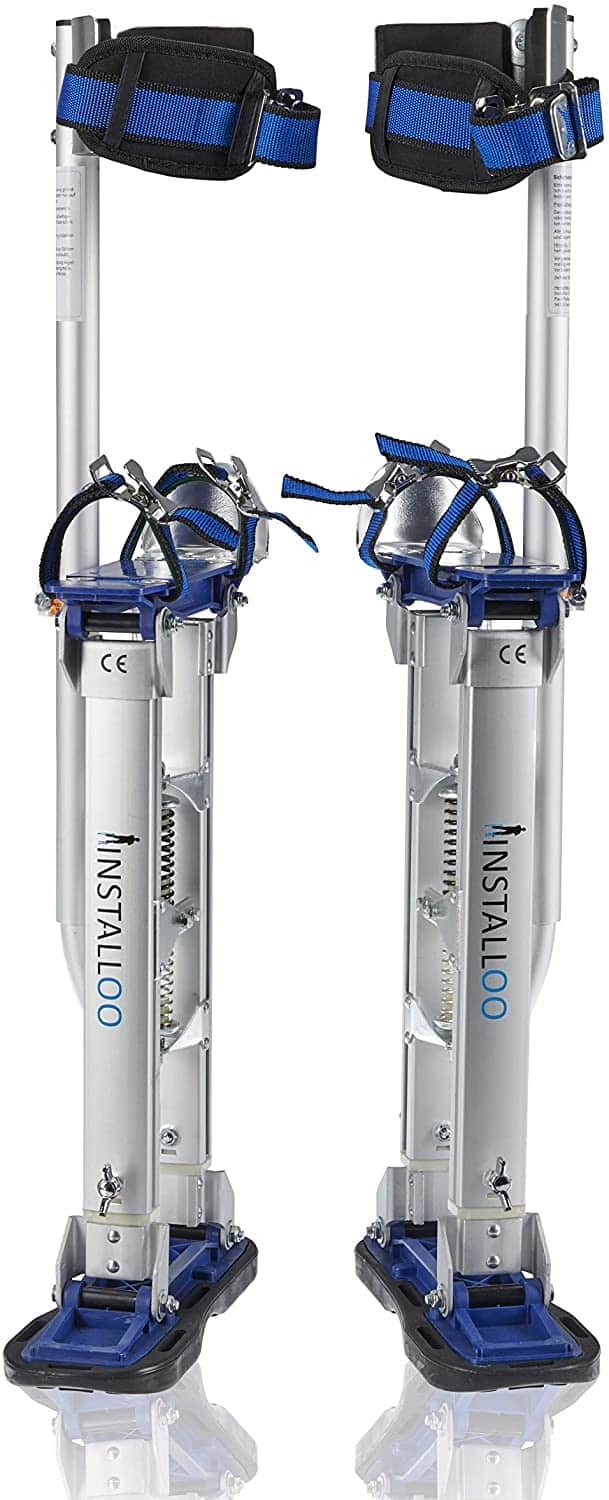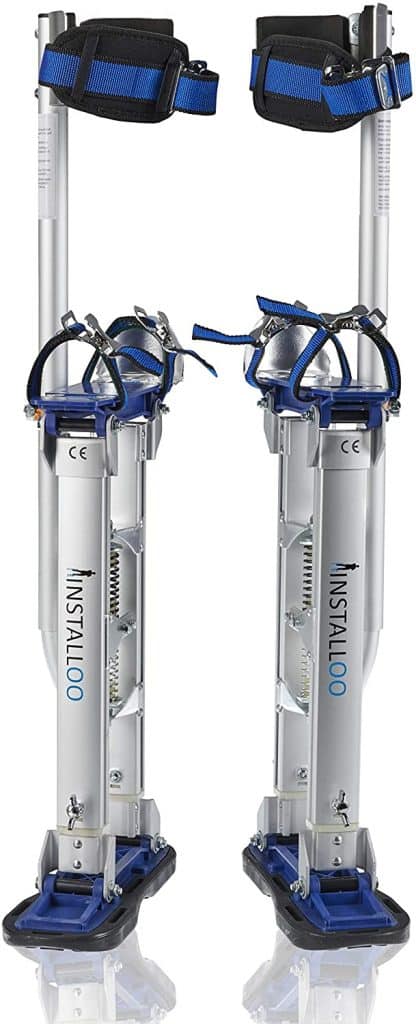 Here are the stilts with nine levels of adjustment. These lightweight stilts are useful for Painters, electricians, drywallers, gardeners. The Installoo® Stilts come in 3 sizes, Medium; Size profit of 38-58 cm (adjustable in 5 steps), Large: Size profit of 45-75 cm (adjustable in 7 steps), X Large: Size profit of 60-100 cm (adjustable in 9 steps). This Robust and durable aluminium frame stilts come with dual spring action and allow flexibility and safety leg buckles to prevent sliding.
Along with durability, these are super light stilts available on the market with only 7.7 lb per pair weight. Moreover, its wing bolt design for adjusting the height without tools and rubber soles to prevent slipping is like extra topping that lacks many stilts.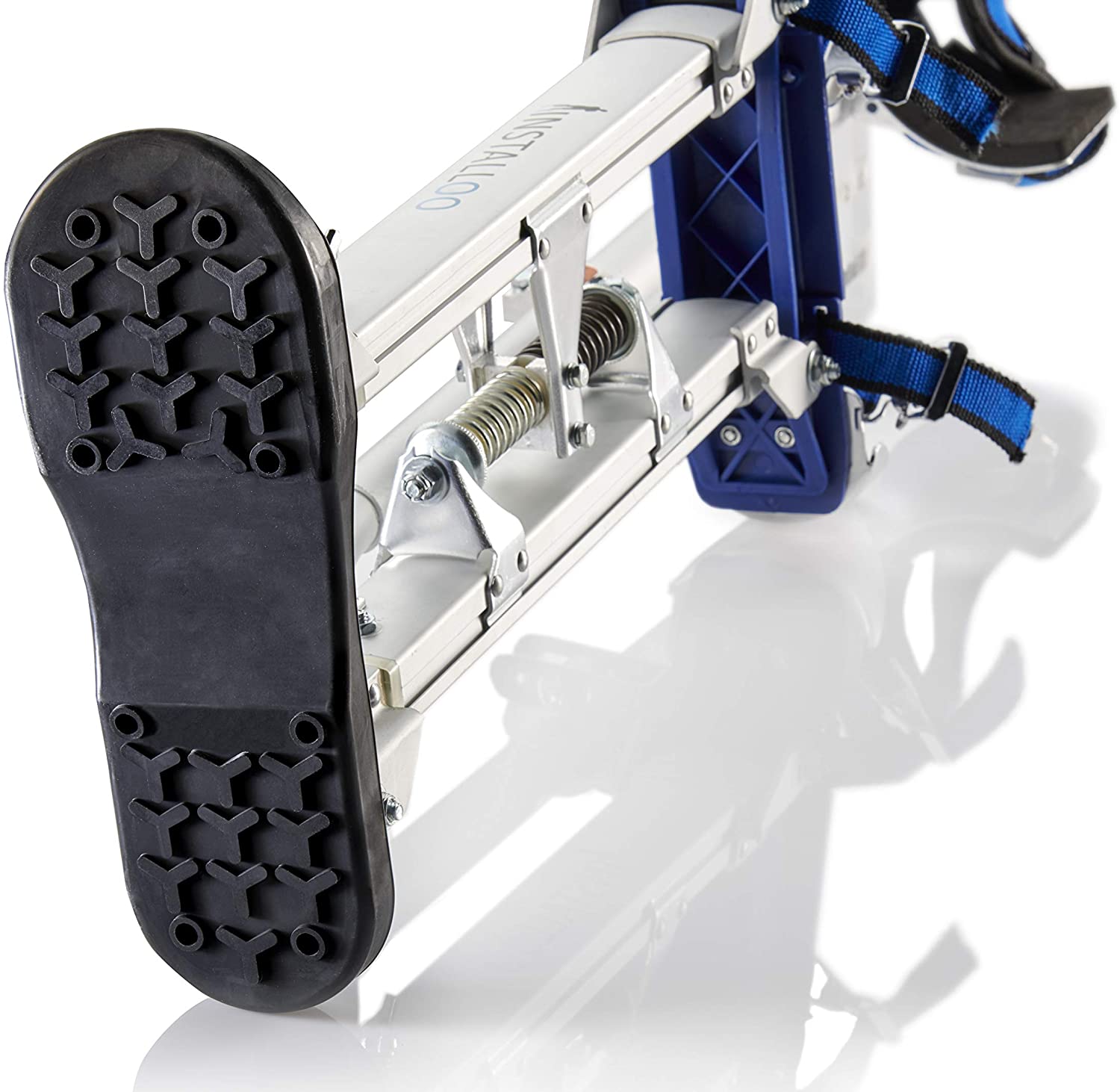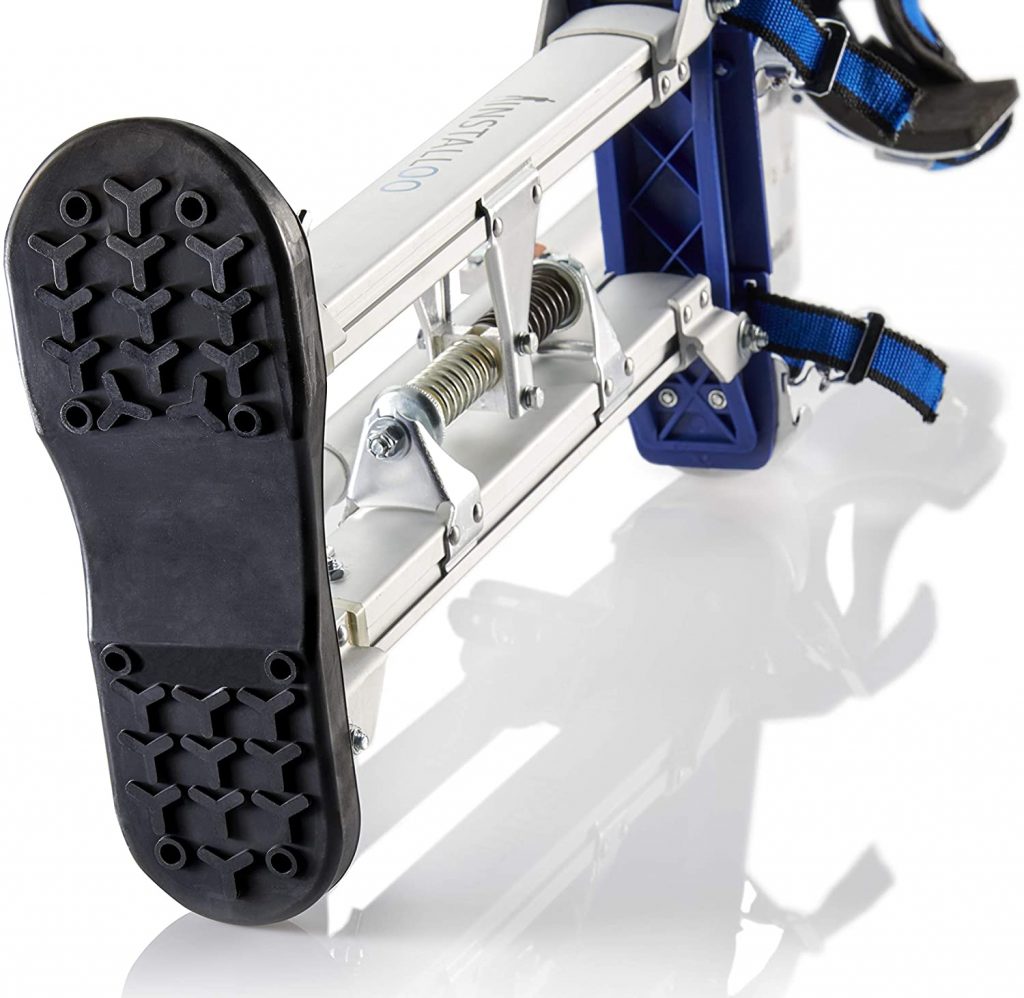 Star Features:
Available in 3 sizes
Robust and durable aluminium frame
Ultralight: Only 7.7 lb per pair!
Under constant German technical certification and safety compliance and including instruction manual in English.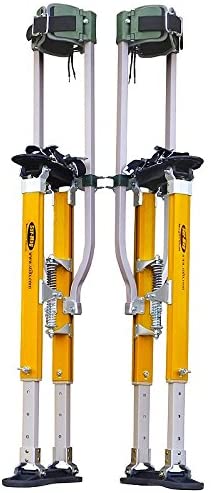 The number five is the newest model with Quad-Lock Technology. If you are looking for more secure stilts, then Sur Pro stilts are for you as they come with a double Wingbolt design for added security. In addition, these stilts are broader and lighter that offers better balance and improved mobility.
The Sur Pro comes with a Unique "Dually" design that features two sides supports that improve balance and stability and 1 Year Limited Warranty.
Star Features:
Quad-Lock Technology
Wider and Lighter
Adjustable between 24-40 inches.
1 Year Limited Warranty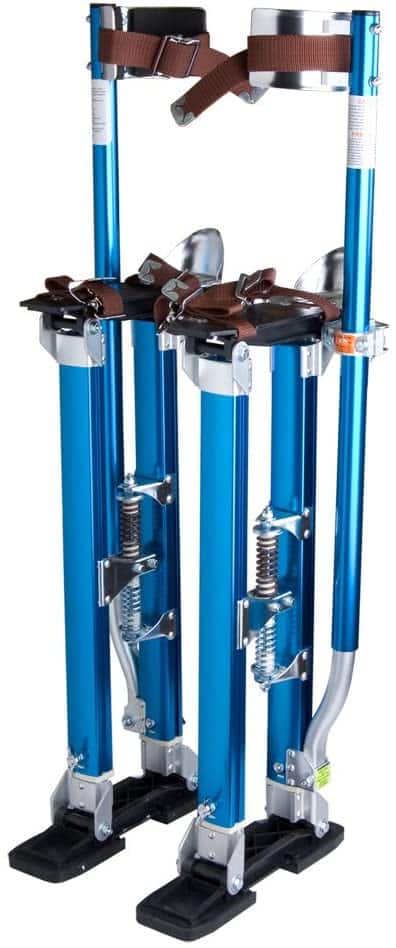 The ReaseJoy stilts are adjustable between 60cm to 100cm(24″ to 40″), perfect for reaching different heights. In addition, they come with anti-skid premium rubber soles. These extra-light stilts are just 16.9lbs and come with a 3-position heel bracket that fits different foot sizes & prevents slippage in every direction.
Star Features:
Exclusive wing bolt design for adjusting versatile height without help of tools
Made of high-quality anodized aluminium
Max. loading weight: 102kgs(225lbs)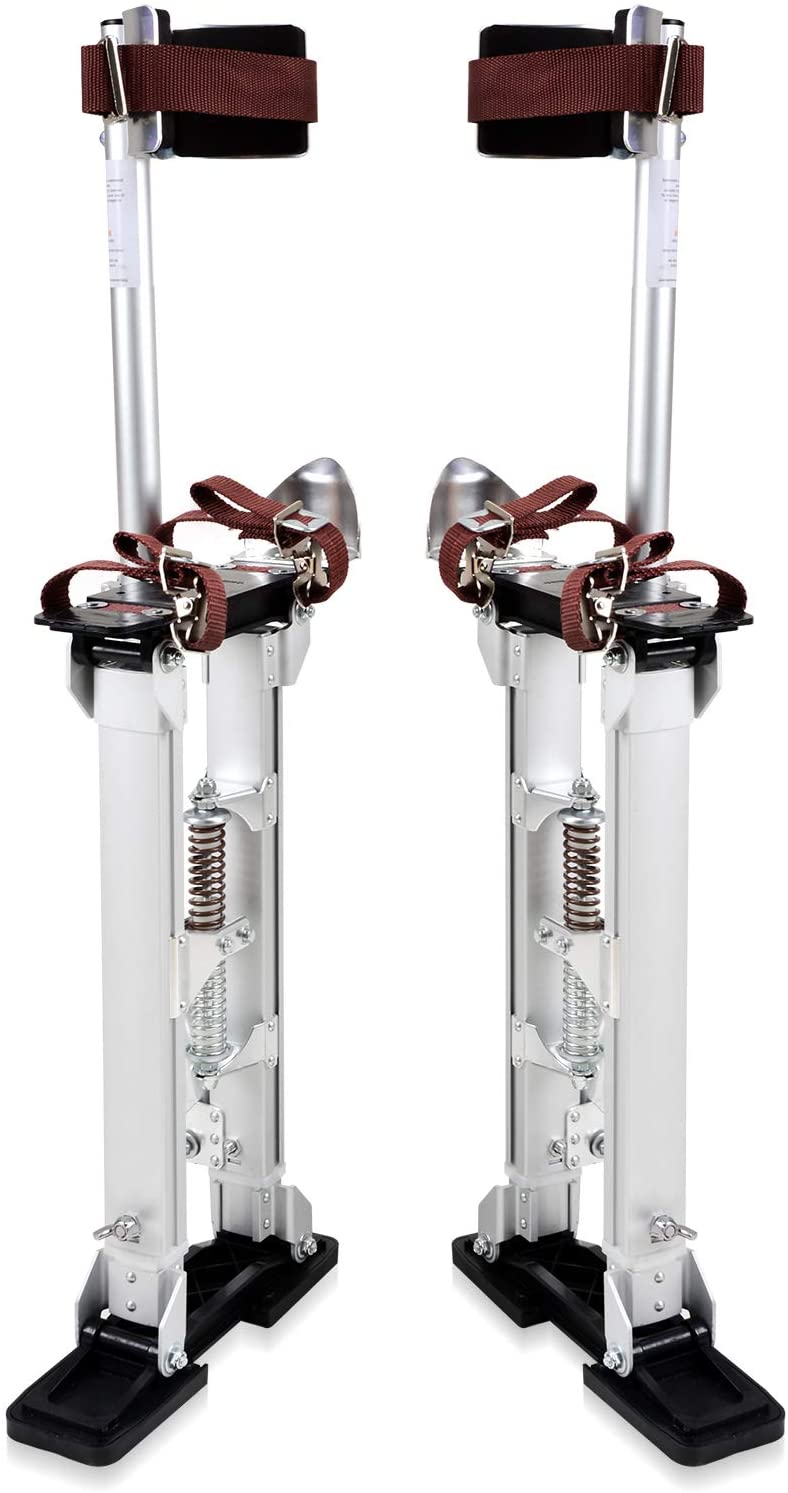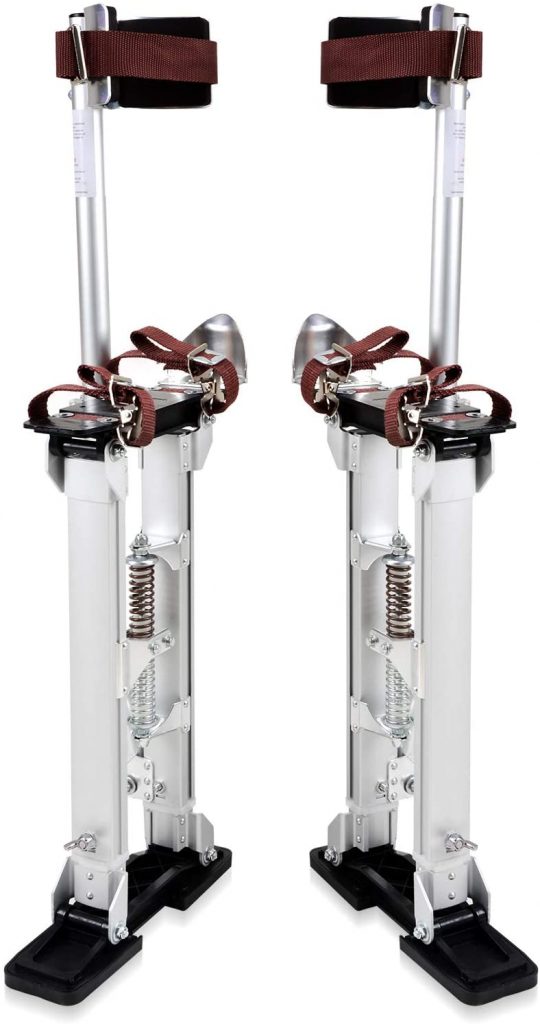 Let's add some colours to traditional stilts with Voilamart Plastering Stilts that come with Oxidation technology to prevent colour from fading. These stills are made of Aluminum 6030, capable of carrying 225Ibs of load. They come with a non-slip rubber sole, and double springs design allows more natural walking and better balance. In addition, the nylon footplates with resistance ensure your safe walking on stilts.
The Voilamart plastering stilts are adjustable to 24″ to 40″ height, fully adjustable heel plates, and a foot strap.
Star Features:
Aluminum6063 Premium Material
24″ to 40″ Height Adjustable No tools required
Fully-adjustable Heel Plates with Foot Strap
Max.225lbs Load Capacity