Plastering is a tricky job – that's why professional plasterers are there when needed. However, beginners can learn to use a high-end trowel and get the best results because plastering is among those few tasks in which a good plastering trowel is unbelievably essential. After all, with a bad or poor quality plastering trowel, it will be tough to get the desired perfect finish. So, when it is about the smooth finish, cracks free, and even/straight plastering, the quality of the trowel is crucial.
Today in this article, we will explore the best plastering trowel for plastering, the Best Trowel for skimming, and the Best plastering trowel for beginners.
There are many different types of plastering trowels such as finishing trowels, plastic trowels, steel trowels, magnesium trowels, cork handled trowels, corner trowels, midget trowels, etc. above all, "Gold plated trowels". ( No, Just joking, but think how wonderful that would be).
Anyway, there are so many trowels, but these are the factors worth considering while picking an excellent trowel, whether you a plastering beginner or a professional.
The Finish!
The Ideal Trowel size
Best Plastering Trowel for a Nice and Clean Finish
Plastering is all about how your wall looks after the job has been done. Suppose you use an expensive good quality Trowel, but you finish with an uneven wall at the end of the day. In that case, I'm afraid you might want to get a professional in, but to give you a good chance of getting the job done well, there are many options and types of trowels that will make it easier.
Best Size Trowel for Plastering
Size is the key factor that needs attention when buying a trowel. The size of the plastering trowel affects the control, speed, and pressure when plastering.
If you pick a 16″ trowel, it will bring the ability to get a lot more plaster on the wall as compared to a 13″ Trowel. On the other hand, a smaller 12″ trowel carries a lot less plaster but best for more control compared to an 18″ plastering trowel.
So, the question is, which size is perfect? It is better to have a pair; a larger trowel to hold more plaster and a smaller trowel for more control. A smaller 14″ Trowel is good to spread plaster with the optimum amount of control. In addition, it is easy to operate and is not stressful on the joints.
Plastering Trowel Blade Material
The second most significant consideration in buying a plastering trowel is the material used for the blade. There are trowels made from stainless steel, carbon steel, and plastic. Every material type has its pros and cons; the problem with steel tends to warp, although it is sturdy, lightweight, and rustproof. On the other hand, I like plastic trowels because they are good cleaner, rust-free, ultra-lightweight, and give a more even finish, and are far easier on the hands, but they are not sturdy enough as steel trowels. This list of the best plastering trowel contains the best of both.
Stainless steel Plastering Trowel
Plastic Trowel
The Best Plastering Trowel
Now, let's look at the best plastering trowels. We have worked hard to compare the build quality, performance, design, and cost to provide you with the best guide about Plastering Trowels. The first on the list are the best stainless steel plastering trowels
Best Stainless Steel Plastering Trowel.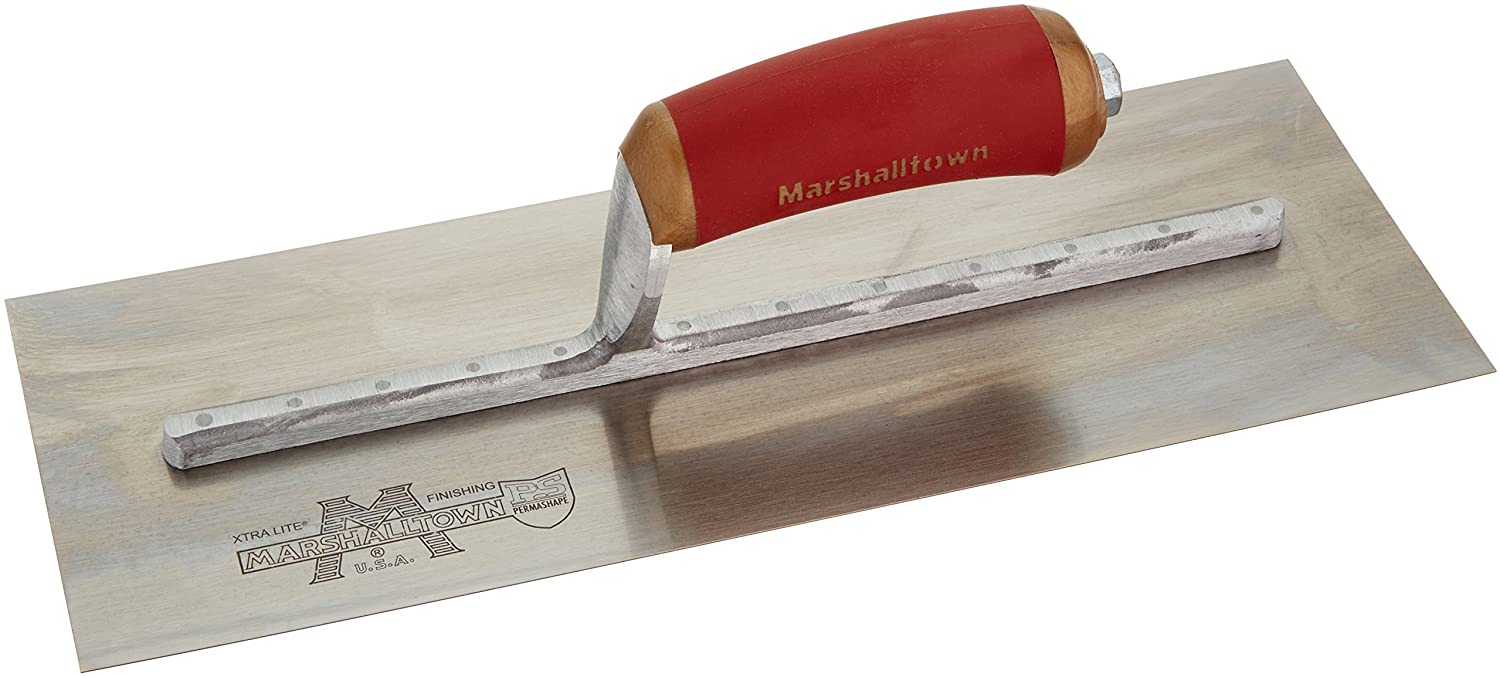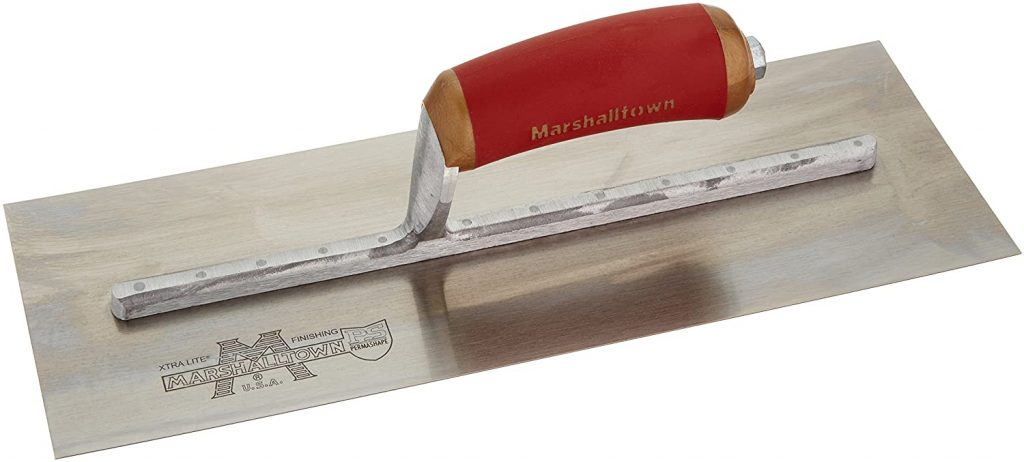 If you want to buy a trowel that will last and used by professionals, The Marshalltown PB145D trowel is for you. The 14″ large trowel crafted from the highest quality hardened and tempered carbon steel to provide ultimate strength and durability. It is a highly recommended trowel by professionals and an excellent choice for superior quality finishes. This particular plasterer's Trowel contains a Durasoft handle which provides a soft feel, reduces fatigue, and offers exceptional durability. This machine-finished and already pre-worn in is ready to be used straight away a resilient heat-treated trowel that is well balanced and great for professional and beginner.
Star Features:
Non welded Trowel by Marshalltown
Crafted from the highest quality hardened and tempered carbon steel
Resilient DuraSoft handle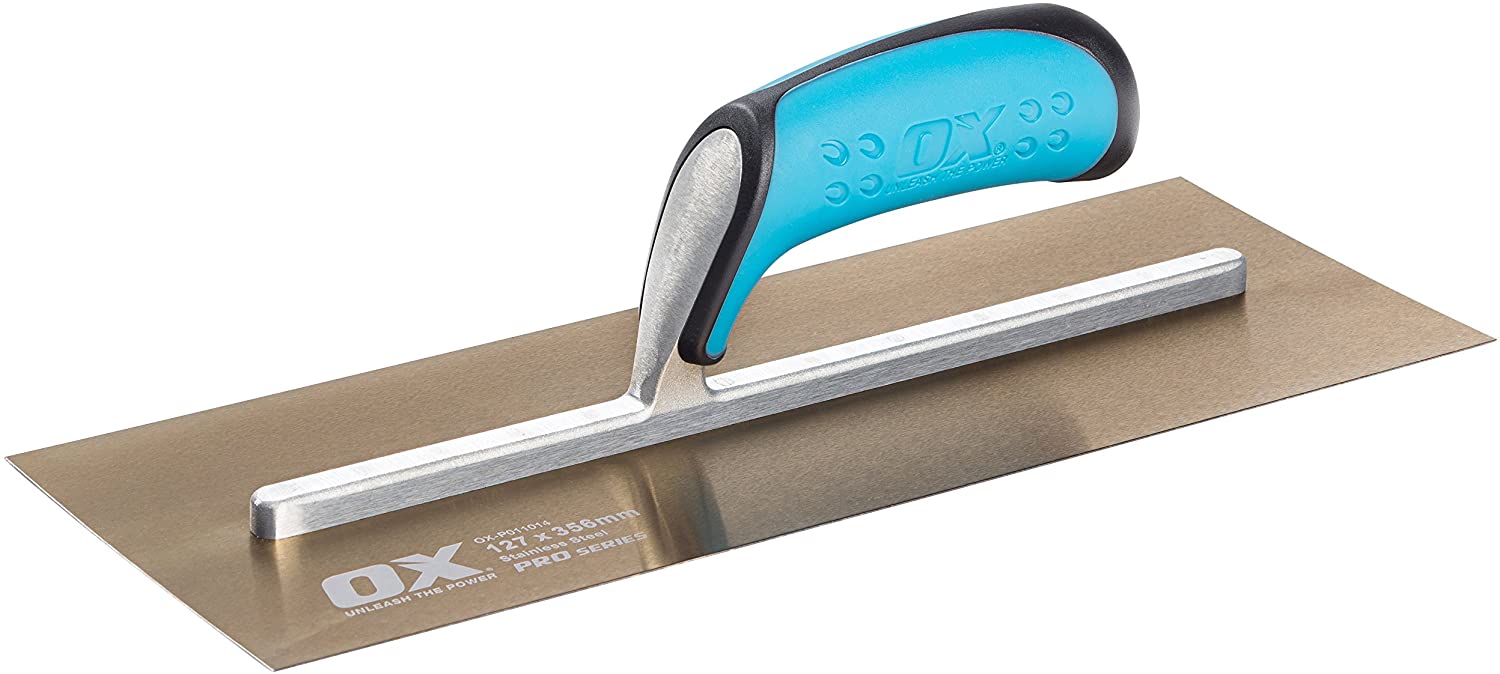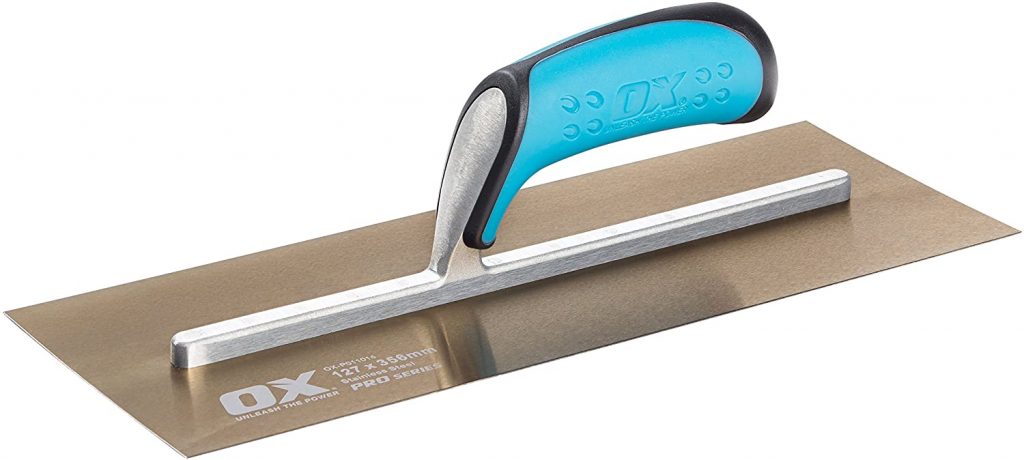 The OX Pro stainless steel plastering trowel is a heavy-duty trowel that features high-quality tempered stainless steel with pre-worn edges, which helps in eliminating line & ripple marks with ease. In addition, its premium quality tempered stainless steel blade and a fully riveted shank ensuring durability and reliability.
The OX Plasterers Trowel uses a lightweight shank made of industrial-grade aluminium, entirely riveted across the blade to prevent any bends or breaks. In addition, it is featured with a soft and comfortable dura-grip handle and a thumb guard for extra comfort and safety.
Star Features:
Heavy duty plaster trowel
Engineered with top-notch materials
Lightweight aluminium shank
Handle set for perfect balance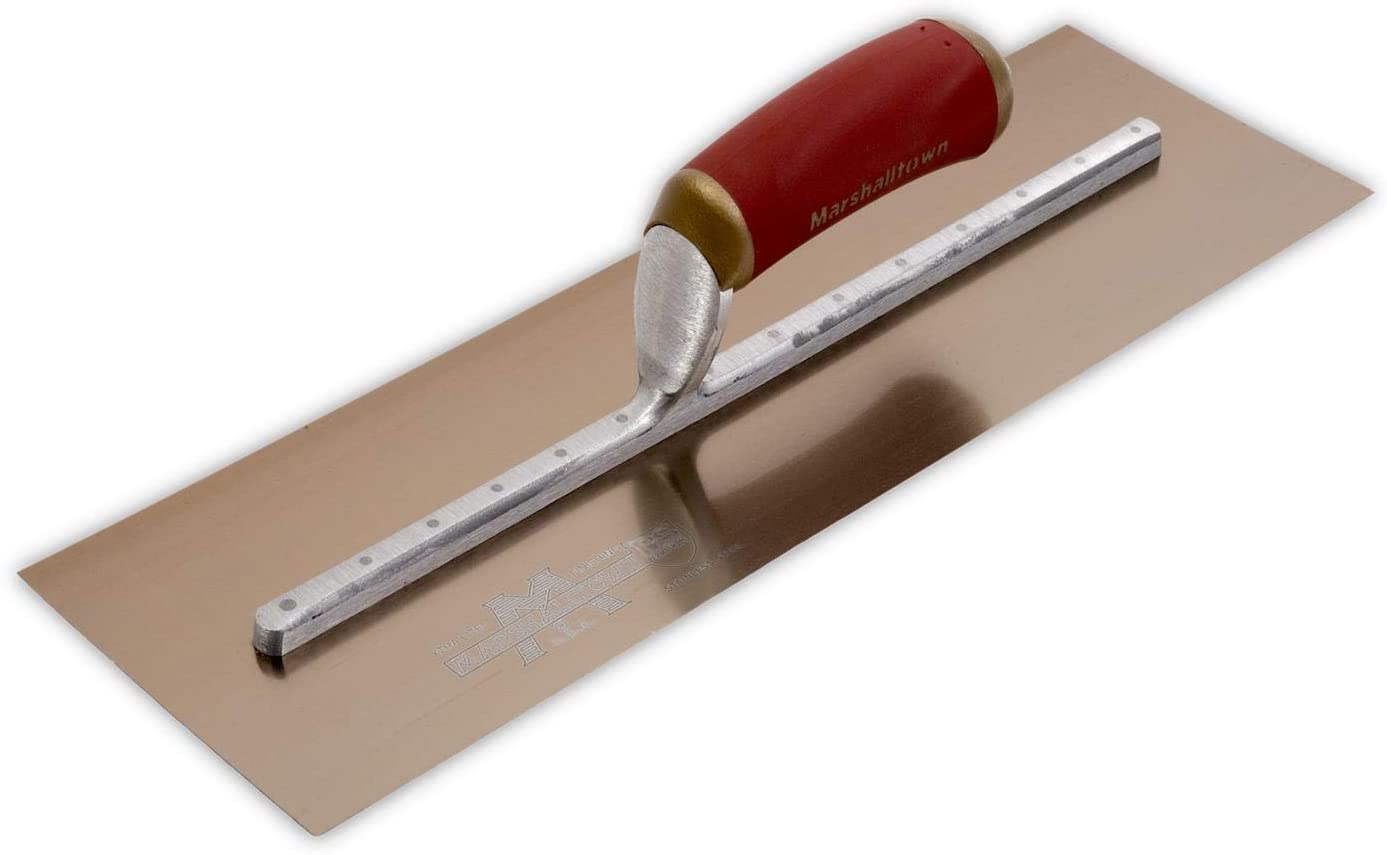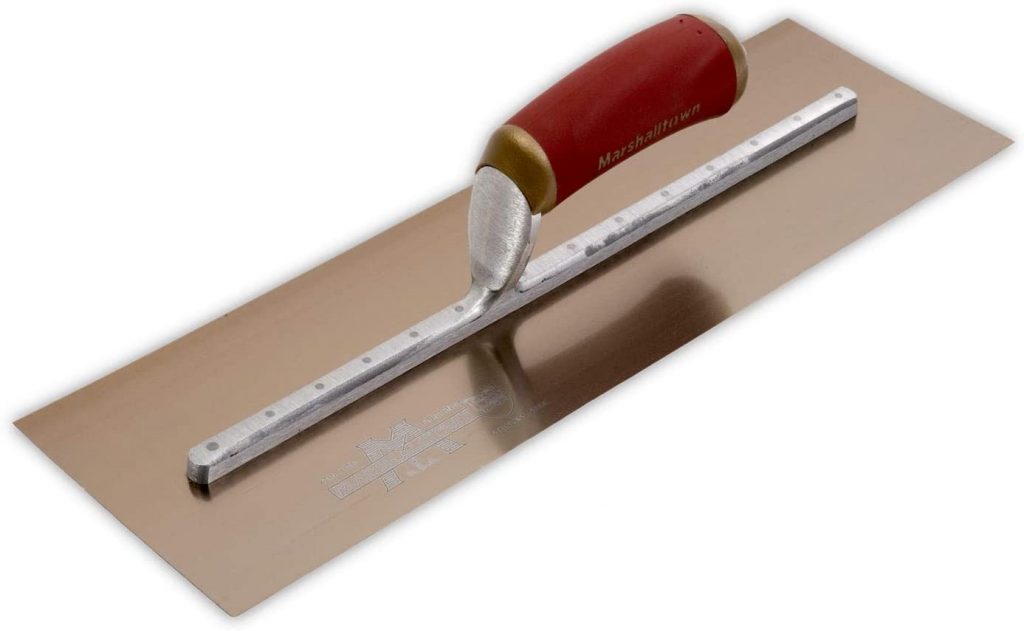 We found Marshalltown 14″x 5″ Gold Stainless Steel Plasterers Trowel best for professional use. Marshalltown trowels are highly recommended and the first choice of professionals. This Marshalltown MPB145GSD 14×5-inch is constructed from high-quality hardened and tempered golden stainless steel. It is made for a perfect finish and has bevelled work edges to prevent surface popping and eliminate line and ripple marks familiar with brand new trowels.
The Marshalltown MPB145GSD Gold trowel also features a light but extra light solid aluminium alloy mounting, which is lightweight and robust enough to withstand the pressure of hand trowelling. In addition, the Dura Soft handle provides a soft feeling and is not hard on the hands even during extended use.
Star Features:
Built to last for many years
Crafted from the highest quality hardened and tempered golden stainless steel
Marshalltown trowels are not welded.
The Nela 10883511BK Gold edition trowel is a lightweight yet robust Trowel with a super flexible 0.3 mm stainless steel blade. This new model cork handle trowel is one of the best finishing trowels available on the UK market.
The Gold 14″ Inch x 4.3″ trowel carries lightly rounded edges and versatile double-blade technology that ensures high strength, great flexibility, and burr-free fillings. Thanks to Biko Cork Grip handle which is which makes this Trowel comfortable and easy to use.
Star Features:
Ergonomic Biko Cork Grip
Versatile Double Blade Technology
Rounded Edges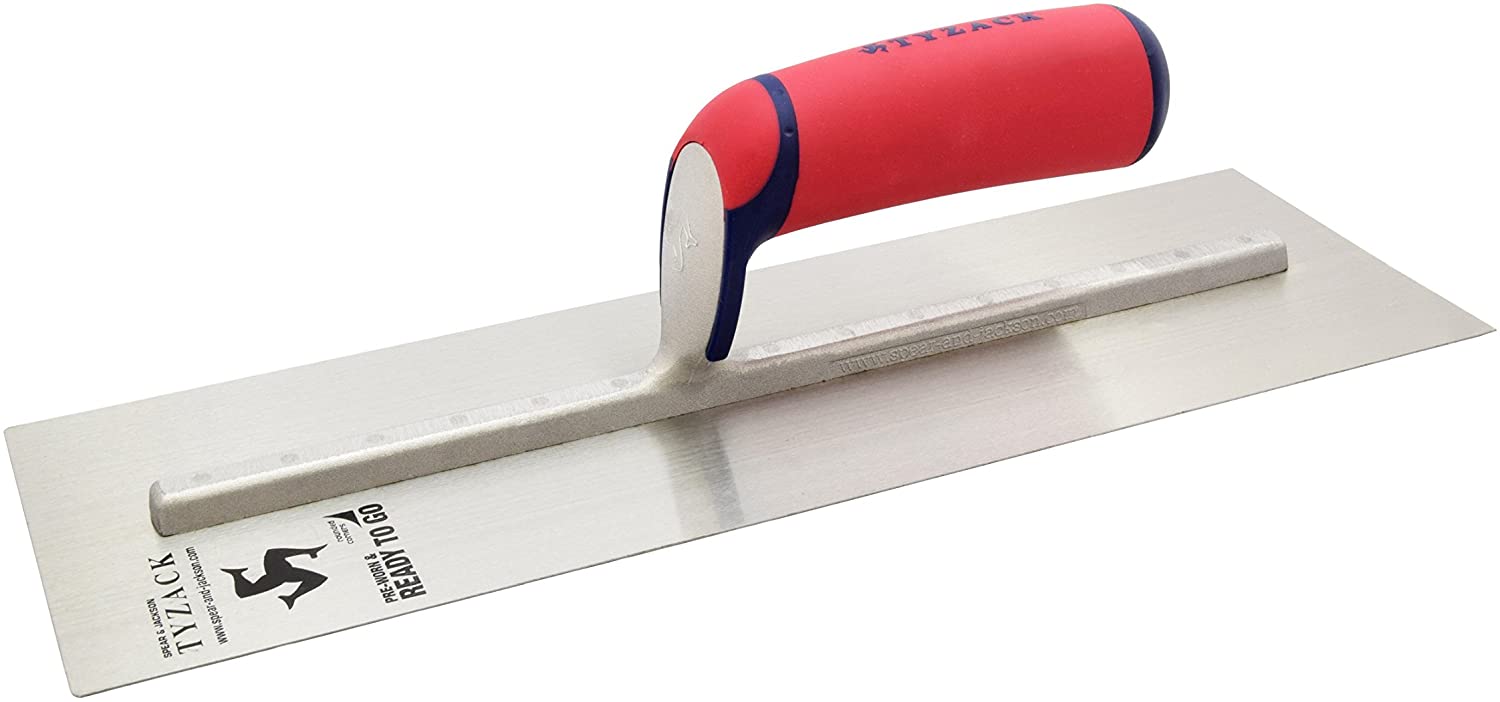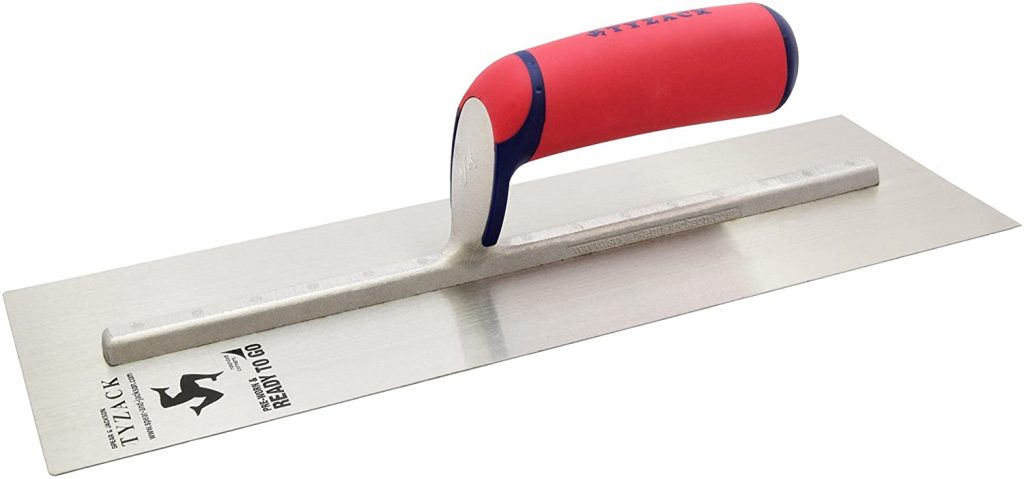 The Spear & Jackson 14 Inch trowel, is an ideal day-to-day use trowel. This is a professional-level plastering trowel that offers a good quality blade at a very reasonable price. It features 14-inch rust-resistant stainless steel blade and a soft-grip ergonomic shaped handle that makes it comfortable to use even for a long time.
Star Features:
Rounded corners to prevent digging in
Steel rivets for extra strength
Soft-feel handle for comfort
Refinha Superflex trowels are sturdy, lightweight, and perfect for plastering and skimming jobs. This particular Superflex2 14″ Trowel is produced with a flexible stainless steel blade, with an alloy frame and moulded soft-grip handle. As a result, this Trowel is lightweight and easy to use on multi-finish, skimming, and board finishes plasters. , the stainless steel blade is flexible with rounded edges and comes with a soft composite handle.
Star Features:
Size 14″ 360 x 125mm
Lightweight Design
Easy to use on multi-finish
Best Plastic Trowels for Plastering
If you are looking for an extra finish, easy to use and lightweight Trowel, then here you go with the six best plastic trowels.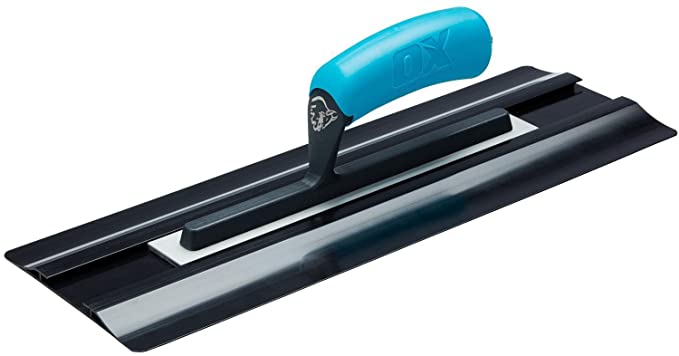 OX Tools OX-P532414 is a lightweight semiflexible plastic trowel. Its blade is made from semiflexible plastic, best for superfinishing. It comes with a removable metal shank, a replaceable blade system, and an economic soft-grip handle.
Star Features:
Removable Metal Shank
Replaceable Blade System
Ergonomic Soft Grip Handle
Refina Trowels have a flex-back design that gives flexibility across the blade width but rigidity along the length. The Refina Plaziflex Trowels 1.0mm features a plastic blade holder bracket on the flexible plastic blade. Although it is an easier trowel on the arms, plastic glides over the surface and brings up the feeling to a tight, polished finish.
Star Features:
Durable construction replaceable blades
No need for splashing water on the final coat
Flexible 1.0mm blade suitable for curved surfaces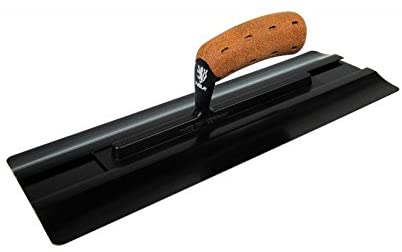 16″ NELA MAX carries a brand new trowel design that that is best to provide accurate control and precise finishing whilst also being incredibly lightweight. It is all because of its innovative style shank and a slide-on blade that is removable and changeable to suit your style of plastering technique.
The 16″ NELA MAX comes with a lightweight plastic blade with an innovative slide, a robust metal shank, and a unique Biko Grip trowel handle.
Star Features:
Lightweight plastic blade
Innovative style shank
Best budget plastic trowel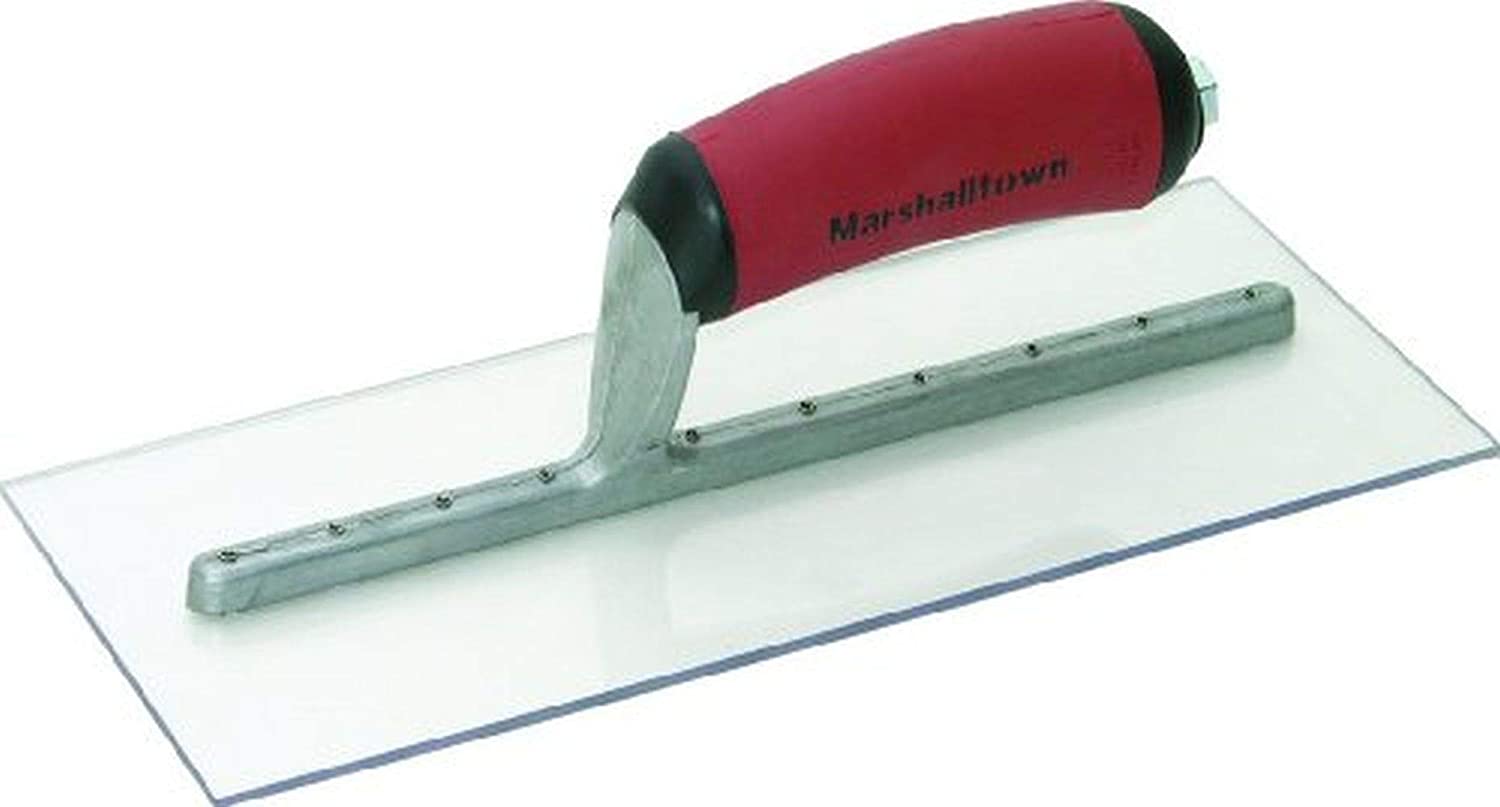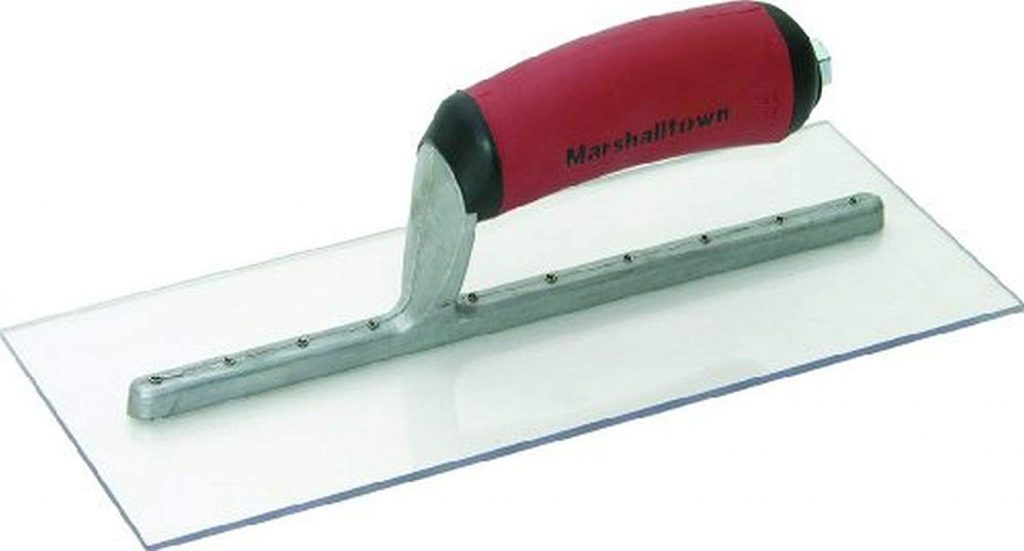 Here is a plastic trowel by Marshalltown that comes with a curved dura-soft handle. It is the perfect Trowel to perform plastering jobs such as swimming pools, white Portland cement projects, interior plaster, and stucco. In addition, the Resilient DuraSoft handle provides a soft feel, reduces fatigue, and offers excellent durability.
Star Features:
Aluminium alloy mounting to hold up to the most challenging jobs
U. S. Patent product
Resilient DuraSoft handle