Best Tile Cutting Tools
Cutting tiles for floors and walls is a delicate job that can also be dangerous if you have the incorrect tools as it requires effort and attention. To cute tiles accurately and precise, you need a quality tile cutter. Here, we have listed some of the best-cutting Tile tools that will make cutting tiles simple.
Types of Tile Cutting Tools
Manual tile cutter:
The manual tile cutter is a manual tile cutting tool with no need for electricity. Using a manual tile cutter is very easy, and many professionals still use them today. Also, these tools are the best for cutting a straight line. They are great for cutting square and straight angle cuts.
It has a wheel that scores the tile. You need to put the tile in the cutting line and push the handle forward very slowly, scoring the tile. Then add pressure, and the tile will crack into size. The drawbacks it's hard to make the smallest of cuts, and you can easily chip the tiles.
Wet tile Saw:
The wet tile saw is a popular tile cutter among professionals, especially when the most accurate tile cuts are needed.
The wet tile cutter has a watering system. Cutting tiles with a wet tile cutter is very easy and straightforward—all You need to put the tile on the table and start cutting. The water helps to keep the blade cool while cutting. Also, water helps to reduce friction so that it gives an excellent cut to the tile. The continuous watering system keeps the edge healthy and increases blade life.
The wet tile saw comes with a powerful motor to generate the power for cutting tiles to perfection.
Manual Best Tile Cutting Tools:
Installing new tiles is not an easy task as it requires level accuracy and even distribution. And in the absence of the right tile cutter, the job can easily turn from hard to impossible.
For this main reason and many other, tiling specialists from all around the world take care when picking the ideal cutter. It is not only considering the tool quality, but it must also fulfill individual's specific needs.
However, picking the right cutter from among the many available on the market is an overwhelming task, But we are here to make it easy for you with this short but precise article covering Top best manual tile cutting tools.
We pick the manual tile cutting tools to review because they are portable, fantastic for smaller tasks. They are ideal to cut the tiles for small spaces such as tiles for a bathroom, shower, or washroom, a manual cutter does the job.
How to Choose a Manual tile cutter
There are a lot of different types of manual tile cutters, selecting one depends on your need. If you need to cut small tiles with accuracy for a small job, Manual Tile Cutter got you covered.
Moreover following features also worth considering while picking a manual tile cutter.
Fast cuttings with minimal effort.
Size options
Easy to Use
Low maintenance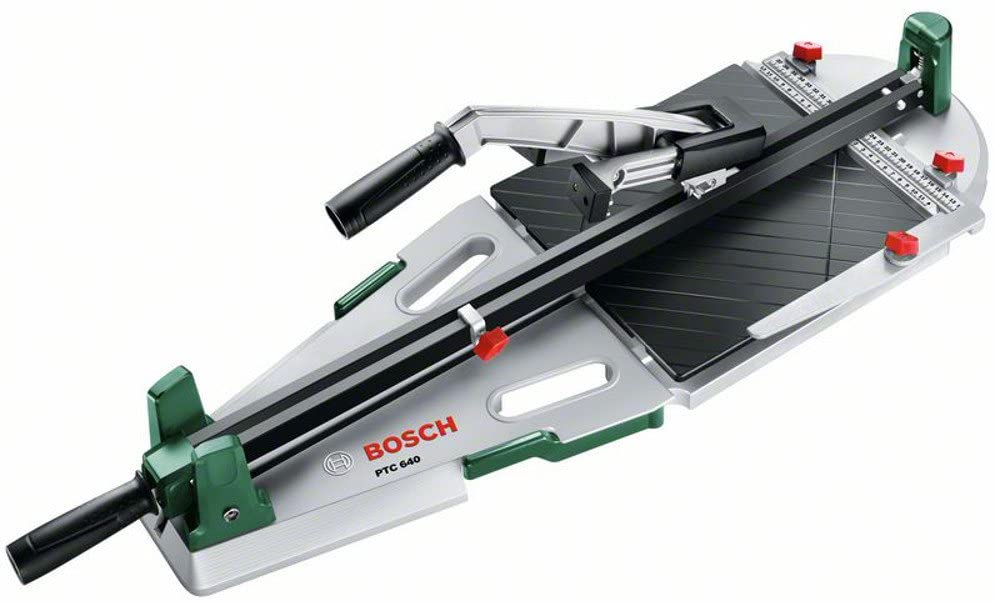 Description:
Ideal for cracking ceramic wall tiles of 12mm, this cuter is one of the most robust, stable, and well-adjusted tools you can find.
Specs:
Dimensions: 99 x 30 x 29 cm
Weight: 9.1 kg
Power Source: Corded-electric
No batteries required
Maximum cutting length: 640 mm
diagonal Maximum cutting length: 450 mm
Maximum tile thickness: 12 mm
Ruler: 0 — 350 mm
Angle stop: 0 — 45°
Features:
Easy to use and efficient. The tile will not slip while cutting.
Precise cuts.
Bosch Manual Tile cutter
A titanium-coated cutting wheel ensures precise scoring and cutting - without removal from the tool

Suitable for cutting large ceramic tiles up to 640 mm

Support widening for cuts in larger tiles

Diagonal cuts are possible with 45° angle stop

Set stop for identical series cuts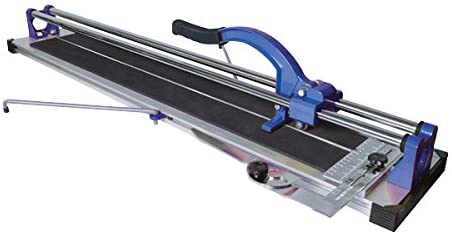 Description:
With the tungsten Carbide cutting wheel, the Vitrex tile cutter is a durable tool ideal for cutting tiles, floor tiles and ceramic walls.
Specs:
Dimensions: 8.27 x 43.7 x 6.1 in
Weight: 4.9 kg
Maximum straight cut: 900mm
Diagonal Maximum cut: 610mm
Maximum thickness: 13mm
Features:
It uses a simple score and snaps operation.
Compact, lightweight and durable.
Rigid steel construction
Adjustable cutting guide.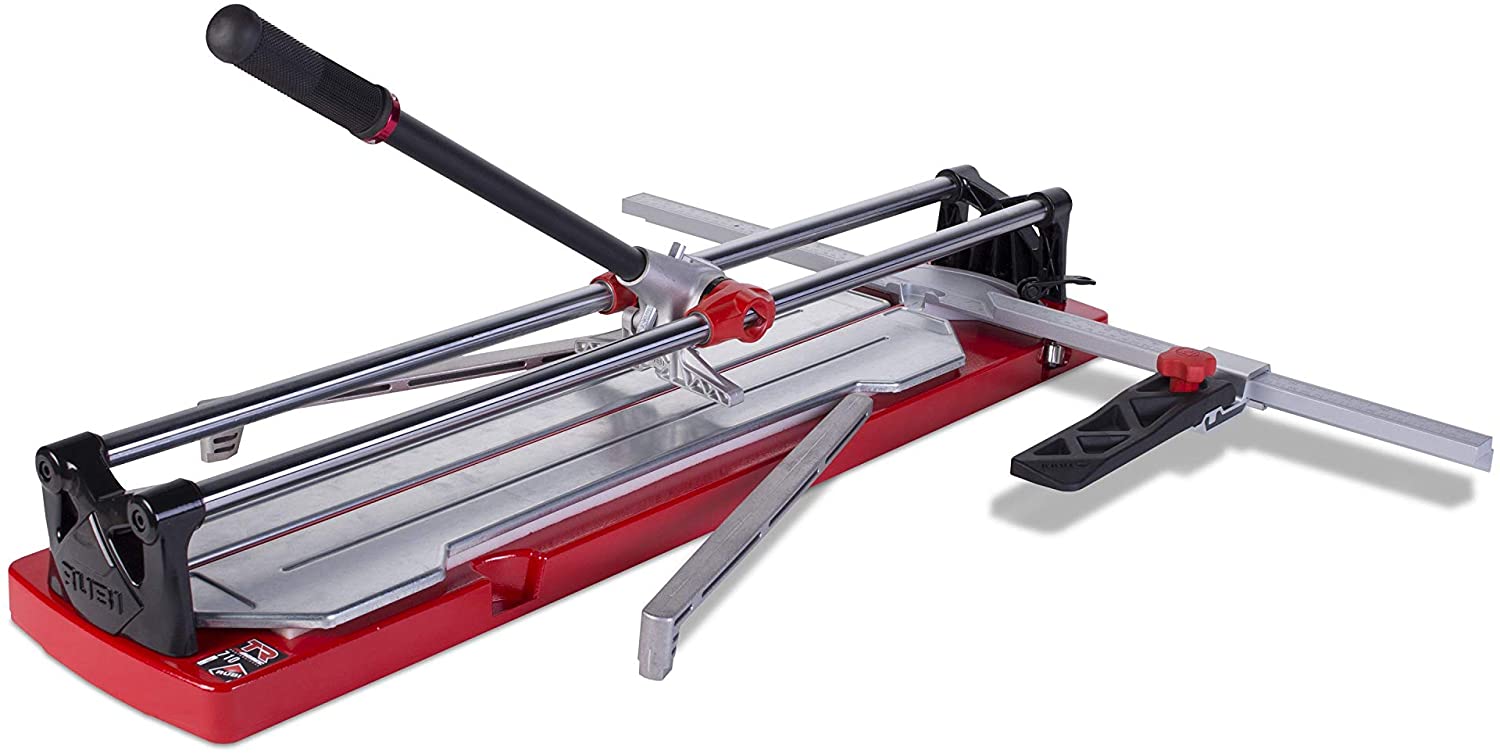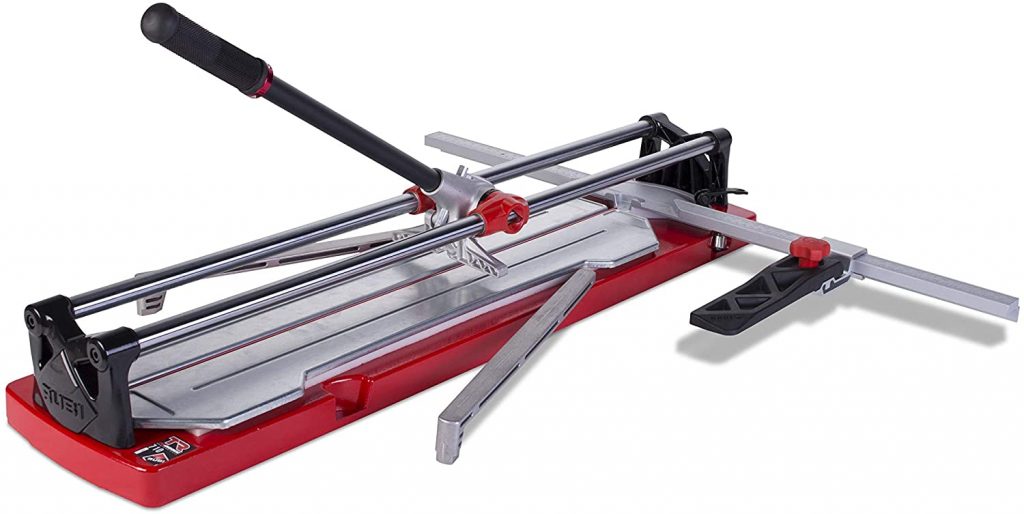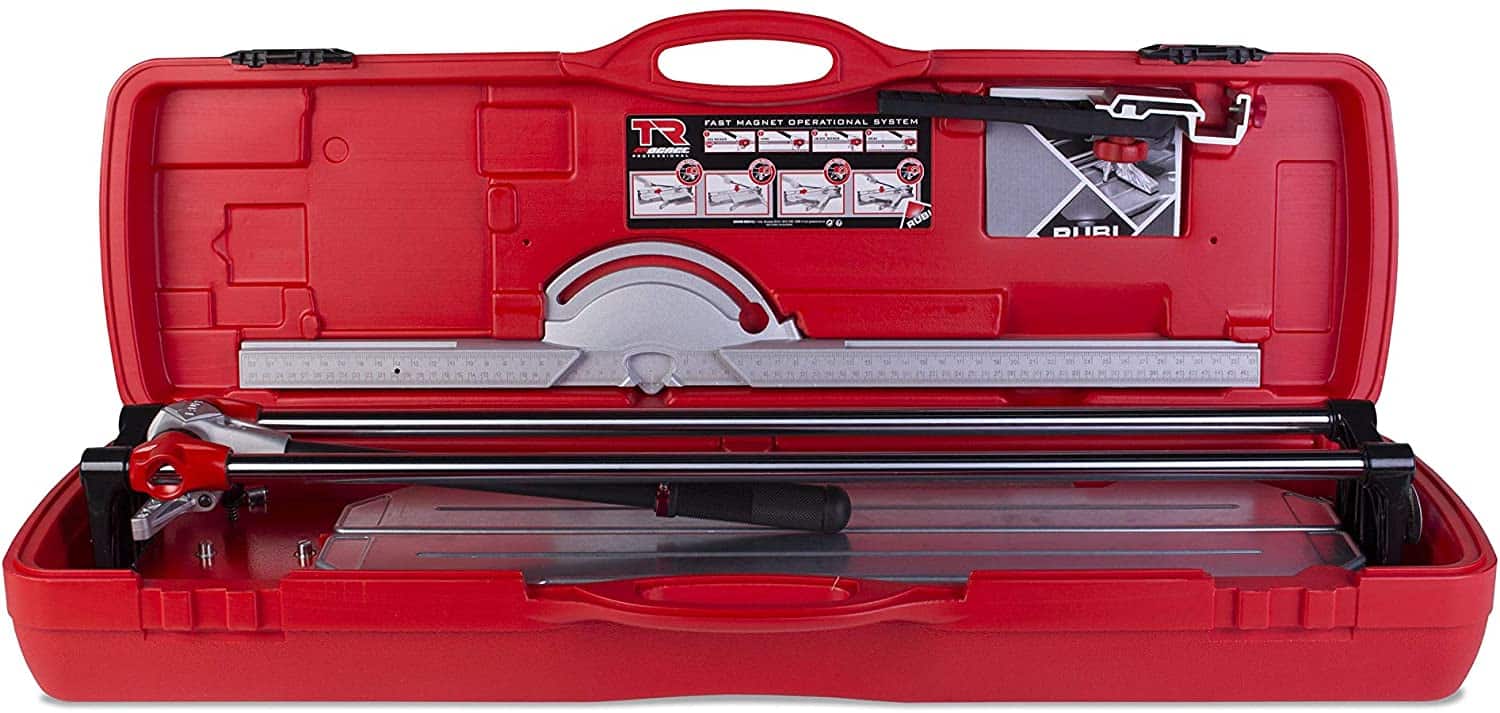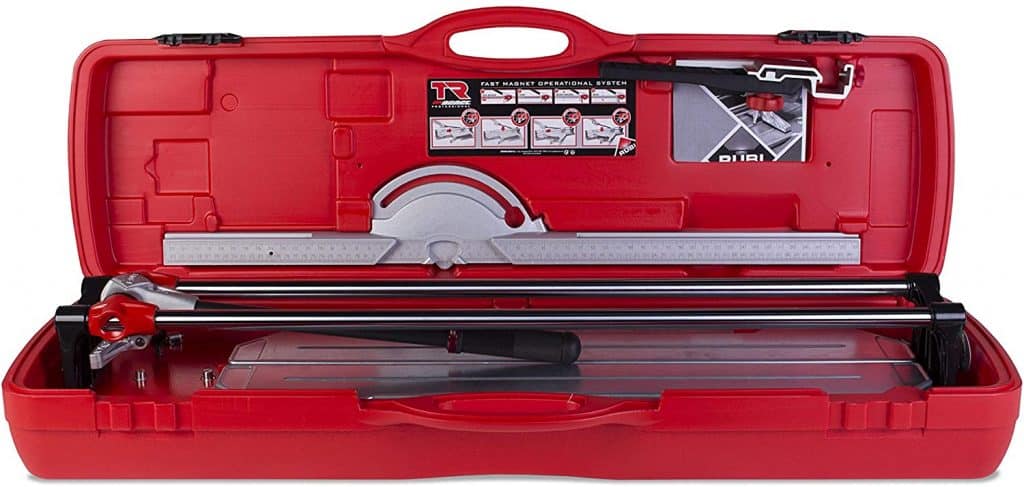 Description:
Another entry in this list, the RUBI tile cutter, has a quick speed system with a magnet that makes the tool easy to use, making it the best choice for professionals.
Specs:
Dimensions: 100 x 18 x 35 cm
Weight: 15 kg
Material: Aluminum
Size: 710cm
Cutting length: 71 cm
Diagonal cutting length: 50×50 cm
Cutting height: 3-15 mm
800Kg Breaking Power
Features:
Multipoint Breaker
Better visibility due to double guide
Up to 800Kg Breaking Power
6mm & 10mm Scoring Wheels included
RUBI Tile Cutter FAST-65, Grey
Adapted to work with interchangeable rubi blades of 6 (included), 8 and 10 mm diameter

Suitable for general ceramic tile cutting; they have a movable separator set

Steel guides, calibrated and ground to ensure precision and dimensional stability, and chrome plated to ensure maximum durability

Package weight: 6.7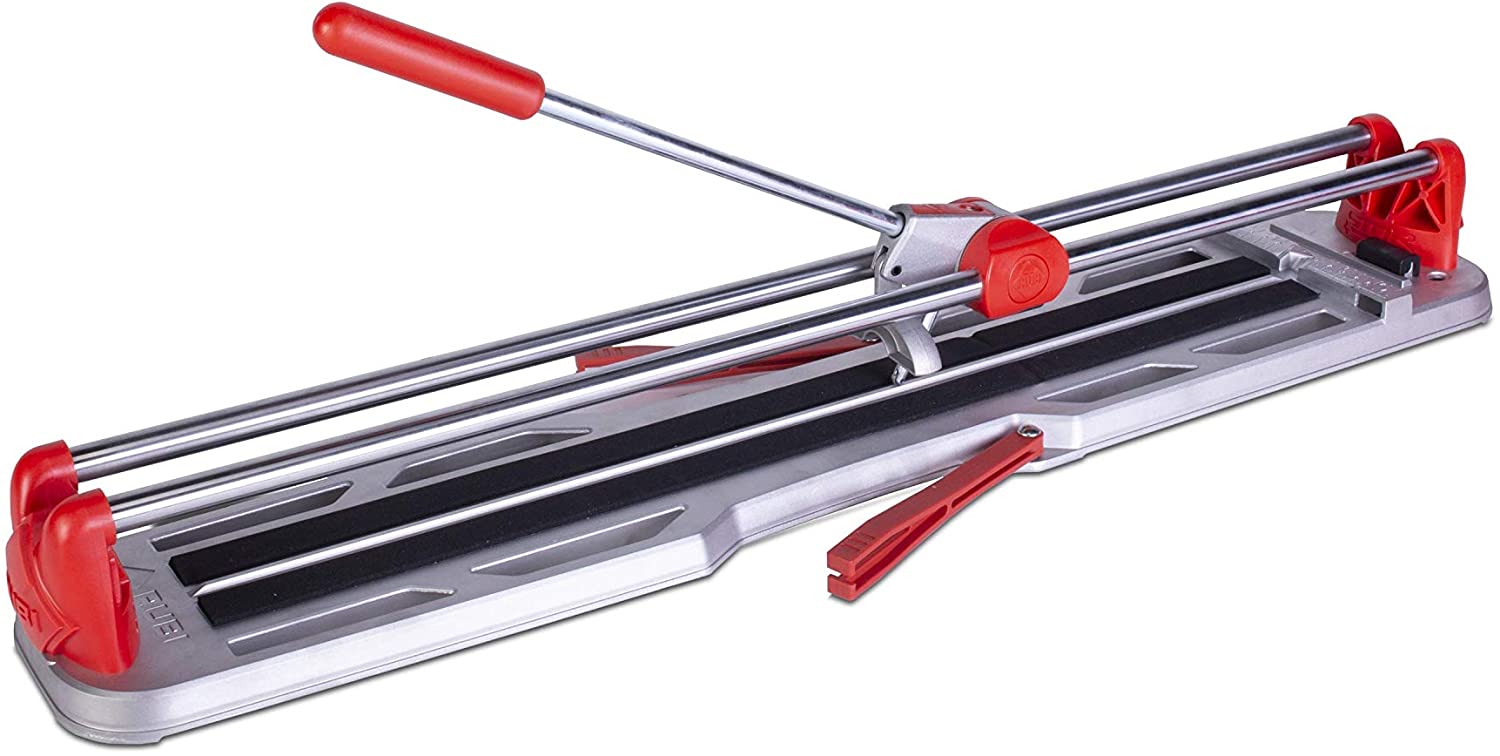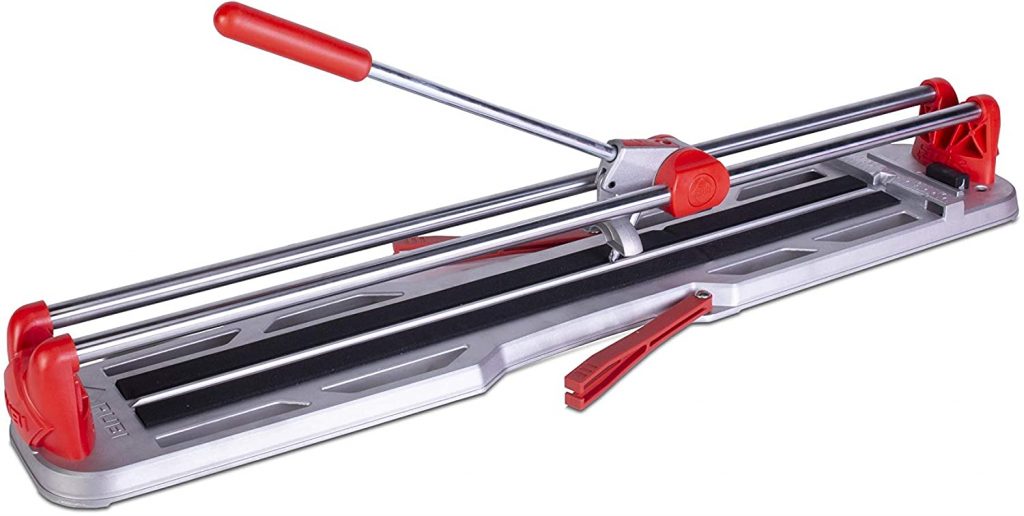 Description:
A lightweight, versatile and durable tool ideal for cutting tiles and enamelled stoneware,
Specs:
Dimensions: 70 x 25 x 20 cm
Weight: 4 kg
Cutting length: 63 cm
Diagonal cutting length: 45×45 cm
Cutting height: 12 mm
Features:
Manual trimmer, accurate
Mobile separator for diagonal cuts; base has cushioning effect; chromed steel guides with anti-corrosion treatment for more outstanding durability.
RUBI build quality
Smooth, easy to use, can be operated by one hand.
Rubi Star-63 – Manual Trimmer with Case, Red
Manual trimmer suitable for enamelled stoneware and tile cutting; Trimmer is light weight and versatile.

Equipped with mobile separator for diagonal cuts; base has cushioning effect; chromed steel guides with anti-corrosion treatment for greater durability.

Closed sliders for greater resistance to bending, offers tile workers a better and smoother guide when trimming.

The double guide system gives greater visibility of the dotted and cutting line; the brackets are made in POM.

Comes with a case for easy transport and to protect the trimmer. Cutting length - 63 cm. Diagonal cutting length - 45x45 cm. Cutting height - 12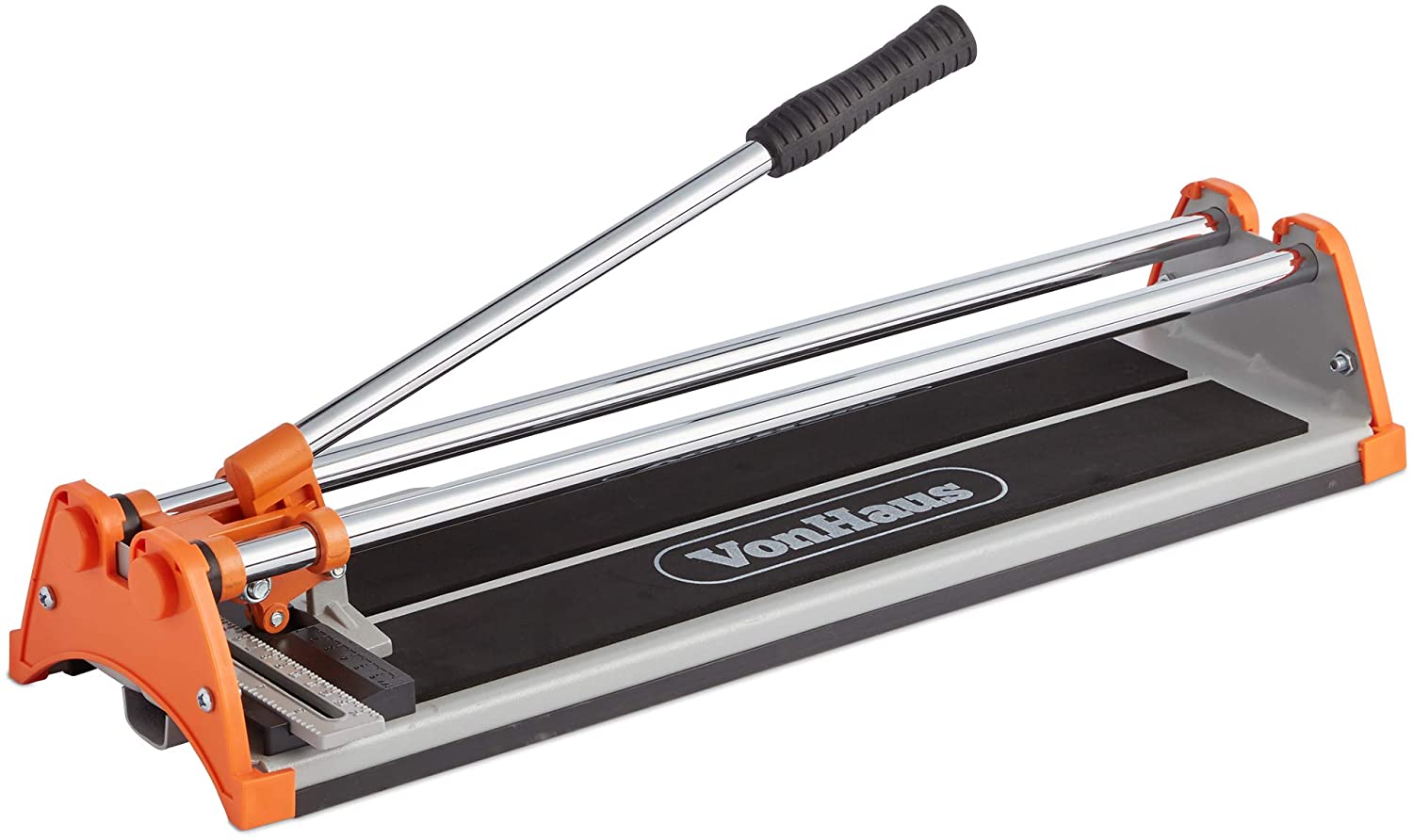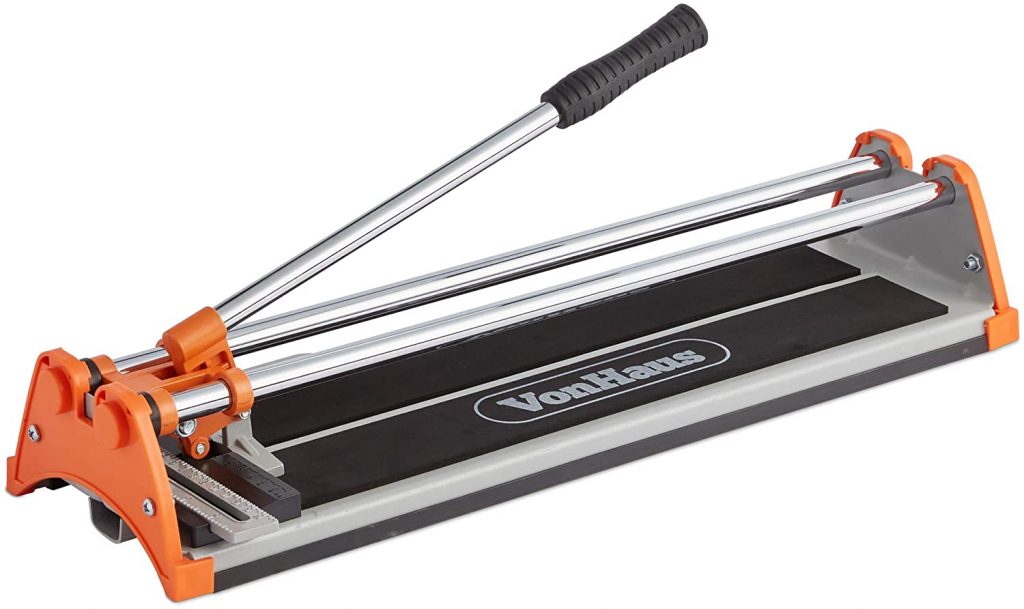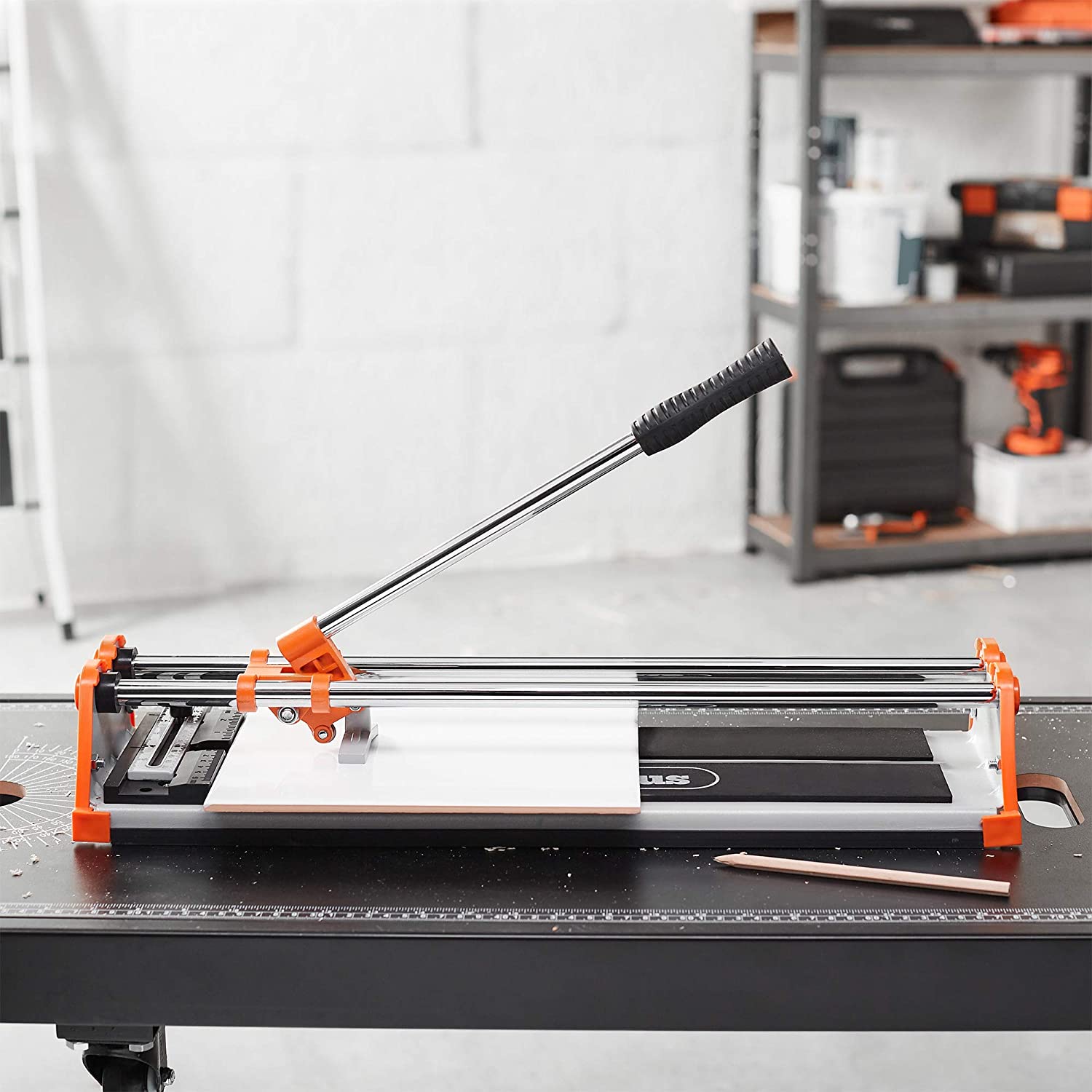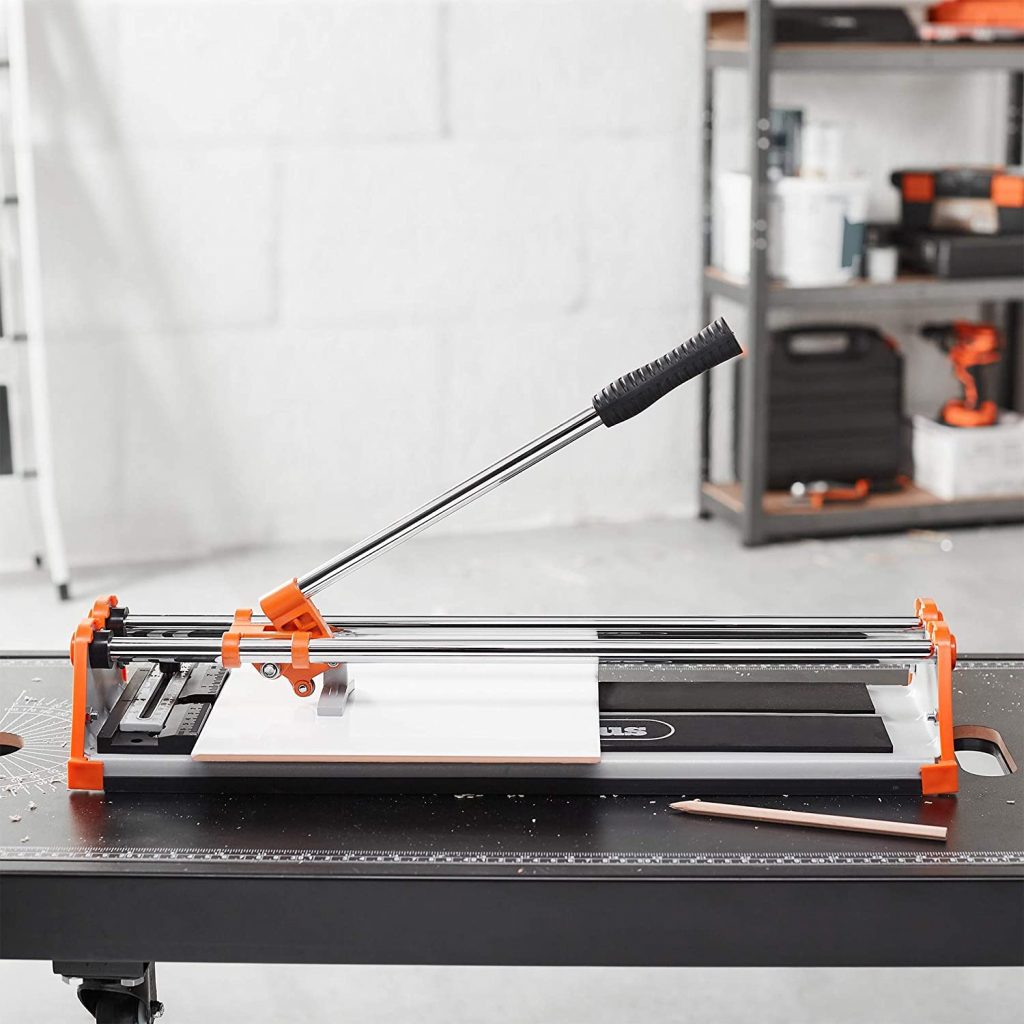 Description:
The VonHaus manual tile cutter has a tungsten carbide blade which makes it easy to cut tiles. It doesn't matter if you are an amateur or pro. You will find this easy to operate.
Specs:
Dimensions: 60 x 22 x 12 cm
Weight: 3.4 kg
Power Source: Corded Electric
Can cut tiles up to 430mm long/12mm thick tiles
Features:
It Makes less mess compared to electronic cutters.
Manual, no power needed.
Lightweight, comfortable, easy to use.
VonHaus Manual Tile Cutter 600mm – Tungsten Carbide
TUNGSTEN CARBIDE - Durable blade cuts through tiles up to 600mm long and 12mm thick with ease, diagonally or straight.

SCORE & SNAP - Line up tiles with the built-in measuring guide then simply score it with the blade for a clean snap.

ANTI-SLIDING SURFACE - Rubber surface prevents your tiles sliding to ensure accurate, precise cutting.

LESS MESS DUSTLESS CUTTING - Unlike electric cutters, this manual tile cutter won't leave your workspace covered in dust.

ERGONOMIC COMFORTABLE TO USE - Featuring an ergonomic handle and lightweight, portable construction, this cutter is easy to operate and sto
Description:
This compact tile cutter assembled in one place on a wooden base makes it easy to operate.
Specs:
Dimensions: 10.63 x 32.68 x 5.12 in
Weight: 6.20 kg
Cutting length: 610 mm
Tile thickness: 3-10 mm
Features:
C-section rails
two triple ball bearings
Professional Manual Tile Cutter: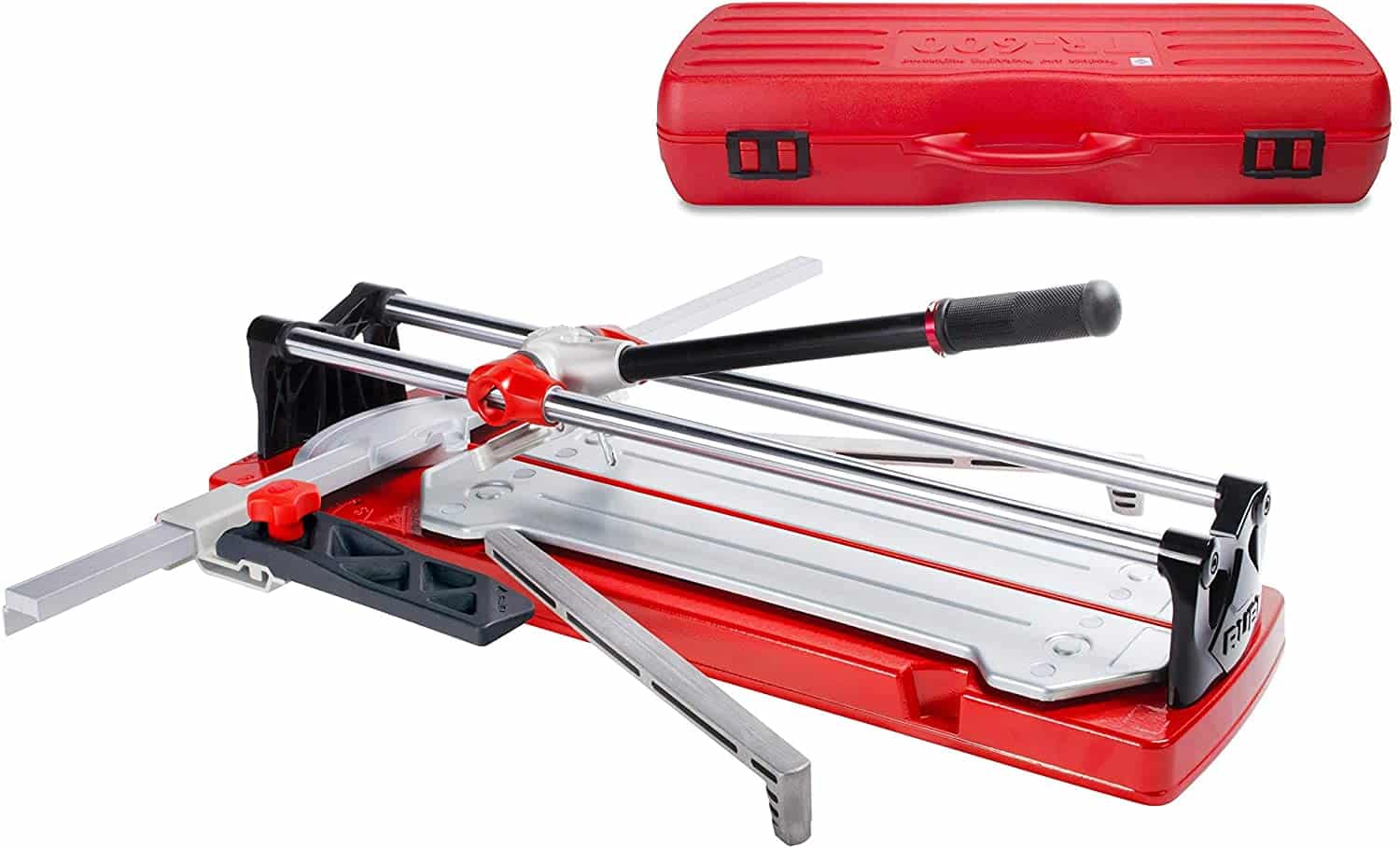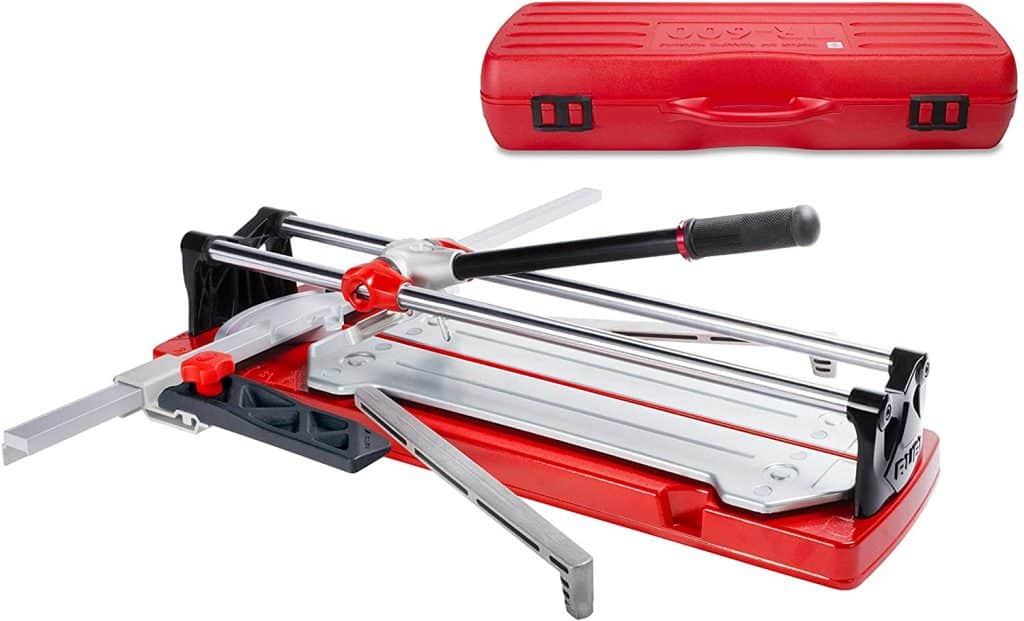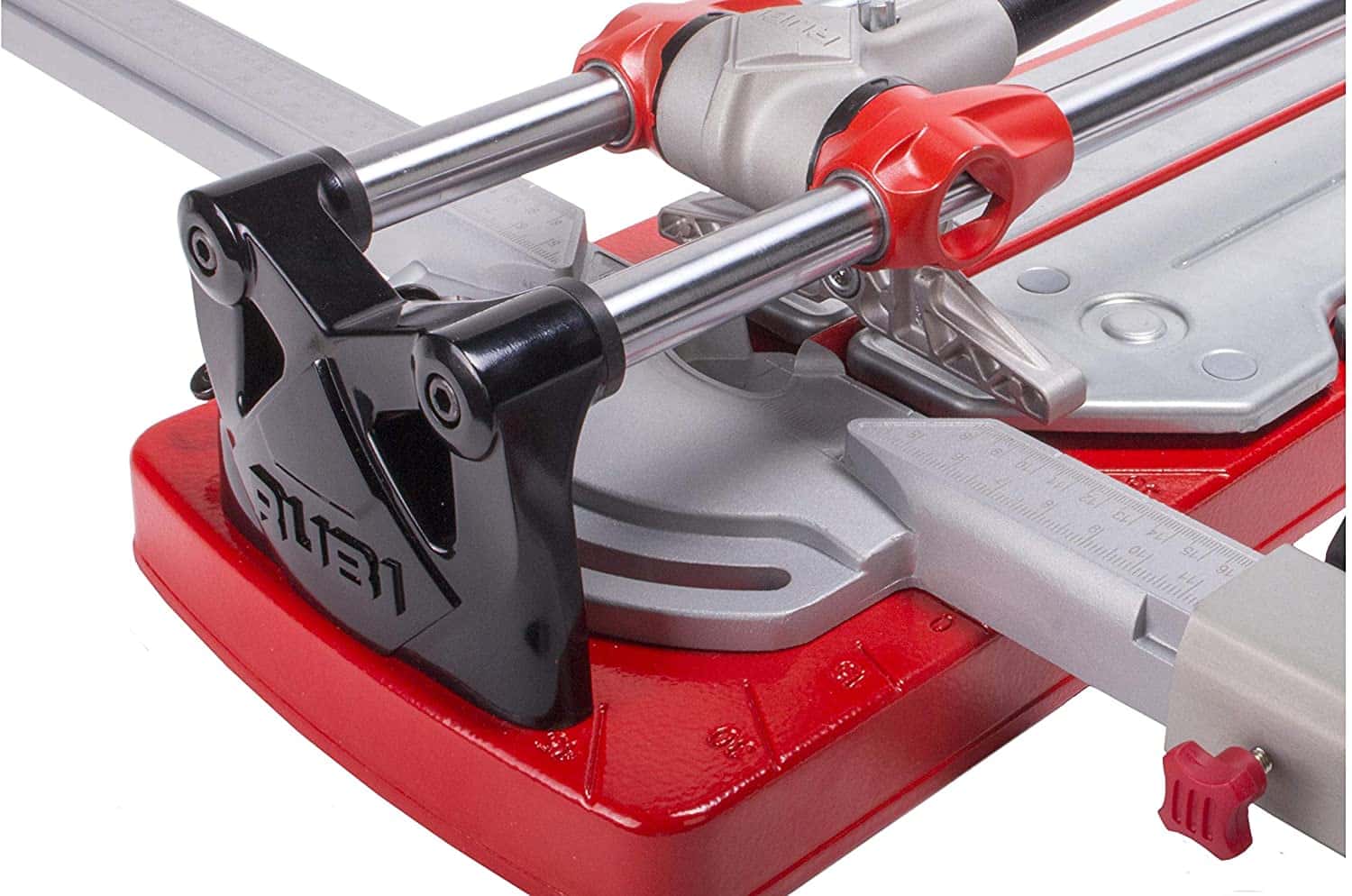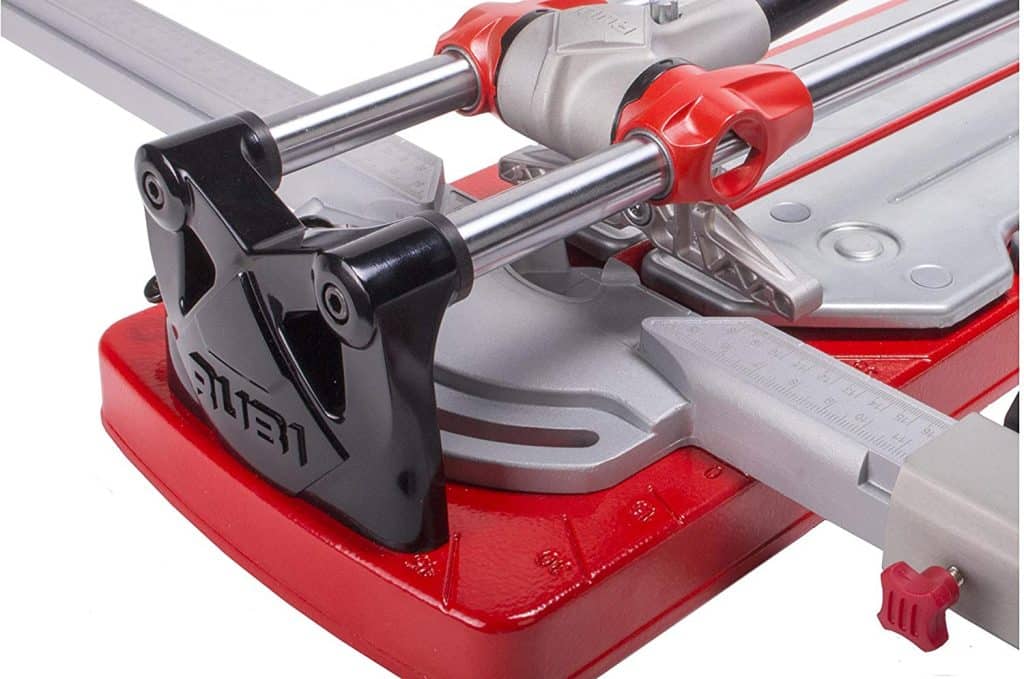 Description:
A professional cutter can be operated easily with one hand only due to a fast operating system with a magnet. Precise, fast and accurate tile cutter.
Specs:
Dimensions: 60 x 25 x 12 cm
Weight: 9 kg
Size: 600 cm
Multipoint BRAKER with up to 800kg breaking power
Features:
Revolving square with central pivot
Floating base with shock absorber
RUBI build quality
Solid steel guides
Reinforced soft-grip handle and lateral stop for repetitive cuts.
Rubi Pro Manual Tile Cutter 28 inch (71 cm)
Heavy duty/and more precise tile cutter, with angle measurement system for diagonal cuts – Reinforced Breakers and aluminum base, ideal for use in hard materials

Cutting Length – 28 LENGTH diagonal cutting – 50 x 50 cm cutting depth – 6 – 20 mm performance of the crushing device – 1000 kg with transport box – Net weight – 22,2 kg

Fold-out wings supports very good for large tiles, ideal for intensive cuts by ceramic tiles and porcelain stoneware

With cutting wheels diameter 8 and 18 mm and transport case

Paper Cutting Device with angle measurement system gives special on very hard materials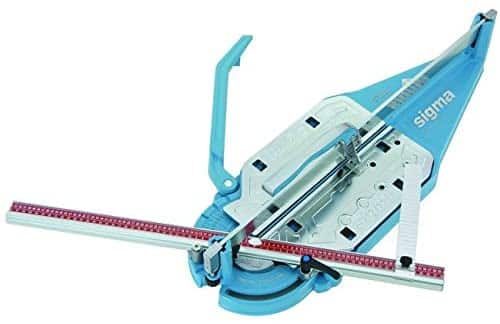 Description:
One of the best quality cutters out there, Sigma 6054177, is precise and accurate.
Specs:
Dimensions: 44.09 x 16.46 x 10.16 in
Weight: 4.9 kg
Style: Manual
Material: Aluminum
Straight Cut (max): 30 in
Diagonal Cut (max): 20 in
Depth of Cut (max): 1-1/2 in
Features:
A lightweight snap cutter that makes straight cuts.
Sigma 6054177 Tile Cutter Item 3 C2
Sigma 3C2 Manual Tile Cutter for Straight and Any Angle Repetitive Cutting on ALL Types of Tiles Pull to Score Tiles 770mm Straight cutting length 540mm x 540mm tile cut diagonally 19mm Maximum Cutting Thickness Powerful 1050kg Breaker Guaranteed for 5 years Weight 11.50kg

Engraving, traction.

Professional Manual Tile Cut
Best Tile Cutting Saws: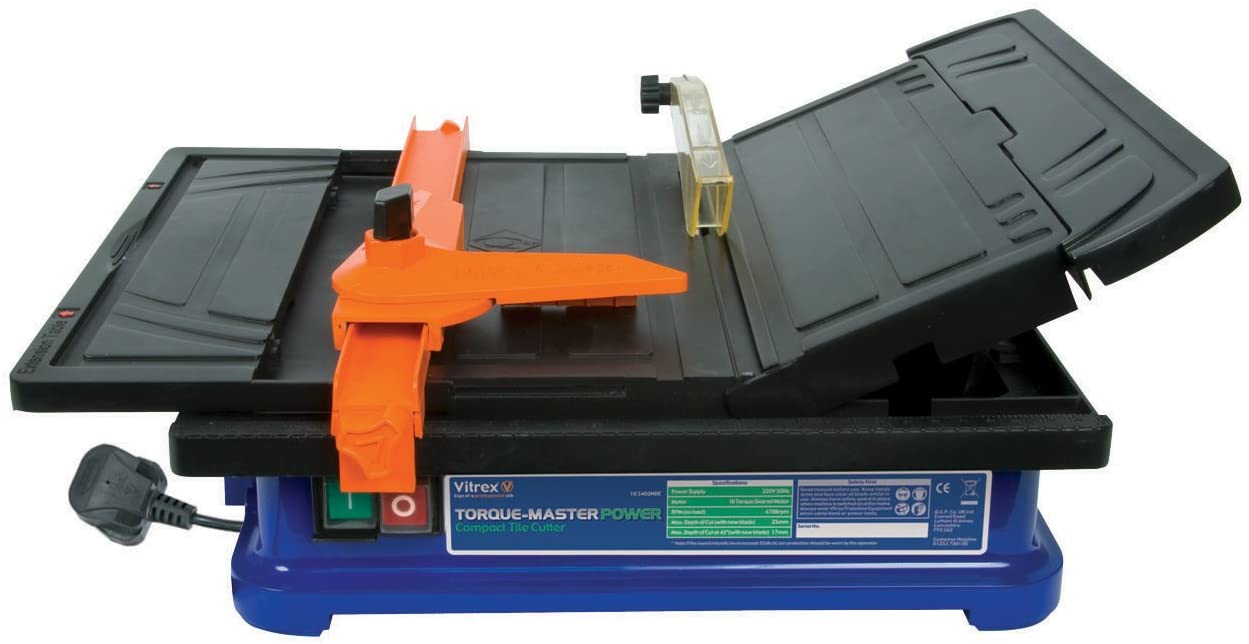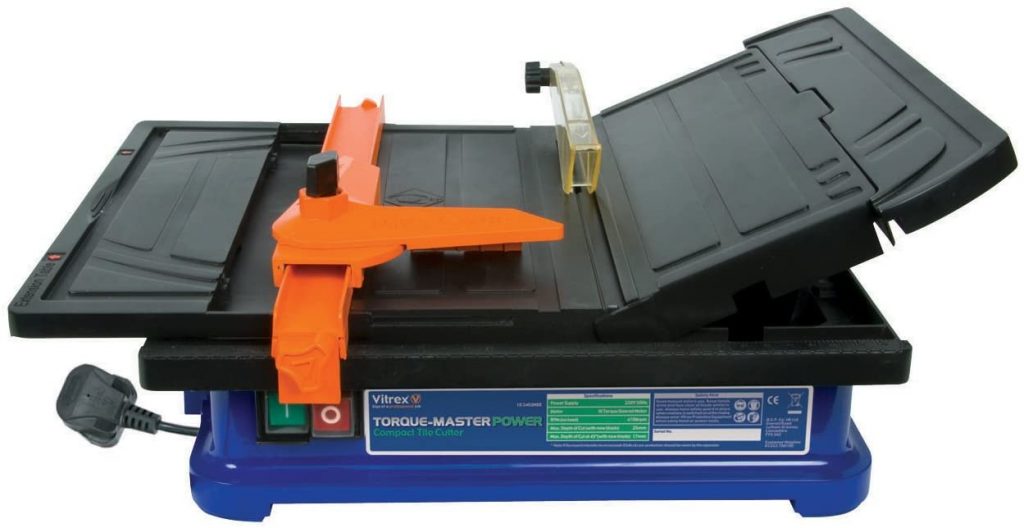 Description:
The vitrex ceramic tile cutter comes with a robust, muscular build and a built-in water cooling system keeps the blades cool.
Specs:
Dimensions: 36.5 x 10.49 x 37.01 cm
Weight: 4.01 kg
Style: Saw
Features:
Adjustable height.
Safe and easy to use.
VITREX 103402NDE Diamond Blade Tile Cutting Saw
The VITREX 103402NDE is a robust universal ceramic tile cutter and is fitted with a ø110 x 22mm diamond blade with continuous rim for extra clean cut. Built in to this machine is a water cooling system with large reservoir and integral drainage. also a flip-up cutting table for 15, 30 and 45deg mitres. A Integral ruler and quick release rip guide for perfect straight cuts is fitted to this machine for perfect results. A fully adjustable mitre guide with unique ratchet mechanism is also a good feature on this tile cutter and complete with a transparent wheel guard with variable height adjustment so you can see you work clearly and safely The tile cutter is fitted as standard with a molded 3 pin plug with 1.5m cable and easy integral storage.

Add custom text here

Add custom text here

Add custom text here

Add custom text here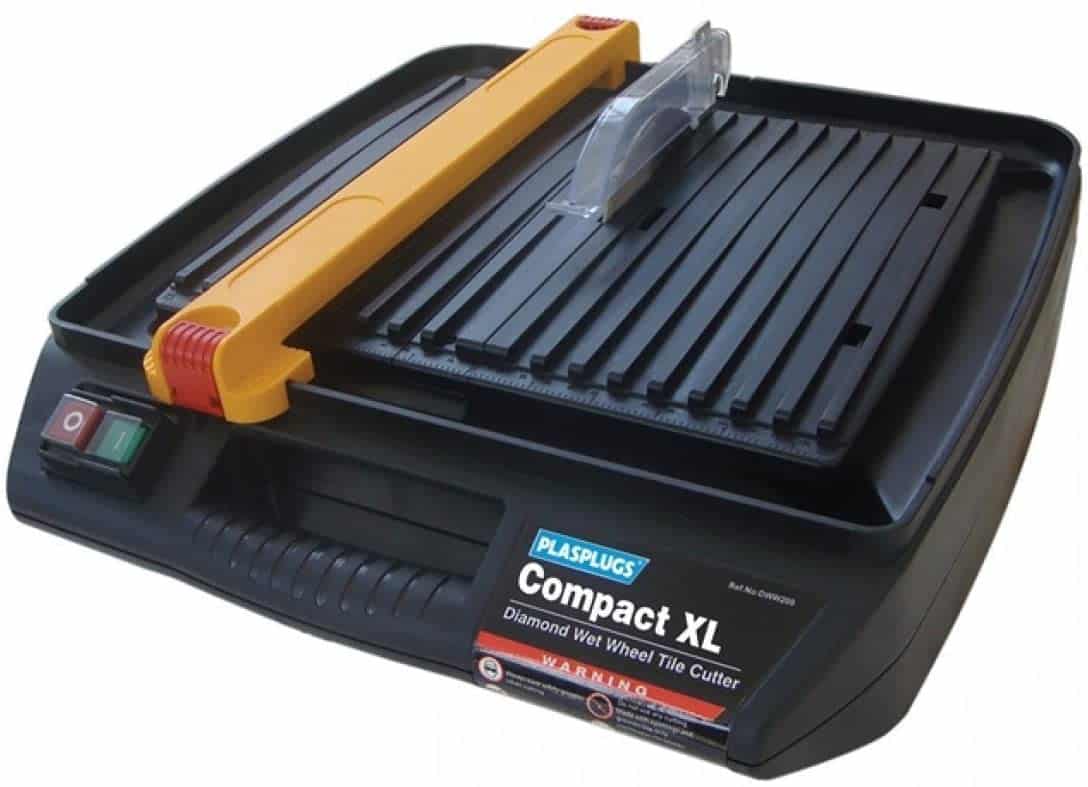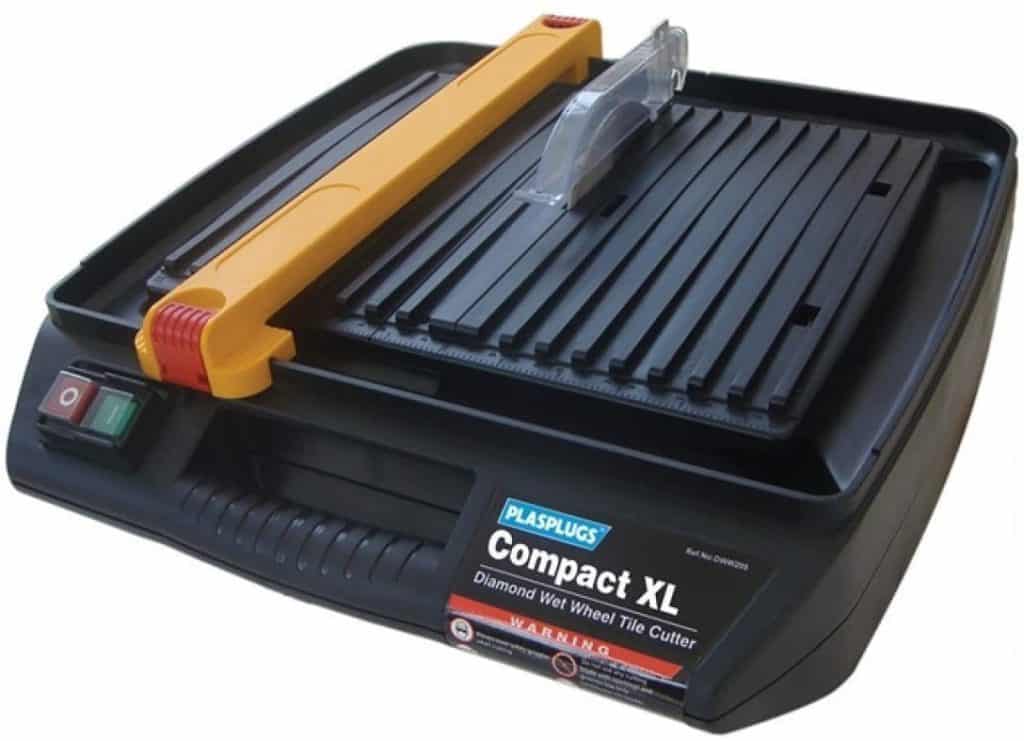 Description:
Plasplugs electric tile cutter is another excellent choice for professionals.
Specs:
Dimensions: 40.5 x 41.5 x 13 cm
Weight: 4.2 kg
Power Source: Corded
Features:
Cute tiles up to 20mm
Cuts ceramic, porcelain, slate, quarry, stone, marble
Straight cuts, shaped cuts 22-45 degree meters
No Mess water recirculation system
Able to cut all sizes of tile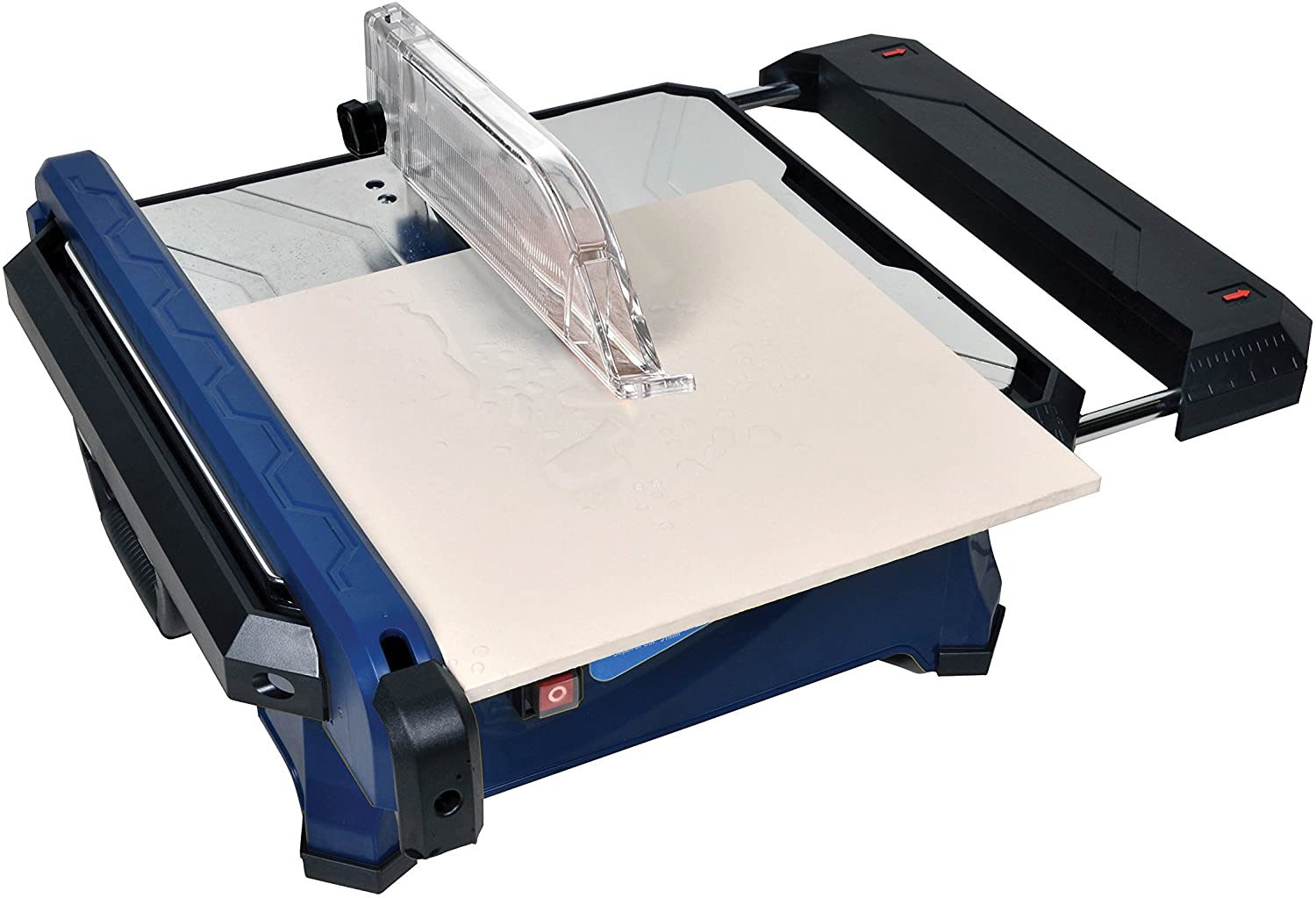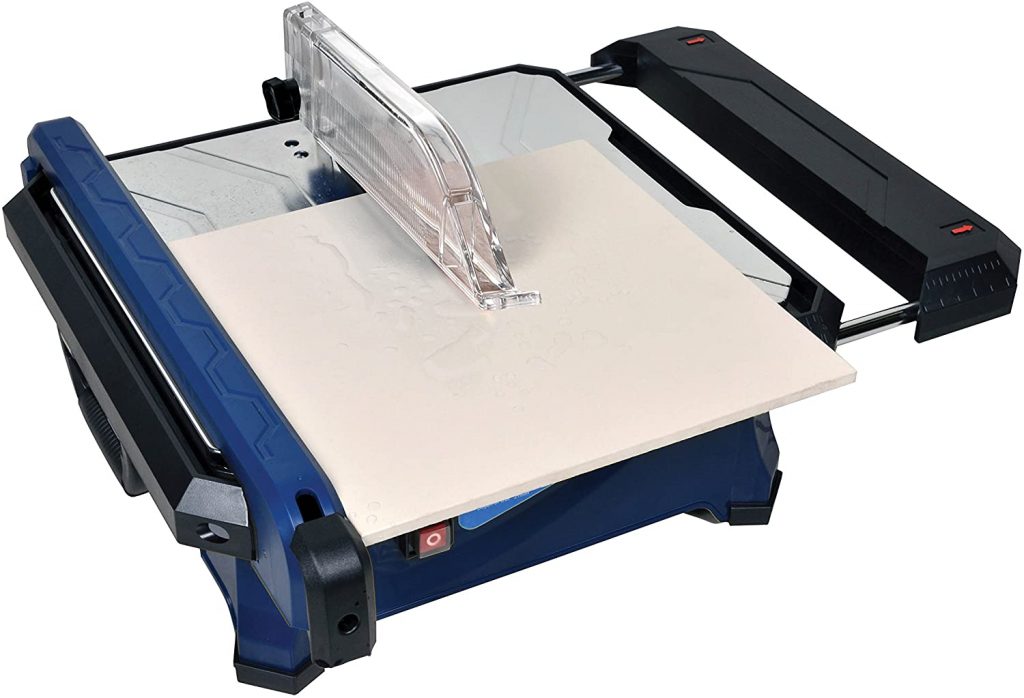 Description:
One of the most significant advantages of thistile saw is that it uses a recirculation system instead of a water cooling system, so there is no trouble with water.
Specs:
Dimensions: 53.2 x 42.2 x 17.2 cm
Weight: 9.52 kg
Blade length: 180 mm
Style: Tile Saw
Material: Metal
Power Source: Corded Electric
Voltage: 240 Volts
Wattage: 650 watts
Features:
Present table tilts of 22.5° and 45°.
Extendable for larger format tiles.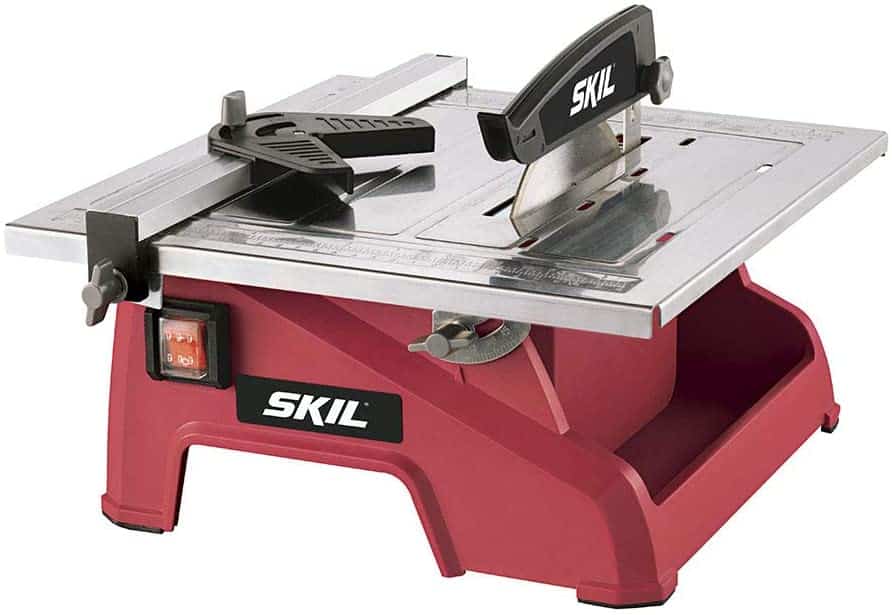 Description:
The stainless steel Skil Tile saw resists any damage from rusting or chipping and can easily cut through tiles without any fuss.
Specs:
Dimensions: 18 x 14.5 x 7.75 in
Weight: 8.02kg
Power Source: Corded Electric
Voltage: 120 Volts
Crosscut capacity: 7.75-inch
Diagonal cut capacity: 7.25-inch
Features:
It Resists rusting, corrosion, damage caused by dust and debris.
Ability to stay cool due to water reservoir.
Tile Calculator
Please allow an extra for any cutting and wastage, including any tiles that break. The industry standard includes an additional 5 to 10% allowance for 'wastage. When cutting certain angles and shapes, it is common to break more tiles, so you have to consider this, there's nothing worse than running out of materials before finishing the job.
Tile size
Floor or wall size
Or
Results
{{data.totaltiles.total}} Tiles
{{data.totaltiles.height}} Tiles
{{data.totaltiles.width}} Tiles
{{data.totaltiles.persqm}} Tiles