Best Paint Brush
Selecting colours for your next paint job can occupy your time as you look over a range of colour combinations. However, to attain smooth, complete, accurate coverage, you ought to place a little thought on your brushes too.
When many DIYers elect for rollers on large surfaces such as walls, a brush provides better precision whilst utilizing less paint and much more flexibility, as brushes can make both smooth and textured finishes based upon your technique. Above all, you will need paintbrushes for trim and detail work and painting furniture, and more complex surfaces.
So, the selection of the right brushes is the key to a good paint job. Many painters select the cheap option and wonder why they are not getting neat paint applications. Picking off the right paintbrush is not an easy job as there are loads of brands available. But, for the sake of the community guide, we have narrowed it down to a few best choices.
What Makes The Best Quality Paint Brush?
Paint Brushes are made of different materials and shapes and sizes to suit specific products and tasks. Here's how to determine what's a suitable paint brush for your job.
Material:
Brush bristle is of two main categories; Natural, which is best for Oil-based paint, and syntactic, which is recommended for water-based oil.
Natural Brush: These brushes are made of animal hair, like hog or badger or ox
A synthetic Brush: Synthetic brush bristles come made of high-quality polyester or a blend of nylon.
Size:
Paintbrushes typically come in sizes ranging from one to six inches; you can pick one according to the painting area; the tighter the area you're painting, the smaller the brush should be.
Quality:
Painting quality depends the most on Brush quality and also technique; a top-quality brush delivers smoother, fuller coverage and a perfect finish.
Our Top Types
Our List of best Paint Brush contains the details of the following types of Brushes:
Best Paint Brushes Overall
The Best Paint Brushes For Cutting In
Best Paint Brushes for Emulsion
The Paint Brushes for Oil Based paint
Scroll down to know more about each of the categories of Paint Brushes.
Best Paint Brushes All Round

The Purdy Monarch XL Elite Paint Brush is excellent for all purposes and the most popular brand for window frames, architraves, and narrow skirting. It is the best brush for a more fantastic paint lift and smoother application. Moreover, it comes hand-chiselled for precision cutting in.
About this item
Greater Paint lift
No filament loss guaranteed
Material: Alder Wood, Orel Filaments, Chinex Filaments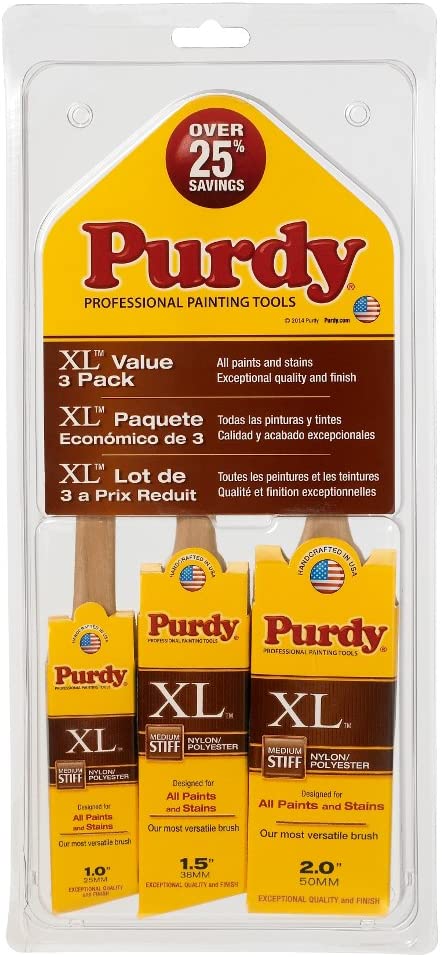 XL is the most popular brush line of the Purdy. This pack of 3 XL brushes is best for Latex and Oil-Based Paints, Primers, and Stains. These brushes work smoothly on the surface types such as walls, ceilings, and trim. The filament materials are Tynex Nylon/Orel Polyester Blend. The stiffness retention of XL brushes is perfect for high performance for outdoor painting in hot and humid conditions.
Purdy XL Brush 3 Pack features include an angular and round-edge ferrule using a fluted all-natural hardwood handle. It works excellent for trimming, touching up, and minor surface projects. The XL-Sprig consists of a horizontal trim and round edge ferrule using a beavertail natural hardwood handle. It's the most incredible painting instrument for medium-sized surfaces.
About this item
Three-piece value pack includes 1 inch XL Dale, 1-1/2 inch XL Glide & 2 inch XL Sprig
Purdy's XL is the most versatile brush series
Ideal for interior and exterior




The Purdy Pro Extra Monarch is the most delicate paintbrush offered by Purdy. This new Pro-Extra series features extra-thick, extra-long filaments for outstanding paint-holding capacity and long brush life. The bristle of this brush is the combination of Tynex Nylon and Chinex for softness and ease of paint flow and faster clean-up and with self-flagging tip, respectively.
About this item
Pro-Extra series features extra-thick, extra-long filaments
Holds more paint for increased production
Natural Hardwood Handle, Beavertail Style, Square Edge, Stainless Steel Ferrule
Best Paint Brush for Cutting In
Before going for the painting walls, make sure to cut in the edges. Cutting in refers to the painting in the areas that are too tight for rollers. Here we have picked the four best good angled Paint Brush for cutting in.


The ROLLINGDOG Professional Standard 2 1/2″ is the best brush for cutting in that comes with the thin handles attached to bent ferrules specially designed for cutting in and other awkward-shaped surfaces. It is featured with a 2.5″ Stainless steel ferrule that firmly holds filament in the brush, and it is easy to clean and corrosion-resistant.
The ROLLINGDOG contains a high-grade Beechwood handle with hexagonal laser engraving for a better grip with less palm sweat and less fatigue with use.
About this item
Best for Cutting in
The high-quality Solid Round Tapered polyester filaments
It comes in a protective paper brush case
Hamilton Performance 2″ is a multifunctional super Paint Brush. It is best for precise cutting in all types of paint. It is featured with Synthetic filaments for good paint pick-up and spreading rates—angled profile for precision when cutting in.
The Hamilton Performance 2″ Paint Brush is best for high-quality application, finish, and durability with all paints. This Paint Brush holds more paint and comes with a Quality, comfortable short wooden handle.
About this item:
Angled profile for precision when cutting in
Synthetic filament for high-quality application
Quality, comfortable short wooden handle

Purdy XL Series Cub Angular Trim is a versatile and widely used Paint Brush. It has nylon/polyester bristle, perfect in smooth and even coverage and can be used with all types of oil and latex-based paints. The cub carries medium stiffness bristles, which makes it a quality and professional paintbrush available on the market. It brings a large amount of paint with each dip and doesn't drag when painting.
About this item:
2″, xl cub angular Sash Brush
3-3/4 inch handle
Round edge brushed copper ferrule


Here is another one of the XL Series from the Purdy. The 3 Inch large Purdy XL Series Glide Angular Trim Paint Brush comes with Tynex nylon & Orel polyester bristle, long fluted natural finish wood handle. The large 3″ bristle is ideal for smooth and perfect coverage.
About this item:
3″, xl-glide, angle Sash & trim Brush
Use with all paints
Angular trim and fluted, natural hardwood handle
Best Paint Brush for Emulsion
Emulsion paint is a water-based paint that includes vinyl or acrylic resins used to make the finish hardwearing. There are three types of Emulsion Paint available in the market.
Vinyl soft sheen
Matte
Silk
Each type has its advantage as matte Emulsion Paints helps hide the imperfection on the walls, and Vinyl soft sheen Emulsion Paint is for durability.
Emulsion paint has different applications than regular paint, so it needs a specific type of brush. Since emulsion paint is generally water-based, then the very best brush is a synthetic bristle Paint Brush. So, for the perfect finish, we have picked Emulsion paintbrushes.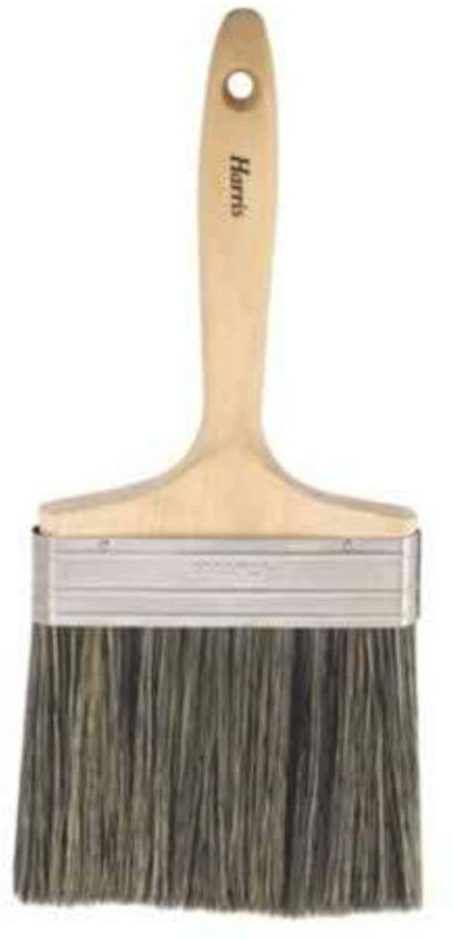 Harris Vanquish is best known for premium Quality paintbrushes since 1928. The Harris Vanquish Soft Tipp provides you with a simple painting tool that leaves a superior finish on most paint jobs. This brush is made for even coverage, and it comes with a stainless steel ferrule for added strength. Its combined bristles can be readily preserved and looked after using proper Paint Brush maintenance.
About this item:
5″ (125mm) Large Wall Paint Brush
Effortless Painting and Exceptional Results
Suitable For All Type Of Paints



The Harris 4″ EasyClean Brush includes LiquiFlo design technologies that reduce the time required to wash and ensures that the bristles stay usable for more. This brush provides minimal bristle reduction and a nice finish when painting ceilings and walls. Suitable for use with all paints and varnishes.
About this item:
LiquiFlo technology ensures easier cleaning
Minimal bristle loss
Lightweight handle


Purdy Monarch XL is Best Paint Brush for Emulsion and an excellent paint lift and smoother application. It also contains hand chiselled for precision cutting in no with filament loss. It comes with a self flag for perfect painting edge throughout the life of the brush.
About this item:
Best for emulsion paint
The Large 4 inch Paint Brush
Use with water and solvent-based coatings
Best Paint Brush for oil-based paint
This segment is about paintbrushes to use for oil-based paint. For Oil based painting, "bristle brushes" or natural brushes ( Animal hair ) are best
Check out our top 5 paintbrushes for oil-based paint!


Harris Classic has been a part of this Harris array of products since 1940. Manufactured in Britain, it sports a varnished excellent wood handle, with its distinctive white and red stripe and stainless steel ferrule. Natural bristle has exceptional flex healing and bends over its duration to ensure a smooth end. Because of this bristle dividing naturally, they are pretty absorbent, leading to quicker painting.
Suitable with paints and varnishes. The brushes come packed in cardboard threads boxes that may be utilized for brush storage after use.
About this item:
High performance 100% natural bristle
Varnished quality hardwood handle
It leaves a perfect streak-free finish



Purdy Ox hair is an elite paintbrush for emulsion. Ox-hair is the softest, most supple natural bristle. It is carefully blended with the softest White China bristle for just the right amount of resiliency. This brush is perfect for ultra-fine enamel and varnish projects where an ultra-smooth, exquisite finish is needed.
About this item:
Natural paintbrush
Coating Types: Oil-Based Paints, Polyurethanes, and Varnishes.
Project Types: Marine Woodwork, Furniture, and Fine Artistry.



Purdy White is softer and more supple than its black counterpart and used where an extremely smooth finish is required. It uses only the finest white China bristle available; the handcraftsmanship begins with a thorough cleaning and ends with tools of unmatched painting performance.
About this item:
Filament Materials: Natural White Bristle
Project Types: Decks, Siding, Floors, Furniture, and Antiques
Coating Types: Oil-Based Stains, Polyurethanes, Wood
Our Verdict about Paint Brushes
In our opinion, Purdy make some of the best quality paint brushes for painters and is trusted by professional painters for years. Purdy is a famous name worldwide for the best quality paint brushes for more than 40 years. Purdy makes brushes for all paints such as Water-based Paint, Oil Based Paint, Emulsion Paint, and brushes for cutting in.
If you are looking for delicate paintwork, smoother "no drag" brush strokes, excellent paint distribution, superb paint lifting capacity, greater efficiency in production, proven durability, and more, Purdy has got you covered.