The 8 Best work Pants for Construction workers: 2022 Edition
Construction workers need pants to keep up with their high-impact, heavy workload. Unfortunately, no average pair of trousers can provide the requisite durability, protection, and utility to help you get the job done. The pants on our lists will keep your productivity sky high under any conditions in any season. These are, without a doubt, the best work pants for construction.
The Best Work Pants for Construction Workers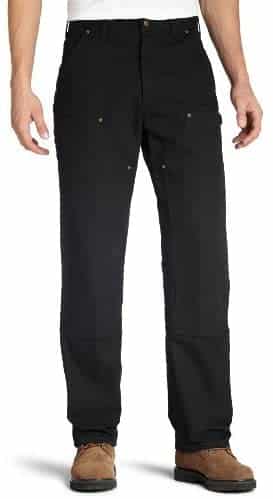 Everyone knows that Carhartt makes some of the best work pants for construction. Their Men's Washed Duck Work Dungaree Pant carries on that tradition. They sit on the waist comfortably and have a full thigh and seat. The 12-ounce, ring-spun cotton duck is durable and will match a formidable workload stride for stride.
These construction pants mix comfort and practicality, offering several utility and tool pockets with a convenient hammer loop. In addition, Carhartt improved the seat's durability by reinforcing the pockets. Finally, a generous 19-inch opening covers work boots with ease—another excellent pair of work pants from one of the best companies in the business.
100% Cotton
Garment: 100% Cotton
Original Dungaree Fit
Washed Duck Work Dungaree Pant
*12-ounce, heavyweight, 100% ring-spun cotton duck
Sits natural at waist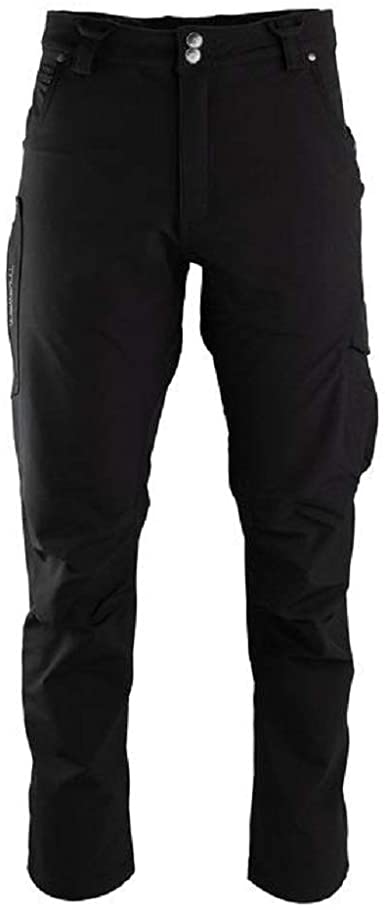 TRUEWERK's attempt to merge style and function is a resounding success. Their proprietary T2 WerkFabric is the key, with an abrasion-resistant and water-repellant exterior and a soft, moisture-wicking interior. In addition, TRUEWERK added functional embellishments to improve durability, placing rivets in pocket corners and double stitching all the seams.
The utility of the T2 WerkPant is excellent, and TRUEWERK included seven pockets and articulated knees to make sure you have the mobility and storage necessary to get the job done. Moreover, they gusseted the crotch and installed durable fabric pocket linings to prevent sharp contents from poking through to your legs. As a result, the T2 WerkPant is a successful blend of form and function, worthy of any working man's consideration.
T2 WerkFabric, with a fully gusseted crotch, double-stitched seams
Seven pockets, including no-snag pen and knife pockets, dual-entry cell phone pocket, and body fabric pocket bags to protect your legs from sharp pocket contents. Meet the next generation of work pants
Carhartt's second entry on our list is reinforced denim, offering the mobility and toughness to keep up with a loaded workday. The cleanout knees will accept kneepads, and Carhartt doubles the front of the legs, chap-style. In addition, this logger-washed denim pant sports numerous pockets for storage and a well-placed hammer loop on the left side. Finally, they reinforce the back pockets, adding extra durability to the seat. Again, Carhartt knows how to cater to its fans, and this entry on the list gives mobility and comfort in equal measure yet still provides uncommon durability for denim pants.
Durable jeans in 15-ounce denim featuring chap-style doubled legs with cleanout knees to accommodate knee pads
Multiple storage options including a hammer loop and reinforced back pockets
100% Cotton
Fastening: Belt
Logger Washed Denim Dungaree Pant
Relaxed fit
Leg opening: 19″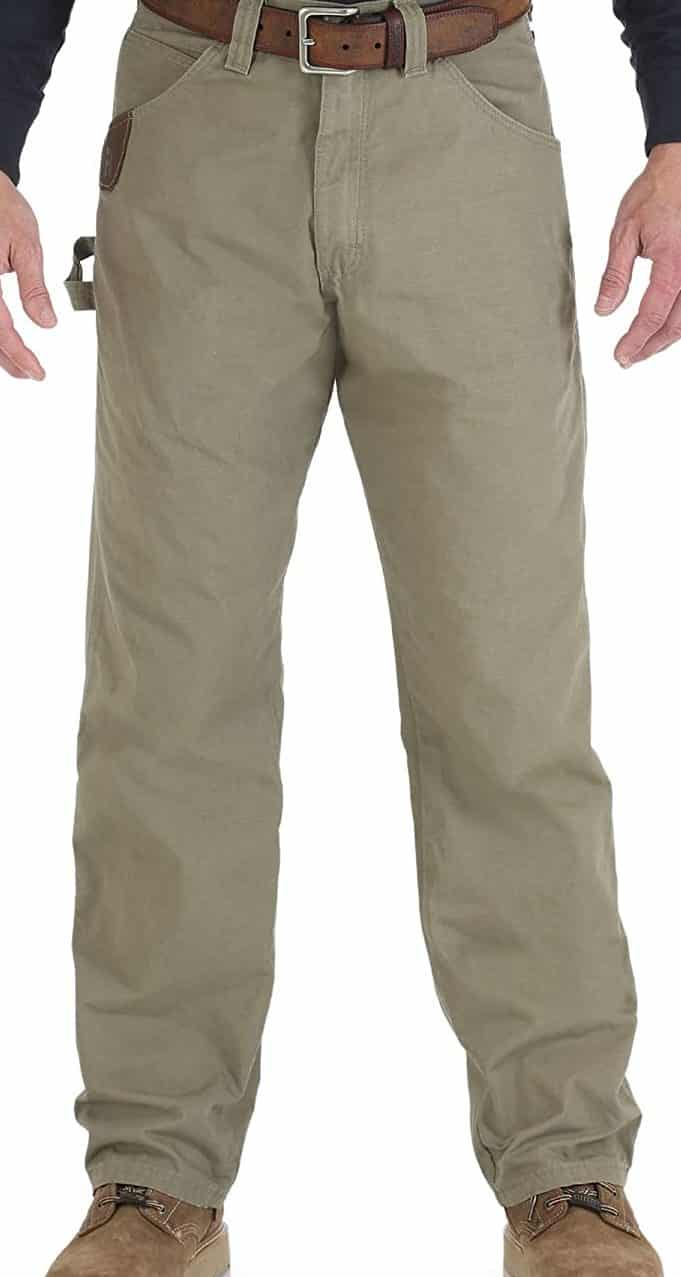 Wrangler has put together some seriously comfortable carpenter jeans. Their Room2Move fit, coupled with a gusseted crotch, makes navigating the workshop a breeze. The ripstop fabric resists enough wear and tear to ensure these jeans are around for a long time, and Wrangler employed their reinforced tape-measure clip in case of snags.
These jeans are in a traditional carpenter style, with a pair of utility pockets on the right leg, a pair of slash pockets, and reinforced back pockets. The hammer loop on the left side rounds out the utility features. For everyday labour around the workshop, these Riggs Workwear Carpenter Jeans by Wrangler are the best choice by far.
10 oz. 100% Cotton ripstop fabric
room to move Fit with Gusset crotch
100% Cotton Ripstop Fabric
Machine Wash
Fastening: Snap
Drop Crotch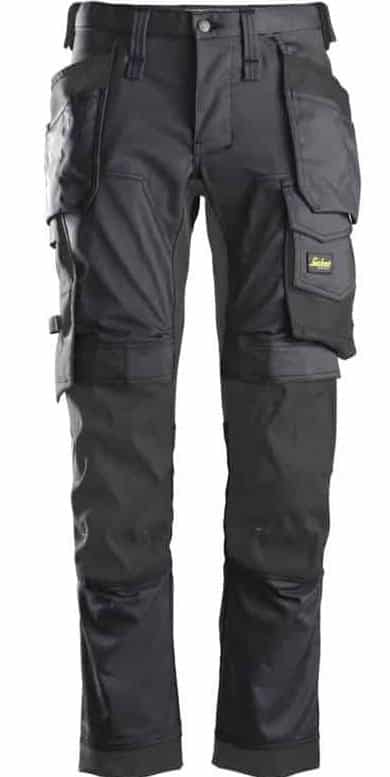 The Snickers Workwear trousers come with a heftier price tag than anything else on our list, but the value for your money is undeniable. The slim-fit legs are pre-bent for comfort, and knee pads seem to stay in place magically. User after user raves about the generous stretch in the fabric that makes these trousers some of the best-fitting and comfortable work pants on the market – not too baggy, but not too tight. The classic holster pockets are spacious and provide great utility. In addition, there are holders for keys, a ruler, and an ID badge attachment.
47% Cotton, 31% Polyester, 22% Elastane
Machine Wash
Fastening: Hook with multiple pockets
Best Construction Work Pants for Hot Weather
When the weather heats up, you can't always wear your heavy-duty go-to pair. Instead, it would help if you had something lighter, more breathable, yet durable enough to keep up. For pants that will keep you from overheating or swimming in midsummer sweat, check out our three best summer work pants for construction.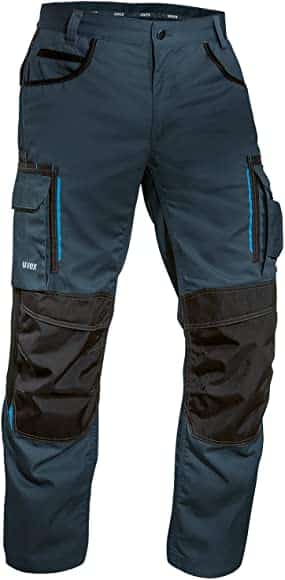 These work trousers by Uvex are light but durable and provide plenty of deep, well-protected pockets. Users appreciate the pockets' placement and size – big enough for even a large smartphone. Furthermore, the belt loops are more robust than one would expect of such a light pair of trousers, and the stretch elements on the sides and at the knees are refreshingly breathable.
Two features of the Tune-Up Work Trousers deserve special mention. First, Uvex reinforced the knee pad pockets with CORDURA to support hours of kneeling in comfort. Then, loop and hook fasteners secure all the pockets, keeping dirt and grit away from your smartphone and out of the laundry.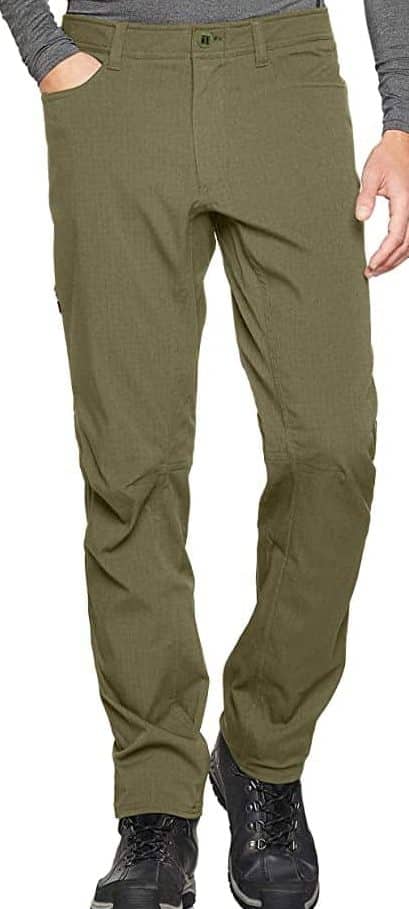 It is tough to beat Under Armour for moisture-wicking, water repellent, and breathable fabric. Their Tac Patrol Pant II utilizes the proprietary UA Storm tech to repel water and remain breathable regardless of the weather. In addition, the Ripstop fabric is light, and the waistband stretches for added comfort and mobility. Finally, anti-odour technology enhances The Tac Patrol Pant II's suitability for all-weather use and long workdays or hikes.
These pants come with cargo pockets and well-appointed belt loops for holsters. While these pants may lack some utility, they make up for it with all-around versatility. Under Armour has produced work pants durable enough to withstand medium-duty construction work. But their comfort and mobility make them superlative hiking trousers.
Water-repellent pants repel water while still being breathable for comfort in every weather.
Ripstop fabric with reinforced knees and crotch makes these rugged trousers tough enough to put up with anything through long shifts.
100% Synthetic
Fastening: Belt
Loose fit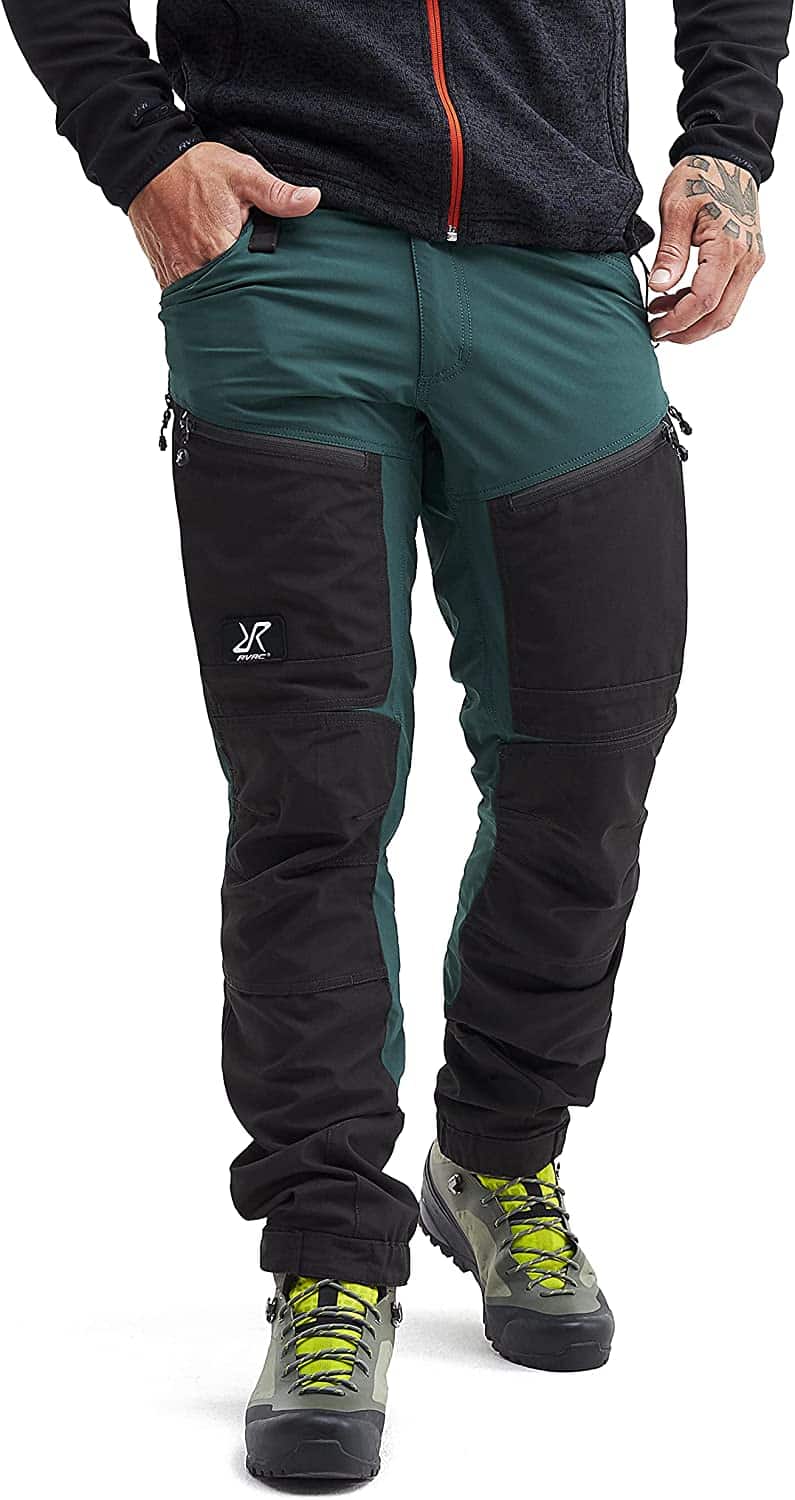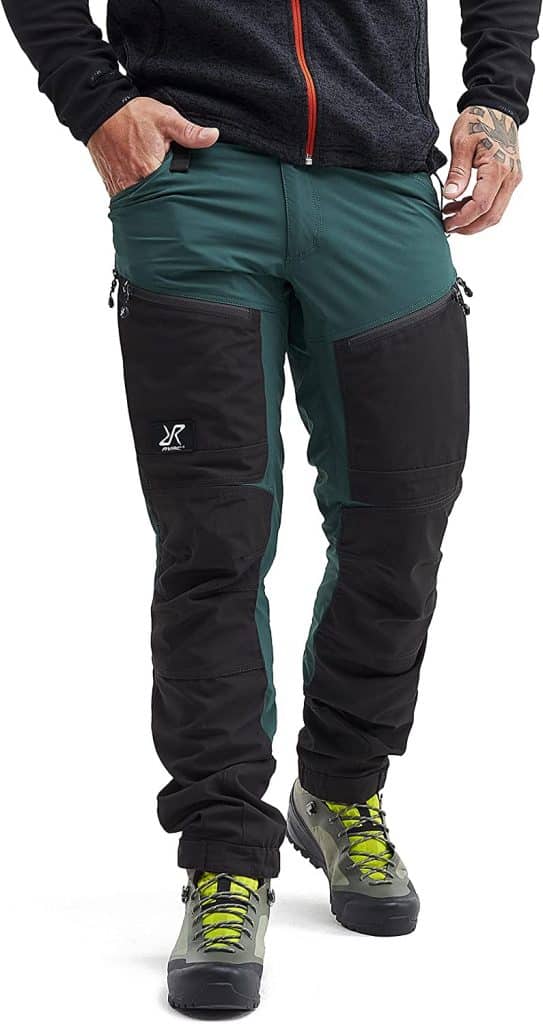 RevolutionRace is known for producing some of the finest outdoor threads on the market. Their Nordwand line presents durable, flexible trousers that fit just about any activity. Although they are hiking trousers, they are so well-reinforced that they can keep up with any light-duty construction pants on the market.
The knees and seat stretch for added mobility, but the real secret to the Nordwand Trousers' success is the strength of their threads. The Hypershell fabric is breathable but water repellant, capable of keeping you cool or warm at need. The triple seams that reinforce the legs and crotch highlight the strength of such a light fabric. If your job requires mobility and adaptability, and you can forego some of the utility features of usual construction pants, the Nordwand Trousers are the best choice.
Fabric 1: 65% Polyester, 35% Cotton; Fabric 2: 88% Polyamide, 12% Elastane
Fastening: Zipper
Cargo
Regular