Best Electric Chainsaws
It's a well-known fact that chainsaws are an essential power tool for any Diy Enthusiast or professional tradesman. Chainsaws are used for many tasks, from cutting firewood to cutting down trees and shrubs. An excellent electric chainsaw will make the job much easier and more efficient, giving you more time to do what you want.
Electric chainsaws are generally cheaper than gas-powered ones, and they're also much quieter and lightweight, which makes them great for people who live in urban areas or have neighbours close by.
The following article is a breakdown of some of the best electric chainsaws on the market today.
Introduction:
Tradespeople and homeowners find themselves in need of a new chainsaw at one point or another. Chainsaws that are lightweight and easy to carry are available today, and they all have different design specs.
Check our list for 8 Best Electric Chainsaws Depending if you are wanting cordless or corded and if you are working on a budget.
8 Best Electric Chainsaws All-Around If you are in the market for a chainsaw that can handle many tough cuts, you should consider the Hyundai 2400W. This chainsaw is powered by an efficient 16-bar electric motor that can cun the toughest wood. The 2400W also features a durable chain and a sharp 16-tooth chain blade that can handle even the most challenging cuts. Overall, the Hyundai 2400W is a great chainsaw that is perfect for those looking for a robust and capable chainsaw. It is widely used and has 5-star reviews.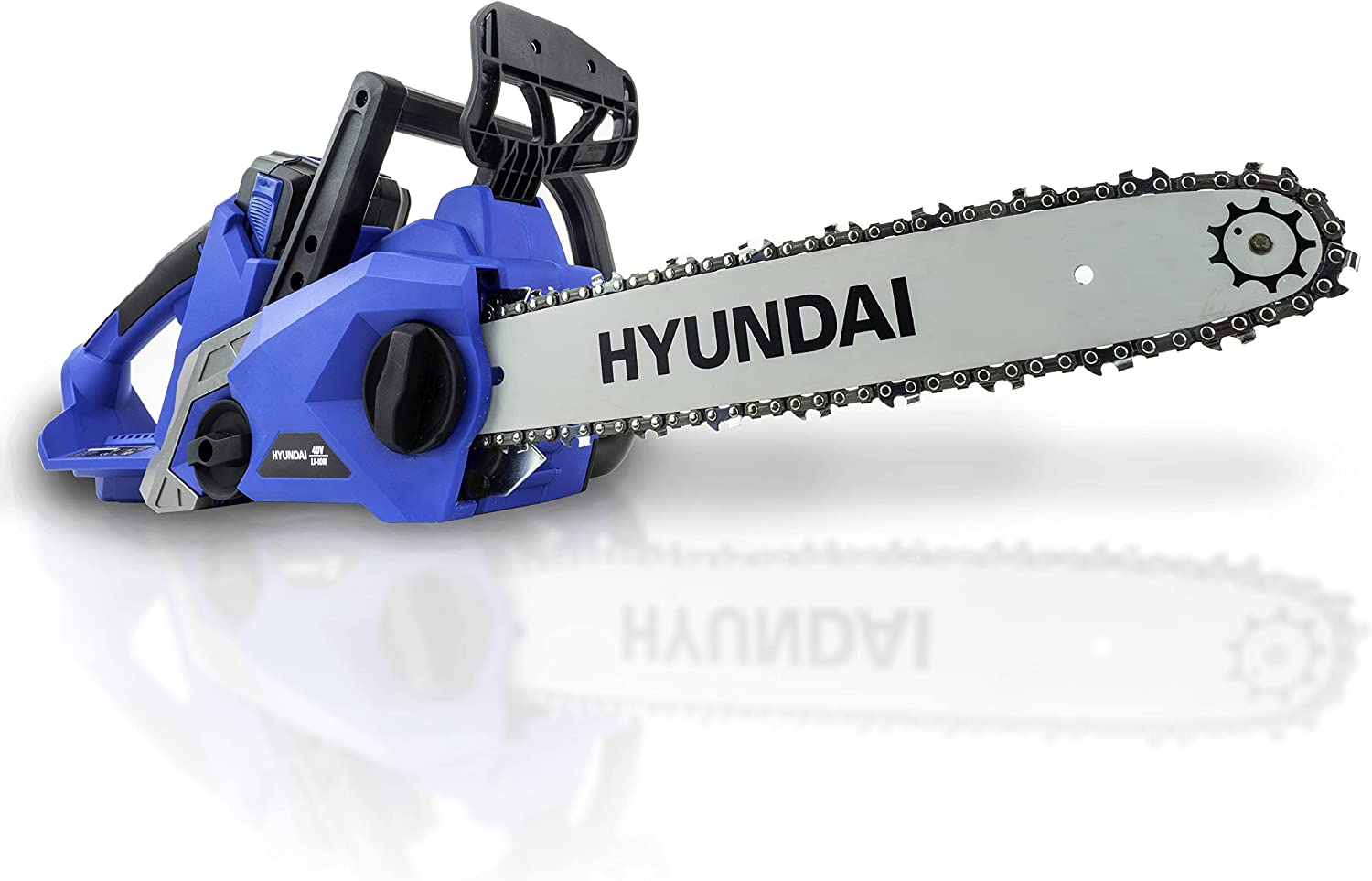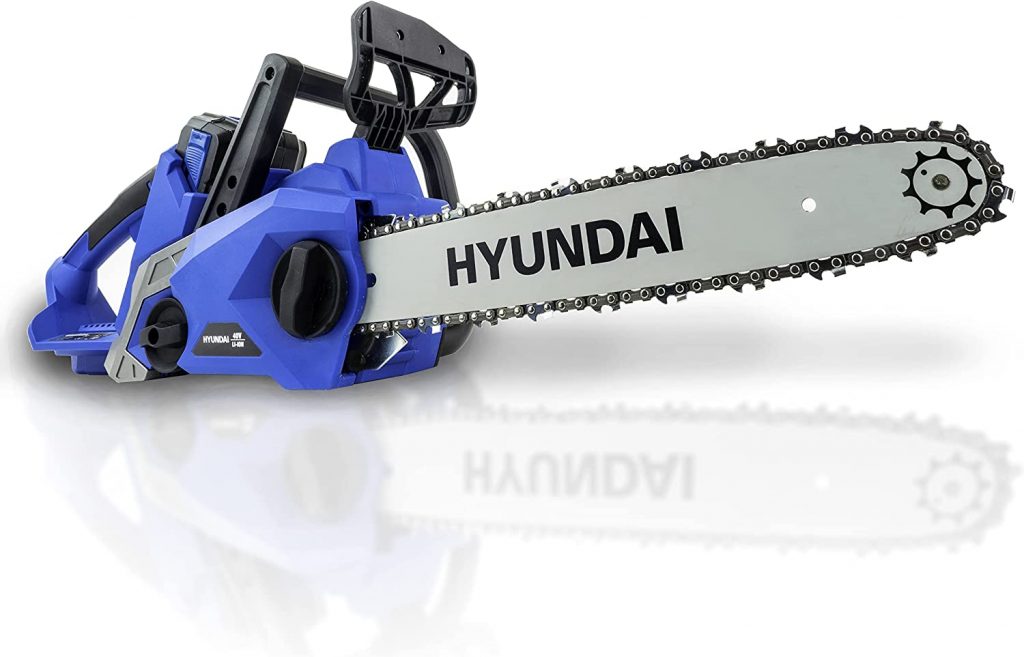 Product details
Performing 2400W 2-speed motor: Ideal for regularly felling medium-sized trees and cutting dense logs
A chainsaw with 16 bars and 15 m/s provides excellent cutting power for medium-duty jobs
Hyundai's three-year warranty gives you peace of mind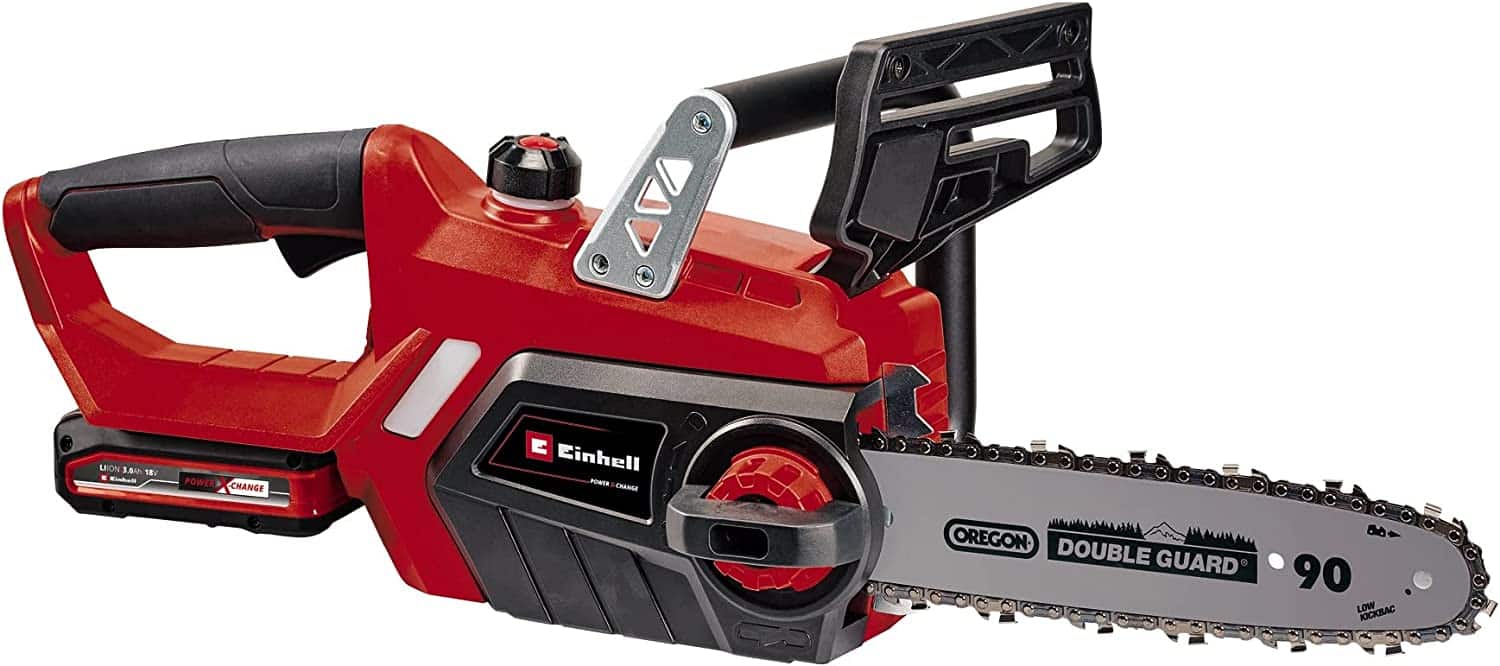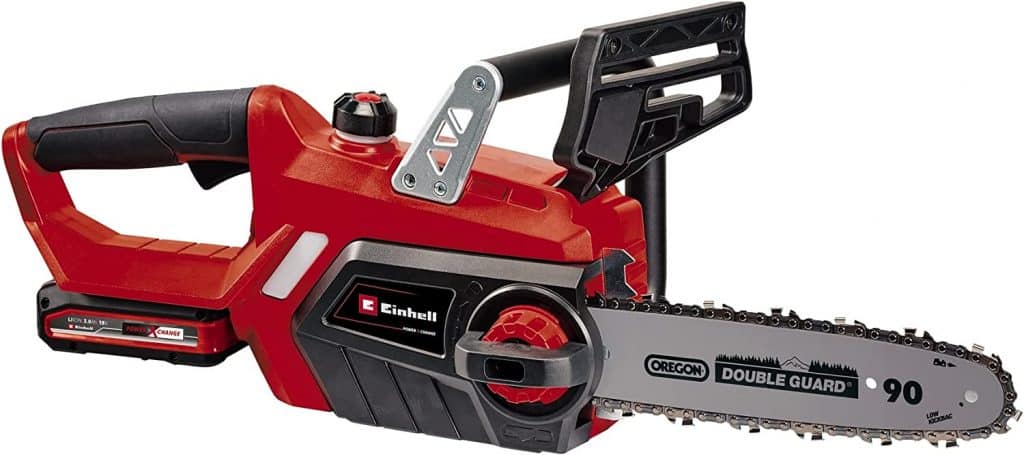 If you are looking for a reliable and powerful chainsaw? You might want to consider the Einhell Power X-Change 18V Cordless Chainsaw. This powerful and reliable chainsaw is an excellent choice for anyone looking for a chainsaw that can handle various tasks.
The Power X-Change 18V chainsaw is powered by a powerful 18V battery, which provides plenty of power to handle various tasks. The chainsaw also has several features that make it an excellent choice for anyone looking for a chainsaw.
Product details
A high-quality Einhell product that combines the cutting performance of a highly developed 3.0Ah battery from the PXC series with the matching charger
It is easy to handle for any hobby gardener or tradesman.
Safety is ensured by the kickback protection and mechanical emergency brake.

The Dewalt DCM575N-XJ FlexVolt XR chainsaw is powerful and perfect for those looking for a high-powered chainsaw. This chainsaw is powered by a 3.0-cc engine that provides incredible power. Furthermore, the chain is designed with a flex-volt system that helps to give a smooth and consistent cutting experience.
Additionally, the saw has a 6-inch bar and a 15-inch chain, making it perfect for cutting through more challenging materials. Finally, the saw has a fuel gauge that lets you know when it needs to be refuelled and a side handle that makes it easy to handle and cut. It is a premium quality saw that is priced accordingly.
Product details
Technology has proven to be reliable by DEWALT
Lightweight construction at just 4. 42 kg
High performance for the home or tradesman

The Makita DUC353Z Twin 18V 36V Li-Ion LXT electric chainsaw is an excellent choice for homeowners and professionals alike. This chainsaw is lightweight and easy to carry, manoeuvrable and perfect for tight spaces.
Product details
The product comes with a 1-year manufacturer's warranty and another two years if registered within 30 days of purchase.
Tool-less chain change
Metal spike bumper with large separate type. Spike grips the workpiece firmly to provide more control.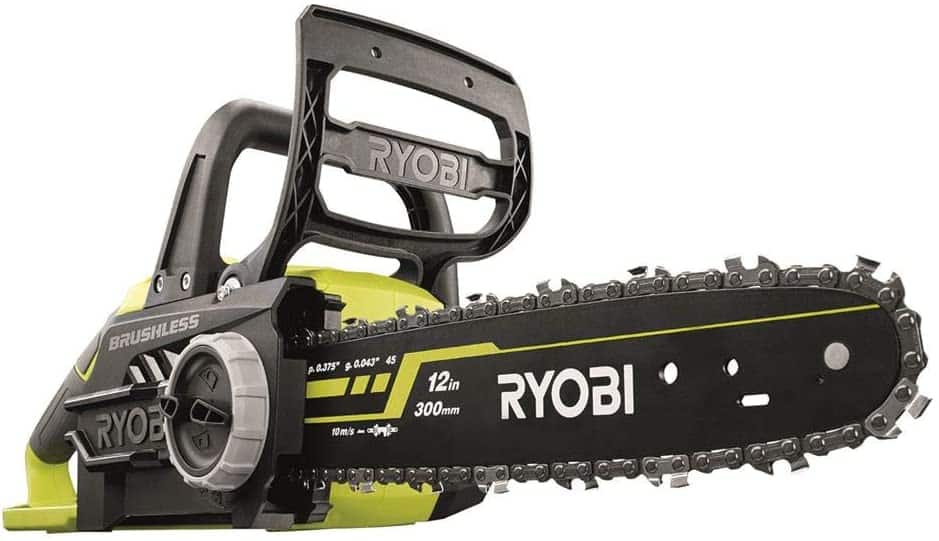 Ryobi OCS1830 18 V 30 cm Bar ONE+ Cordless Brushless Chain Saw is a cordless chainsaw with a brushless motor.
The Ryobi OCS1830 18 V 30 cm Bar ONE+ Cordless Brushless Chain Saw is lightweight and has good battery life. In addition, the Ryobi OCS1830 18 V 30 cm Bar ONE+ Cordless Brushless Chainsaw weighs only 8 pounds, which makes it easy to carry with onehand.
Product details
High-performance 18V Brushless Motor Technology
Automatic oiling system and tool-less chain tensioning
Mechanical chain brake for extra safety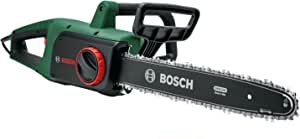 The Bosch Universal Chain 18 is a cordless chainsaw designed for various cutting applications. It has an 18″ bar and chain, perfect for cutting firewood, logs, and trees. The chainsaw also features a 2.5 Ah battery that can last up to 45 minutes of continuous use before recharging.
The Bosch UniversalChain 18 is excellent for people who want to cut wood in their backyard or even on the job site without worrying about getting tangled up in cords or extension leads. It also has an easy-to-use design that makes changing blades quickly and easily so you can get back into cutting as soon as possible!
Product details
Exceptionally lightweight at only 3 kg, including battery
The Bosch SDS system allows tensioning and chain replacement without tools
Cutting firewood, pruning, and timber are all easy to do
This cordless chainsaw is an excellent addition to any home. It is lightweight, easy to use, and has an adjustable handle that can be extended to suit different heights.
The saw has a powerful motor that provides up to 2,000 RPMs of cutting speed. It also has a safety key that prevents the tool from starting unless engaged.
A good all round electric chainsaw at a cheaper price.
Product details
A lightweight and cordless chainsaw with a 25 cm cutting width
With a weight of 3.1 kg evenly balanced between the handle and cutting bar
A 2.0 Ah lithium-ion battery provides approximately 220 x 3.5 cm cuts per charge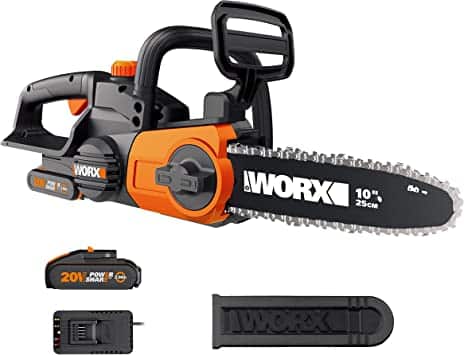 WORX is the brand name of the leading power tool manufacturer WORX Company. It is a subsidiary of Sunbeam Corporation, which belongs to the Jarden Corporation.
WORX tools are designed for people looking for high-quality tools at an affordable price. Their products include chainsaws, lawnmowers, hedge trimmers, pole saws, disk cutters and many more. The company has been in business since 1995.
The WORX WG322E.One 18V(20V MAX) Chain Saw is a cordless chainsaw with high power and low weight, so it can be used in tough jobs like cutting trees or branches up to 3 inches in diameter. It also has an auto-tensioning feature that automatically adjusts the chain tension when you start using it. A good capable chainsaw at a reasonable price.
Product details
It comes with an 18V(20V MAX) PowerShare battery
With the max no-load speed of 2100rpm
An over-moulded soft grip handle reduces operator fatigue and improves grip comfort.
Best Corded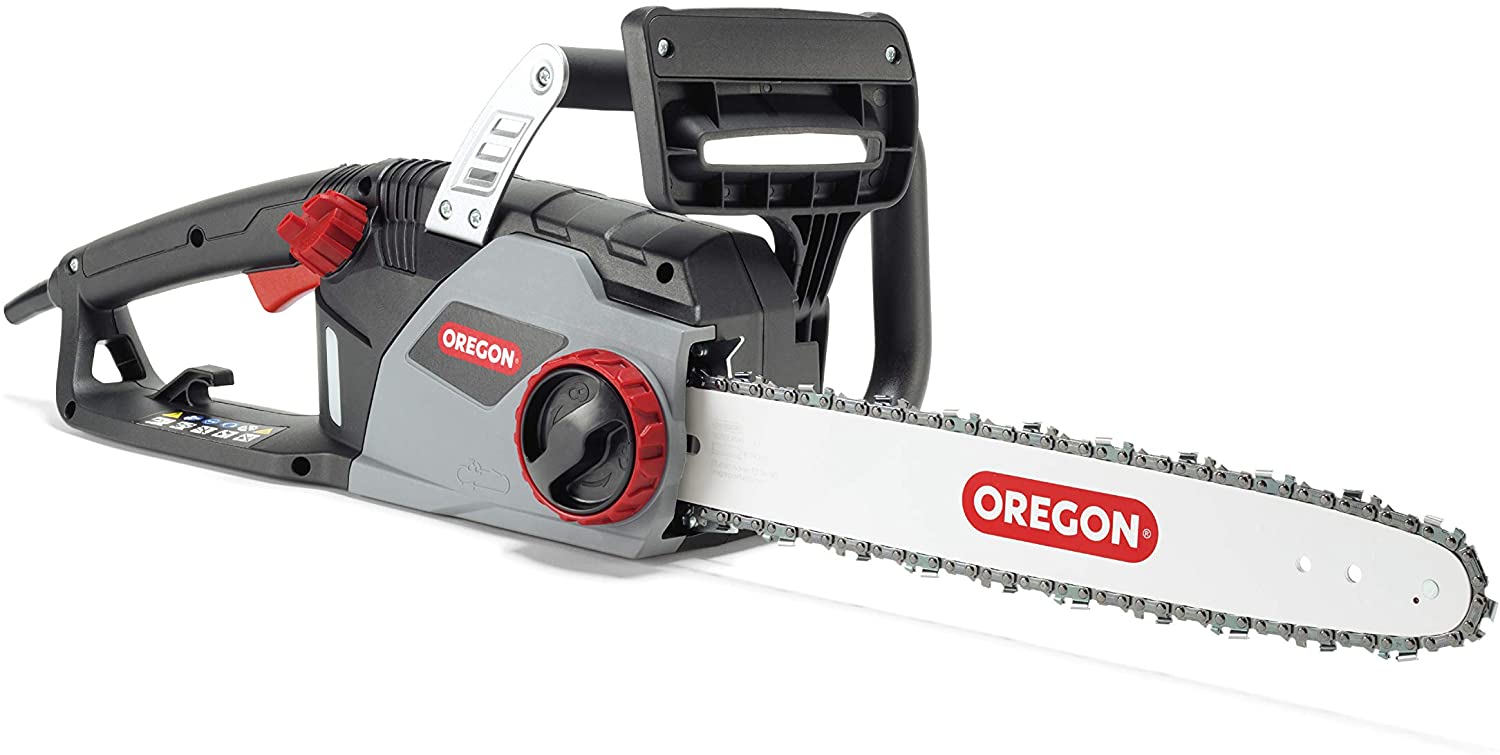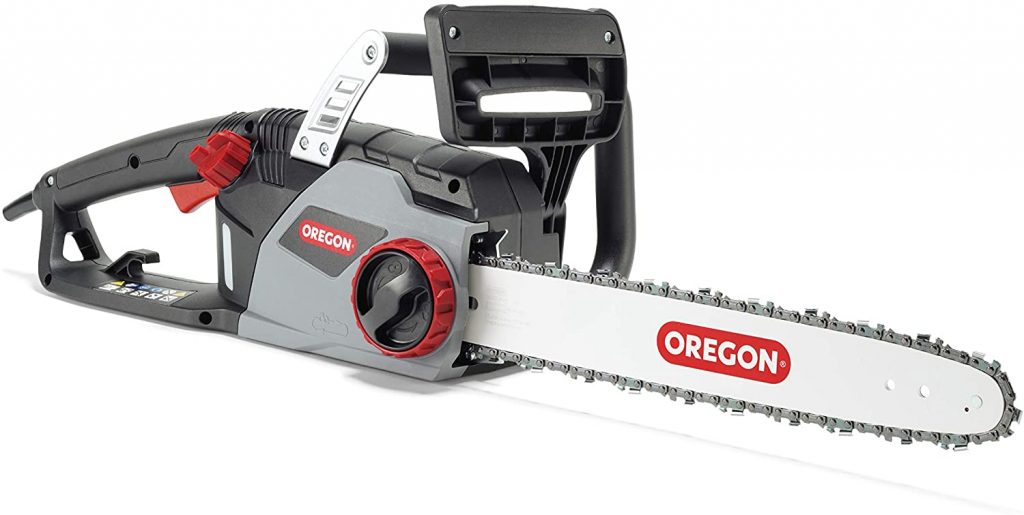 Oregon Chainsaws are very powerful and capable of cutting through the toughest of woods. They are also equipped with a safety switch that prevents the chainsaw from starting up with the blade guard still on, which can be a life-saving feature.
Oregon Chainsaws have many other features that make them great for cutting wood. For example, their chains never need to be sharpened, they come with an ergonomic handle, and their chains also stay in place when you cut through the wood because it has anti-kickback protection.
Product details
16″ bar, 2400 W electric chainsaw with an integrated chain brake
Cuts 3 times longer than standard chains in abrasive environments
The automatic oiler distributes oil on the bar and chain
A good solid corded chainsaw from a reputable brand
Conclusion:
Best Electric Chainsaws:
There are many different chainsaws on the market, but which is the best? The best chainsaw for you depends on your needs, requirements, and budget. We hope this article has helped you see the best electric chainsaws for your needs.
Image
Buy
Title
Brand
Warranty
Prime

Top

Top

View Offer
Hyundai 40V Lithium-Ion Battery Powered Cordless Chainsaw with 3 Year Warranty
Hyundai
3 year domestic warranty / 1 year commercial warranty.

Prime

Eligible

Top

View Offer
DCM575X1 XR FlexVolt Chainsaw 54V 1 x 3.0Ah Li-ion
DEWALT
N/A

Prime

Eligible

Top

View Offer
Makita DUC405Z Twin 18v / 36v LXT Li-Ion Cordless Brushless Chainsaw 400mm Bare
Makita
N/A

Prime

Top

View Offer
Einhell Power X-Change 18V Cordless Chainsaw With Battery and Fast Charger -- Easy To Handle, Battery Powered Saw ,10 Inch (25cm) OREGON Bar and Blade Chain -- GE-LC 18/25 Li Chain Saw Kit
Einhell
N/A

Prime

Eligible

Top

View Offer
Ryobi RCS1830-150 18V ONE+ Cordless Brushless 30cm Chainsaw Kit (1 x 5.0Ah)
RYOBI
3 year warranty.

Prime

Eligible

Top

View Offer
BLACK+DECKER 18V Lithium-ion Chainsaw Cordless with Battery 25 cm 2.0Ah GKC1825L20-GB
BLACK + DECKER
N/A

Prime

Eligible

Top

View Offer
WORX WG322E.9 18V (20V MAX) 25cm Cordless Compact Chainsaw - (Tool only - Battery & Charger Sold Separately), Black
WORX
Three-year warranty when registered online.

Prime

Eligible

Top

View Offer
OREGON CS300 Cordless Lithium Ion Battery Chainsaw,  Powerful Rechargeable Saw with PowerSharp Self-Sharpening System - with 4.0 Ah lithium ion Battery and Standard Charger, 36 V (573019)
Oregon
One-year manufacturers warranty.

Prime
Links-