Best Masonry Paint 2021 For Exterior Render, Brick & Stone
Most of the homes are now brick, stone, or render, yet there are different types of exterior, so there are various external paints to protect them. This article will explore every detail about the Masonry Paints you need to know for better exterior protection. If you are new to the paint type called Masonry Paints, let's have a Sharpe intro!
What are Masonry paint and its uses?
It is the type of paint especially for use on exterior walls, including Render, Brick, Stone, Concrete, and plaster. Masonry paint has the added ingredients that protect from weather, pollution, and general wear and tear. It should also help to care for the building.
How to find the best Masonry Paint
Choosing the right Masonry paint is a compassionate matter related to the look of your home and your home protection from the elements. Therefore, picking masonry you have to consider is it durable, waterproof, and also dirt-resistant coat. Mainly, there are two types of masonry paints available. They are:
Smooth masonry paint: As the name declares, this paint has smooth and easy to apply texture. It is also known for a creamy consistency and is easy to use.
Fine-textured masonry paint: This type of masonry paint is the master protector and is applied in areas with extreme climatic conditions.
Masonry Paint Colours
Masonry paints are available in a wide range of natural and earthy hues. Picking a colour for exterior walls depends on your likeness, but experts suggest picking brilliant white masonry paint as it helps to keep indoors cool and bright due to high reflection. If you are looking for colour choices in Masonry paints, you can choose from the below options:
Table of contents
Best Masonry Paint Reviews – Top Picks
Our construction experts sort the best Masonry paint available on the market to arrange this list of bests. Scroll down to know more!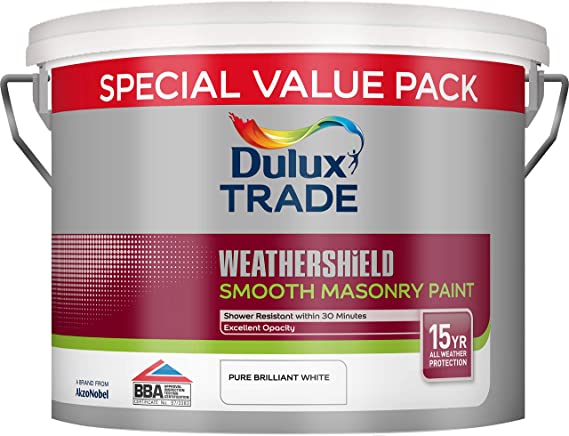 Our top pick is Dulux Trade Weathershield Masonry Paint, Pure Brilliant White, and has a smooth texture. This soft Masonry paint by Dulux is a hot favourite amongst many Buyers. What makes it a choice is its affordability and is made with acrylic resin and is waterproof. This white masonry paint provides better protection against leakages and seepages from walls, cracks, and roofs. This paint is helpful to enhance your property value and get the selling price you would want.
Dulux Trade Weathershield Features Highlights:
It is quick to dry and Shower resistant only 30 minutes after application and it has great antifungal properties due to its super slippery surface. Dulux Trade comes in several hues to choose from; you can easily mix two or three for a custom colour according to your preference. It is environment friendly, toxic-free, and available in 7 different shades.
Key Features:
Dulux Trade is based on an all acrylic resin, Environmentally-friendly
Exterior quality emulsion paint
It contains a fungicide to inhibit mould growth
15 years durability guarantee by Dulux
Quick-drying and antifungal surface
7.5L pack
Best budget under £50
Dulux weather shield masonry paint has a fantastic selection of warm and neutral colours.
Buttermilk Dulux Weather Shield Smooth, 5 L Check Price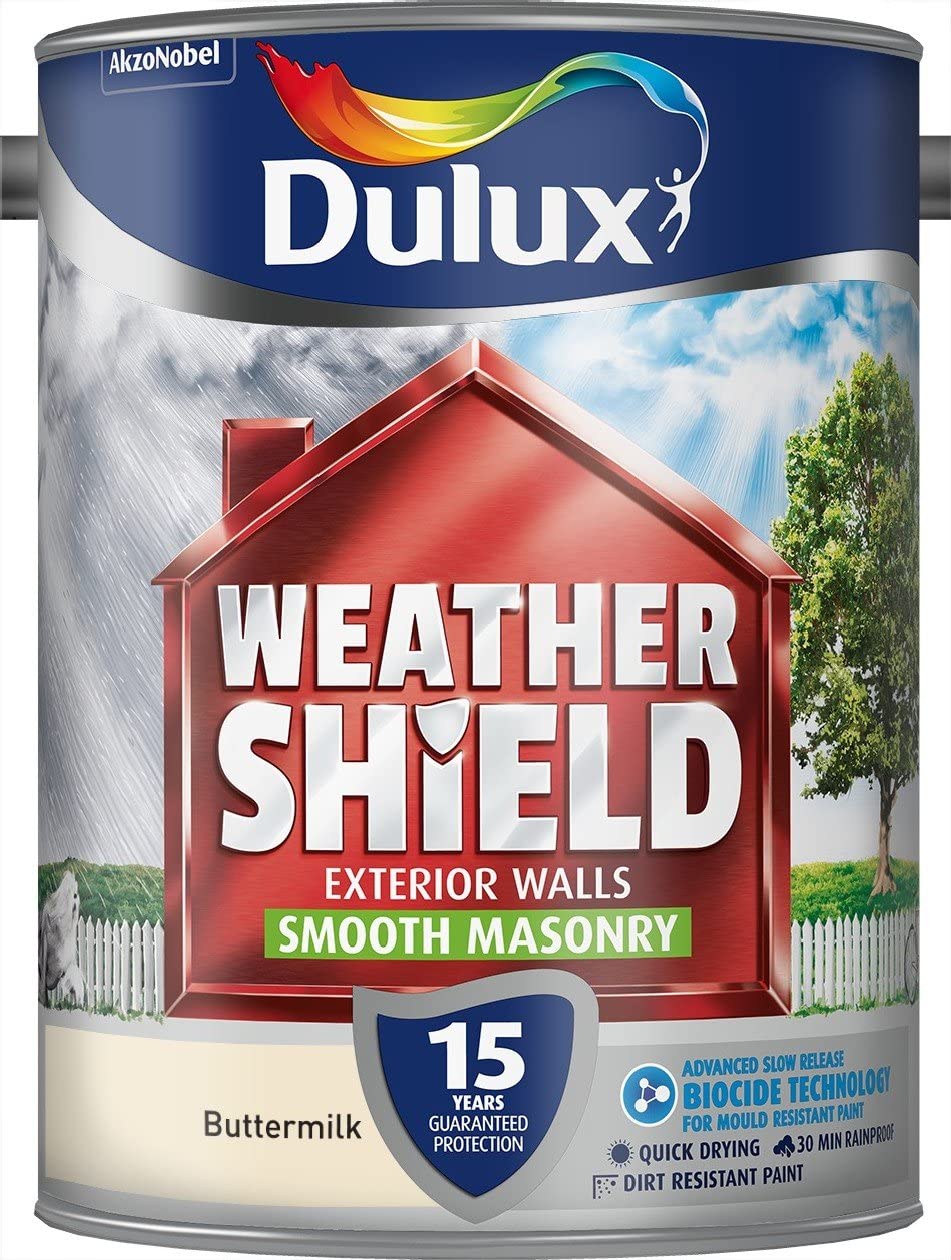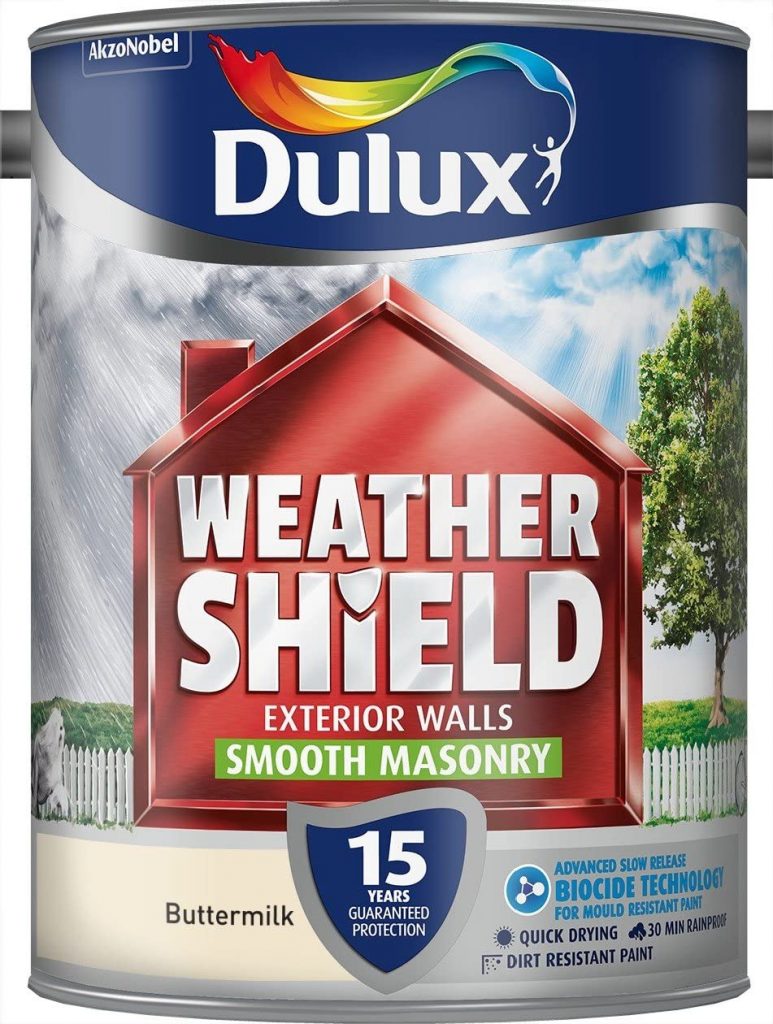 Pure Brilliant White Dulux Weather Shield Smooth, 5 L Check Price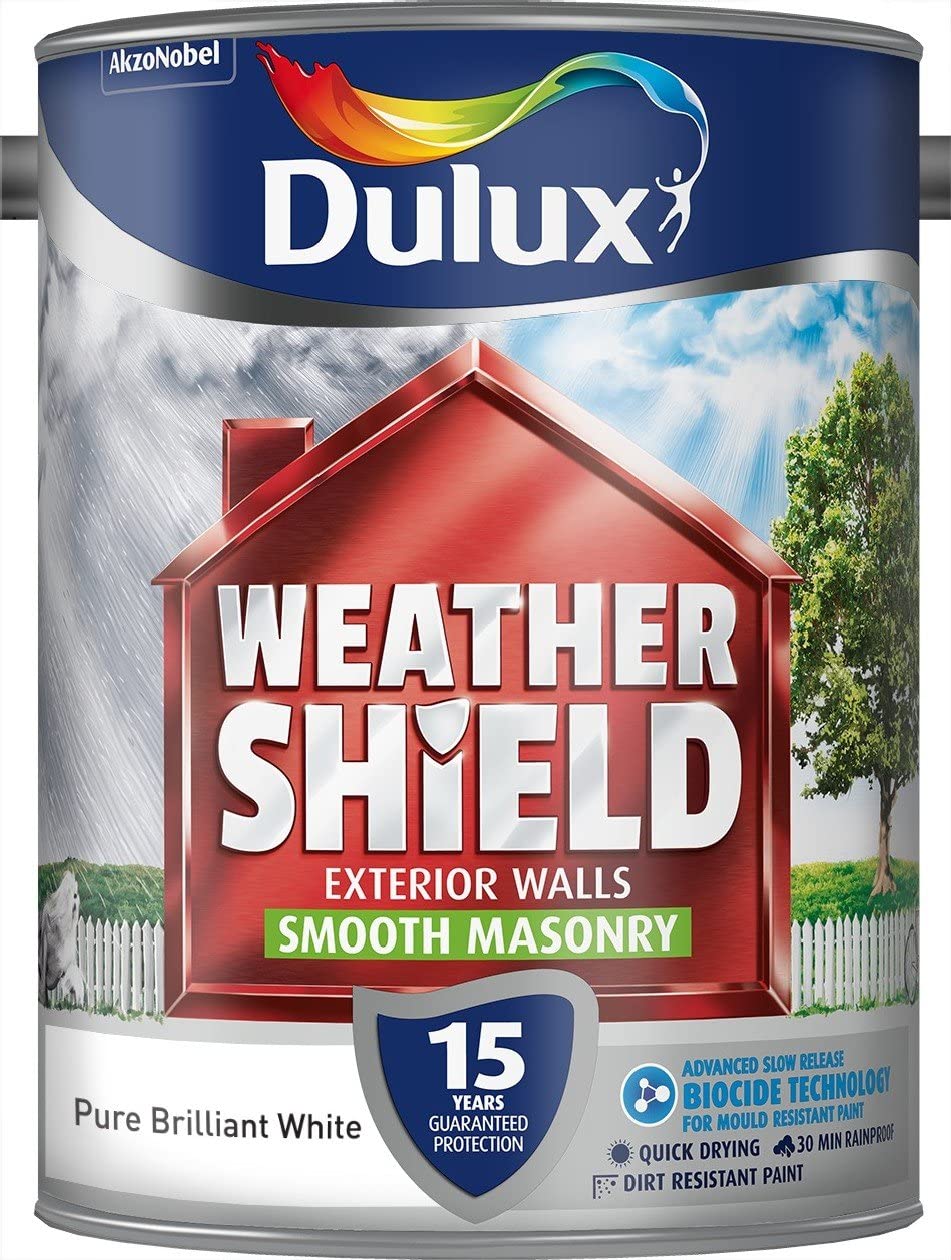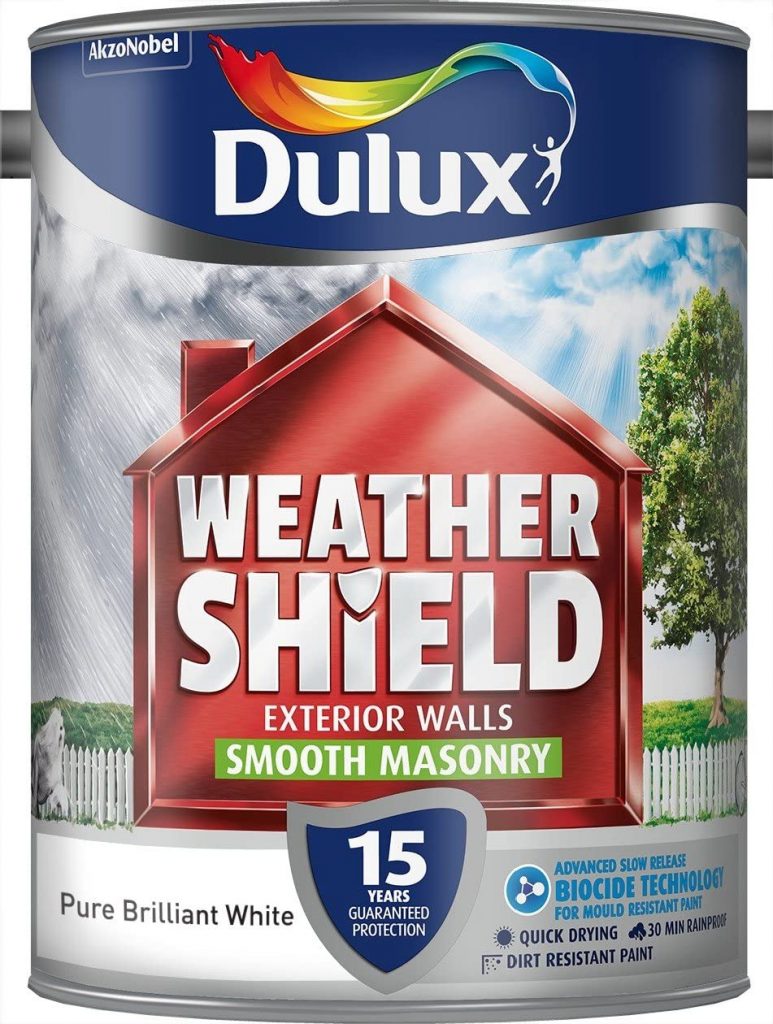 Classic Cream Dulux Weather Shield Smooth, 5 L Check Price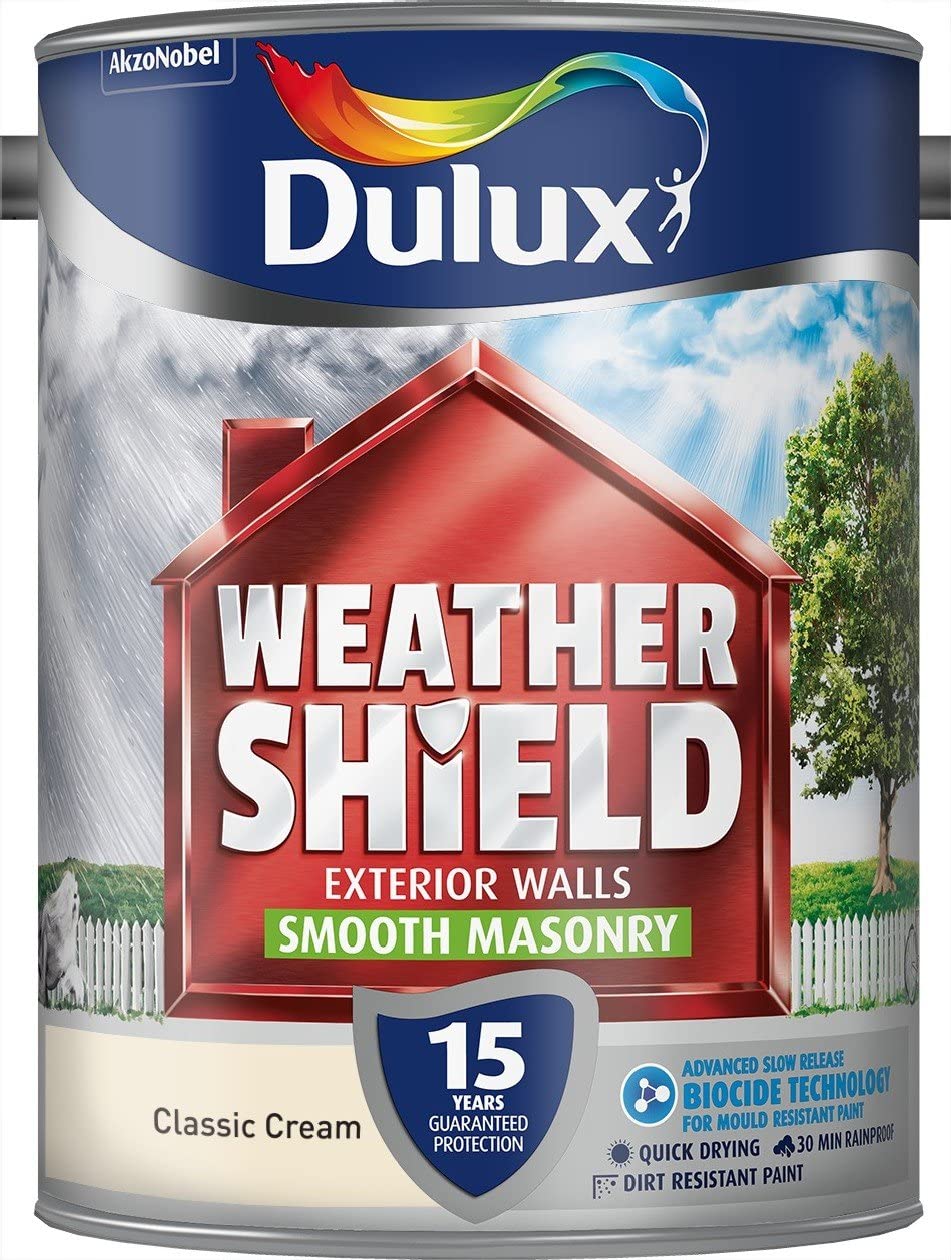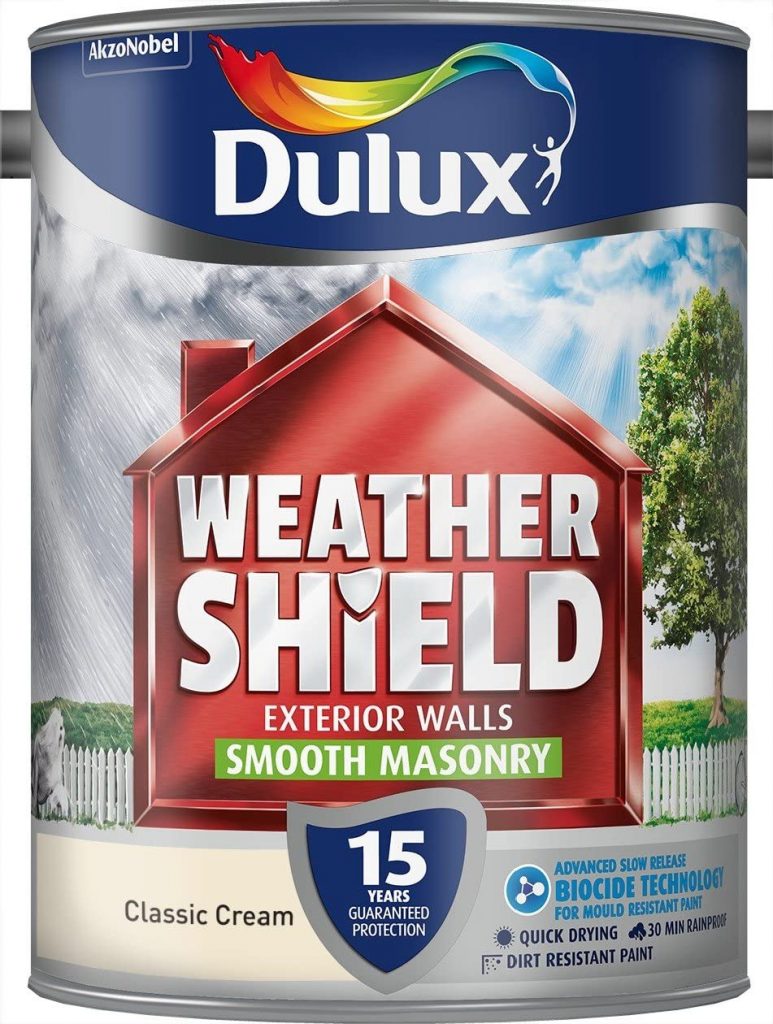 Frosted Lake Dulux Weather Shield Smooth Masonry Paint, 5 L Check Price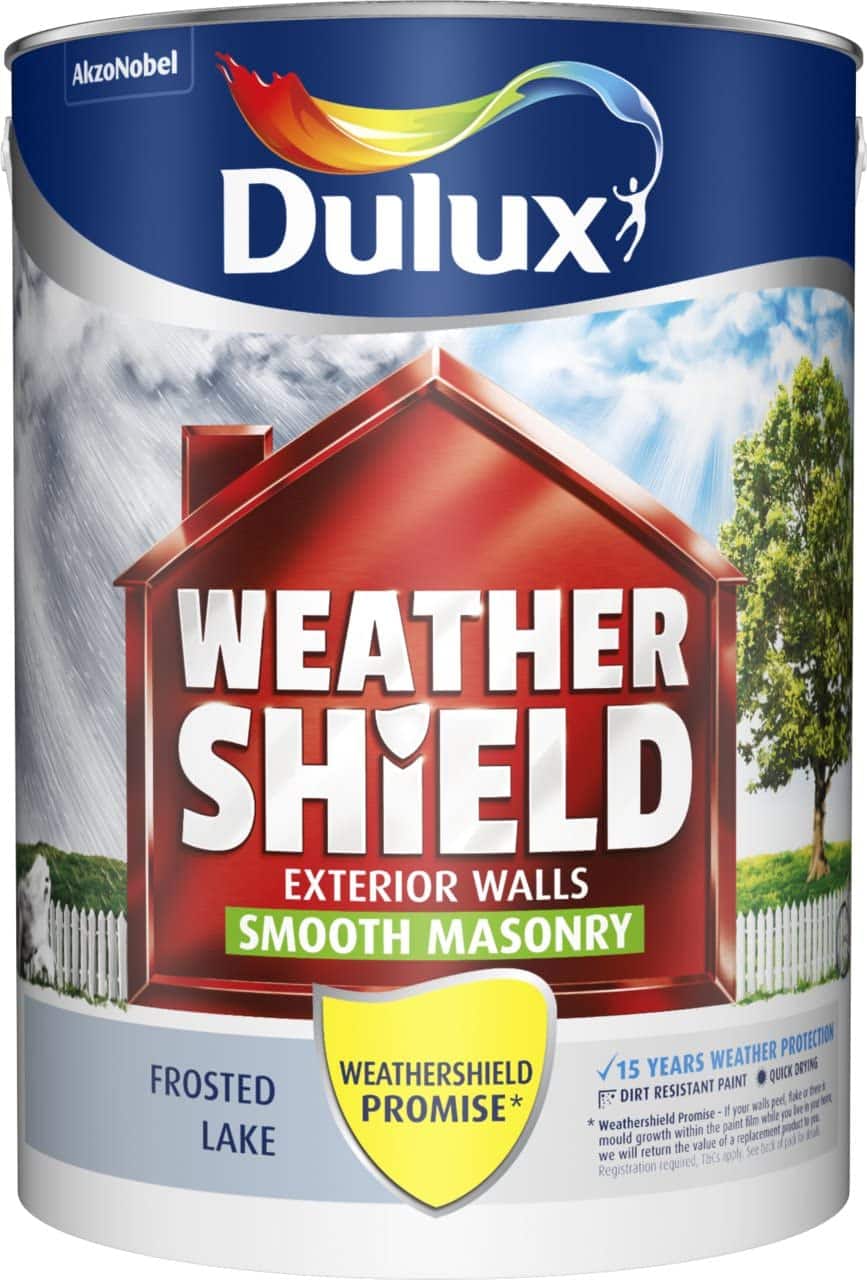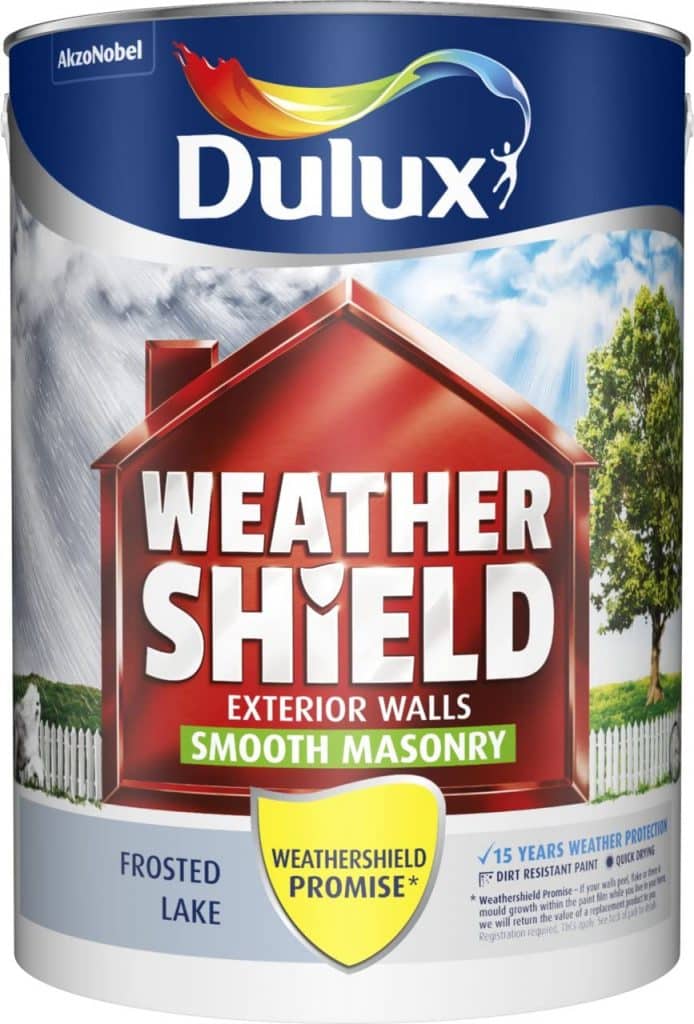 Gardenia Dulux Weather Shield Smooth, 5 L Check Price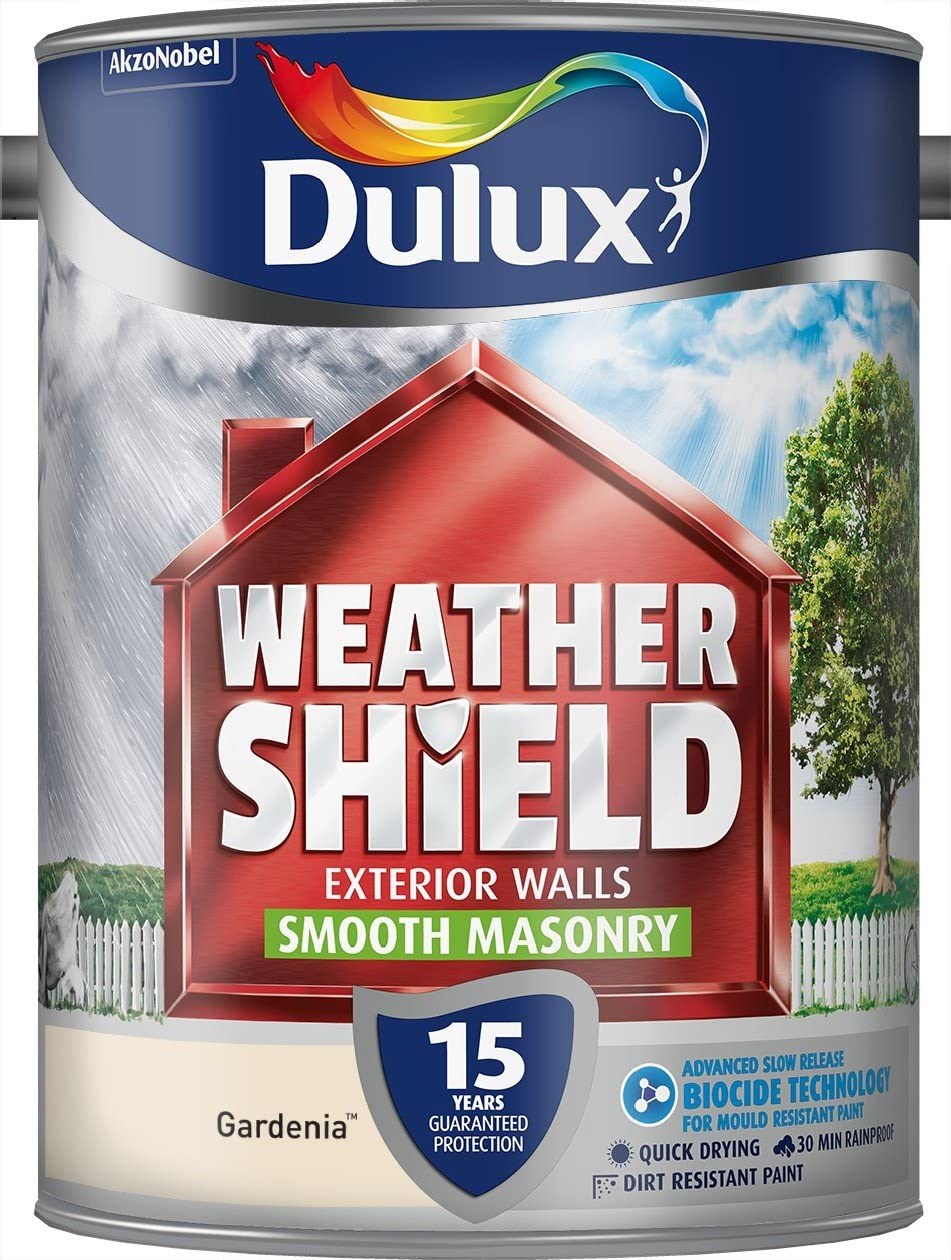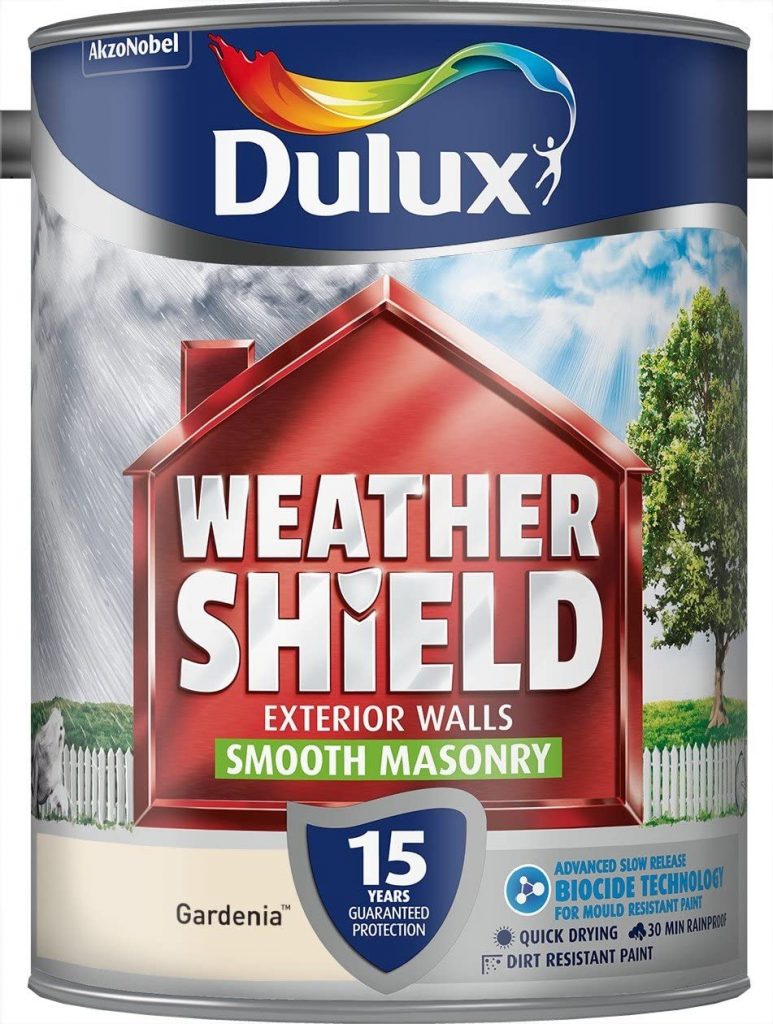 Magnolia Dulux Weather Shield Smooth, 5 L Check Price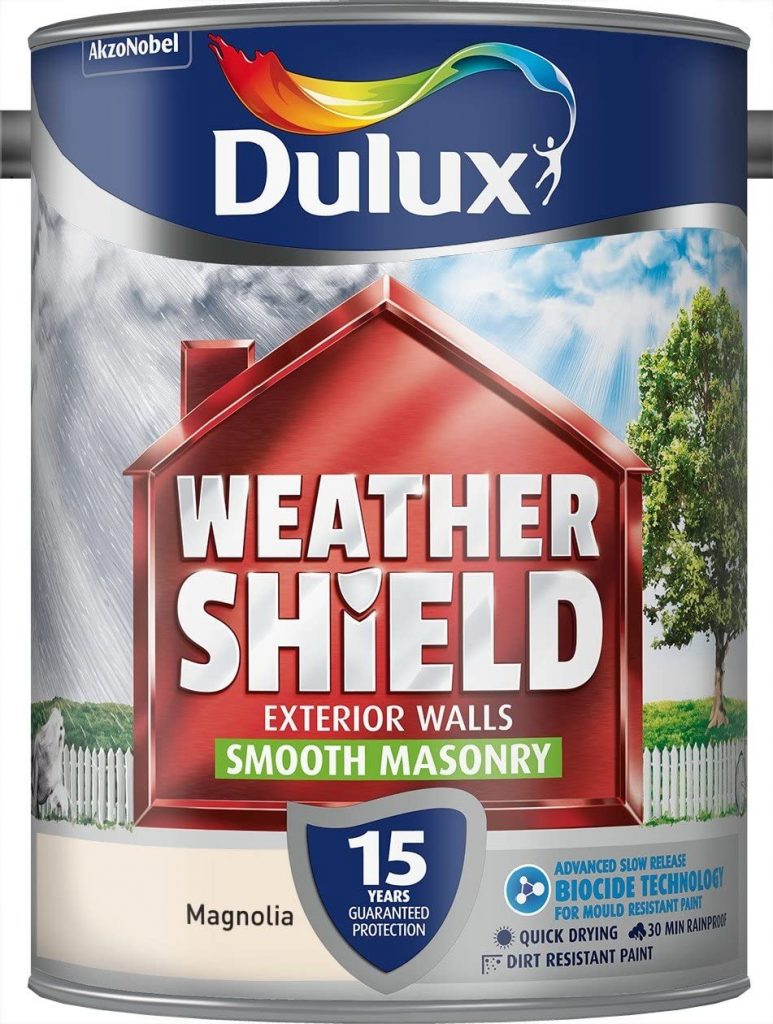 Muted Gold Dulux Weather Shield Smooth, 5 L Check price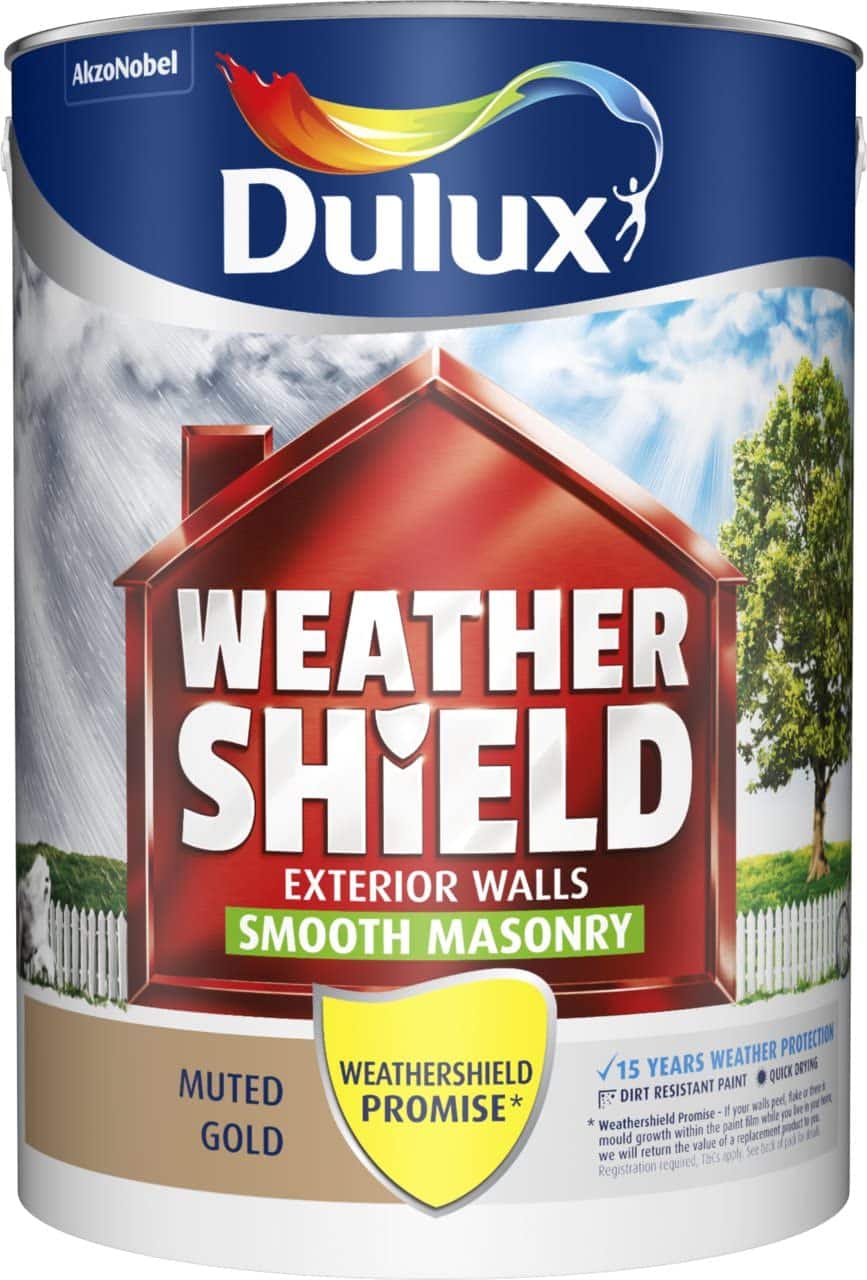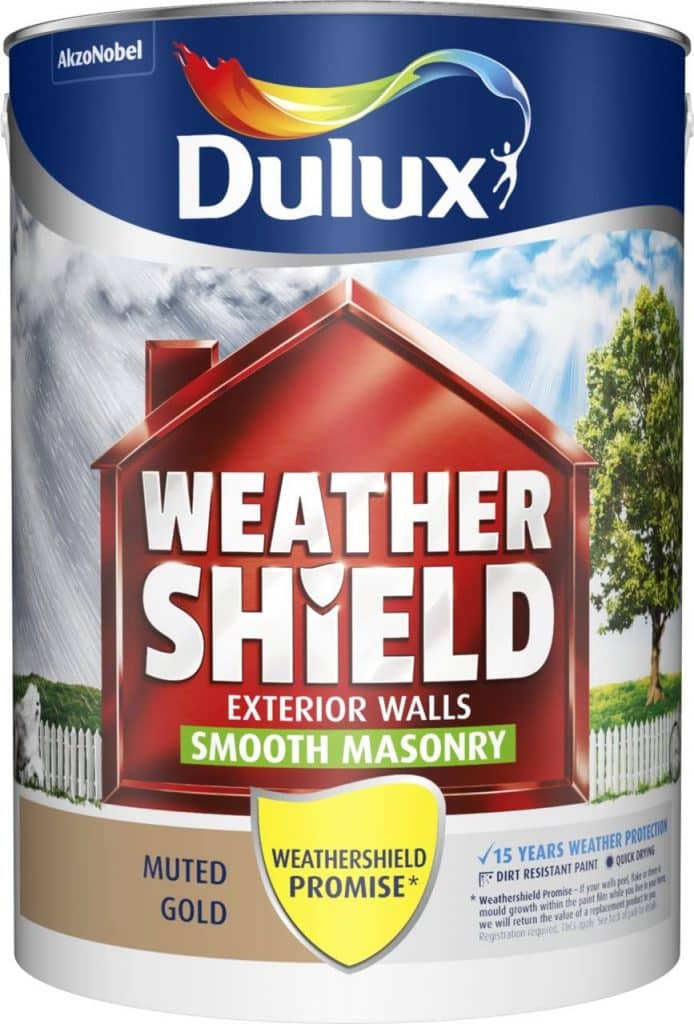 Pale Slate Dulux Weather Shield Smooth, 5 L Check Price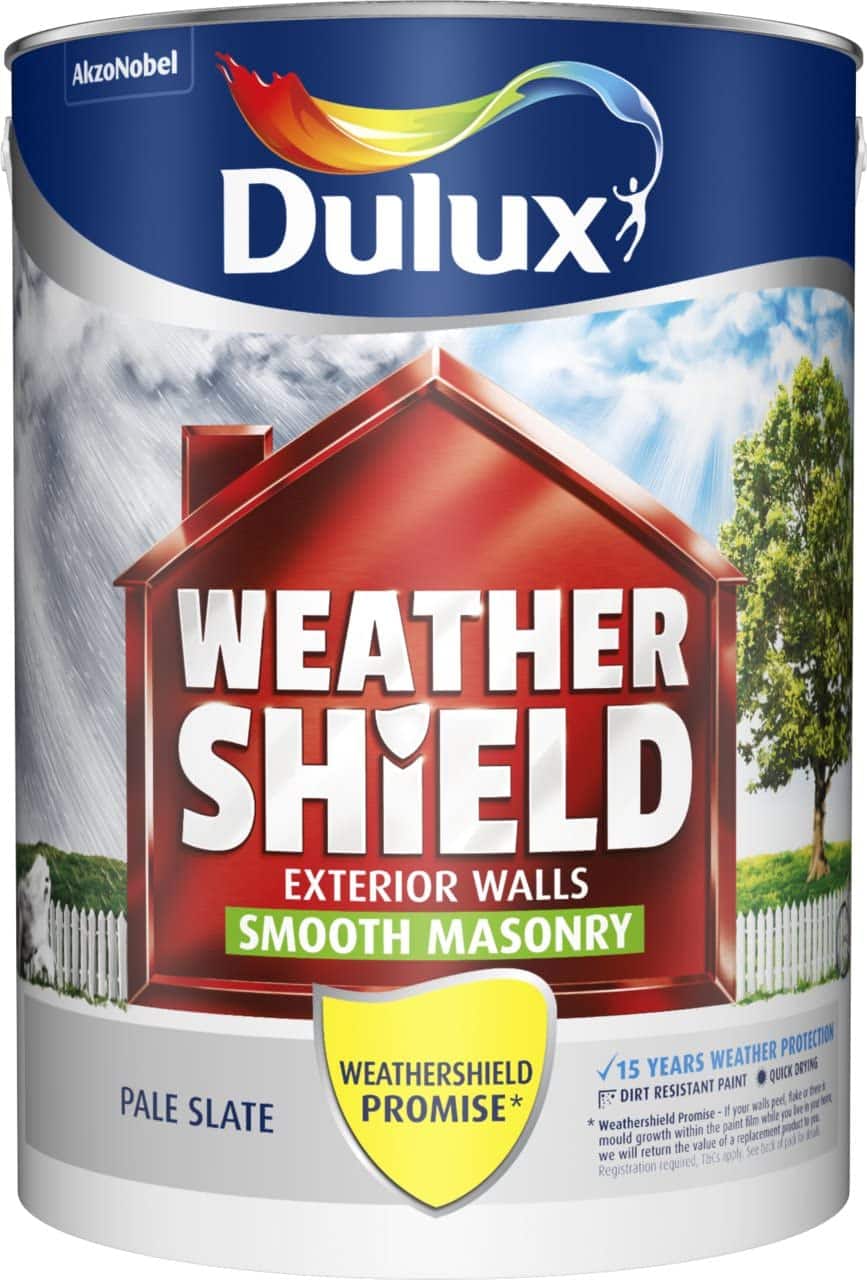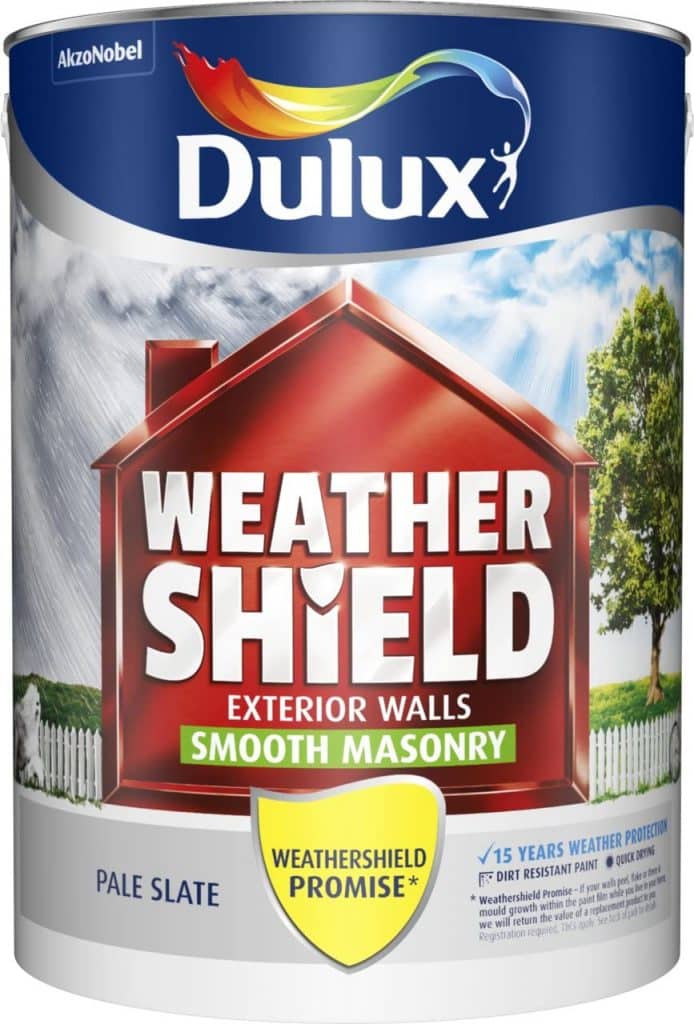 Sandstone Dulux Weather Shield Smootht, 5 L Check Price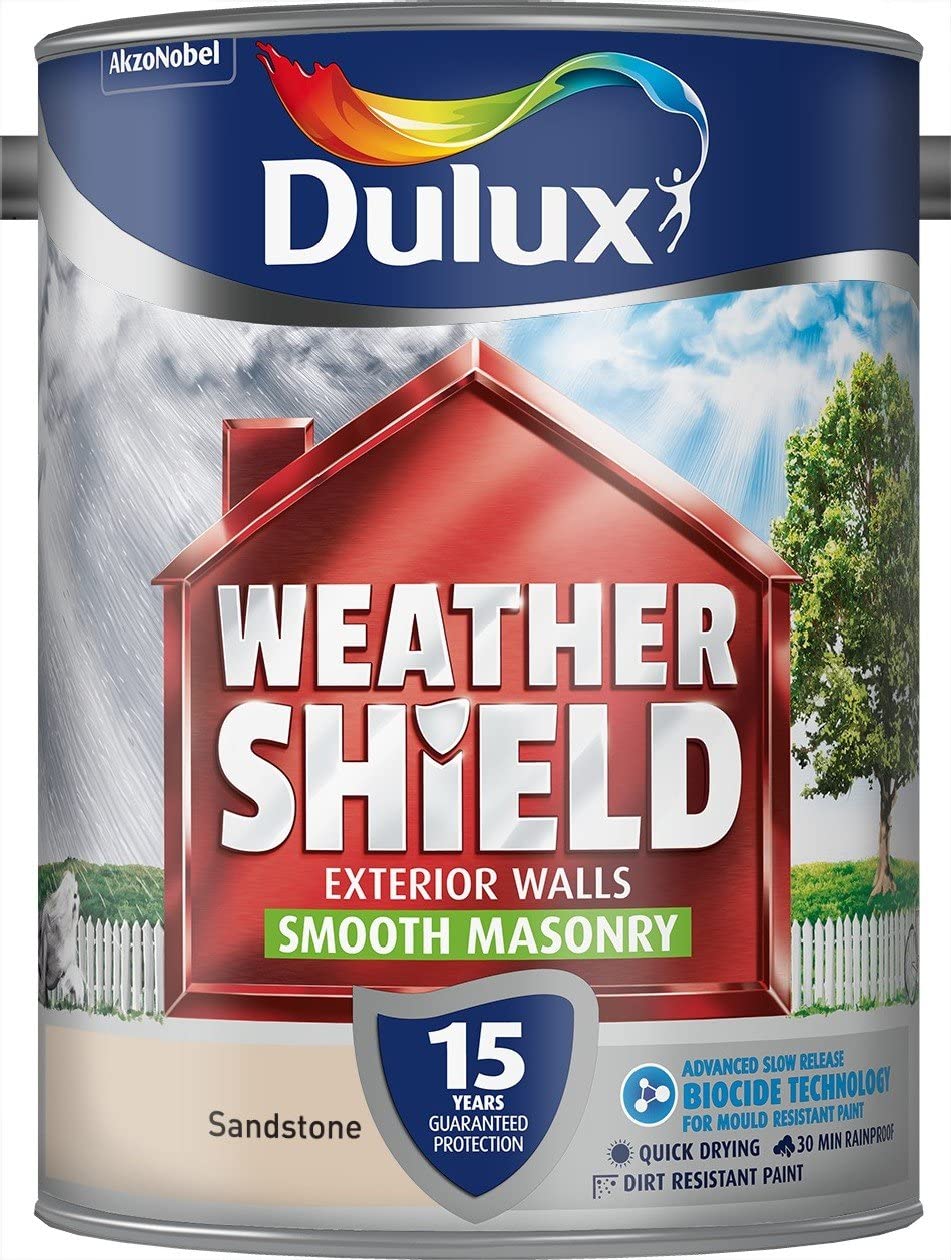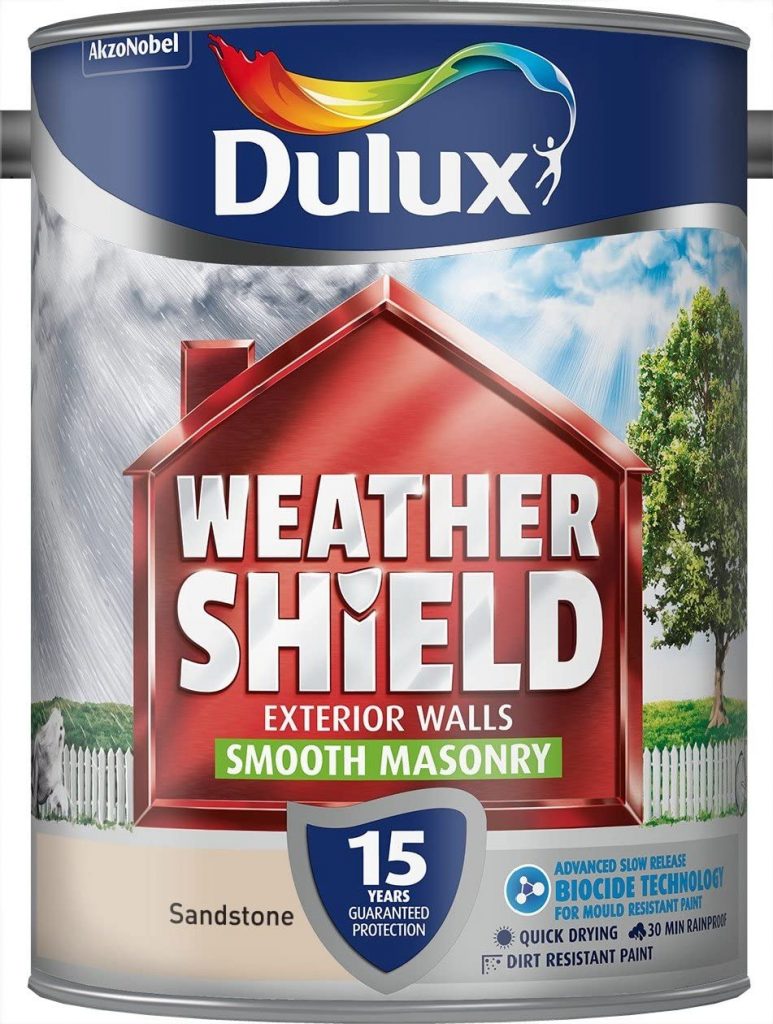 Toasted Terracotta Dulux Weather Shield Smooth, 5 L Check Price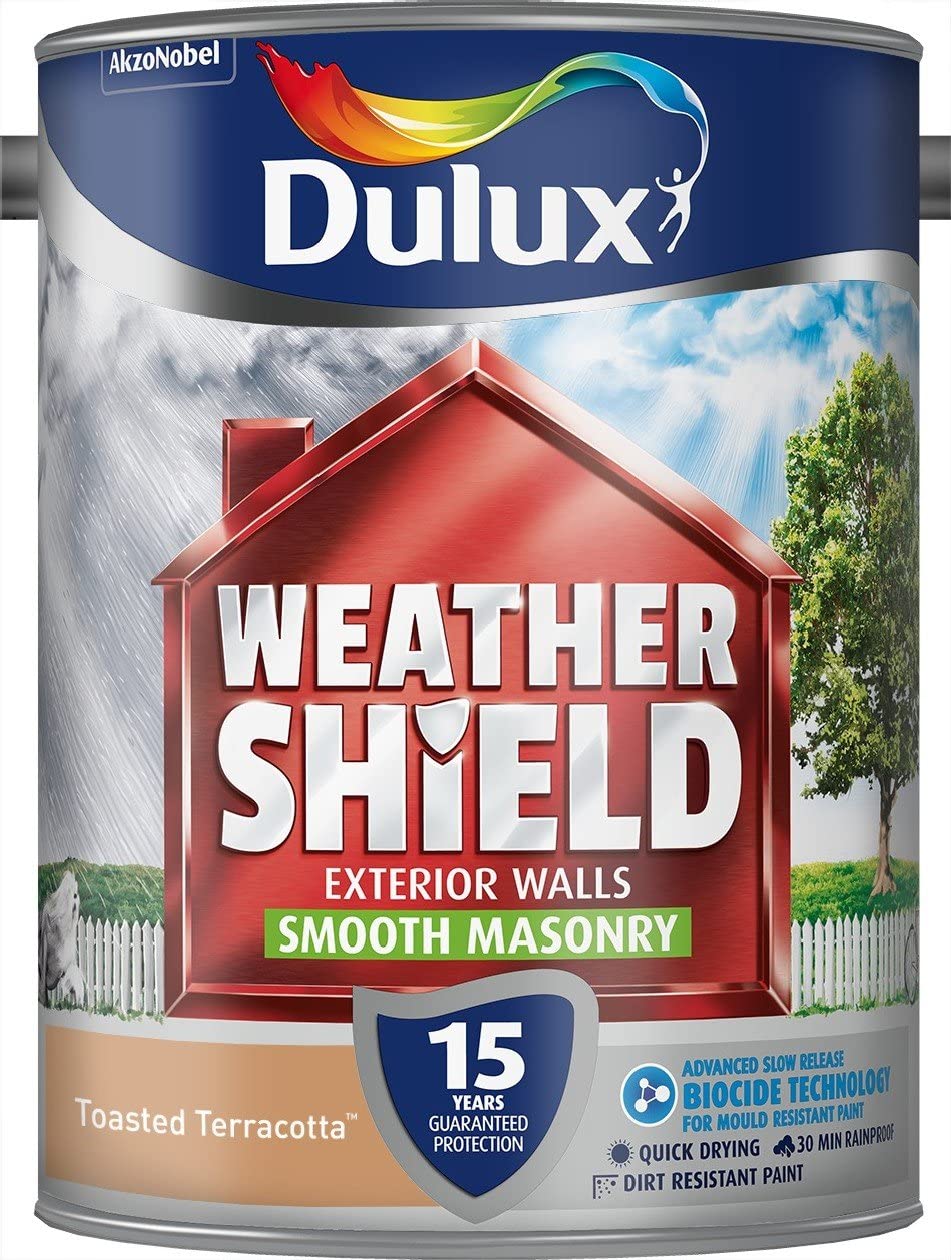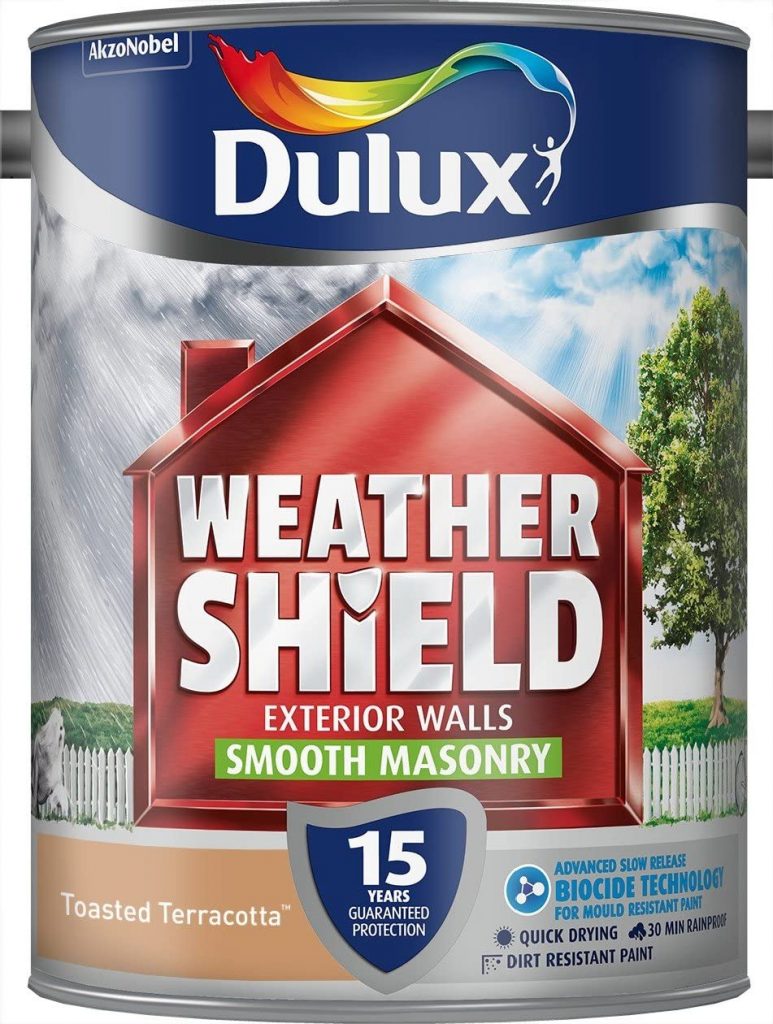 Warm Truffle Dulux Weather Shield Smooth, 5 L Check price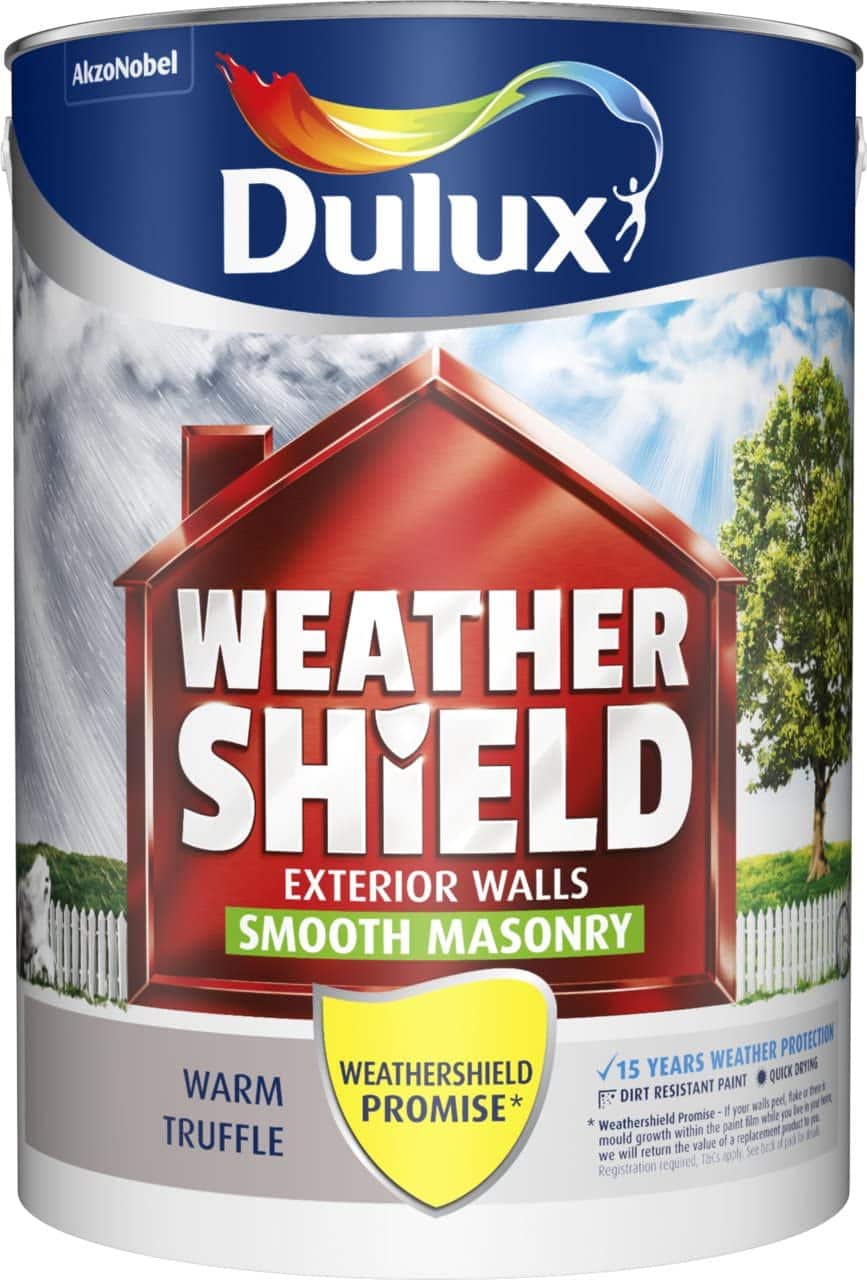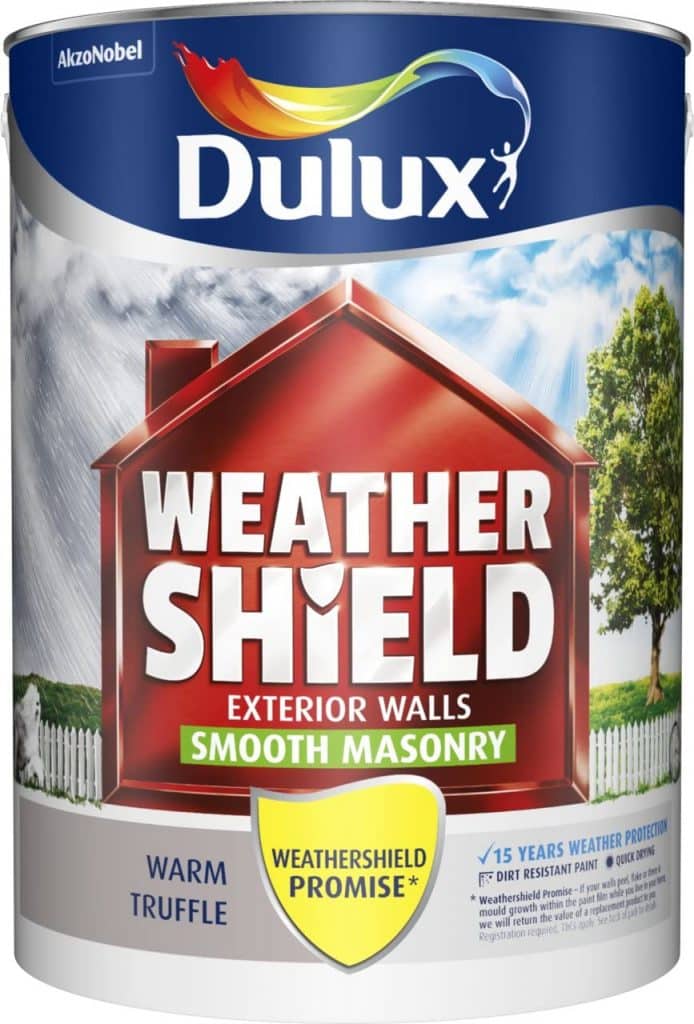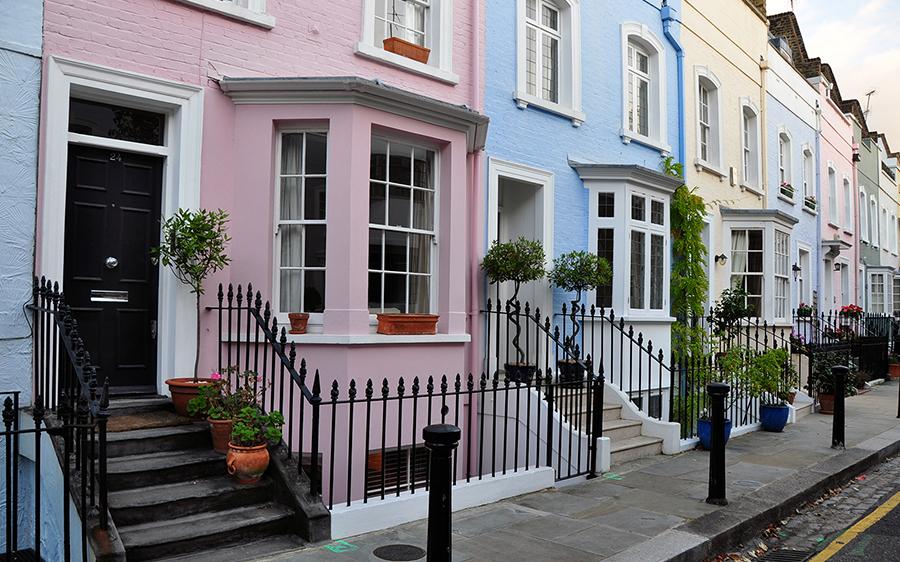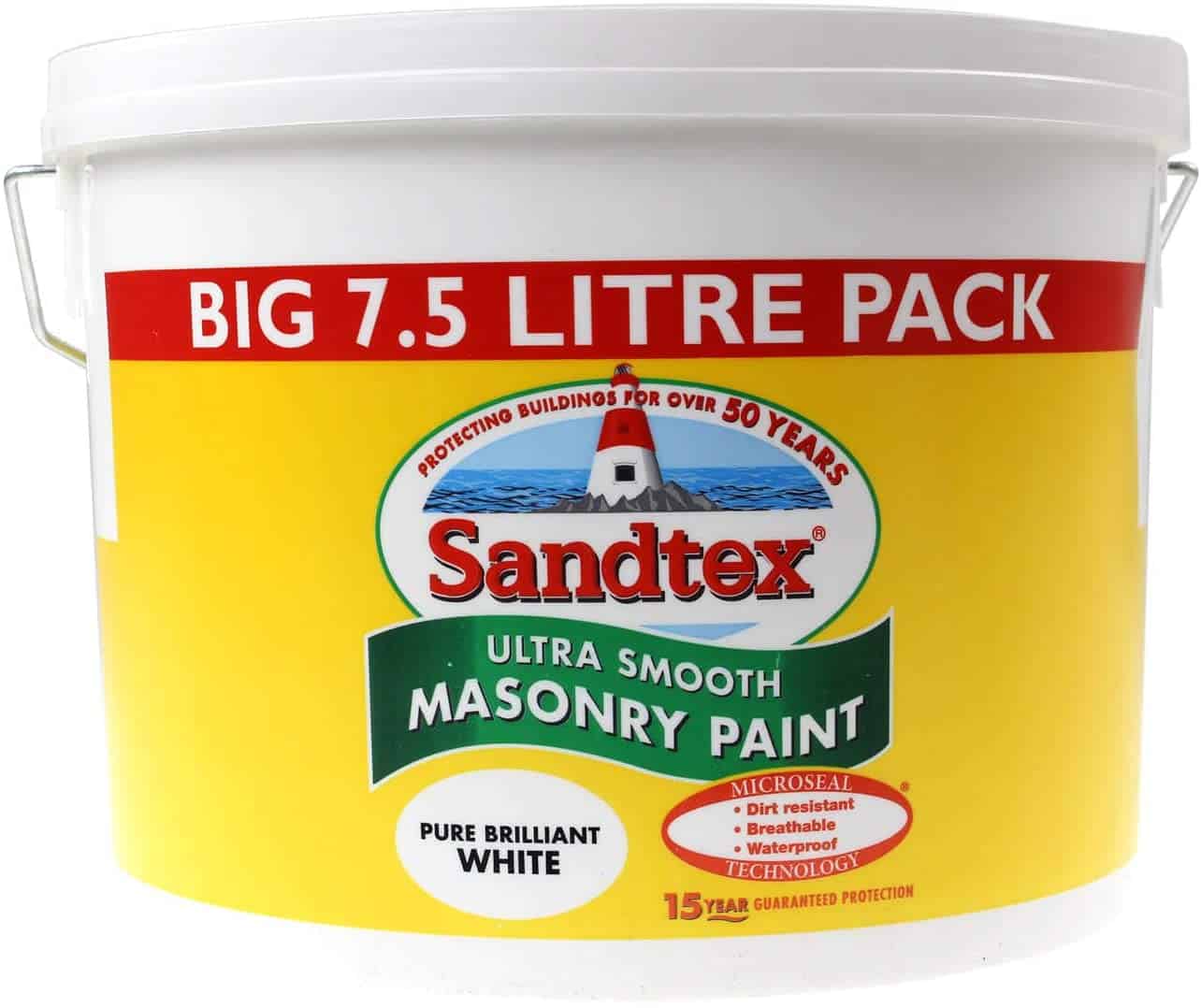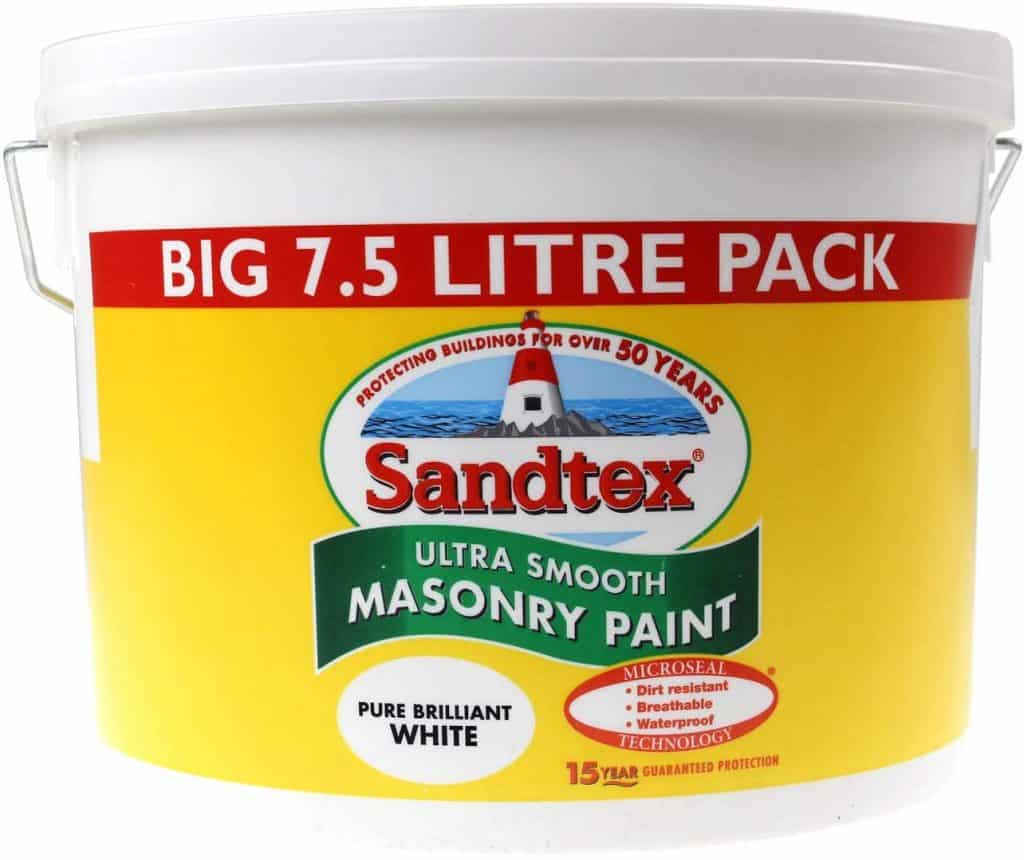 The second on the list is Santex and ultra-smooth pure brilliant paint that is excellent for renovation work and protects from the ravages of weather on exterior surfaces. It is considered a unique variant and has excellent coverage of 16 sq.m. per litre with a quick drying time. It is quick-drying paint and takes only 4 hours to dry up completely ( it is recommended to apply a second coat for more robust sealing and protection action).
Sandtex Brilliant Pure White Features Highlights:
The unique micro seal property of Sandtex Masonry Paint gives an ultra-smooth finish to the exterior that is dust and dirt resistant. It is available in only one brilliant white colour that adds beauty and elegance to all walls.
Key Features:
A Quick-drying paint that drys up in 4 hours
Equipped with micro seal technology for extra dirt and dust protection
Brilliant white and bright colour pigment
7.5 Litres Tin Pack
Watercolour paint type
Sandtex Retail Ultra Smooth Masonry Brilliant White Check price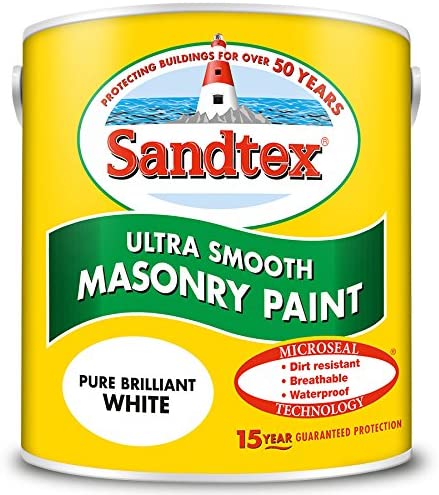 Bitter Chocolate Sandtex 5 Litres Ultra Smooth Masonry Paint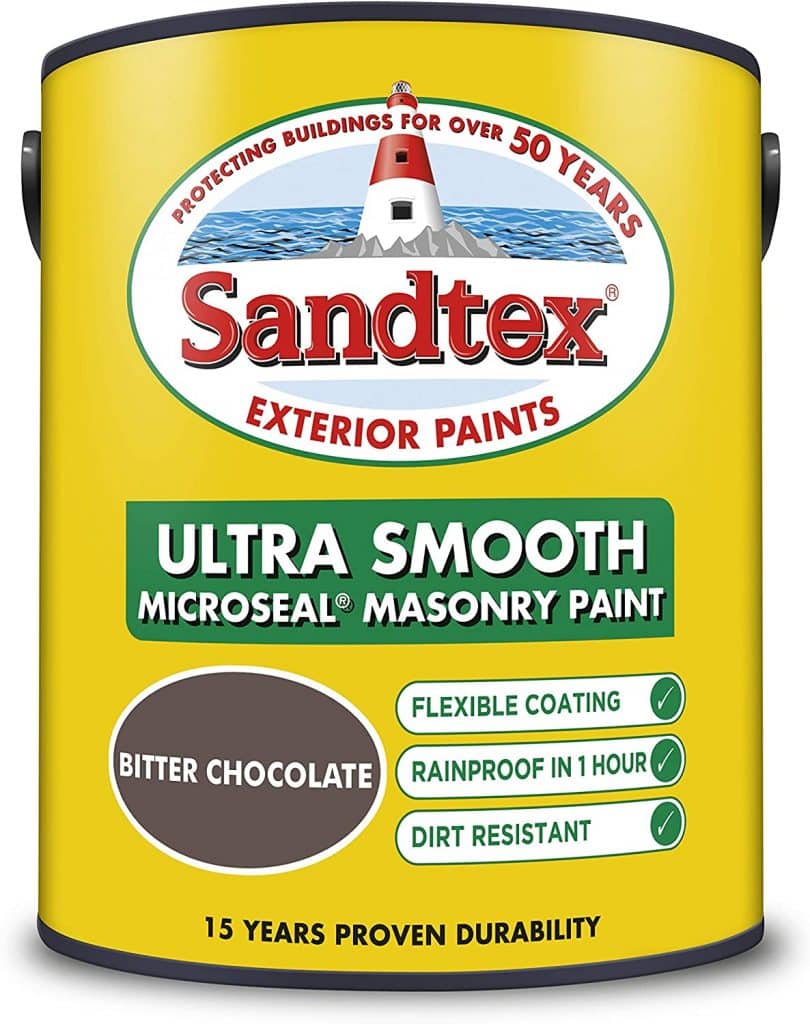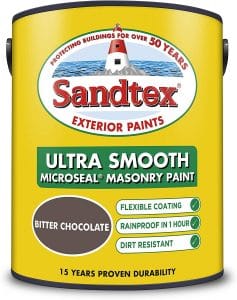 Black Sandtex, 5 litres, ultra smooth Check price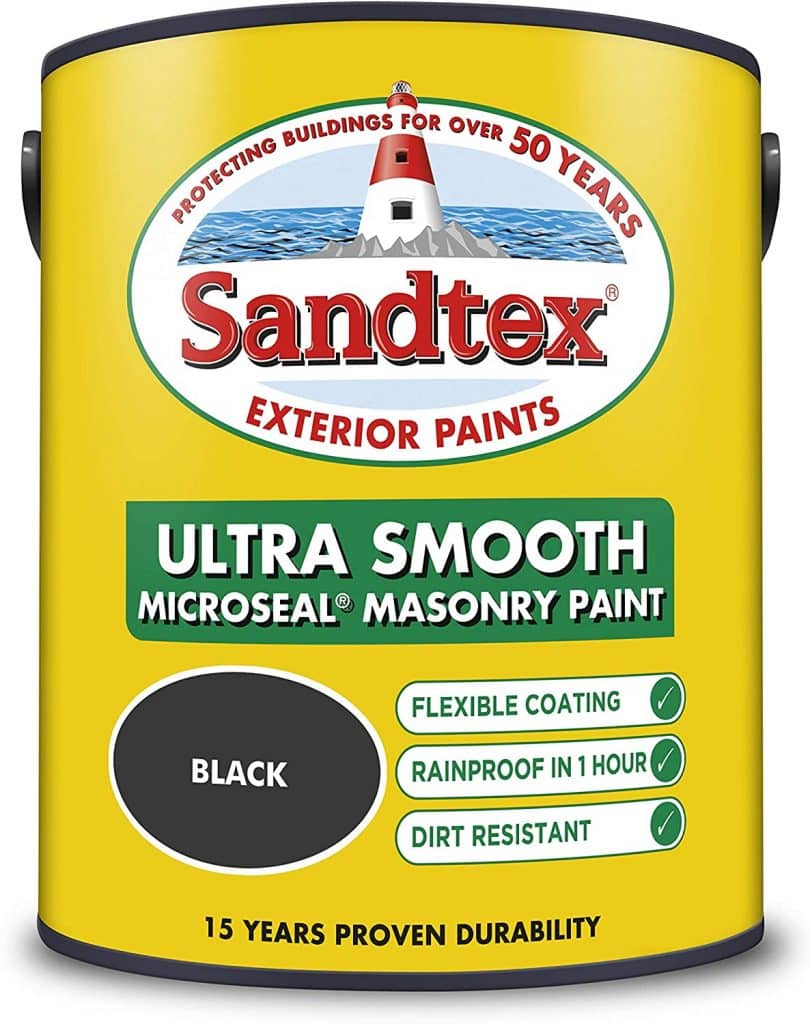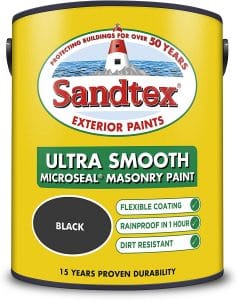 Chalk Hill Sandtex 5 Litres Ultra Smooth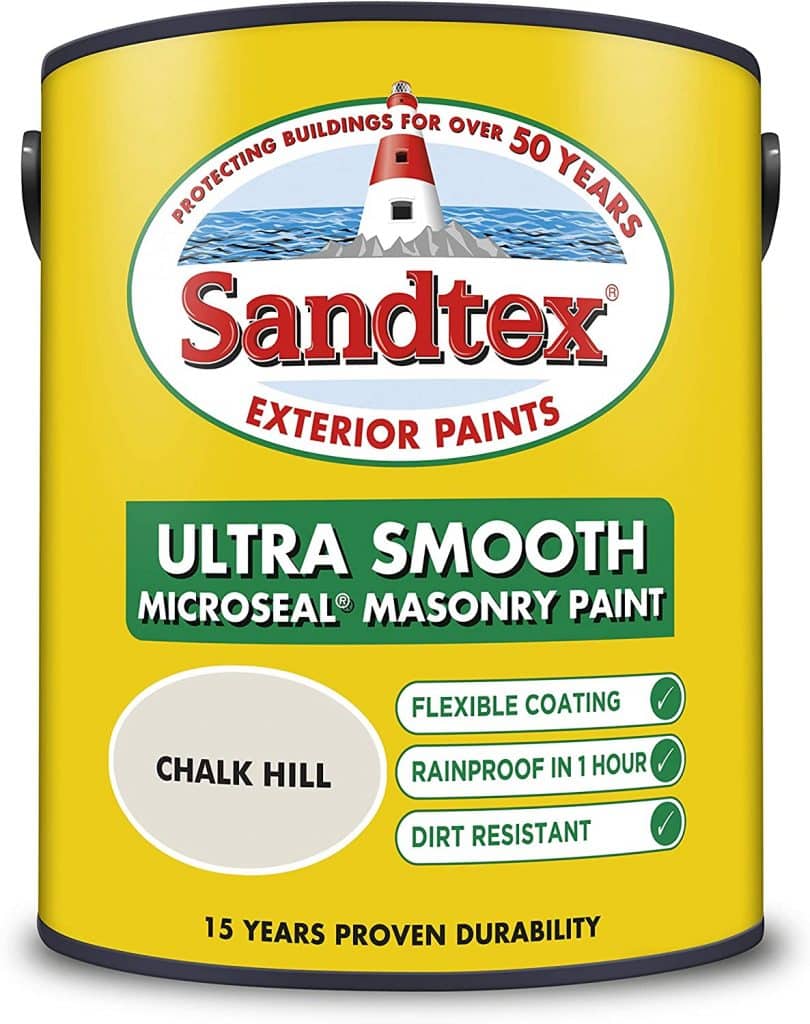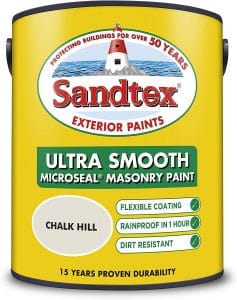 Cornish cream Sandtex, 5 litres, ultra-smooth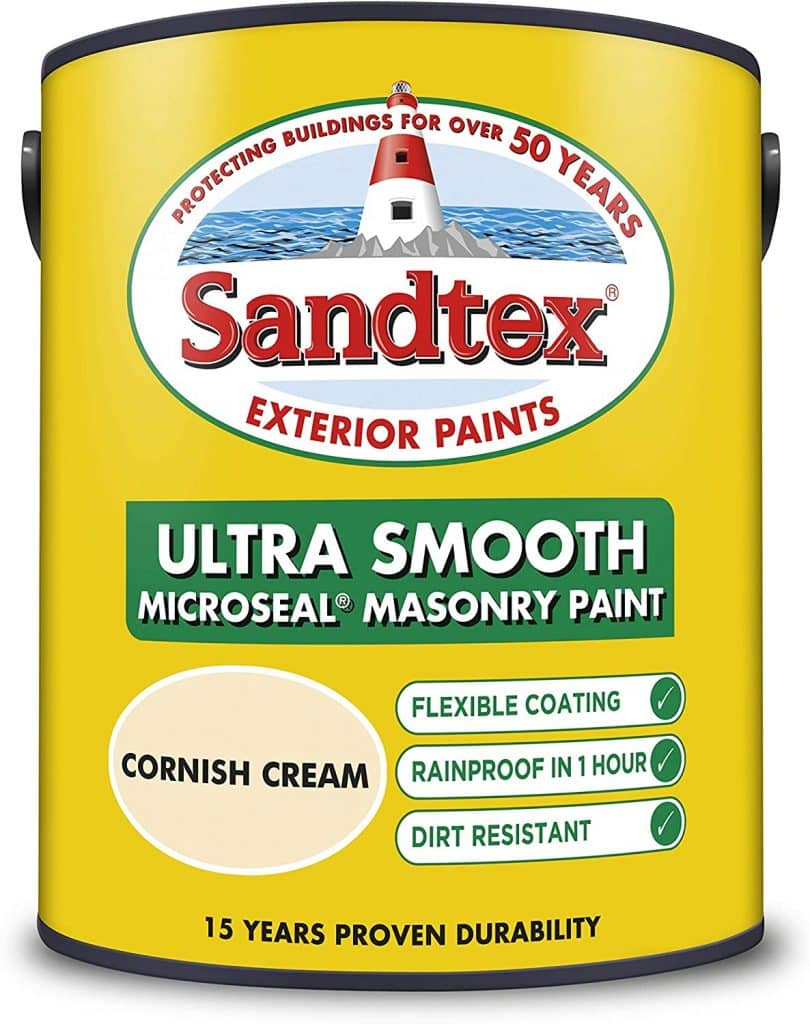 Ivory Stone Sandtex 5 Litres Ultra Smooth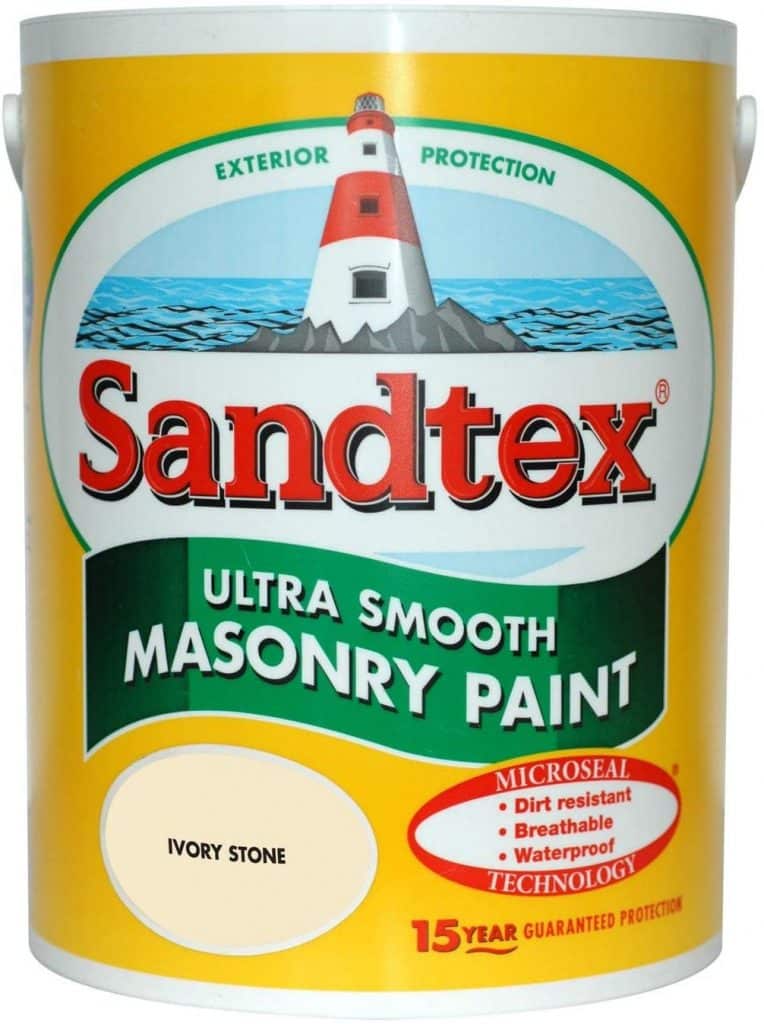 Mid Stone Sandtex, ultra smooth Check Price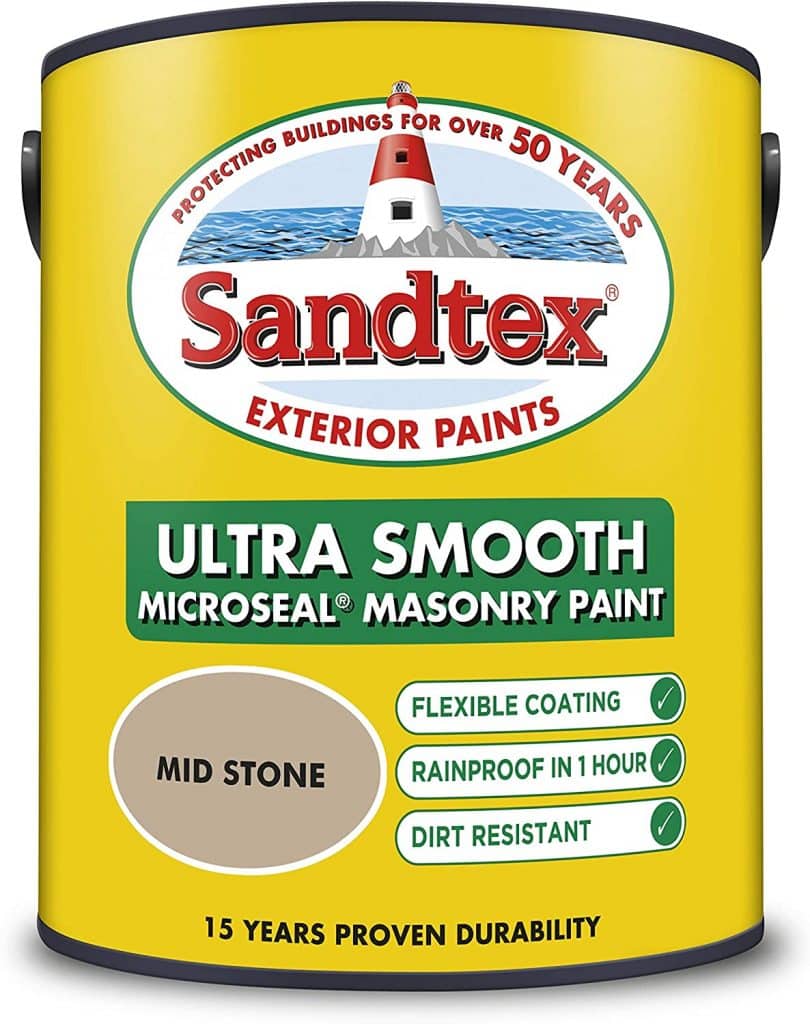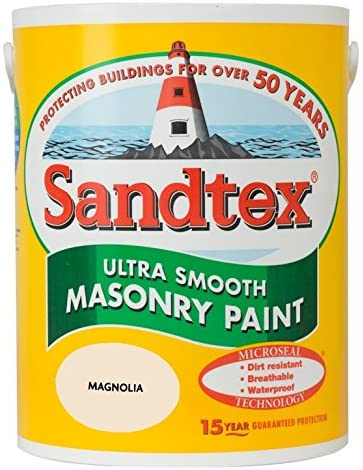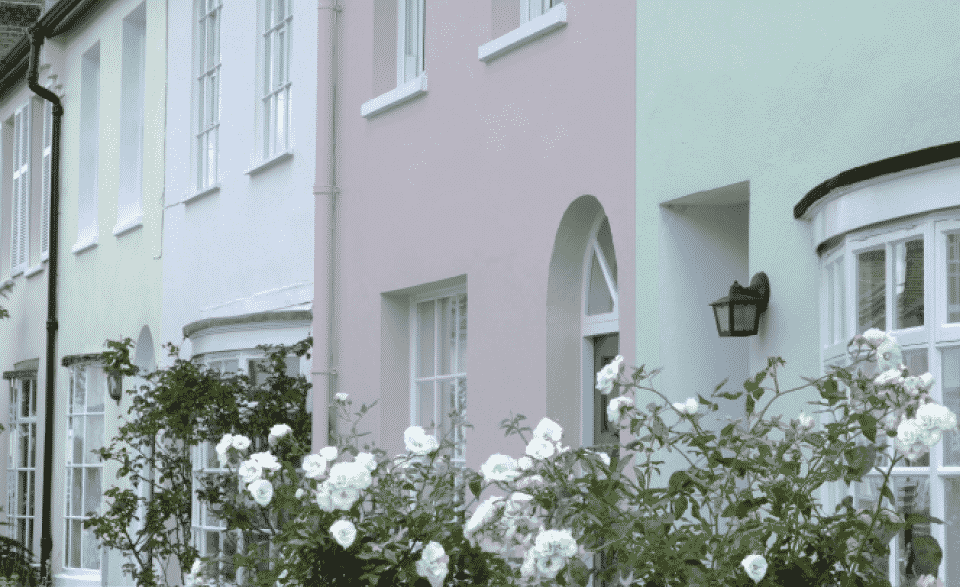 Leyland Granocryl an excellent masonry paint that is smooth, brilliant white, and boasts of superior elasticity and durability. The Leyland Granocryl is known for its mould-resistant formula that provides a long life of protection and care. It offers ten years of dirt and dust protection, and smooth and elegant texture is applicable on brickwork and concrete with ease.
Leyland Granocryl Smooth Masonry Paint Features Highlights:
This Leyland Granocryl paint is available in eight brilliantly pigmented shades ranges from natural and earthy hues. Super spreader paint that One litre can easily cover eight sq.m on the new build surface, and if it is precoated, the paint can stretch to 13sq. m. Per Litre. Easy to apply with a roller or brush.
Key Features:
Specially formulated for use on exterior brickwork, concrete, roughcast rendering
Excellent elasticity and coverage ability
Durable and long-lasting
Matte finish
For limited use available in a small pack of 2.5L
Available in a variety of colours and sizes.
Rustin's Quick-Dry Masonry Paint comes in a small pack of 500ml with a hefty price tag that makes it one of the most expensive paints on the market. However, if you favour paying for the quality, this Mansory paint is for you. This quick-dry paint drys to any surface in about half an hour. You can go for a second coat after about 4 hours, depending on temperature and humidity.
Rustins MASPC500 Quick-Dry Features Highlights:
A small tin pack makes it suitable for small projects. Rustins MASPC500 formula is non-drip with a high viscosity. Best quick-dry masonry paint with a wide range of colour choice. Simple to apply with a paint roller or broadhead brush. It is all-weather resistant and stands against rains, sun, and snow.
Key Features:
Smooth matte finish
For interior and exterior use on masonry applications
Quick-drying formula
Easy to apply
Available in 4 colours
It comes in a tinny 500ml pack, ideal for small projects
Best Way to Apply Masonry Paint
You will have to start by cleaning the surface and remove any dirt or debris so the paint will bond and adhere to the masonry.
Also, remove any loose flaking paint from previous paint jobs, begin with a wire or stiff brush, and then wash down to clean grime and smaller dust particles left behind.
If you want the paint to adhere well, use a primer before painting. It is an oil-based solution that seals the surface before painting.
Fill any cracks or holes before painting and paint away with a roller or brush.