Best Masonry Drill Bits
Why do we need a masonry drill bit?
The purpose of using a masonry drill bit is to drill into the toughest of surfaces like blocks, Bricks, stone, tiles, or concrete. Primarily the drill bits are used with a power drill. It has an arrow-shaped head that makes it convenient to drill into rigid and the toughest of materials. Choosing the suitable types of drill bits guarantees the job gets done efficiently and quickly. Using the right bits type for drilling different types of materials also ensures safety and reduces the drilling time.
Types of Drills
SDS-plus Drill Need a special drill and drill bit, so check if your drill is an SDS or standard rotary drill used with a chuck key. The SDS can Drill holes into masonry and hardened concrete and another where more brutal impact is needed. Faster, To use an SDS drill bit, you do need an SDS drill to operate correctly.
Keyless and chuck Drill: The chuck is at the front of the drill and holds the drill bit. A keyless chuck means you can change bits quickly and easily, without the need for additional tools. The chuck drill fastens the drill bit in place with a chuck key.
Different Types of masonry drill bits
Rotary Percussion bit – Hardened tip for use in impact mode. Allows use of impact drill mode with a straight shank drill bit for faster drilling.
Double Flute bit – Double flute for fast clearing of waste materials. 2X speedier drilling than standard rotary masonry bits.
Tungsten Carbide Tip The tungsten carbide tip is made to drill the toughest of materials and penetrate hard steels. They offer excellent performance and durability and enable the user to drill hard concrete and masonry with ease.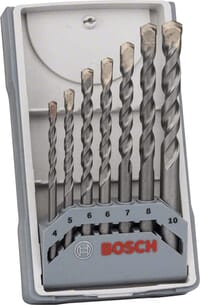 Description:
Bosch Concrete drill bit set can be used for concrete, masonry, can be used in all impact drilsIt is highly flexible and guarantees a longer life. Its U-shaped fluting results in faster drilling.
7-piece concrete drill bit set CYL-3
Guaranteed longer service life in concrete, extremely flexible, unique spiral shape with deep U-shaped fluting prevents clogging with dust, resulting in faster drilling results, wide and deep supported carbide metal plate prevents the tip from breaking; suitable for drilling in concrete, masonry, lime sand brick, natural and cast stone, hammer-proof high-performance drill bit, according to ISO 5468, for all impact drills, ideally suited to drilling dowel holes Drill bit colour: silver grey, sand-blasted.
Specs:
Weight: 215 g
Dimension (l x w x h): 45.01 x 40.01 x 24.99 cm; 215 Grams
Material: Carbide
Features:
Can be used in all impact drills; hence it is compatible.
It has two cutters that are made of durable carbide that makes them more durable.
Hammer-proof drill bit. It is particularly effective for drilling into tough masonry and concrete.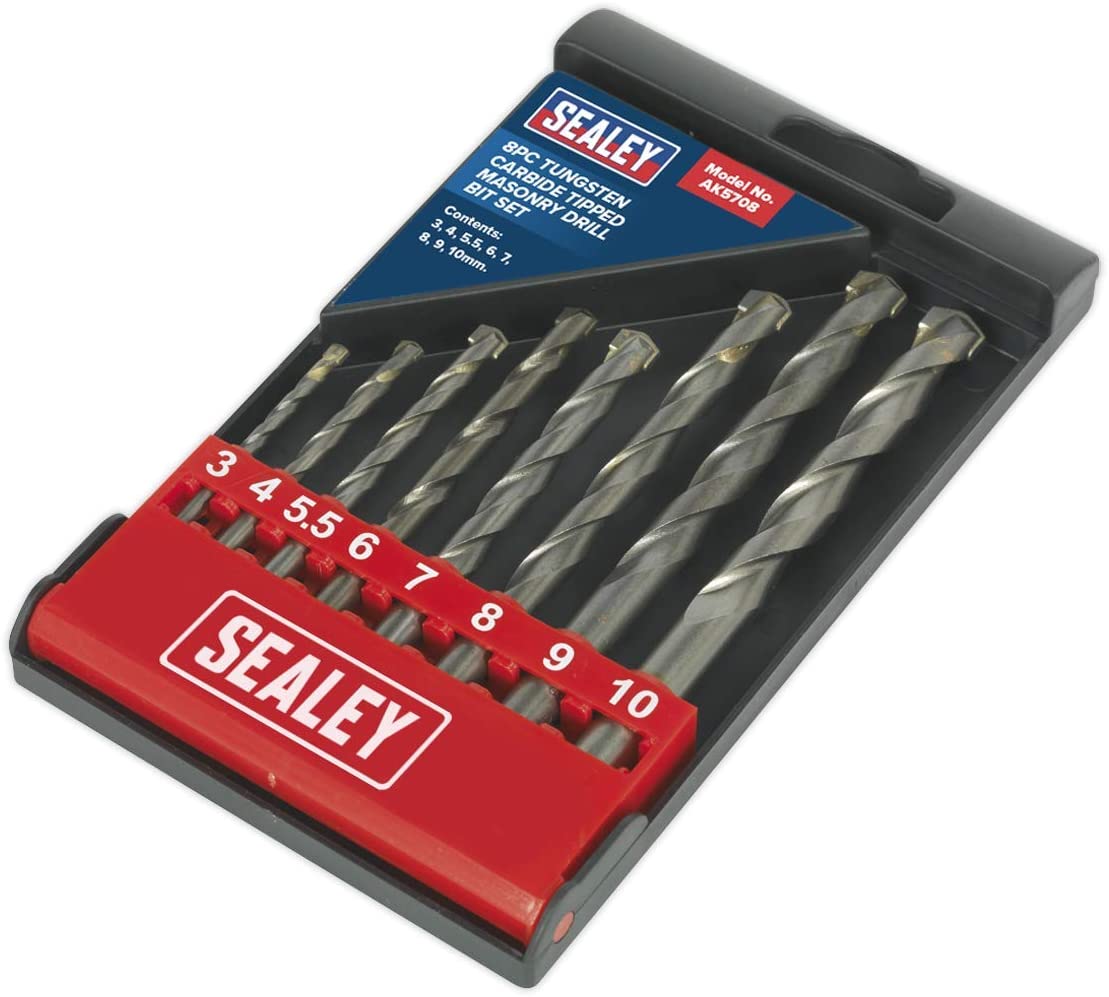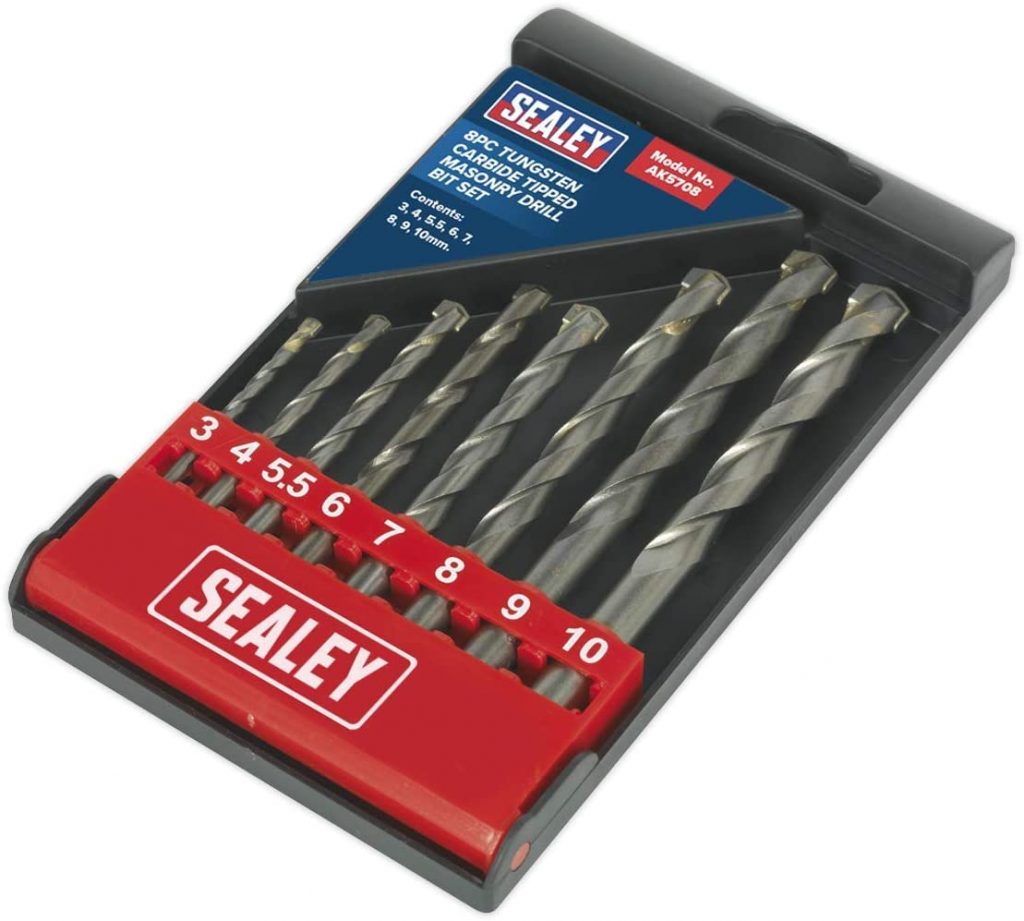 Description:
It has tungsten Carbide tip and shank features giving it a unique flute design. Comes supplied in a storage case.
Specs:
Dimensions (L x W x H): 6.34 x 4.17 x 0.94 inches
Weight: 8.1 ounces
Material: Carbide
Features:
Heavy-duty use.
Prolonged life.
Fast and effective waste removal.


Description:
It has straight shank rotary percussion and chrome vanadium body with a high carbon content that allows maximum rupture strength. Its pressed diamond carbide tip ensures aggressive cutting.
The Irwin masonry drills bits are designed for fast and efficient drilling in brickwork, concrete and breeze block, especially with cordless drills. The single flute design ensures more rapid dust removal for increased drilling speed. The unique pressed diamond-ground carbide tip allows for aggressive cutting, and the carbide tip design also provides 20% longer life compared to previous Irwin masonry drill bits. The bits come with a chrome vanadium body with high carbon content, which allows more hardening and a more substantial bit for maximum rupture strength.
Specs:
Dimensions: 2.76 x 8.66 x 0.79 inches
Weight: 4.6 ounces
Material: Carbide
Includes 4/5/6/7/8/10/12mm;
Features:
Pressed carbide tip allows for aggressive efficient drilling
Fast and efficient drilling
Single flute design makes dust removal faster for increased drilling speed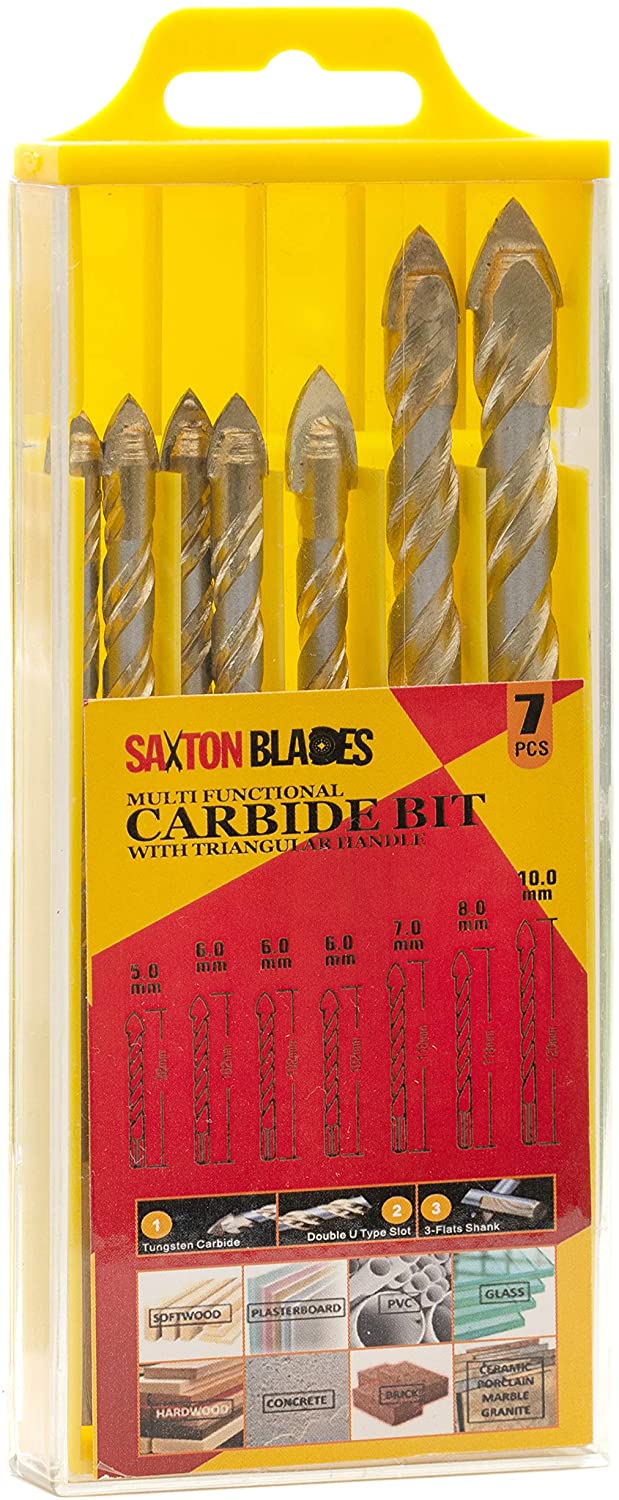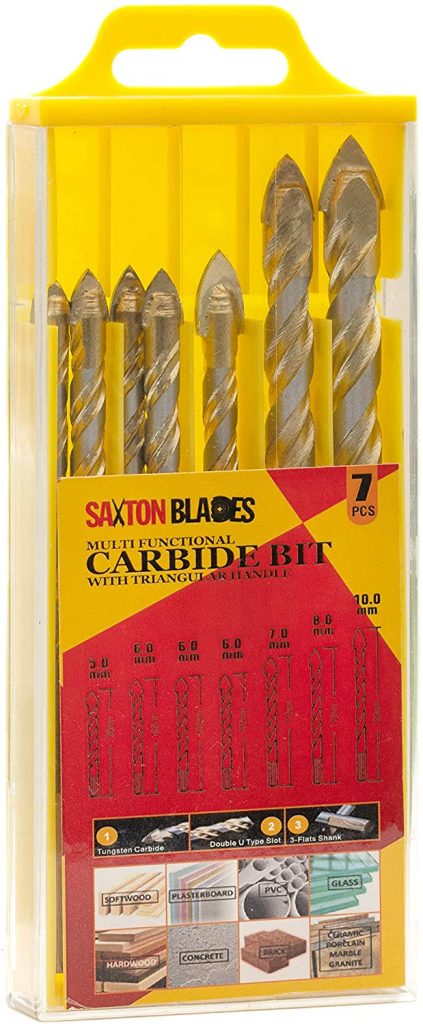 Description:
Capable of cutting through rigid materials like granite, marble, porcelain, all types of wood, glass, and masonry.
Specs:
Dimensions: 14.2 x 5.8 x 1.6 cm
Weight: 100 g
Material: Carbide
Includes: (1x) 5mm x 98mm, (3x) 6mm x 102mm, (1x) 7mm x 105mm, (1x) 8mm x 118mm, (1x) 10mm x 120mm
Features:
It is suitable for all famous rawl plug sizes.
Hardened professional-grade carbide tips for maximum strength.
The bits are capable of cutting through very tough materials, including Marble, Granite, Porcelain, Glass, Masonry.
Long life
SDS Masonry Drill Bit Sets: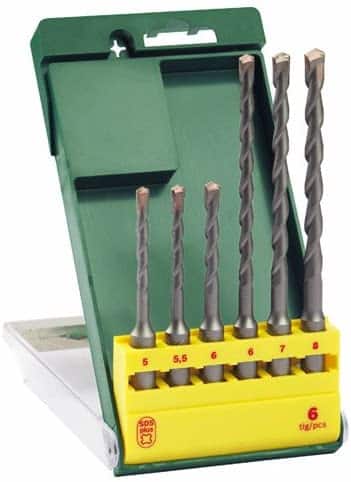 Description:
It delivers fast impact drilling in concrete, stone, and masonry. Low voltage, high-temperature brazing prevents the carbide cutting edge from breaking out even when heat builds up during deep drilling. It is faster on concrete and has an optimized brazing and hardening process for long life.
It is ideal for handling virtually any task: SDS plus hammer drill bit set for powerful, professional drilling in concrete, natural stone and masonry.
Six SDS plus high-performance drill bits with robust head shape and high-grade carbide tip for long service life and challenging applications, even in the most complex concrete and granite.
Its optimised spiral shape for fast swarf removal and high power transmission during drilling.
For use in rotary hammers with SDS plus holder. Suitable for all power tool brands.
Safety note: Please always wear protective goggles, hearing protection, dust masks, and work gloves when using these materials.
Specs:
Dimensions (L x W x H): 10.25 x 8 x 1.25 inches
Weight: 1.38 pounds
Power Source: Corded-electric
Material: Carbide
Features:
Optimised spiral shape
high-grade carbide tip for a long service life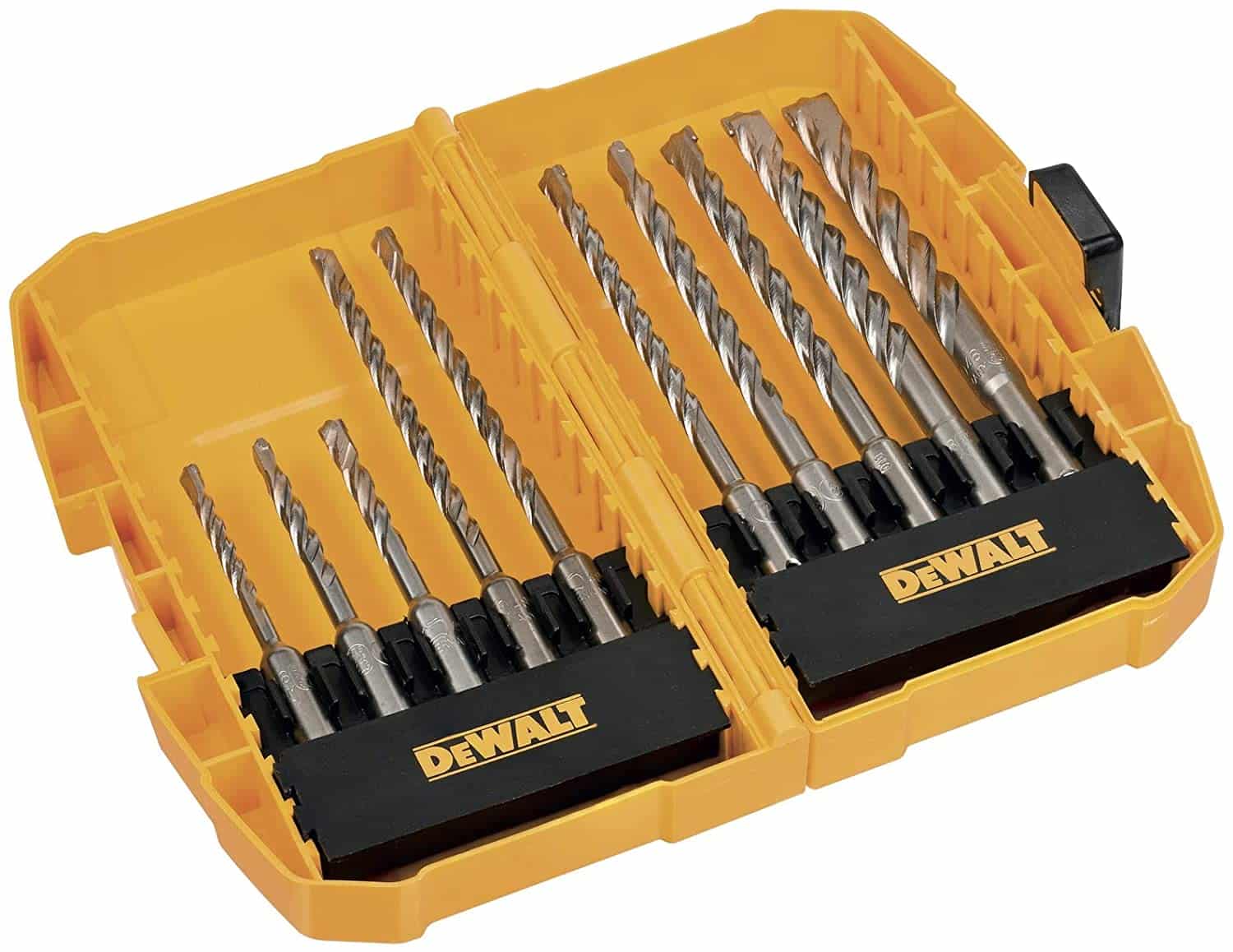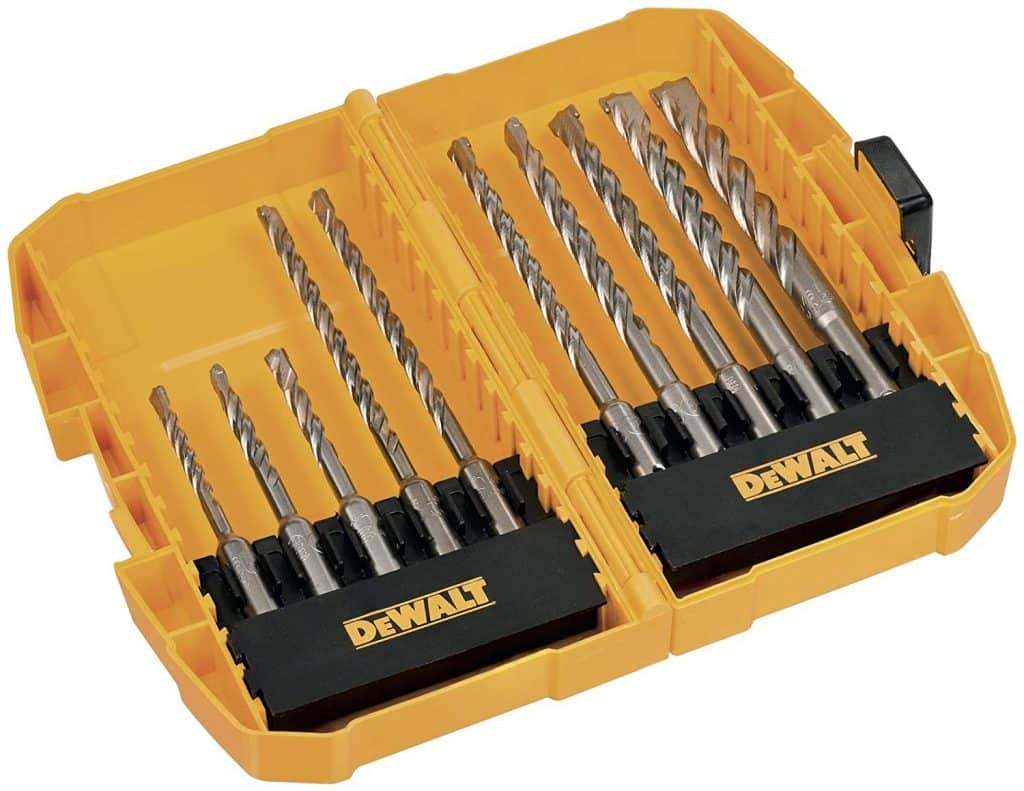 Description:
It has a heavy-duty shank that provides maximum durability and a maximized central core, ensuring increased energy transmission.
Specs:
Dimensions (L x W x H): 17.72 x 13.78 x 5.91 inches
Weight: 6.4 ounces
Features:
The tip design ensures better bit penetration, longer life, faster drilling and greater durability
Faster drilling
Heavy-Duty shank for maximum durability
Better bit penetration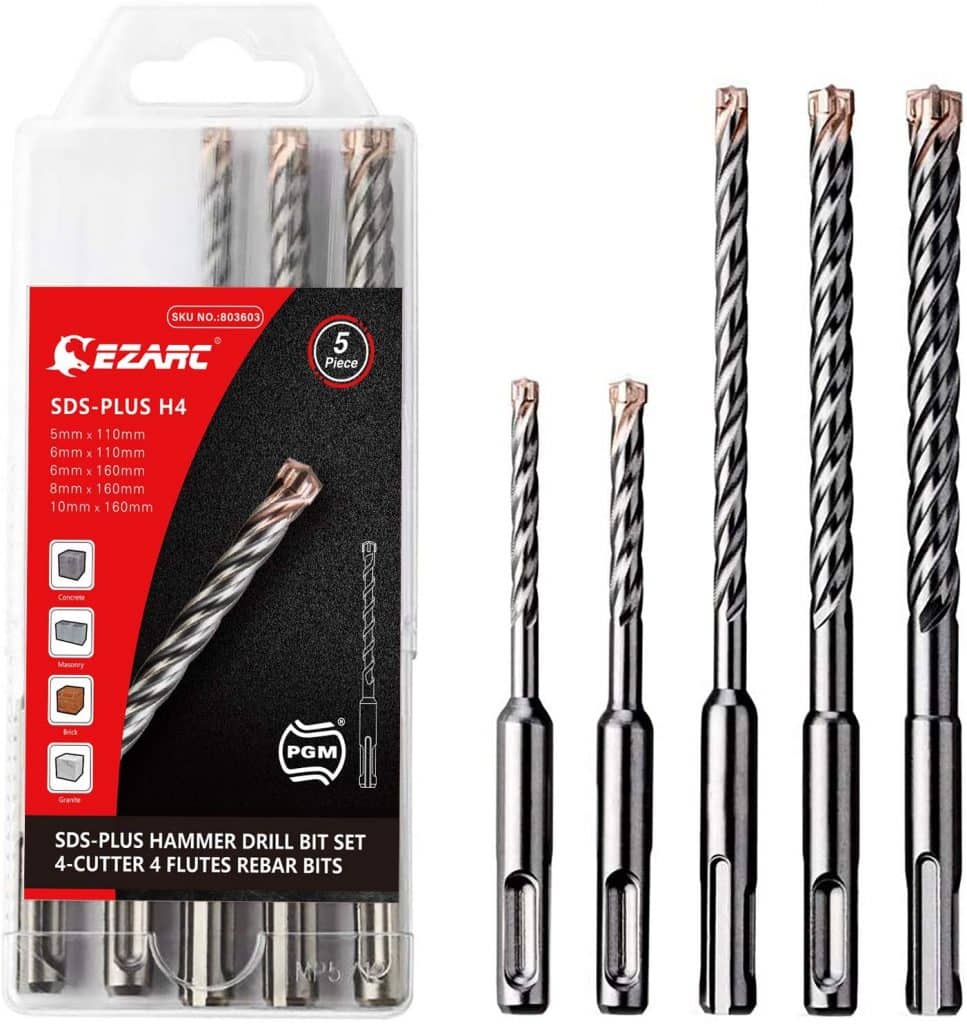 Description:
It provides up to 4 times life drilling into the toughest of materials. The distinctive chisel-shaped tip breaks concrete quickly for faster penetration. A 4-fluted spiral shaft makes for improved dust removal resulting in less stress on the drill bits.
PGM certified masonry drill bits guarantees the consistently high quality and safe anchor fixings of EZARC SDS plus percussion drill bits.
Set includes 5 pcs 4-cutter carbide tip drill bits : 5mm x 110mm, 6mm x 110mm, 6mm x 160mm, 8mm x 160mm, 10mm x 160mm.
Outstanding performance on reinforced concrete with rebar and other hard stone materials, high-quality 4-cutter carbide tips shows a longer lifetime and less jamming in rebar than other concrete drill bits.
The 4-flute optimized design for smooth and efficient drilling on concrete, brick, block, stone, masonry and granite. The U-shaped cleans debris out fast, reduces bit stress, and increases the lifetime of the drill bit.
Standard SDS-Plus shank is compatible with Bosch, Dewalt, Milwaukee, Hilti, Makita, Hitachi and all other brands SDS-Plus system.
Specs:
Dimensions: 2.76 x 7.09 x 0.59 inches (LxWxH)
Weight: 10.4 ounces
Material: Carbide
Features:
smooth and efficient drilling on concrete, brick, block, stone, masonry, and granite.
U-shaped flute designs widely clean debris out fast and reduce bit stress.
Long lifetime of the drill bit.
Good drill bit for concrete.
Superior carbide tips.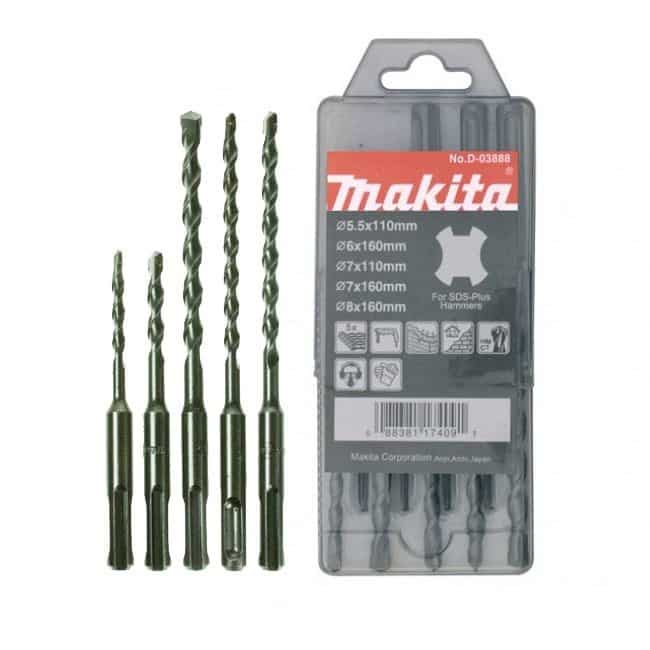 Description:
Suitable for masonry and concrete. The solid carbide tip with centring point and optimized flutes offer fast drilling speeds and longevity.
Specs:
Dimension: 8 x 19 x 2 cm
Weight: 260 g
Material: Metal
Features:
Good masonry drill bits for the price.
Solid carbide tips
Applicable to concrete, masonry, and fixings.
[lasso ref="makita-d-03888-sds-plus-drill-performance-set-5-piece-silver" id="1069″ link_id="645″]


Description:
It comes made of tough steel; hence it can help you tackle tough masonry challenges. The drill bits are up to the task for stone to brick and concrete.
Suitable for SDS Plus hammer drills, this 5pcs set of steel drill bits can help you out when tackling tough masonry challenges.
To help you drill into tough materials such as concrete, stone and bricks, these masonry drill bits for SDS Plus shanks are made of durable steel. Making sure they're up to the task at hand.
Comes with 5 x SDS Plus Drill Bits (10 x 160mm, 8 x 160mm, 6 x 160mm, 6 x 110mm and 5 x 110mm) in a plastic container.
Specs:
Dimensions: 20 x 7 x 2 centimeters
Weight: 290 g
Material: Alloy Steel
Features:
Capable of drillings into more challenging and more resistant materials such as concrete, masonry, and stone.
It comes in 5 different sizes.
Long SDS Amtech Masonry Drill Bits


Description:
It provides a 3-year guarantee. To keep your house well maintained and make sure that your garage and garden look great Amtech delivers a good range of essentials.
Specs:
Dimensions: 70 x 10 x 2 cm
Weight: 1.84 Kilograms
600 mm Length, 12/16/24mm
Features:
Sandblasted finish, carbide tipped.
Manufactured from heat-treated hardened steel.
Good long drillbit for concrete and masonry.
For use on concrete, masonry, lightweight block, and stone.
[lasso ref="amtech-12-16-24mm-sds-drill-bit-set-with-600mm-length" id="1065″ link_id="646″]