How to Use a Ladder Safely for Interior Painting?
Whether you are a house or condo owner, sooner or later, you have to paint your house to make it look better. And if the interior paint of your home is damaged, you have to paint it immediately. But the fact is, painting the ceiling or high walls of the house could be challenging as there is the risk of failing.
In that case, using a ladder will be a great way to reach high walls and ceilings for interior painting in your house. Now, a question may arise in your mind about how you can use a ladder safely for interior painting.
Basically, while using a ladder for painting, you have to keep in mind several factors such as setting up the ladder in the right place, getting a good footing, extending the ladder, safe working height, and so on. Keep reading this context to know in detail how you can use a ladder safely.
Why Is Ladder Safety So Important While Painting
Using a ladder is a good way to paint the interior and reach all the corners of your house. Not just having a ladder is enough to paint the house; you have to know safe uses of the ladder. The lack of basic knowledge of using a ladder can lead to serious injuries.
Otherwise, you may fall into various severe injuries. If the ladder is not placed in the right place, you can fall and get injuries even from the small height. Besides, if you do not choose the right size ladder, you may fall to try to reach the far corner.
Now, you may think how much I can reach using a ladder. Well, you will find different sizes of ladders on the market. For example, think you have a two-story house and want to paint the house. You will find a ladder for painting an interior 2 story house on the market to contact each corner.
How to Use a Ladder Safely for Interior Painting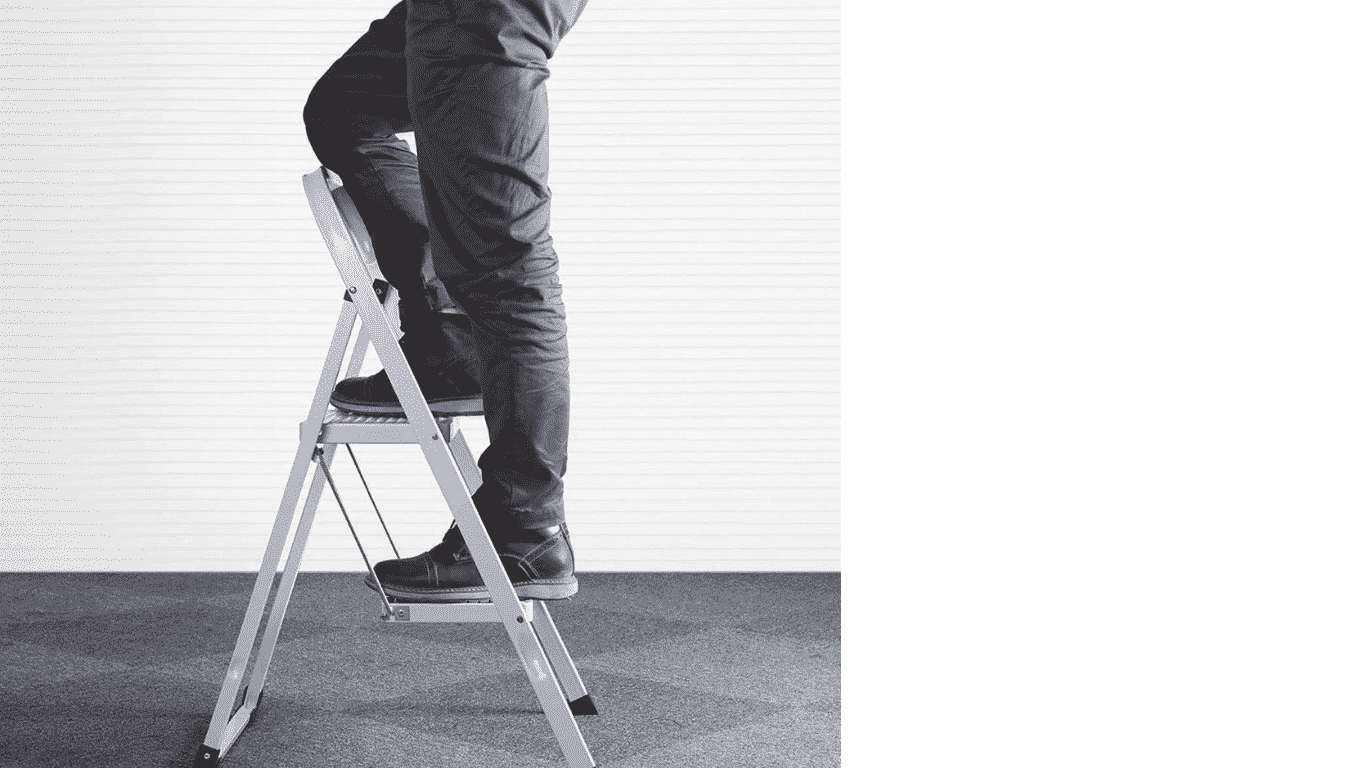 Choose the Right Ladder for Your Task
First, you have to choose a ladder that can easily support your weight and suit your workplace. You will find different types of ladders, such as a stepladder, straight ladder, or extension ladder. You should choose a stepladder that helps you to set and paint easily for interior painting.
Ensure Your Ladder Is in Good Working Condition
Before working with a ladder, always check if the ladder has any defect or damage. Below, we have pointed out some things that you should review before using a ladder, especially painting work.
Check the ladder before each use if the ladder has any damage or defect.
Inspect the ladder for loose, cracked, slippery rungs, worn shoes, or split side rails.
Before using the ladder, check the rung locks are in working condition.
If you find any defect, avoid using it and mark it as defective so that no one uses it.
Set Up the Ladder Correctly
If you find the ladder in working condition, now you have to set up the ladder in the right place where you want to paint. While setting up a ladder, you have to follow the factors that we have pointed out below.
Install a ladder on level ground, dry, and secure surface.
Set up the ladder at a proper angle to avoid slipping out.
The base and top of the ladder are secured properly so that it doesn't displace.
If you use an extension ladder to contact the upper part of the house, the ladder should enlarge three feet above the ceiling.
Use the Ladder Properly
After properly setting up the ladder, now it's time for interior painting. Follow the steps discussed below that help you avoid any injuries when painting the interior of your home.
Lift a tool belt to carry your materials up the stairs and secure your paint to the stairs, so you can easily reach it.
Try to maintain three-point contact with the stairs when climbing and painting.
When painting overhangs of walls or ceilings, avoid going sideways or leaning away from the ladder.
Always try to keep your belt strap centered between the rails on the side stairs.
Paint from the ground levels first, climb up on the ladder only if you don't reach your desired place.
If you use a stepladder, you should avoid standing at the top of the ladder.
When you need to reposition the ladder to paint another place, climb off first and set up the ladder before you have done.
Different Types of Ladder for Interior Painting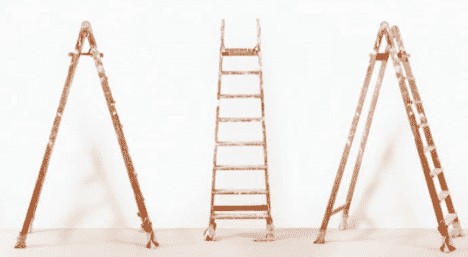 There are various types of ladders you will find on the market that can be used for interior painting. Below, we have demonstrated some of the best ladders to help you choose the suitable one for you.
Step/A-Frame
This type of ladder is very popular and common to use. Step/A-Frame ladder has a set of high-quality a-frame that are stable or sturdy enough to support your weight. Using this type of ladder, you can paint your home interior, although it will need a small amount of vertical space.
Extension Ladder
Using an extension ladder is a great way to reach higher spots. This ladder is easy to store and can be extended to a particular length. As a result, you can place this ladder where you need to reach higher spots and low spots.
Articulate Ladder
Articulated ladders are a modern type of ladders that offer more climbing and standing space. You can adjust this ladder differently to get the highest advantages based on your needs. The articulated ladder has multiple locking hinges that let you adjust and position the ladder differently.
Stepladder
This type of ladder is suitable for working with painting types of tasks. The stepladder is sturdy and convenient enough to stand on for a long time. This ladder needs to be the area where you can set up to paint walls or ceilings.
Choosing the Right Painting Ladder: Things to Consider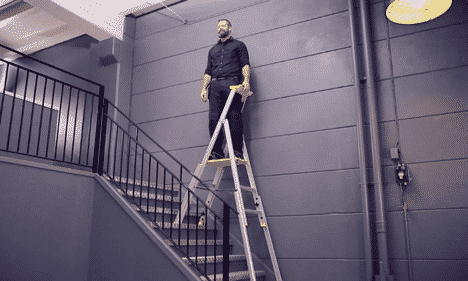 Apart from choosing the ladder-type for interior painting, you have to keep in mind some more factors. These factors will help you to get the best ladder for painting. For your convenience, we have discussed some significant factors you should consider below.
Ladder Materials
The material of a ladder helps determine how much weight the ladder will be able to support. You will find different materials of ladders on the market, such as fibreglass, aluminium, and wood ladders.  
Fibreglass ladders are offered strong, stable, and corrosion-resistant. And aluminium ladders are lightweight and durable that conduct electricity may be dangerous. On the other hand, wood ladders are heavy compared to other materials.
Ladder Height
The size of a ladder mainly depends on the length of the object you want to reach through the ladder. Most contractors acclaim it is good to practice with an 8 to 10 feet longer ladder.
Besides, manufacturers state below 4 feet is considered safe to use. It is essential to have a ladder with non-slip feet that avoid slippage on the tile or hardwood floors for indoor use.
Ladder Duty Ratings
A ladder's duty rating helps determine the maximum load capacity that a ladder can carry. You will find this rating on the specifications label. Basically, the range of duty rating of the ladder varies from 200 pounds to 375 pounds.
A 375 pounds ladder rating duty is considered a heavy load capacity ladder. In addition, a 200 pounds ladder duty rating is referred to as a lightweight ladder.
Conclusion
Interior painting from a ladder is the easiest way, and that can be done by anyone. But painting from a ladder can lead to severe injuries if you don't follow the safety precautions. So, it is crucial to know how you can safely use a ladder for interior painting.
The fact is, most people don't know how to use a ladder safely for interior painting. That's why, through this article, we have tried to let you know how to use a ladder safely for interior painting. Following the simple procedure described, you can easily paint your interior without having any injuries.